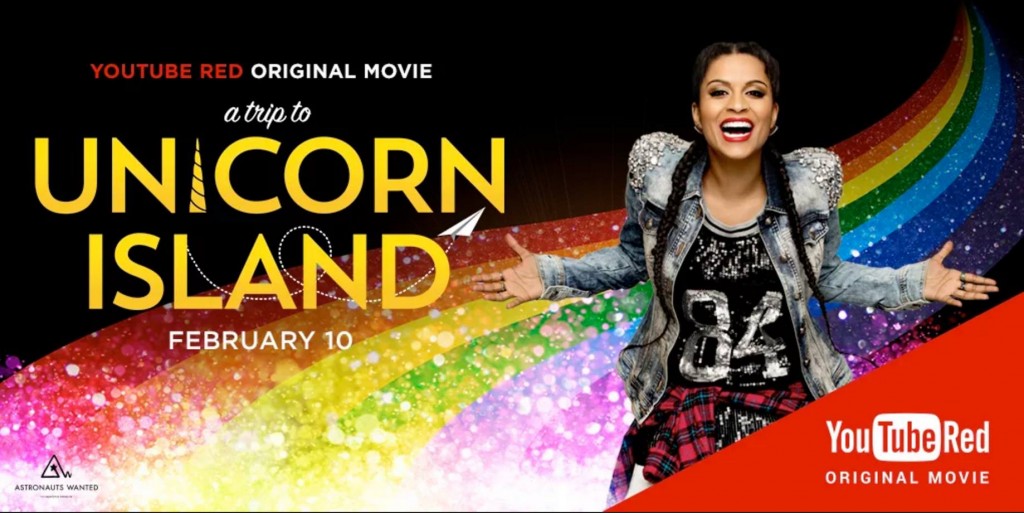 When the envelope is covered in glitter, rainbows, leaping unicorns and a 3D Experiential Trailer leads the way…Oh and don't want to forget to mention, the first month of YouTubeRed is free, why wouldn't you? Why wouldn't everyone? I want to take "A Trip to Unicorn Island" not once, but many times!
1.The Woman
Forbes 2015 Person "30 under 30," People's 2015 "One's To Watch," and recently a guest on Jimmy Fallon and "The Today Show," Lilly Singh, aka Superwoman, is no ordinary YouTuber. With more than eight million combined subscribers on her two channels, she's multi-talented, tastefully and ridiculously humorous, hard-working to the point of barely sleeping, and relatable on levels that transcend age, gender, and culture. She's also, in her own words, "annoyingly ambitious," and it's both exciting and inspiring to watch someone so humble and grateful work hard and achieve her vision board dreams. And let's not forget that she's a woman. And a woman of color. Two huge potential obstacles that she has turned into assets, even to the point of challenging girls to celebrate others' successes in her recent #GirlLove campaign, a fundraiser for the Malala Fund.
2.The Story
What I love about this documentary is the chance to go behind the scenes and learn about Lilly's journey from the beginning. What she was like from childhood, how she got started making videos, the turning point, and what inspires her to keep at it. And it's very personal without feeling intrusive. In fact, many of the interview segments are shot right there in her Canadian home, in the bedroom where she wrote and produced most of her videos.
3.The Music
A lot of credit in this area goes to Kanwer Singh, aka Humble the Poet, and his gifted writing and rap skills on the tour but all the musical scores chosen for the dances, background shots, and various scenes fit nicely and only enhance the viewer's #AT2UI experience. Even the credits roll to the rap-duo "Leh," a song Lilly and Humble co-wrote and produced that has a music video claiming eleven million plus views.
4. All The Feels
Before we sat down to watch #AT2UI, my fifteen-year-old said, "I'm probably gonna cry," to which I responded, "Oh. I know I'm gonna cry."
We are emotional beings, created to connect emotionally, and there are so many moments when Lilly lets you into her space, her world, and her own walk through ups and downs, that you can't help but feel the joys and pain of growing up alongside her. Thanks for sharing your life with us, Lilly.
5. The Cast
I've heard it said that you're only as strong as the people you surround yourself with, and Lilly has picked quite the stellar team, clearly people that have become friends and co-conspirators on her journey. And the filmmakers did an excellent job including so many of them in the movie, giving them time to share about their connections to Lilly, what they think about Lilly, but more so, how they played a part in Lilly's roller coaster ride of success, because no one travels alone, but rarely do you see a person so unselfishly give so much camera time to others. I took it as Lilly's way of saying, "Thank you," and YouTube's way of celebrating the power and positivity of collaboration.
6.The Perspective
Okay. Let's be honest here. Someone said let's take you on a trip to Unicorn Island, and the average person might walk away because unicorns don't technically exist. BUT, if you give the concept a moment to sink in, Unicorn Island being each person's place of all things happy and wonderful, it's every child's dream come true. And maybe we leave our childhoods too quickly, and it's not such a bad thing to revisit that time of wonder and wistfulness and joy and rainbows made of candy Skittles. A time when love and hope and joy seem endless in supply: enough for everyone and always enough for the next day.
7. The Fans. #TeamSuper
What makes YouTubers different from most other celebrities comes down to their fans. Many Public Figures have millions of followers and fans on Social Media, but rarely will they interact with those invisible voices screaming, "I love you. Pay attention to me." YouTubers, on the other hand, depend on their fans and fan feedback to continue to thrive in their world. And I can't lie. Standing outside for four hours in the snow and freezing temperatures at "The Today Show" in NYC while waiting for Lilly to come out felt foolish, to say the least, especially when she walked by in her red dress and heels, teeth-chattering, but smiling for a record two seconds of interaction.
BUT then, she sends out a Tweet: "I'm coming out to hug you," and she changed to a Unicorn Onesie, and sure enough, Lilly came back outside in the icy weather and spent a lot of time with us, her beloved unicorns. Taking selfies, gifting us with sweatshirts, warm drinks, and cute mugs. But what impacted me the most was her smile and her gratitude, thanking so many of the two hundred plus attendees individually for their support.
8. The YouTube Space
It's free. Mostly. YouTubeRed is $9.99 a month after the one-month free trial, but anyone can choose to just continue to enjoy Youtube without YouTubeRed if they choose to. What makes YouTube such a unique space is that it has no filters, and very little policing, and everyone has the opportunity to have a voice. It's the sweet ring of freedom at it's best. And sure, it's worst too at times. But all in all, #AT2UI is a celebration of what happens in that space that no one I bet imagined could be the party that everyone's invited to.  A party that Lilly Singh makes so much fun to be at.
9. The Message
This is a tough one for me. But it might not be for a lot of people. Let me start off by saying I love Lilly's heart. She genuinely seemed to fight her way out of depression with her eye on the prize: happiness. Not that the road has been smooth or easy, and she openly admits that there are still moments of loneliness and disappointment—something true for all of us. I admire her desire to make an impact on others. To take on the immense task of preparing for and delivering a world tour in order to meet her fans face to face and put a smile on their faces, encouraging them to not give up, to love themselves, and to believe in their worth. All good things. All good things.
The minor issue I have with Lilly's underlying message is I don't believe that:
"Happiness is the only things worth fighting for in your life."
There are plenty of other things that are equally worth fighting for: Love for instance. Peace. And my all time personal favorite: Grace.
In the end, her message is positive, uplifting, and courageous. She emphasizes to be the person who "Works for your dreams, not the person who just wishes for your dreams." And the joy and inspiration Lilly brings to her viewers, friends, family, and fans is a treasure we are all grateful for.
Cheering for you as you continue to dream big, Lilly. And in the words of Jaime Grace, "Do Life Big." Go Lilly, Go!
---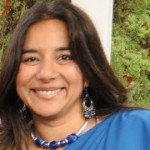 Award-winning author of Swimming Through Clouds, Rajdeep Paulus is a unicorn that lives in New York, has four baby girl unicorns, and is married to her Sunshine. She writes Young Adult fiction and hangs out on Social Media  @RajdeepPaulus. When she's not watching Superwoman videos, Raj likes to coach basketball, kayak, and sip sugar-free, whipped cream-topped, café lattes.