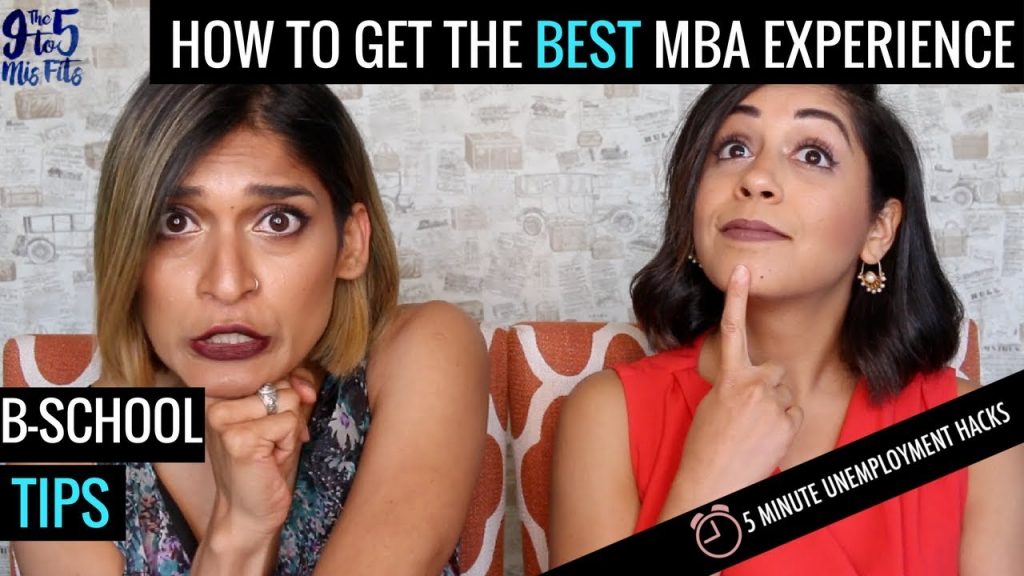 So you finally made it to business school! Can I get a Hallelujah! The grueling GMAT prep, application process, interviews and campus visits are a thing of the past.
But now the real work begins …Good news, it doesn't have to be painful. Yes, you'll be working your butt off for the next 12-24 months. But these could also be the best years of your life … if you go about it the right way. We asked friends, family, and members of our fantastic MisFit community how they crushed it at B-school. Here are 8 ways to make the most of your MBA experience:
1. Know your WHY
Know exactly why you're here and what your end goal is. Map out at least 2-3 concrete things you want to achieve by the end of your MBA or even mid-way.
The student organizations you join, the events you attend, the internship, etc, should align with those goals
. It's ok if your goals change halfway through. But having something to go towards helps you cut out the noise.
2. Build your network
Almost everyone we talked to mentioned the network being the most valuable aspect of their MBA experience
. The relationships you build in B-school will be
insanely
valuable. Go to networking events, take part in study groups, case competitions. Talk to as many people as you can without an agenda. Set up informational interviews with 2nd-year students. Also, don't ignore your professors. Be friendly, open, and most
importantly
, authentic!
3. Manage your brand
The way you talk, dress, interact with others, the amount of initiative you take, and how much integrity you have, all say something about you
. Are you portraying the right image? Remember, your classmates could turn into future colleagues or even business partners. Conduct yourself in a manner that will make people want to work with you or vouch for you. Of course, be genuine. People can tell when you're faking it and have some sort of ulterior motive.
4. Diversify
This goes especially for my immigrant friends. I understand, it's difficult when you first move to a new country and everything around you seems foreign. It's natural to stick to your own kind. But the MBA is a time to expand your horizons. Make it a point to talk to people from diverse professional and cultural backgrounds. There's so much you can learn from them.
Don't get me wrong, I understand how difficult it is to get over that initial culture shock. But that's where we come in!
For reals, if you need someone to make your transition a little smoother, get in touch with us here and we'll help
. Whether it's understanding the slang, cultural norms, how to make small talk, etc, we got you.
5. Don't be so focused on grades
Yes, grades are important, but they shouldn't take top priority at B-school. There are so many lessons to
be learned
outside the classroom. Get some leadership experience by being an officer in a student organization. Go volunteer, or take an international trip with your classmates. Also, take part in case competitions and attend conferences. Yes, it may get expensive, but think of it as an investment. The experiences, relationships, and perspective you'll gain will
be unmatched
.
6. Take care of your health
It's no secret, the MBA is stressful and leaves you with little time. It's easy to form unhealthy habits — eating
badly
, not working out, all that alcohol consumption. But don't let your health take a backseat. With food, try to meal prep or get some sort of meal service like Snap Kitchen if you don't have time to cook. With exercise, if you can't get to a gym, join a running or cycling group.
Try a group activity where you'll still make connections with classmates while getting a workout
.
7. Manage your budget
We already talked about how costs can rack up
quickly
during your MBA. It's also important to manage your money where you can. For example, not spending as much on eating out and cooking at home instead. Or getting an on-campus job like a GA, TA, or tutor. The gig economy is another option (Uber, Lyft, Task Rabbit, Rover) where you get to decide which jobs to take and when.
8. Manage your relationships
People won't openly admit to this, but an MBA can put a HUGE strain on your relationship. Your spouse or partner may not be familiar with the time commitment the program requires. Or you may have to move to another city for school and are now in a long-distance relationship. It can get rough. You'll have a demanding schedule with coursework, social and career-related events, and extracurricular activities.
So how do you avert the implosion of said relationship?
Set expectations with your partner and communicate regularly as things change. Come up with a schedule that allows you to spend quality time with each other at regular intervals. And do this each semester because your schedule is likely to change and get crazier.
So, what do you think? Did you find these tips useful? If you have gotten an MBA or are currently doing one, what are some things you've done to make the most of your experience? I'd love to hear!
---
The 9to5 MisFits are a YouTube duo made up of 2 best friends, Pavi Dinamani and Namrata "Nammy" Sirur, who happened to be unemployed at the same time for different reasons. Realizing that there was so much comfort in having a "buddy" to navigate this uncertain phase with, they decided to give others a virtual buddy in the form of their YouTube channel and create a support system and encourage an open and honest dialogue about unemployment.