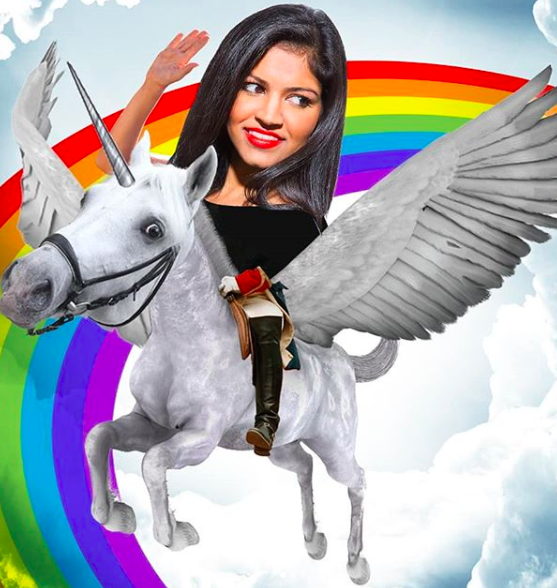 Bill O' Reilly called her vile. 
First Lady Michelle Obama (a.k.a., our most favorite person on this planet) sat down with her in Doha, Qatar to discuss socio-economic barriers to education. 
Ivanka Trump interrupted her mid-interview because she was the only journalist until then to address the Trump Administration's child care and family leave policy. 
She won a university-wide writing contest in college with her interview piece on Malcolm Gladwell, whose writing she ultimately critiqued. 
I sat down with Prachi Gupta to see what was hiding behind her choli. Well, not like that. South Asian female writers everywhere are hiding in fear of embracing their artistic interests — secretly — seeing them as more than hobbies. I had so many questions for her, as she has a similar story as many brown girls of the South Asian diaspora living in the Western world.
Her self-proclaiming feminist grandfather migrated to Canada from India in the 1950s "without any money, without any place to live, trying to [bring] the train back on the track," hoping to provide his kids with a good education. Prachi majored in both finance and English writing—the latter, of course, to satisfy her Indian roots—from a non-Ivy League school.
On behalf of her father, I would like to emphasize she graduated from a NON-IVY LEAGUE school. Her career launched at Salon.com after a series of freelance positions and clever talent exchanges as an effort to get published. People loved her authenticity, humor, work ethic, humility and impeccable writing ability. As did I. 
So, what I wanted to find out was:
Can one of us

betis, bhabis, and bahus

make a career out of writing, and how? Like, is it possible with all of the cultural norms and shit? With all of the fear of judgement, stigma and self-critique?

Break it down: What does it take, a journalism degree? An "eat-pray-love" impulse move to NYC? Where do you find that damn network to help you get the writing gig if you can't afford life in NYC, or alternatively, can't live without mom's roti? Is it worth working a shitty job for a few years to save up so you can afford a freelance lifestyle?  

What is your work style? Are you type a and married to the schedule, or do you let the passion flow as it comes? How do you figure out your "value-add" to every piece?

What is next for you?

Finally, and most importantly. What are your go-to makeup products, and the last song you listened to?
How did you know growing up that writing would be your life's work?
On some level, I've always known that I wanted to be a writer. I have a distinct memory of when I was a kid. I think it was in first grade. We were in the library learning about the Dewey decimal system and the teacher addressed the class and pointed to the bookshelf, saying, "maybe one day, one of your books will be there." I remember thinking, yes, my book will be there one day. I was seven. 

For me, the struggle wasn't knowing this is something I love and wanted to do. But realizing I have a right to do it, and I could find a way into the industry even though there was nothing around me that confirmed I could, aside from having a talent or interest in it.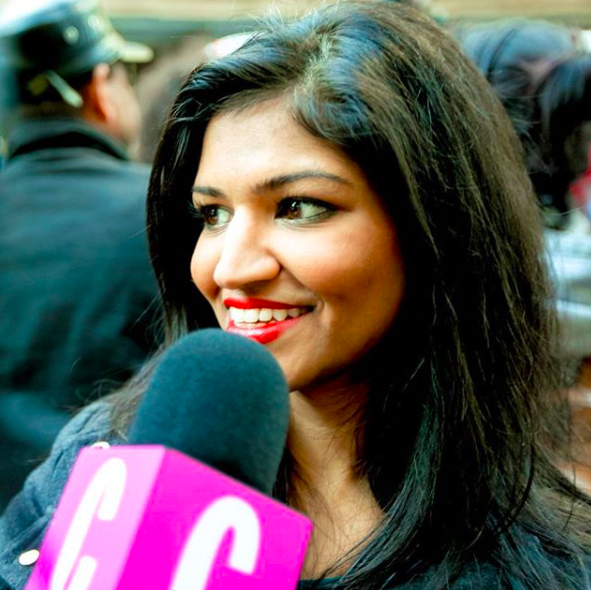 Was majoring in finance and English writing a way to satisfy the South Asian cultural norms and also pursue a passion of yours? Have you used your finance degree?
My dad was disappointed I didn't get into an Ivy League school, so when I got to college, I wanted to be that "good Indian daughter again." To make my parents happy and satisfy my creative side, [I thought], maybe I'll go into advertising. I needed compromise with parents, so I went the finance route. I wasn't good because I wasn't passionate about numbers and money. I found business interesting for all the reasons not related to money (chuckles).

Upon graduation in 2009, the end of the Great Recession, I didn't even consider going into journalism. I won a critical writing contest in college, university-wide. It was a project on Malcolm Gladwell, and after doing a full analysis of his work and interviewing him, I realized I didn't like his writing at all. It's a lot of convenient thinking, and not rooted in science. That paper symbolizes my transition into my disillusionment with business and my interest in writing. Despite winning that contest, I still thought I needed to go into business. I got a job at a top management consulting firm, Deloitte, finally fulfilling my Indian kid [persona].
We gotta have that PWC or Deloitte on the resume, right?
Exactly! If you are a doctor or engineer, it's fine, but pretty much everyone else should have that consulting job (laughs). 
What can you say to other brown girls who are fearful of sharing their work? Did you ever feel that way, and how do you push yourself through that? If you could tell your "younger" self something, what would it be?
In our communities, there's so much stigma, shame and pressure that reinforces all of those things to stay quiet. When we go into the outside world, we don't see ourselves, our existence reinforced anywhere. So it further adds to that same pressure which contributes to us feeling more alone and then being scared to share any of these things.

I think it's realizing whose opinions and voices really matter and when to focus on those voices and try to drown the others out. I think that's a hard thing for brown girls to do because we have so many voices. We're raised to respect [our] elders, [thinking] what is Uncle gonna say and do? Ultimately they have their own priorities. They're not thinking about what's best for you, they're thinking about what's best for their system of tradition not based in any real tradition, but on comfort for that generation. So it's learning over time whose opinion you should value, what you want to emulate and what do you want to be like? And then fostering people who have those values and can vocalize those values and stand up for you, [saying] 'we'll go to bat for you when the moment counts.' It's knowing who those people are and then how to activate them when the time comes for them to be in your corner.
For example, with that essay I wrote about my brother. You want to make sure before you put something important to you out in the world, activate a reinforcing support system beforehand. I sent emails to all of my close friends saying, 'Hey this is coming and I might need your positivity out there for me to be able to help me brace for this. So whether that's writing a nice comment on the post or sending me a note or sharing it on your social media—something to remind me there are people there for me right now. Because you're the people I care about most.'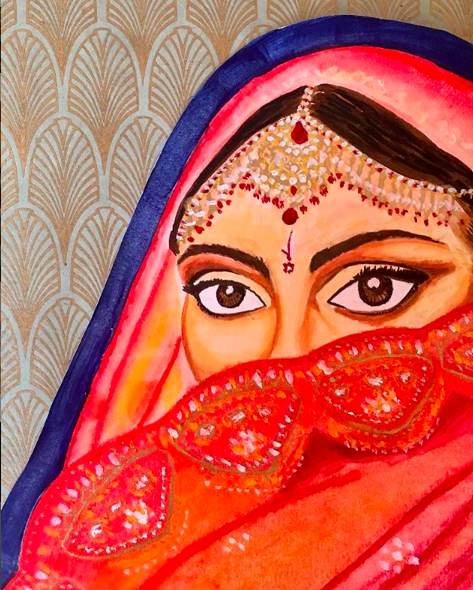 Do you feel like you filter people out throughout the years?
Definitely yes. I had to in order for me to be who I actually am. It's sad we have to do that. Just trying to be around women in the world who have opinions and who want to be treated with respect and equally and have the same options I see so many other people having. There are so many people whose standing is threatened by a brown woman manifesting her full power and that's scary.

Ultimately that hurts everybody in the community. And that's one of the things I want to fight against. I was never trying to do anything radical. I was trying to exist as I am. In Indian American and in South Asian families in general, people are supposed to be there forever. But it's not always the case, especially in a diasporic immigrant experience when you're healing from so many traumas and aren't talking about those traumas in our families.

God forbid someone talks about those traumas. I am vocalizing it for the entire diaspora living in this country. 
What does it take to become a writer? When you were starting out, you would swap articles for business consulting. Break it down for us.
I was at Deloitte and realized I was unhappy. I [knew] I was passionate about writing. Indian kids aren't raised to chase their dreams. They are raised to chase things that are practical and give their family money and financial security and academic success. When I left, I didn't have this network in journalism and media. I had to create that for myself. 

Here is the practical advice for people in our community and for people who don't have the financial resources or an 'in' in the industry. I couldn't afford to put myself through grad school, especially since I didn't know if I could land a job and pay off those loans. I researched 'how to become a journalist.' I studied the careers of other people I admired, and came to the conclusion that a journalism degree, although it would be amazing to have, comes down to three essential things: 

You get a network of people in the industry and build those relationships.

You learn about how to write and get pieces published through classes and professors' networks.

You get the skills you need to get an internship. 

I thought, what if, in the same amount of time it takes to get a journalism degree—two years—what if I make those three things my full-time goal through whatever jobs I can get. Network a lot with people. As a writer, rarely does anyone ever email me to ask about my experience thus far. Writers remember who reaches out to them. I did that for 1.5 years. 

I got rejected from a lot of things. Finally, I applied for an internship at Gawker, and they found the managing consulting experience interesting and liked my comedy pieces. I was 26. An unpaid intern. But I had also worked in management consulting for two years, so I knew how to get shit done. I was able to write more for the website than an intern typically gets to. After, I got a job at Salon as an entry-level blogger. And since then, I've been a journalist.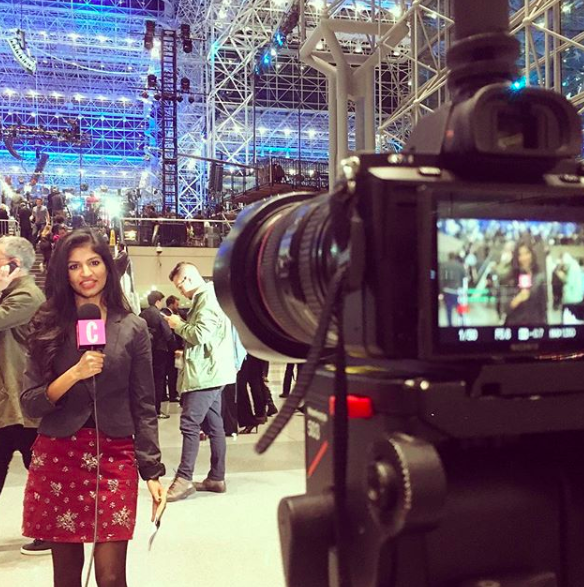 So, what if I can't move to NYC to pursue my writing or artistic career?
I could never in my right mind advise somebody to [drop everything and move to NYC]. It's expensive. It isn't a profitable industry. You're not going to be making good money for a long time if ever. It's a risky thing to do. That said I think so much of the industry itself is concentrated in New York City and L.A. It does help to be physically located in a space where you can network with people who are doing the things you do because how you meet somebody and how they care about you matters. If you're just a name in an inbox versus somebody who they are interacting with at events and parties where you keep running into each other—there is a different relationship that can form. It doesn't have to be in New York. Finding that community of people for what you want to do, wherever you are. 
Can you talk a little bit about discipline in writing or lack thereof? Are you more attached to your schedule, or do you let yourself flow through your projects? If an epiphany happens, but you have a deadline, do you pause on the deadline and pursue that train of thought? Help an ADHD sister out.
I'm one of those people who works who well under pressure and procrastinates forever until they have pressure. According to my therapist, it's a common experience for people who have dealt with trauma—they are better at what they call a trauma response. They're suddenly calm and collected and know how to get shit done but they almost need the pressure to get into that state. I'm driven by my passion. If passion isn't there, intensity and focus isn't there. When I'm interested in something, it's not coming from discipline or good work ethic—it's coming from pure curiosity and interest and almost obsession. 

There are tools and tricks. Getting a job in journalism forced me to sit down and write every single day and that has made me a better writer. I wouldn't be a writer if I didn't have the habit. And that's the sheer amount of practice and time write doing it.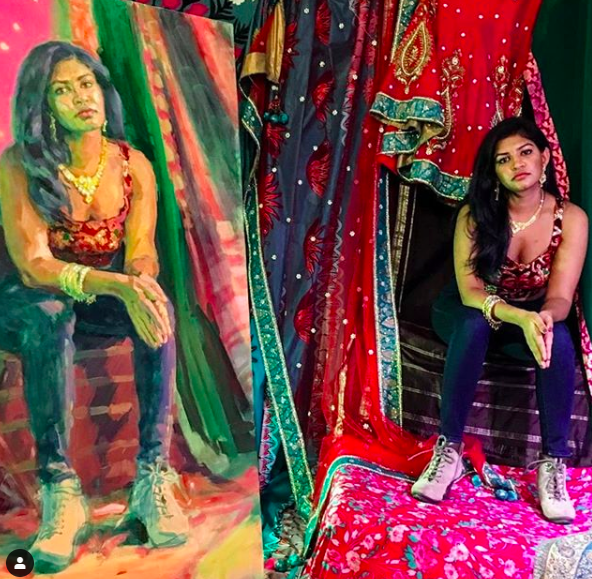 How do you know what your "value-add" is as a writer? Sometimes what you want to write about is already out there, so do you write it again? Do you write it in a different way or do you shut yourself up and try and wait for the next idea?
Oh, that's a good and tough question. As frustrating as it was to be told, it is also necessary. It's the thing that pushes you to be a sharper thinker to be more precise in your thinking to go that extra step. It's also so easy to sit back and rely on cliches or say what's already being said. You have to sit down and figure out your actual thoughts. As writers, part of the reason we want to say something is because [we] don't see others describing it the way we would. I try to think to myself, how would I talk about this with a friend? What would I want to say to them? [This story] is bothering me; why am I feeling frustrated? I try to re-engineer that question to something personal. And, I have to trust I have something worth saying. It requires an intuitive process.

Maybe journaling, maybe calling a boyfriend, maybe sitting by yourself, speaking it out loud as if you were going to explain it to somebody. That's when you figure out what it is you really feel. Obviously you can't do that for every blog post but this is a better way of approaching it, than 'what's the angle no one else has covered?' Because maybe you're not the right person to write the piece. Sometimes going through that process for yourself will help you figure out all those answers.
So what I hear is the value add…is you, you just have to figure out where.
Exactly.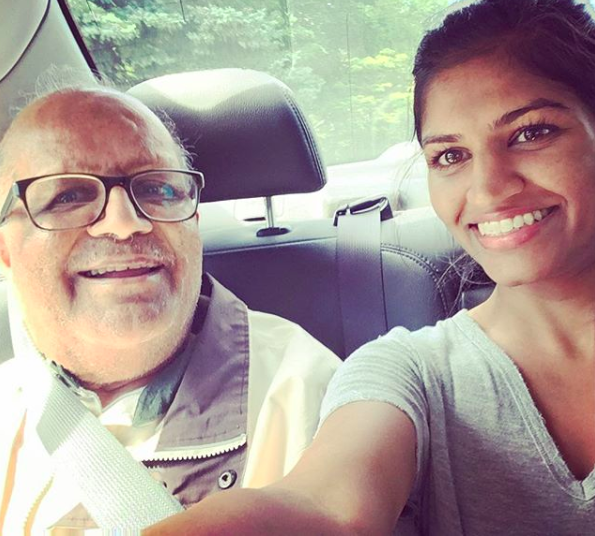 In your recent article about your Dadaji, someone commented:
"I'm without hyperbole when I say that this is the most beautiful thing I've read in days. Hearts and wills are too often left empty, of late…But I'm not empty after reading this. Instead, I am filled with great admiration for your grandfather for, well, everything about him. I'm also full of gratitude to you for writing this and sharing this wonderful man with us. I even feel an honest hope for the future, a strange and unexpected thing, even more precious for the audacity of it."
I know you pour every emotion and thought into your work—and it shows. With that being said, does writing energize you or deplete you?
I guess it depends on what writing it is. When you're blogging in this news cycle and you are trying to think about how many clicks it's going to get, and you're trying to be as witty as possible. You're not putting yourself into it and you're regurgitating stuff. I think that can get you. I think that leads to burn out. 

The writing you're referencing about my dadaji and my brother—those essays were the opposite. Any artist trying to express themselves can understand that feeling and need for expression. While aspects of the articles were difficult to do, it was never about, 'how do I make this good?' It was, I need to express this. I need people to know. It was an outpouring of coming from that place. I used my skills and what I learned as a reporter to help me do that for myself honestly.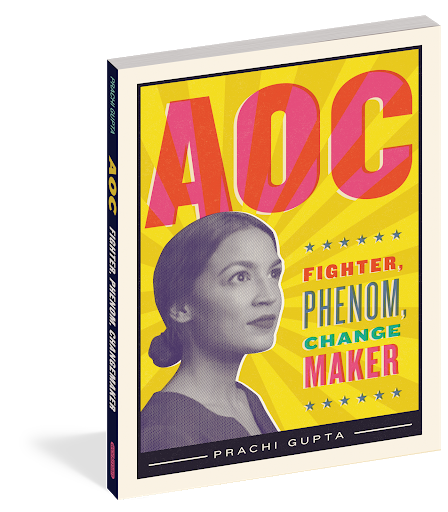 We know you are parting from Jezebel. What's next? Tell us more about your upcoming book about AOC.
I have been a politics reporter for several years now. I am writing a book, a political biography, about Congresswoman Alexandria Ocasio-Cortez that will be out in November from Workman Publishing, a political biography. It's meant for people who are progressive, feminists, people who generally like her but maybe don't know a lot about her or how she rose, how she came to be who she is, understanding the elements in national politics and in the Democratic party long before she came on the scene to contribute to why this moment happened, and why her. What is so significant about her rise, and what does it mean for the country going forward? It's like a non-insider way of contextualizing all of that and talking about her life and what she's accomplished so far in Congress.
Your go-to makeup product(s)? The last artist/song you played?
a. Bobbi Brown color corrector, dark peach (favored by tan france too!)
b. Tarte's Mascara, not-waterproof
As I was getting ready to wrap up the interview, I had a personal awakening throughout my conversation with Prachi. It's hard to go against cultural norms; it's hard to trust in your ability, especially when it isn't reinforced by anything or anyone around you; it's hard to balance a degree program and bounce around from city to city when your entire family lives in Carrollton, Texas. My lessons:
If you have an artistic passion, you'll know. It will keep you up at night. It will make you feel like a black sheep. You will feel unsatisfied in your jobs unless you are finding a way to express something deep, deep inside of you. Until then, you are not fully you.

Art—visual, spiritual, performing, literary—has a place in our past, from the epics of the Ramayana to the exquisite mosques and temples attracting tourists globally. Art is part of our being, and we must embrace our part in it. 

As much as we would love to disregard our family's desires, it's okay to work the run-of-the-mill consulting job or that 9-5 you kind of dislike for some time to save up some funds. But you must find a way to express thyself in the process. Extracurriculars, internships, writing workshops, networking events. 

If you can't find your artistic community, build it. Someone else needs it as much as you do. 

Fear of releasing your art is as normal as seeing a squirrel willingly run into the road at the sight of your car. But if you have a support system you can trust, rely on them, tell them what you need from them. The opinions of no one else matter at that point, except those people and your own.

You're not lazy, you just don't want to do that task. What lights your ass on fire? That's what you should write about, paint about, film about. Discipline is easy if the passion is there. 

Your value adds in a writing piece isn't "that unique angle" to the story. The value add is you. It is your voice and your translation of whatever it is you are talking about. 

The expression can either energize you or deplete you. Figure out which types of expression energize you and vice versa, and keep them balanced. 

If you believe in yourself (cliche as shit, but for a reason), maybe one day, you'll write a book about one of the most influential Congresswomen of your time. 
Thank you, Prachi for your wisdom, time and energy. Much love to our fellow brown girl. Check Prachi out on Instagram, Twitter, and don't forget to snag her book, out now.