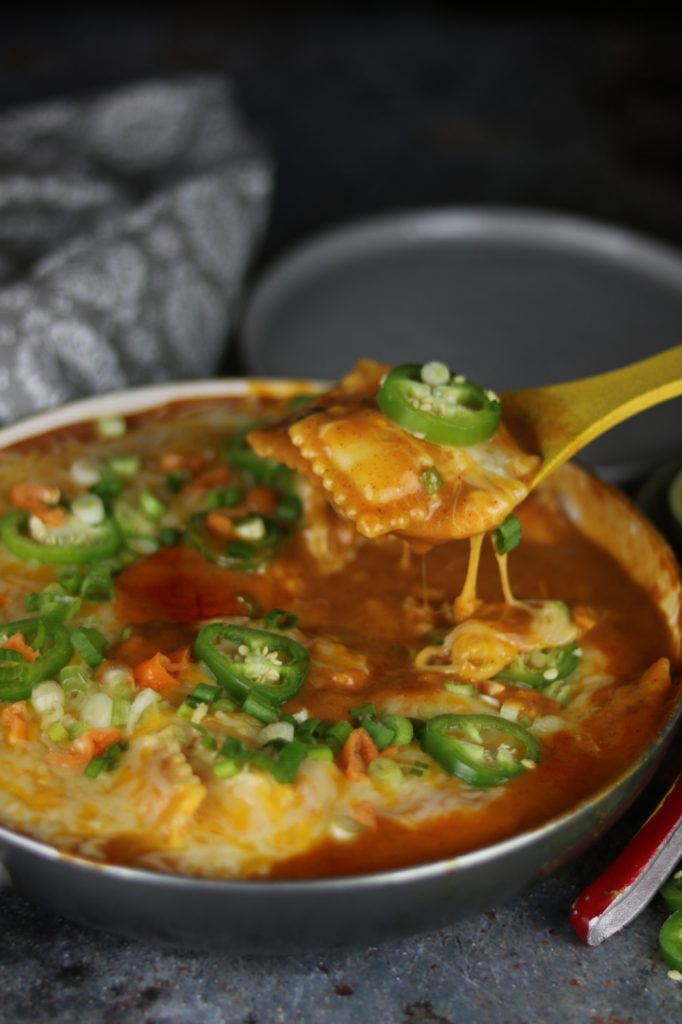 Hello friends! Today I'm sharing one of my special fusion recipes with you, Creamy Enchilada Ravioli! If I had to choose between Italian and Mexican, I would probably lose sleep over making this decision… Which is why I LOVE creating fusion recipes. My Creamy Enchilada Ravioli is so easy to make, and basically only requires one pan… Win-Win situation all around folks.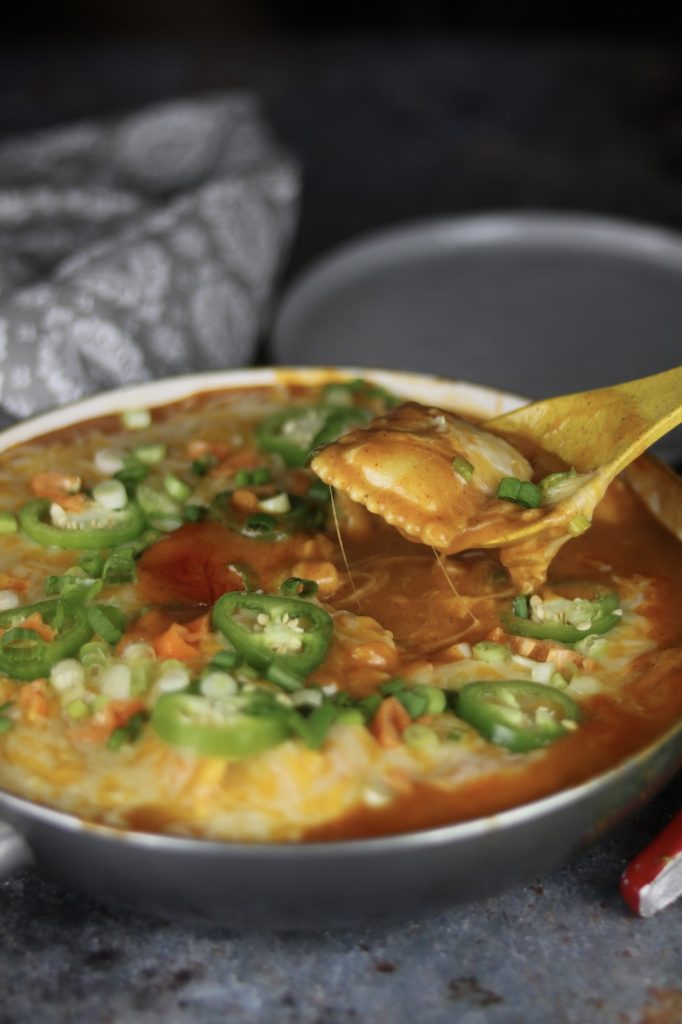 What I absolutely love is that the sauce is SO so creamy. It's a simple roux with mozzarella and milk sauce, mixed in with enchilada sauce! I love using mozzarella for the cheese sauce because it's so stringy and mozzarella holds a great texture! 
While your sauce is cooking, grab a bottle of wine, and pour yourself a drink. ;)
Since I used frozen ravioli, I boiled it separately because I didn't want my recipe to be super starchy. However, if you are using fresh ravioli, you can drop it directly into your sauce, making this, that one pan meal which we all loooove! Once you've added the ravioli into your sauce, top it off with Mexican cheese, jalapenos and green onions!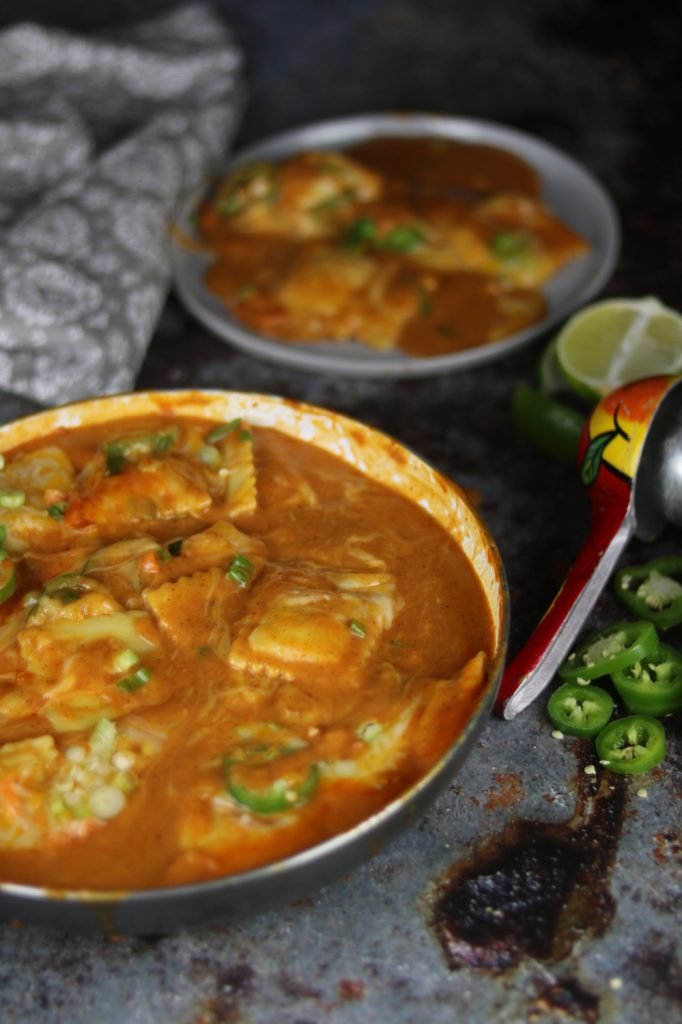 This is such an easy weeknight meal, and trust me, you're gonna go in for seconds. Hope you love this recipe as much as I do! Always remember to tag me on Instagram so I can see your lovely creations!! Enjoy!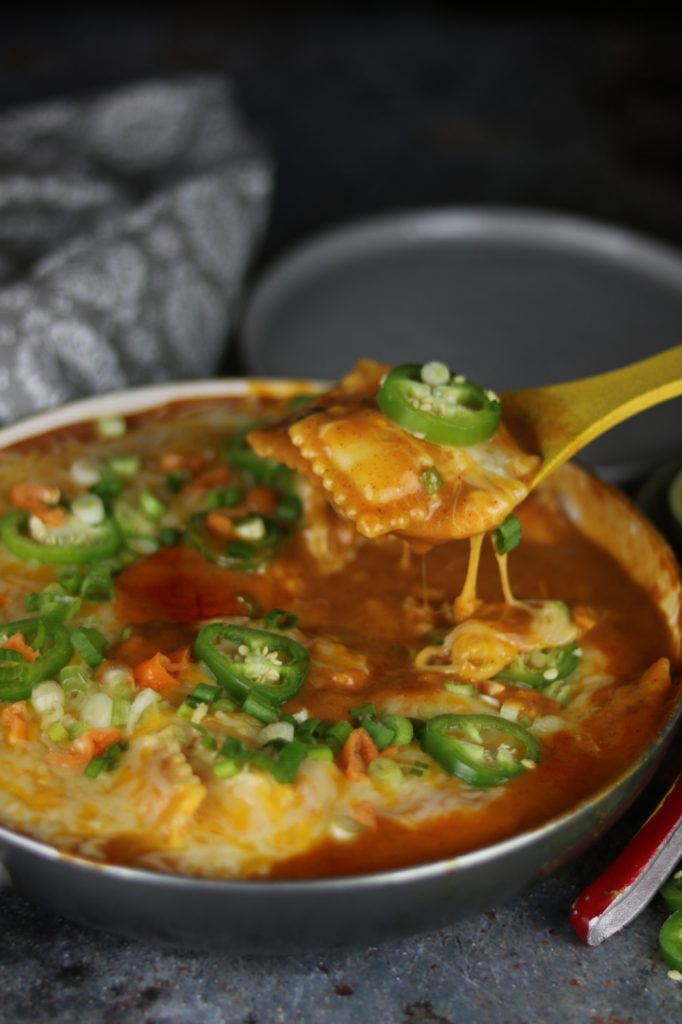 Servings: 4 people
Prep Time: 10 minutes
Cook Time: 15 minutes
Ingredients
2 tbsp of all-purpose flour
2 tbsp of unsalted butter
1 cup of milk
1 cup of mozzarella cheese, shredded
2 tbsp of taco seasoning
2 habaneros, finely chopped
2 10 oz. cans of enchilada sauce
1 24 oz. of frozen or fresh ravioli
2 cups of cheddar cheese
2 jalapeños, sliced
3 green onions, chopped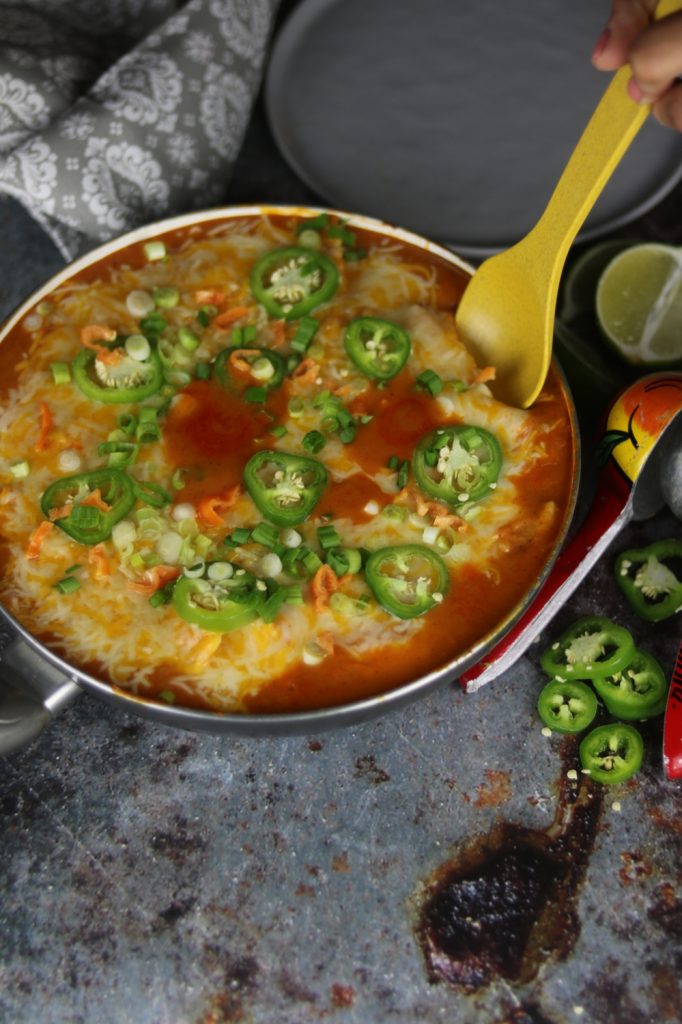 Instructions
In a pan, warm up your butter on medium heat. As soon as it's melted, add in your all-purpose flour and mix together until it is a roux, or seems like a thick paste.

Then add in your milk and let it cook for about 1-2 minutes. When the milk starts to thicken up, add in the mozzarella cheese, habaneros, and taco seasoning. Let it heat it through and mix well.

Then add in your enchilada sauce.  Add salt if you desire to.

Keep the stove on simmer and boil your ravioli to al-dente in the meantime.  If you are using fresh ravioli, add it directly into the enchilada cheese sauce 4-5 minutes after it's been simmering.

Once the ravioli is in the sauce, mix well and top it off with your cheddar cheese. Garnish with jalapenos and green onions. Place a lid on top of your pan until the cheese is all melted. 

Turn off the stove, serve on a plate and eat immediately!