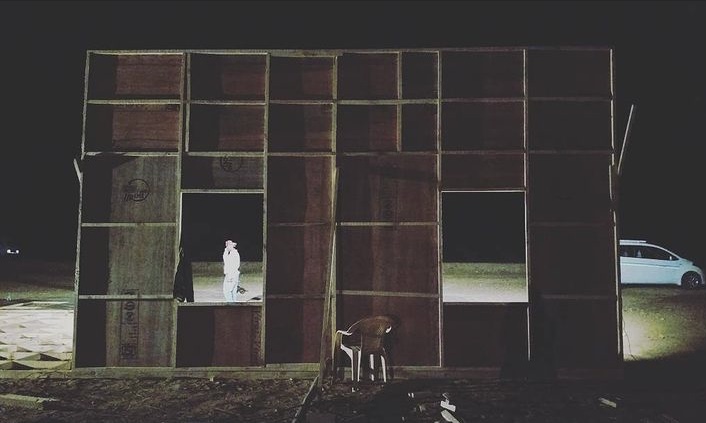 Hailing from India, a land full of intriguing, vibrant stories, I have always found myself to be a storyteller at heart with an eye for design. I found my true calling in the field of film production design by combining the two things I was most fascinated with: design and storytelling. But like many others who aspire to pursue an unconventional career in India, I had a lot of odds stacked up against my journey.
Today we live in a golden age of information where anything that one needs to know is literally at a click's disposal. We are exposed to so many possibilities, especially about different kinds of career options, and yet many still stick to the most conventional career options due to lack of knowledge and choose to live in a comfort zone.
Growing up in a small town, everyone around me was preparing to walk right into the Indian engineer and doctor stereotype. I was not great at math or science while in school, so naturally, I was made to believe that I was not capable of anything. It's tough being a kid and not good at math in India! Because of all the people telling me that I wouldn't have a good future if I wasn't great at math or science, I had this drive, from a very young age, to prove them wrong and figure out, "if not this, then what?"
As a teenager, I was very fascinated with storytelling and loved watching movies! I still remember when I discovered the little behind-the-scenes video of a movie for the first time. After seeing all the people working behind the camera, I thought, "Somebody is doing this job, working hard to bring entertainment to so many people! This could be me!" That's when I discovered production design as a field. How amazing it would be to create a world to tell stories, I thought. However, because of a major lack of knowledge about this field in any middle-class household, I had the added responsibility of having to equip myself with a LOT of research on this. So I reached out to my cousin — a strong, independent woman who was the only person I knew had dared to choose a different career path like photography and has been an inspiration to me growing up. With her help, I visited several institutes, film schools, tagged along and helped on her photoshoots, and read a lot about this field of work. And when I decided to break the news about my career choice to my parents, it was nothing short of a Bollywood drama! How ironic!
Having been raised in a conventional middle-class Indian family, where movies and television are typically seen just as a means of entertainment and never a possibility as one's career choice, gaining my family's confidence and support took a lot more time than I had anticipated. I had to fight. I had to prove to be taken seriously about this, but most importantly, I had to wait to even get started.
I had procured contact information from some really renowned industry professionals through the magic of the Internet, but I was too afraid to reach out. At this point, my aunt, another strong independent woman and also my only other strong supporter, told me something that really gave me a kickstart in this industry:
"Why not reach out to people who can help you? What do you have to lose?" This is the one thing that I tell myself anytime I'm too afraid to do anything, "why not?"
Because of this "why not," I reached out for some guidance from Dilip More, a globally renowned art director who eventually became my mentor in the industry and taught me a lot about work and about life. For me, the best way to learn any skill was by getting my hands dirty, working hard and soaking in all the knowledge from different, talented people all around me.
While I was soaking in all this information, my folks back at home were still not fully convinced, mainly because if I had to really do this, I would have to step out of my parents' house and rent a place in Mumbai, owing to the work hours and shifts. I was asked,
"But who will marry you if you live independently, away from your parents?"
So with very hesitant support from home and after a lot of sleepless nights and crashing at different relatives' houses, I slowly gained my parents' confidence and made them see that this industry is not all bad and most importantly, I had what it takes to succeed here and I was thriving!
In spite of all the night shifts and long hours, I loved what I did. I fell in love with creative and periodic research while working on projects like "Blackmail" and "Victoria & Abdul." My process on any project starts with diving deep into research about the characters in the narrative, about what kind of world they lived in. I love stepping into the characters' shoes to bring different elements to my sets. I've learned a great deal about history through periodic research while working on "Victoria & Abdul" when I had to bring a market street to life from the late Victorian period. I could never in my wildest dream think, when I was a kid, that I would love and be so passionate about my job!
I always like to move on to the next exciting thing. Working on different international projects and rubbing shoulders with such a talented global crew, I realised that I needed to equip myself with more skills and exposure. And because of lack of initial support, I'd never had formal training in the craft. So I decided to move to the United States to pursue a master's degree in production design with a concentration in set decoration.
After coming to an art and design school in the U.S., I experienced the shock, not just in the culture, but in the amount of exposure and opportunities these students, even from smaller towns here, had from such a young age! Even though I had worked in this field for a few years before coming here, I was still at the same level as my fellow students because they had learned many skills and even designed actual sets for plays right from middle school. I learned about so many different jobs within the art department of films and found my passion in set decoration. I also got exposed to a lot of different art and design fields that I didn't even know existed! I couldn't help but wish that parents and children in my country were more exposed to a creative environment and proper knowledge about all possible career options so that they wouldn't have to be afraid of pursuing out-of-the-box careers.
I got the opportunity to work as a set decorator on a student thesis film titled "BLACK," which was set in the Vietnam war '60s era. This project gave me further recognition as a set decorator as it won multiple awards, including Best Production Design Award at the Los Angeles Indie Short Film Festival in February 2020. All it took was years of hard work, sleepless nights, but mainly a picture of this award to get my mother to be extremely proud of me. It was still worth it!
Although it is a well-known fact that the entertainment industry works on insider connections, which is always an inhibiting factor for aspirants, I strongly believe that the willingness to step out of one's comfort zone and honesty in your passion will eventually award you mentorship that will impart the valuable lessons for carving a successful career.
I've been fortunate to find mentorship and have learned from many inspirational creative individuals and colleagues, who have strengthened my passion for the craft even further. It makes me happy when creative aspirants approach me for guidance. It's my way of handling the information and knowledge that I once received, back to the people who really need it to start their own journeys. Just the other day, a social media memory popped up on my phone from 10 years ago, from the time I had visited a film school to start my research about this field. Ten years later, and I'm still just getting started; I hope this journey continues to take me places and surprise me.
Every project, every struggle and every person I've met along my journey has inspired and shaped me as an artist and as a person. I am what I am because of the journey life has taken me on. And I just hope that more young aspirants, especially girls from smaller towns in India, are able to step out of their comfort zone and have a career that they love and not the one that they're "supposed to" have.
---
The opinions expressed by the writer of this piece, and those providing comments thereon (collectively, the "Writers"), are theirs alone and do not necessarily reflect the opinions of Brown Girl Magazine, Inc., or any of its employees, directors, officers, affiliates, or assigns (collectively, "BGM"). BGM is not responsible for the accuracy of any of the information supplied by the Writers. It is not the intention of Brown Girl Magazine to malign any religion, ethnic group, club, organization, company, or individual. If you have a complaint about this content, please email us at Staff@browngirlmagazine.com. This post is subject to our Terms of Use and Privacy Policy. If you'd like to submit a guest post, please follow the guidelines we've set forth here.