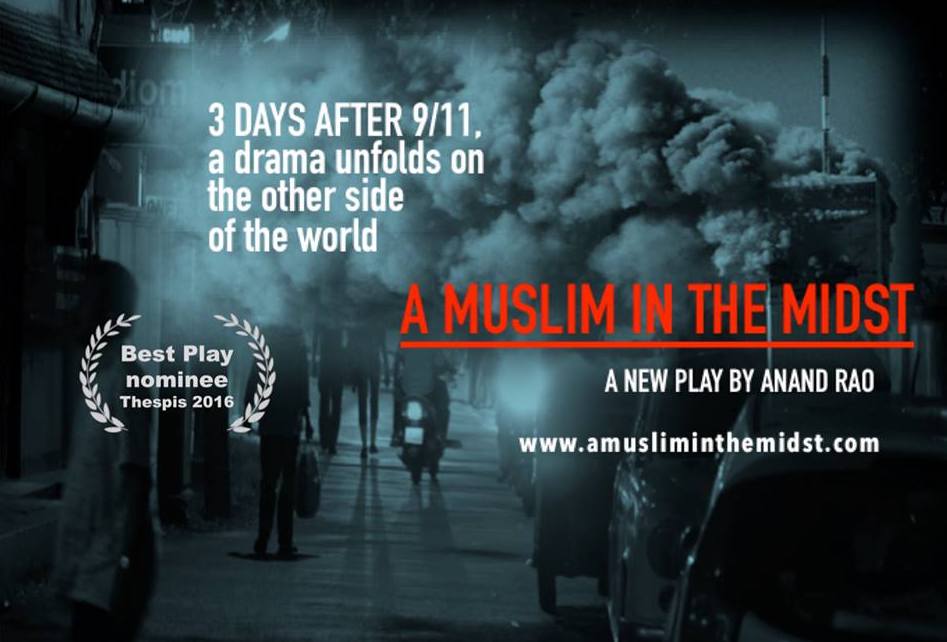 September 11th, 2001, is a day with which that countries near and far identify with. It was a day that turned "terrorism" from a news headline into a sensory reality. Anand Rao's "A Muslim in the Midst" is a play that explores a small instance that takes place in Bangalore, India, days after 9/11.
In November, Brooklyn's Brave New World Repertory Theatre executed one of their first South-Asian productions that sheds light, through a single-set play, on how deep bias truly runs.
I entered what seemed like an intimate theatre, small and close to the stage. Naturally, I chose the seats closest to the set which was made up of four chairs, a vehicle console and a bench. As the audience settled in, we all waited for the show to begin. The sounds of radio disturbance accompanied the opening scenes, news reports citing the deaths in New York City courtesy Islamic terrorism. These voice recordings sent a chill down my spine as they mimicked the very sentiments I recalled hearing years ago as a child.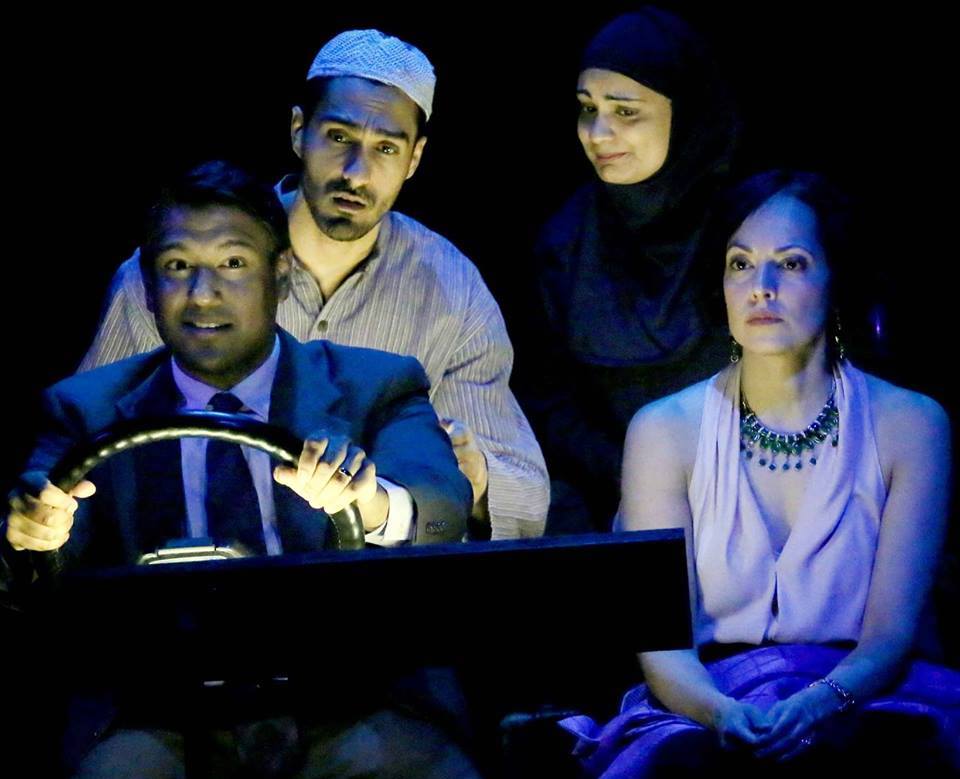 Rao and director Clair Beckman's use of audio and intentionally dim lighting developed an extremely personal ambiance, it felt as though the thespians were speaking directly to us. We followed the journey of Haneef and Shabana Pasha, a Muslim couple seeking transportation to a distant suburb and unable to speak the dialect of the region. Played by Onkar Singh Dhindsa, Haneef struggles to find a taxi or rickshaw driver willing to transport him and his pregnant wife, played by Noreen Quadir.
Vishal Vaidya and Salma Shaw play the "modern" couple, Raj and Priya Sunder, both of whom are employees of an American-based company grieving the loss of co-workers. Engaging in what seems to be an all-too-relatable argument between husband and wife, Rao changes a routinely male narrative and creates a dialogue between a husband who feels his wife works too much and desires her company. We follow the parallel couples soon to collide, as they express their sympathies for the couple outside unable to get a lift. Upon some back and forth banter, the Sunders agree to give the Pashas a ride to their destination.
I was unprepared for the conversations that would follow during this journey, as the radio intermittently intercepted the discussions between the two entities, I found myself invested in the story, identifying at first with the "liberal" likes of Priya, but then quickly feeling protective of Haneef's right to be treated equally, irrespective of his religious affiliations. The dialogues exchanged challenged the construct of both "Islam," and how it is presented to the outside world and the many gender biases present.
Though Muslims make up such a large portion of the Indian population, the implicit bias seeped into society is alive and well. As the journey takes several turns, they all culminate to an understanding of self, that convictions and implications make us human. Though it is easy, and sometimes encouraged, to blame a specific group of people, we are all individuals, we are all ignorant to an outsider's tribulations and we are all just as lost as we are found.
Shaw and Vaidya's experience in the theatre industry of Washington D.C./ Maryland was evident in the inflections of their delivery and emphasis on subtle, yet powerful body language. New to New York City and the acting world, Onkar was able to morph into Haneef, carrying an impeccable accent whilst maintaining a conviction so powerful, it was difficult not to be moved.
In a play featuring such strong personalities and viewpoints, perhaps the most understated, Shabana, became a key facet. Nooren played the role of a quiet, unaware and scared wife. The facial expressions and innocence portrayed was beautiful, as were the climactic moments of power as she defended her lifestyle, but learned about others.
The cast delicately represented the variety of issues we all face, this intersectional play humanized an experience we may have all otherwise dismissed.
Consistent with Rao's style, "A Muslim in the Midst" was multifaceted and utilized the brief interpersonal nuances to tell a global narrative. The dynamics presented delved into several issues of gender bias, ignorance, and the deep-rooted levels of terrorism and it's unacknowledged victims.
As "A Muslim in the Midst" concluded and I chatted with the cast, I struggled to shake the notion that I still have many socio-cultural taught biases to unlearn. Needless to say, "A Muslim in the Midst" evoked emotions, taught lessons and deconstructed notions.
I asked Anand what the future held for him as a writer and filmmaker, he said
"There are still South-Asian experiences whose sides have not been told."
To keep up with Anand's work and learn more about this play, head to amusliminthemidst.com