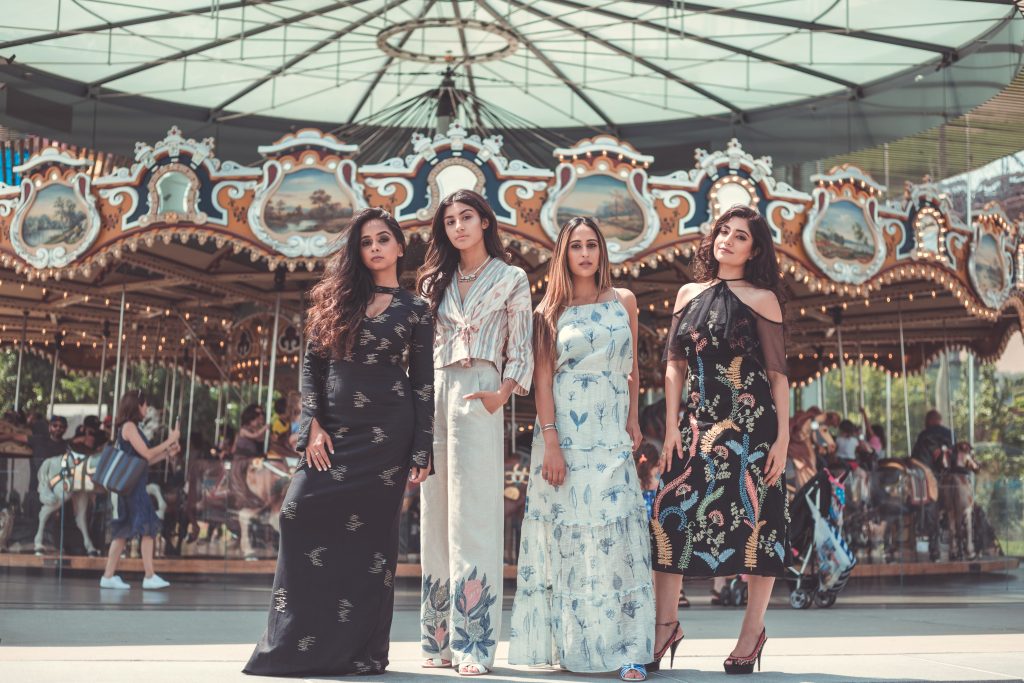 It all happens in 'A New York Minute.' That push and pull between the city and our motherland. The uniqueness of our cultural heritage and blended upbringing in an amalgamation of cultures. Brown Girl Magazine honors our collective experiences with an exclusive editorial in collaboration with Grassroot by Anita Dongre – which is the epitome of our South Asian-American hyphenated identities. We've never let our roots fade with the city's hustle and bustle nor do we ever plan on letting them. So, this photo campaign—shot downtown near Brooklyn Bridge—is us paying homage to the dichotomy of our lives in New York City and our countries of origin.
Photos are courtesy of Pooja Dhar and makeup is by Preity Reilly. 
Megha Patel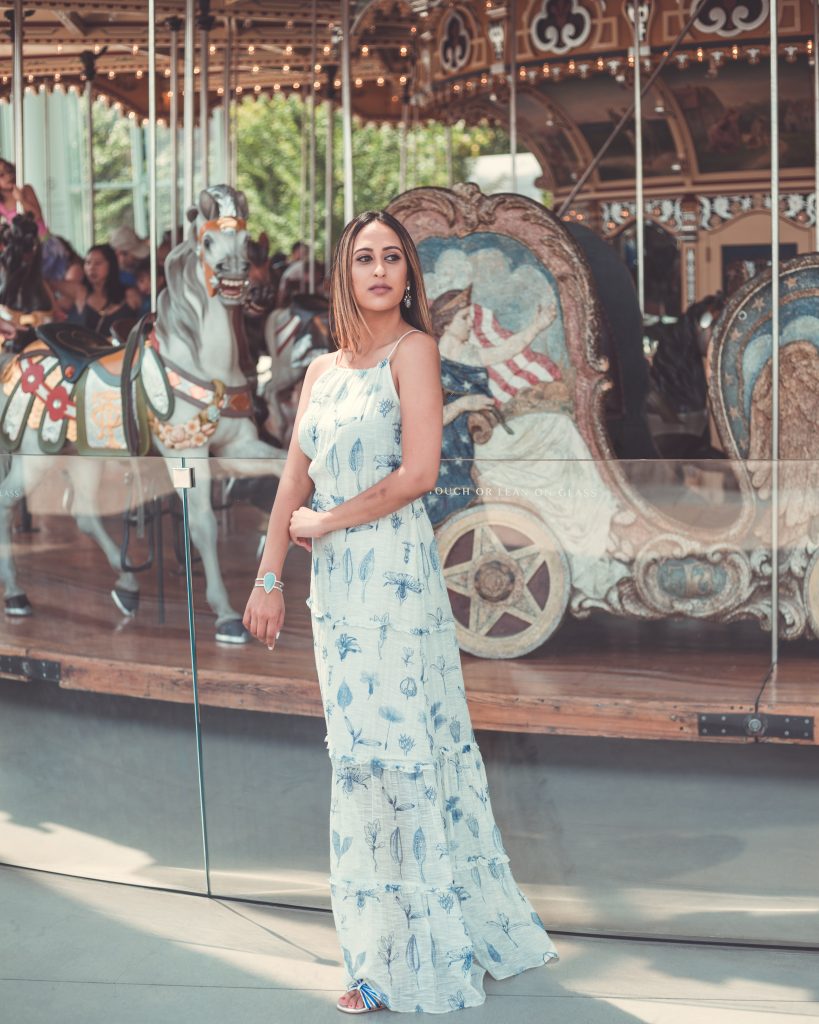 Growing up in America as an Indian girl wasn't the easiest for me. I was raised in a town with a majority of the people being middle/upper white class. None of the girls in my grade had a unibrow, and all of them had pretty hair, skin, and nails. At that point in time, all I wanted was to be like the other girls in my school. However, as I grew, I learned. I was becoming more and more aware of the fact that I have two great sides to me – a girl who was born and raised in America, and a girl whose values and morals come from India. I then started to join Indian dance classes, watched more Bollywood movies, learned how to cook my favorite Indian dishes, and was even an Indian princess for three years straight on Halloween because nothing was more satisfying than showing off my new Indian outfits. All of these moments were stepping-stones into me finding myself and figuring out the type of person I want to be.
Living in America can easily lure you away from your roots if that is something you are not as passionate about, but for me, there is one gem that kept it all intact: New York City.
This beautifully crazy, perfectly loud, and gloriously radiant city targets everything that I love about my culture, mixed with the American lifestyle that I grew up in. The Midtown street carts are basically pani puri lari's, there are countless Soho boutiques that carry dhoti style skirts, taxi drivers may or may not run you over like the rickshaw drivers in Ahmedabad, and I swear that Murray Hill straight up smells like a combination of buttery pav bhaji paired with the warm comfort of masala chai.
When I started my blog, I knew that a lot of my content was going to be based on my love for fusion food and East meets West fashion, and it's great knowing that within an hour, I can be in New York to get my weekly dose of inspiration from anything and everything.
When I learned that Anita Dongre's Grassroot Collection is in New York City, I knew I had to get my hands on an outfit. Her taste resonates so well with mine, being that it is minimalist in style, great quality fabric, and it has the pretty desi prints that I thought were only possible to find in India. I've always been an advocate for representing yourself through your passions, and since fashion is one of my biggest, I'm so glad that I can portray my love of my culture and my roots through Anita Dongre's line.
---
Afshan Nasseri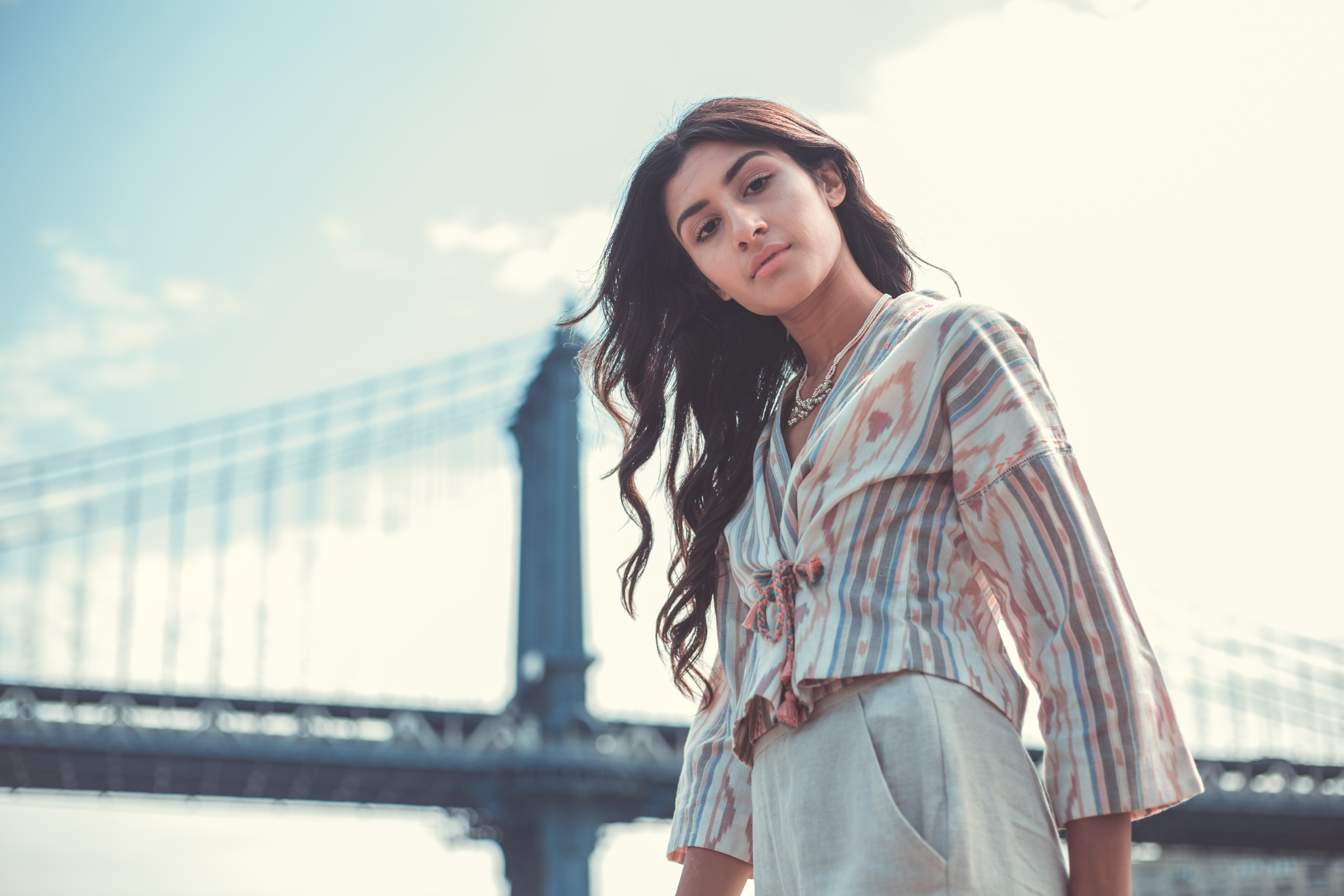 Firstly, I have to admit that New York City and I have been in a complex and exciting fling since I was 17 years old. For the past four years, we've been back and forth, mostly myself being pulled back by its opportunity and people. As I finish my last year of university in Montreal, NYC and I are flirting quite a bit. I visit often on weekends and for periods of work to create conceptual shoots based around being part of the desi diaspora.
Now if you know me, you know that the one consistent thing about me will always be my love for India. Even while being only half Indian (and half Iranian), going to India alone since I was 15 to craft my nonprofit organization in Lucknow has allowed me to grow alongside with the budding country. I fell in love with Indian music, tried out dancing, engrossed myself in history, mingled with Urdu and Hindi, and began to understand the complexity of Urdu poetry. In my teenage days of woe, it seemed that my trips to India molded me into caring less about myself and more about the progression of my society as a whole.
So, on an everyday basis, where can I find my desi roots in NYC? Well, just about anywhere really. I can grab a quick chai while on the run at Desi Dhaba, just blocks from my midtown apartment, have my luxurious Nawabi dinner at Chote Nawab's, and then seize the night with my friends at Babylon.
You don't have to choose between your two worlds in NYC – desi spots are not only in pockets but also woven in through restaurants, dance classes, and shopping!
More importantly, I can give myself and the streets the dose of desi that we both deserve, by playing with fusion fashion and fully embracing my interior on my exterior. The Anita Dongre Grassroot store is the first step for more women and men like me to get conveniently comfortable in being our true selves. Rather than having to gamble online or wait until my annual trips to India, I now have the option to go into a store and find an outfit that represents me not only on a level of style but also on a level of culture and ethics. Holding on to India does not have to be represented through bold or forward actions, it can even be a simple reminder every day like the chikankari designs on your blouse or your mother's necklace – anything that takes you back to your roots.
---
Shivika Sinha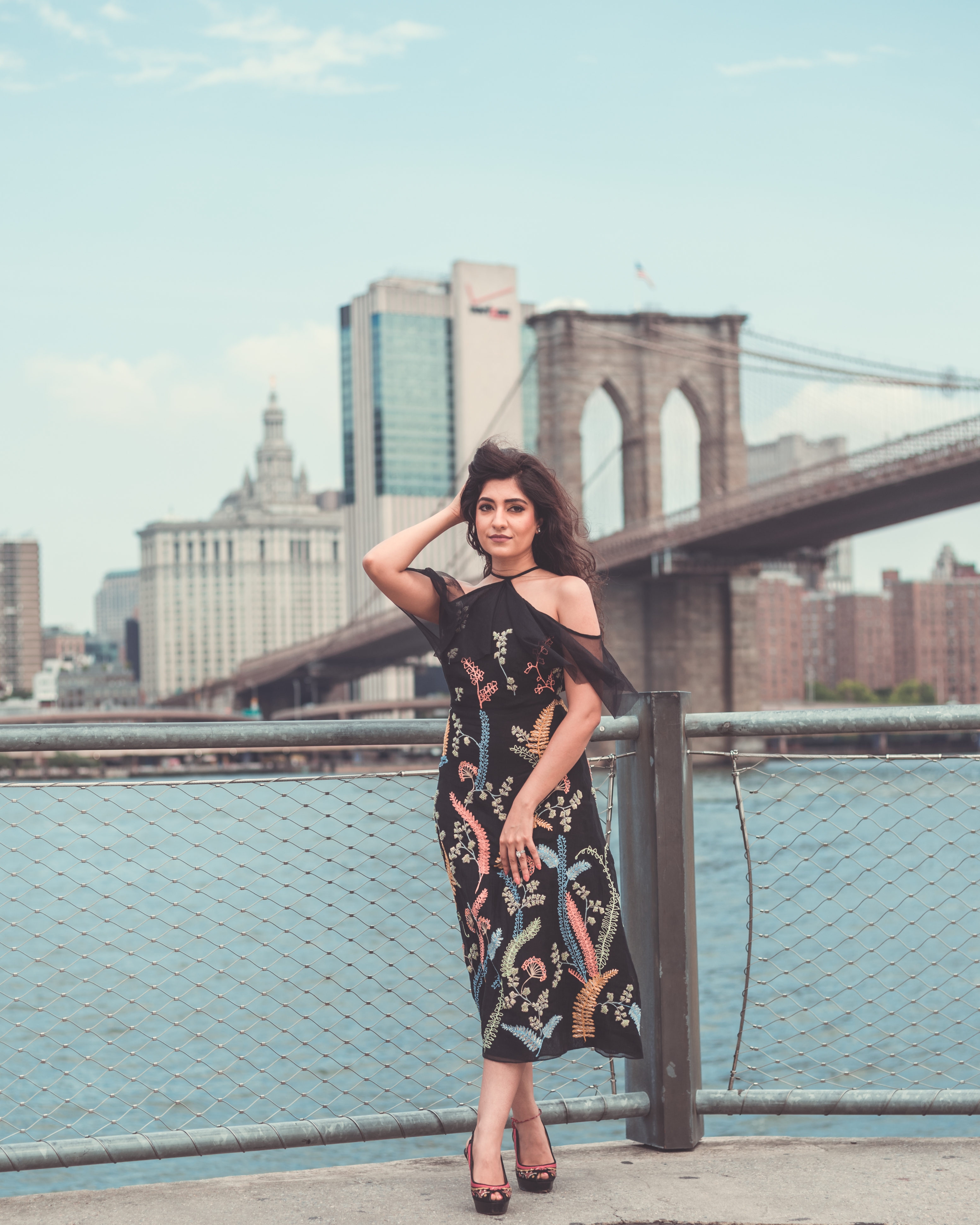 I grew up in Nigeria, Zimbabwe, Vietnam, Bangladesh, and India. I've met some of the most vulnerable people on our planet, and witnessed the power of business to create meaningful positive change. In New York City, I spent nearly a decade in marketing with well-known global fashion brands. In the bustling city, the world moves in breakneck speed in a beautiful, grand adventure. During my time cultivating a career in high fashion, I learned about the industry's humanitarian and planetary impact.
Fashion is among the greatest industrial contributors to climate change and the top exploiter of people. Sixty percent of garment workers are women aged 18-35, who often earn less than a living wage and work in dangerous conditions where they're vulnerable to sexual, verbal and physical abuse. Additionally, according to the International Labor Organization, many of the 170 million children engaged in labor are working for the fashion industry.
I left my career in fashion and am now a social entrepreneur on a mission to harness the power of conscious consumerism to transform industries, like fashion, as forces for good. Consumers, like you and me, are the key to reshaping businesses so that positive impact is imperative for profit. When we align our wallets with our values and place a premium on sustainability and human dignity, we create a financial incentive for businesses to pursue a brighter future for our planet and communities.
Anita Dongre's Grassroot collection celebrates my heritage as an Indian and the roots of my deepest values like gender equality and securing a sustainable future. As an advocate for conscious consumerism, I'm excited that the brand works to economically uplift artisans while five percent of every purchase provides them with education and healthcare. The brand also uses sustainable practices in its materials and manufacturing process. Furthermore, I couldn't be more proud that an Indian designer is celebrating Indian artisanship, global economic empowerment, sustainability and impeccable style in New York City.
India has a very long history with textile craftsmanship and now these long-standing traditions, which are often handed down from generation to generation, finally have a home in New York City.
Anita Dongre's store in New York is my new go-to for a timeless style that connects me to my Indian roots and humanitarian values.  
---
ASHNI MEHTA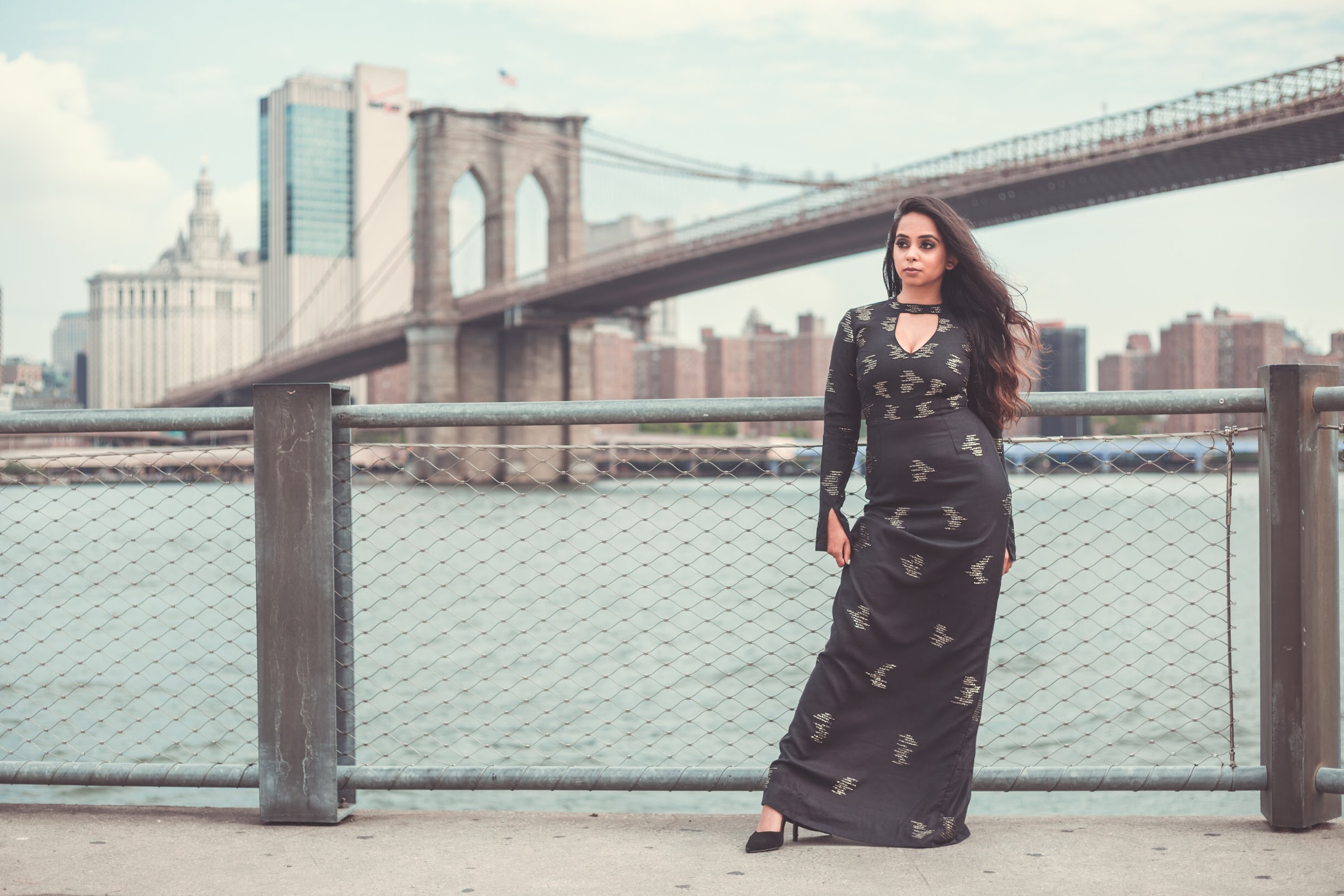 Even though I'm a born and bred New Yorker, my Indian heritage has always been such an embedded part of my life. My lifestyle is the perfect blend of Mumbai and Manhattan. I thrive on the energy, hustle and creativity of both cities I am lucky to call home. And while both cities are most definitely a melting pot of diverse traditions, they manage to retain their respective distinct cultures which I have come to love and adore.
Staying close to your roots while you live all the way on the other side of the world truthfully hasn't always been easy. For a long time my family, my love for Indian food, and my passion for Bollywood and classical Indian dance were the only things connecting me to my culture.
But living in a city where I can find South Asian creatives who are constantly pushing the bar on what it means to fuse the two parts of our identities together is not only gratifying but truly inspiring.
Today, I proudly wear my culture on my sleeve – literally. I strive to combine the chic and edgy aesthetic of New York City with Indian accents, whether that be traditional jewelry, intricate desi prints or the vibrant colors and embroideries we've come to associate with Indian fashion and culture.  
Now, having one of my favorite Indian fashion designers open a flagship store in SoHo, with a collection specially tailored for South Asians living in the diaspora only makes me feel one step closer to home. The Anita Dongre Grassroot collection blends the comfort and ease of Western-style clothing with desi prints and embroideries, all while empowering rural artisan women from traditional Indian communities.
Whether it's my favorite Indian restaurant, the biryani cart right outside my office, my dance studio, my go-to eyebrow threading salon, and now the Anita Dongre store, it's nice to know there's always a piece of home a New York Minute away.