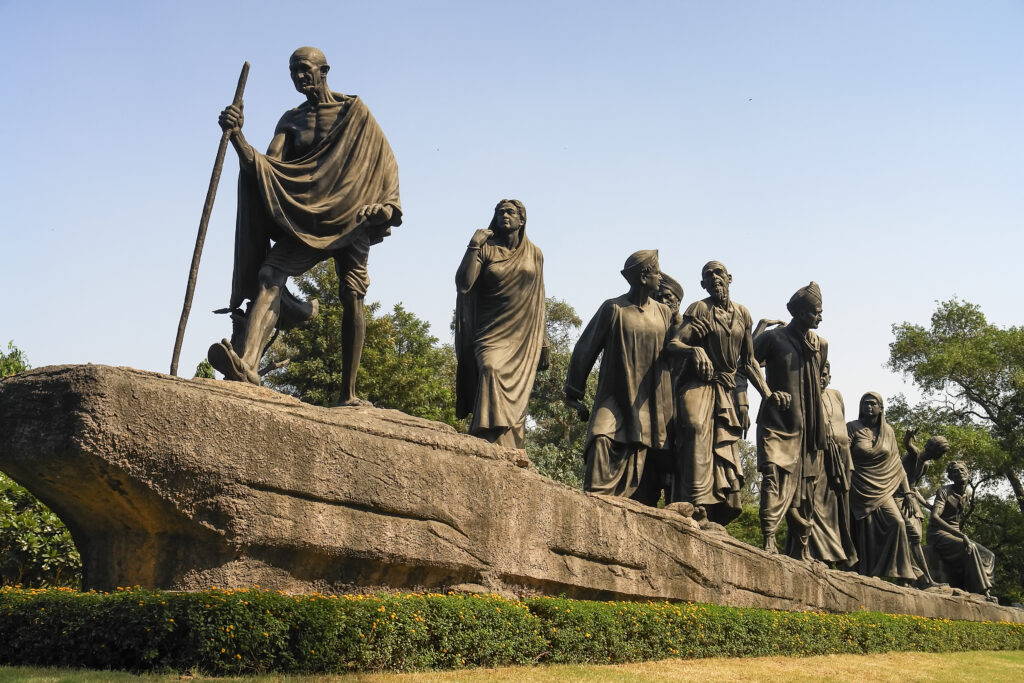 He's been proudly called the "father of India" and a "great soul in beggar's garb." Undoubtedly, Mahatma Gandhi provided the world a totally different approach to politics. A frail man with a will of iron, he created a blueprint for an independent India. His values and principles are still influential worldwide, and he remains one of the most revered figures in modern history. To this day, his birthday continues to be celebrated all over India every October 2nd. Internationally, this day is celebrated as the International Day of Nonviolence, since Gandhiji was known for preaching about the nonviolent protest. He continues to be a symbol of peace and truth.
We celebrate great figures, like Mahatma Gandhi, Jawaharlal Nehru, and B. R. Ambedkar, not only for their contributions to the Indian independence movement but also for their character. Indian history, in general, has great leaders, who had significant roles in the making of the nation. Even so, we all have an ideal figure whom we follow and aim to mold ourselves into. However, a customary glance at Indian history exposes many problematic features of these political heroes and of the history itself. We celebrate political leaders, but forget to follow their values and morals.
"What Gandhi Means to Me" redefines the concept of admiring political leaders. This poem emphasizes that we celebrate Gandhi in vain if we neither understand nonviolence nor conform to his values, which he emphasized by his actions. There's hatred, violence, falsehood and tyranny everywhere, so we must always question the usefulness of idolizing political figures.
What Gandhi Means to Me
I met Gandhi betwixt the crisp metaphors & heightened imageries,
In the empty farms,
In the hungry bellies,
In the bloody lanes.
I met Gandhi, I met Nehru & I met Ambedkar,
I witnessed crimson petals turn bloody red,
I saw the devil under the flesh and bones,
Poison, a gun and a dagger,
Nonviolence, truth and selflessness all buried deep in the grave.
Police, politicians and the powerful seldom walk over the seemingly firm and dry mud in the graveyard.
Be it Gandhi, be it Nehru or be it Ambedkar,
Of what use they are today?
I met bodies lying longingly for their loved ones,
I witnessed women struggling to steal even a gasp,
Lives paralyzed by the sting of hatred,
If I could only write any of you–Gandhi, Nehru or Ambedkar,
If I could tell you how all your teachings failed.
Braille of battles
Seldom won,
Speech
A therapy,
A string of lies,
A medley of vengeance, greed and selfish motifs.
Be it Gandhi, be it Nehru or be it Ambedkar,
Of what use they are today?
If love can't win over hatred,
If truth chokes in the smoke of Insanity,
If men eat men,
The teachings of one, the tongue of another,
All efforts in vain.
Here, you will learn how to jab your scream into paper, and turn them into poems,
This is one amongst hundreds and thousands.
Be it Gandhi, be it Nehru or be it Ambedkar,
Of what use they are today?
---
The opinions expressed by the guest writer/blogger and those providing comments are theirs alone and do not necessarily reflect the opinions of Brown Girl Magazine, Inc., or any employee thereof. Brown Girl Magazine is not responsible for the accuracy of any of the information supplied by the guest writer/bloggers. This work is the opinion of the blogger. It is not the intention of Brown Girl Magazine to malign any religion, ethnic group, club, organization, company, or individual. If you'd like to submit a guest post, please follow the guidelines we've set forth here.