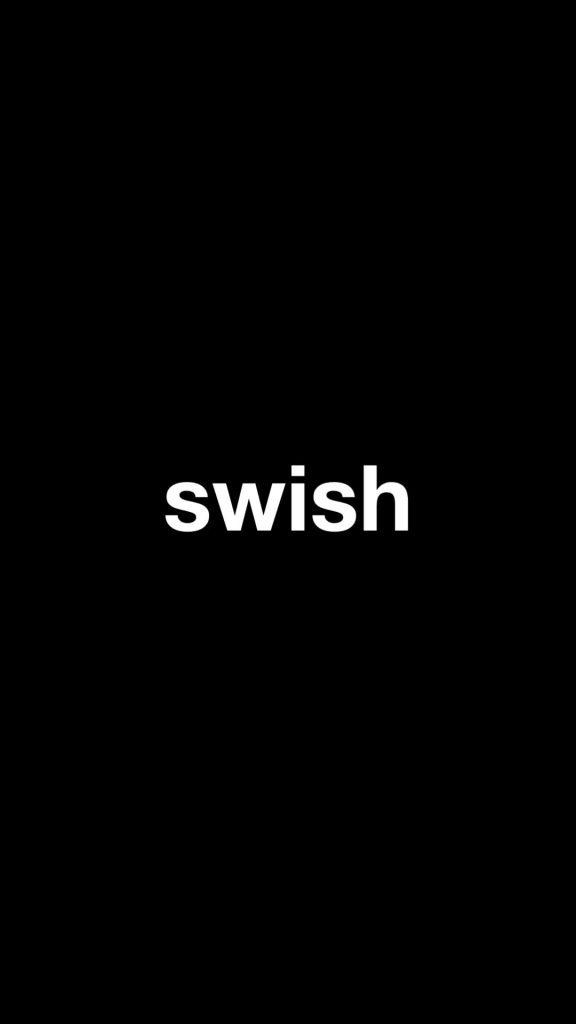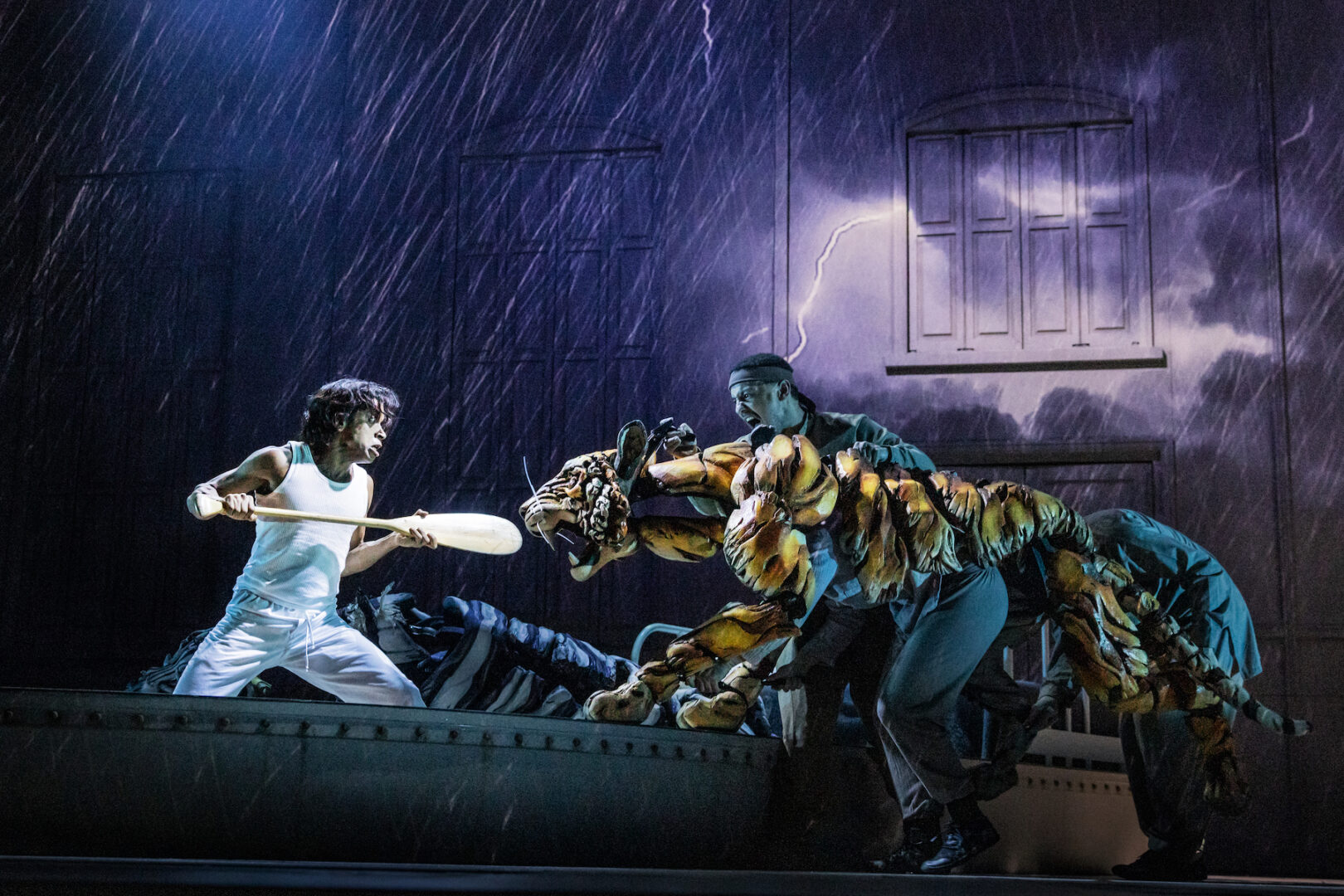 "Don't bully me with your kindness," says Pi Patel (Hiran Abeysekera) to Lulu Chen (Kirstin Louie), from the Canadian embassy who is visiting Pi in his hospital room in Mexico. Pi was the sole survivor of a cargo ship traveling from Pondicherry, India, en route to Canada. His family and the animals from his zoo from back home all passed away, and Pi turned up after being stranded for 227 days at sea. 
In this scene from the "Life of Pi," that recently won in three categories at the Tony Awards, Pi's sanity is being questioned as his account of what transpired at sea is too…fantastical. His vivid imagination and inspired attention to detail seem like a story a child would share. The character Lulu, from the embassy, is trying to gently nudge him into telling her the more 'truthful' account of what happened —one that doesn't include a carnivorous tiger, a cannibalistic island, and a horrific Frenchman. Pi finally tells her to stop patronizing him. To stop bullying him with her perceived kindness. To actually listen to what he is saying.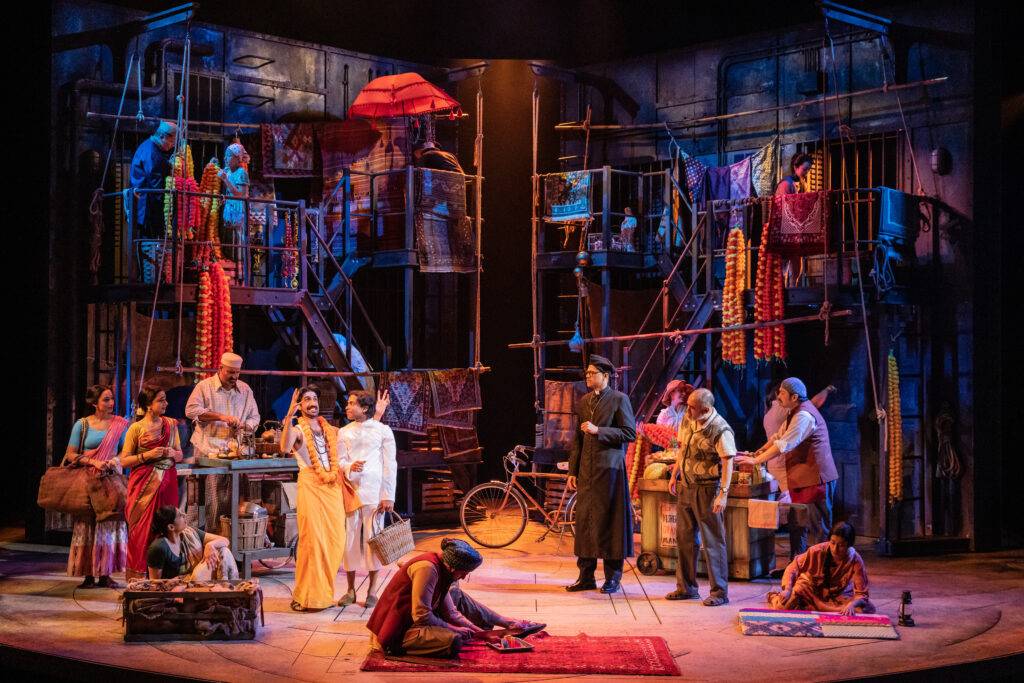 It is this one line from the show that has become one of the most surprising and thoughtful lines I have encountered in all the art I have consumed in 2023 thus far. In fact, surprising and thoughtful are words that I would use to describe the overall musical itself. Directed by Max Webster, and adapted by the playwright Lolita Chakrabarti from Yann Martel's Booker Prize-winning novel, "Life of Pi" is so enchanting, charming, and fantastical that with every beat of the show, I would hear gasps emanating from the crowd. The 24 cast members, many of whom were puppeteers, brought the different animals to life as we switched between the two timelines of Pi recounting his life at sea, in the hospital room, and Pi living out his life at sea. 
Dreamlike to the audience and a nightmare to Pi, the scenes depicting his challenging, lonely, and magical time at sea beautifully depicted the magical realism of the novel. The choreography of the different cast members puppeteering the animals added a sense of whimsy and movement that lent itself to Pi's childlike imagination. The lighting, the sound, the set, and the actors all came together to create a musical that is like almost being in a drug-induced trip — the set moves seamlessly from the hospital room to the boat, and back to the hospital room, and then the boat; sometimes both at the same time. You can feel the waves when Pi is on the water and see the little fish moving about. It's as though you are with Pi throughout his journey — you feel scared when he is attacked, you feel inspired when he is in bliss, and you feel pain when he longs for his family.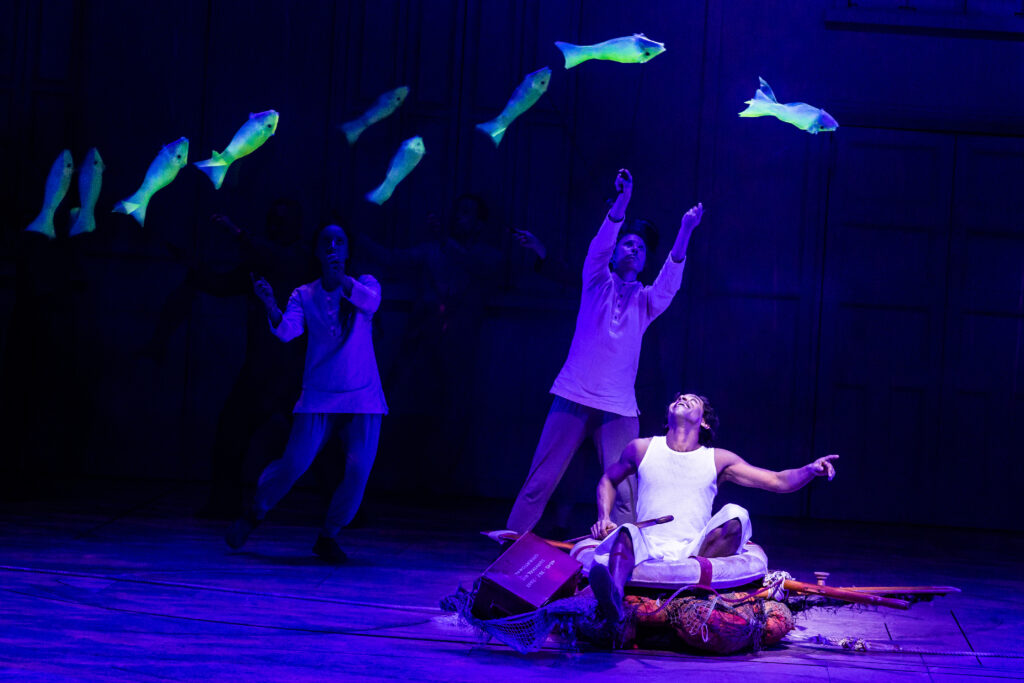 The biggest marvel, though, is Richard Parker. The puppeteering behind this character is excellent — he is at once menacing, vulnerable, scared, and strong. The transformation of Parker is such that he starts out as such a grand animal and when we see him finally arrive on the island, he looks so frail and thin. You root for him as much as you root for Pi. And Pi himself is the heart of the musical. Abeysekera imbues Pi with so much confidence, playfulness, wit, and fear, that it makes you believe his stories and his relationship with the relentless tiger. 
When Pi tells Lulu to not bully him with her kindness, he is telling her to not shatter his perception of the world he has lived; either it be real or constructed. Pi eventually shares with Lulu and Mr. Okamoto (Daisuke Tsuji), a representative from the Japanese Ministry of Transport, a version of events that is devoid of animals but one that is darker as it depicts human beings in their primal, selfish states. He then asks them, "Which story is better?" Lulu and Mr. Okamoto are speechless, as is the audience. In the end, it's not about the story they believe but the one he believes. For the one he believes is the one he lived. And no one can bully him into thinking otherwise.
Photos Courtesy: Box Office Guru/PR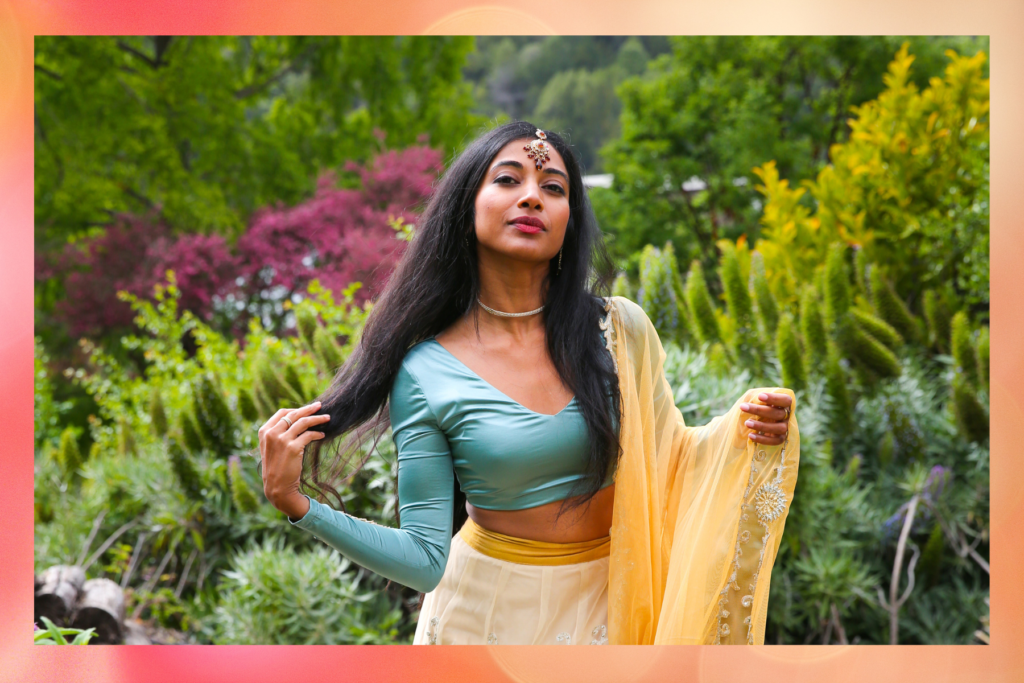 While growing up, the only complaint I had when wearing desi clothes was that the embroidery on the fabric would always end up scratching my skin. As beautiful and intricate the details were, putting on an embellished blouse meant wearing an inner or a comfortable t-shirt underneath. Fortunately now, many South Asian brands are changing the game; focusing not only on the quality and intricacy of the embroidery, but also on comfort and wearability of the blouse itself. One such small business is Khushey.
Khushey is a one-stop shop for "buttery soft" performance blouses that don't compromise on comfort for fashion and pair just as well with any of your mom's saris as they do with your newest lehenga. In an interview with Brown Girl Magazine, founder Neha Seelam talks more about what inspired her to launch Khushey and what the brand has to offer.
View this post on Instagram
Why did you want to start a brand that specializes in South Asian/Indo-Western blouses specifically?
I wanted to specialize in blouses because blouses are really the only part of Indo-Western clothing that I found a specific 'problem' with — one I thought I could solve. I absolutely love everything else about our clothing — with the variety of patterns/styles/cuts available, I feel that you can easily find the perfect piece out there.

But the part of South Asian clothing that my friends and I found to be a perpetual challenge was the blouse. They're usually gorgeous, but by the end of the day you can't wait to take them off. Also, it's so hard to find a fit that looks seamless and beautiful — usually the chest, underarm or sleeve just wouldn't fit the way you want it to with the heavy material and traditional tailoring.

I wanted to start off with basic colors but in shiny/formal-looking material that I could mix and match with all the different colors and styles of South Asian clothes that I already have in my wardrobe. The goal is that the blouses can be used multiple times with different outfits, are ideal for long nights of partying, and feel great against the skin.
What's the story behind the brand's name, Khushey? 
The English word "cushy," which means comfortable, actually originates from the Hindi word 'khushi' (happiness). I thought that the origin story was very sweet and resonated with the idea of comfort and happiness I had for my label. That's how I chose the word Khushey — slightly adjusting the spelling so I could snag the right URL! 
What is your number one priority when it comes to your blouses?
Formal wear that's actually comfortable! I would love for women to be in the moment at their celebrations, and not feel constrained, itchy, or uncomfortable in their blouse.
View this post on Instagram
Who is your target customer? 
South Asian women! Customers, from recent graduates all the way to stylish moms, have loved the product — especially moms since they typically value comfort and movability if they have to chase down kids at events!
How do you think Khushey allows South Asian women to embrace their love for South Asian fashion? 
Over the last decade, I've seen women repurposing crop tops from Zara and H&M as sari blouses, and while I think that's awesome and creative, I wanted to create an option for South Asian women where every detail was oriented around recreating the perfect sari/lehenga blouse. The shine is intended to be appropriate for formal wear, the cuts were inspired by some of my favorite blouses from when I was younger that wouldn't have bra straps showing from underneath and were versatile for saris or lehengas, and the embroidery is intended to add a desi flair.
You've mentioned sustainability on your website. How are your blouses sustainable?
I plan to donate five percent of profits every year to a sustainable organization. Once I get enough interest from the public, I would like to fund new product lines that use eco-friendly materials that were prohibitively expensive for me to launch with. But I am eager to incorporate recycled spandex/nylon and metal into my pieces once I can afford to!
View this post on Instagram
What sort of designs do you plan on incorporating into your label in the future?
I've thought of so many designs that I can build on. Starting with colors; I'd like to have all of the major colors available in my basic sleeveless blouse and then create a more modest version of that blouse with a variety of basic colors as well. 

I'd also love to expand the patterns and embroidery options on the blouses. I hope to create seasonal collections that enable me to tap into the vast array of style/color inspirations that South Asian wear includes.
Khushey promises to offer comfort and style, all packaged into one performance blouse that you can reuse with a variety of desi outfits. Like Neha said, ditch your Zara crop top for a design that actually complements your desi look. Make sure to keep your eyes out for her latest designs!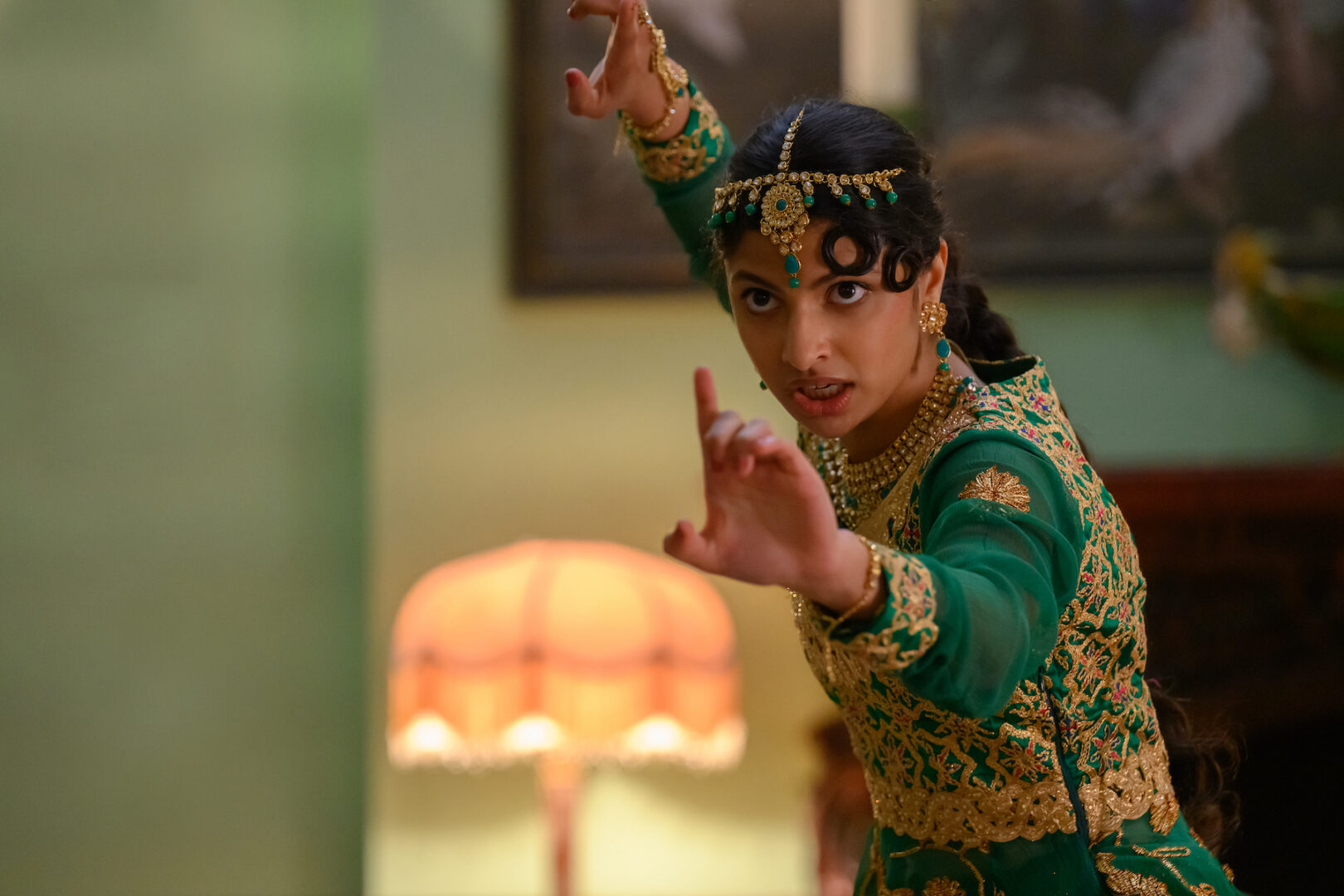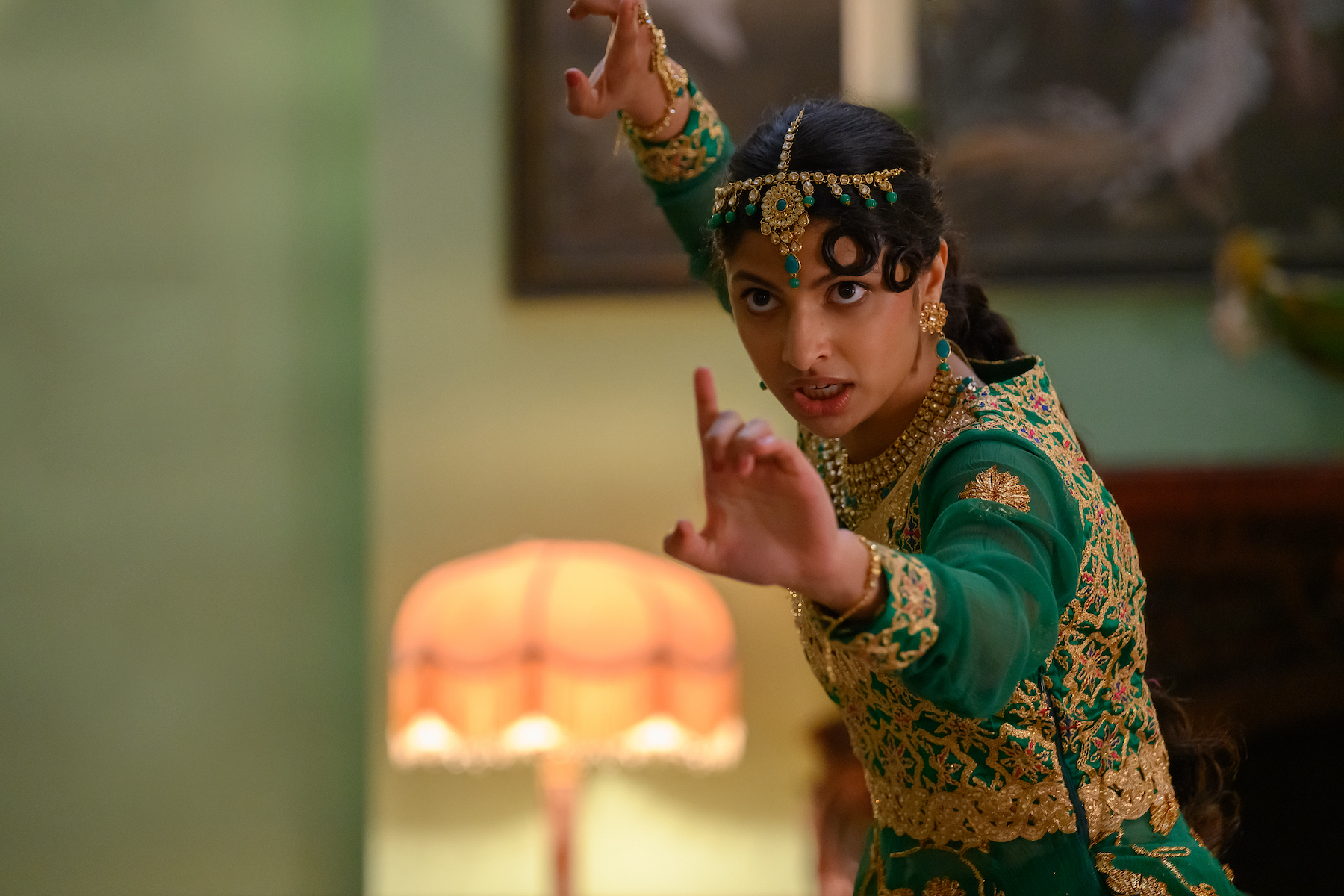 Weddings, huh? Talk about a stress fest. And for the bride, it's like a 24/7 walk on eggshells. However, add in a paranoid and overprotective sister, and you've got a recipe for a completely different degree of drama. In "Polite Society," Ria Khan (Priya Kansara) and her gang of clumsy pals take the phrase "till death do us part" to a whole new level as they plot to "steal" the bride — aka Ria's own sister, Lena (Ritu Arya), during her shaadi reception. But with a wedding hall packed with guests, a mother-in-law from hell, and a groom with more shades of fraud than a rainbow, this heist is anything but smooth sailing.
It goes without saying but "Polite Society" comes with a cast of wacky characters, gut-busting one-liners, and an action-packed heist sequence, making it a must-watch for anyone who loves a good comedy. I mean who hasn't dealt with some serious wedding drama, am I right?
Lead actress Kansara agrees wholeheartedly. "I definitely have!" she chuckles, as I catch up with her at Soho Hotel in London. Despite the rubbish weather outside, Kansara is a ray of sunshine with her infectious enthusiasm.
The minute I read the script, I thought to myself…wow, playing Ria is going to be one wild ride!
And wild is definitely the right word to describe her character. Ria is a British-Pakistani martial artist-in-training from London, determined to become a professional stuntwoman. Her sister, Lena, who dropped out of uni, often ends up being the guinea pig for filming Ria's stunts for YouTube, including one lovingly dubbed "the fury." She reveals
I'd never done martial arts before this film. The stunt training started from the day I got the role, and it was three to four times a week all the way until we finished filming. It was a seven-week period in total, and boy, was it physically demanding. Oh my God, I think I can add a whole new skills section to my CV! But on a serious note, it was so much fun and we had an amazing stunt team. They, including my stunt double, taught me so much. It was important to me to do my own stunts as much as possible, but also strike a healthy balance.
For South Asian women, who are often expected to be quiet and agreeable, all that punching and kicking on set must have been cathartic, right?
Honestly, it was like anger management at work! I got to kick and throw things around — it was the perfect balance.
View this post on Instagram
What sets Kansara apart from other actors starting out in the industry is her ability to draw from her own life experiences to bring authenticity to her characters on screen. Her career began with a degree from UCL and a communications job at a pharmaceutical company. But today, her versatile range and unwavering commitment to her craft have propelled her to the forefront of British comedy, portraying defiant South Asian women we'd love to see in real life.
From my own experience as a South Asian woman, I've always been told to do what's 'proper' and think twice before speaking up. Playing a character like Ria and putting myself in her shoes, I felt like I was doing and saying things that I wish I had done at her age. It was almost like living through her and speaking my mind about things I never did.
Without a doubt, every South Asian woman on this planet wishes she cared more about herself and less about what other people think.
Ria totally inspired me. If only I had her mindset when I was younger, my career path would have taken off way sooner instead of worrying about other people's opinions.
The chemistry between the cast members on and off-screen is so apparent, especially the sisterhood between Ria and Lena. The wild adventures of a bride, and her paranoid maid of honour navigating through family drama, are bound to create some unforgettable moments on set.
We both confess our love and admiration for Nimra Bucha's portrayal of Raheela, Lena's evil mother-in-law and share a teenage fangirling moment:
I'm obsessed with that woman. There's something terrifying yet ultra sexy about her character in "Polite Society" that's mesmerising. I absolutely loved the dance sequence. As South Asians, we've all grown up watching Bollywood films and idolising Madhuri Dixit's iconic dance moves. "Polite Society" gave me my Bollywood heroine moment, and it was a dream come true with the costumes and jewellery.
It's definitely a unique experience for Kansara, considering her former career was worlds apart from entertainment. So, what advice does she have for aspiring actors who may secretly wish to pursue the same path, but are unsure of the next steps? Kansara advises, drawing from her character's heist-planning skills.
I believe starting small and honing your craft is an underrated superpower. If you're passionate about acting, make short-form videos, and build your portfolio. You never know who might be watching.
So, grab your popcorn and your sense of humour, and get ready for "Polite Society" — the film that proves that sometimes, the most polite thing to do is kick some butt and save the day. It released in cinemas on April 28th, and I highly recommend it.
Photo Courtesy: Universal Pictures