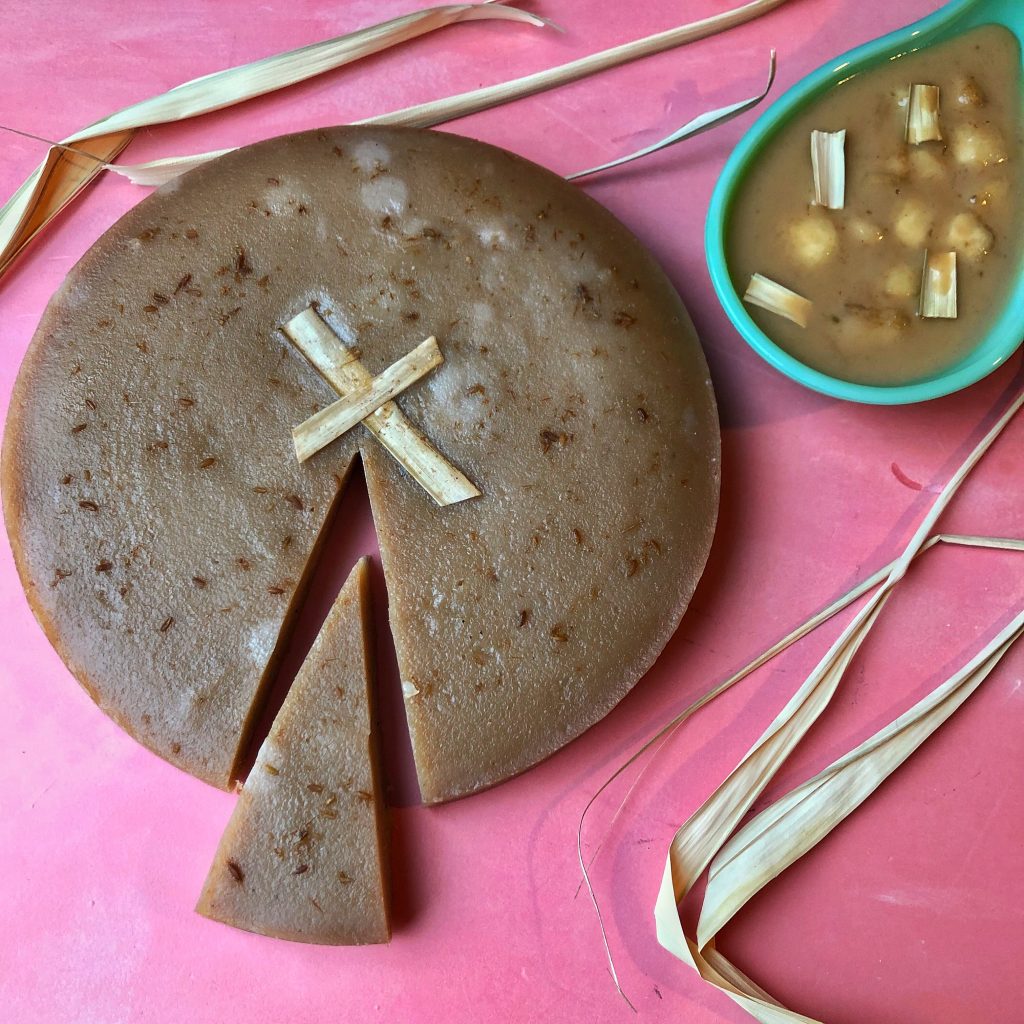 When I think about Easter (which is next weekend) a few things come to mind: pastel colored bunnies, Cadbury chocolate eggs, extra-long and extra-packed mass at church, and pesaha appam. Pesaha appam is a bread made without yeast or any rising agents (aka unleavened). It's a bread served on Passover night, which is called Maundy (Holy) Thursday and also known as the last supper of Jesus.
Growing up, we'd gather around our table with the lights dimmed low and read the Passover story. My mom would very meticulously prepare a variety of pesaha appams, most commonly vattayappam (a springy, sweet white rice cake) and inri appam (a savory bread made with shallots and coconut pieces). She'd make sure every single cooking utensil and pan used was spotless – everything had to be pure and clean for this occasion.
[READ RELATED: Grilled Vegetable Chimichurri Pasta Salad]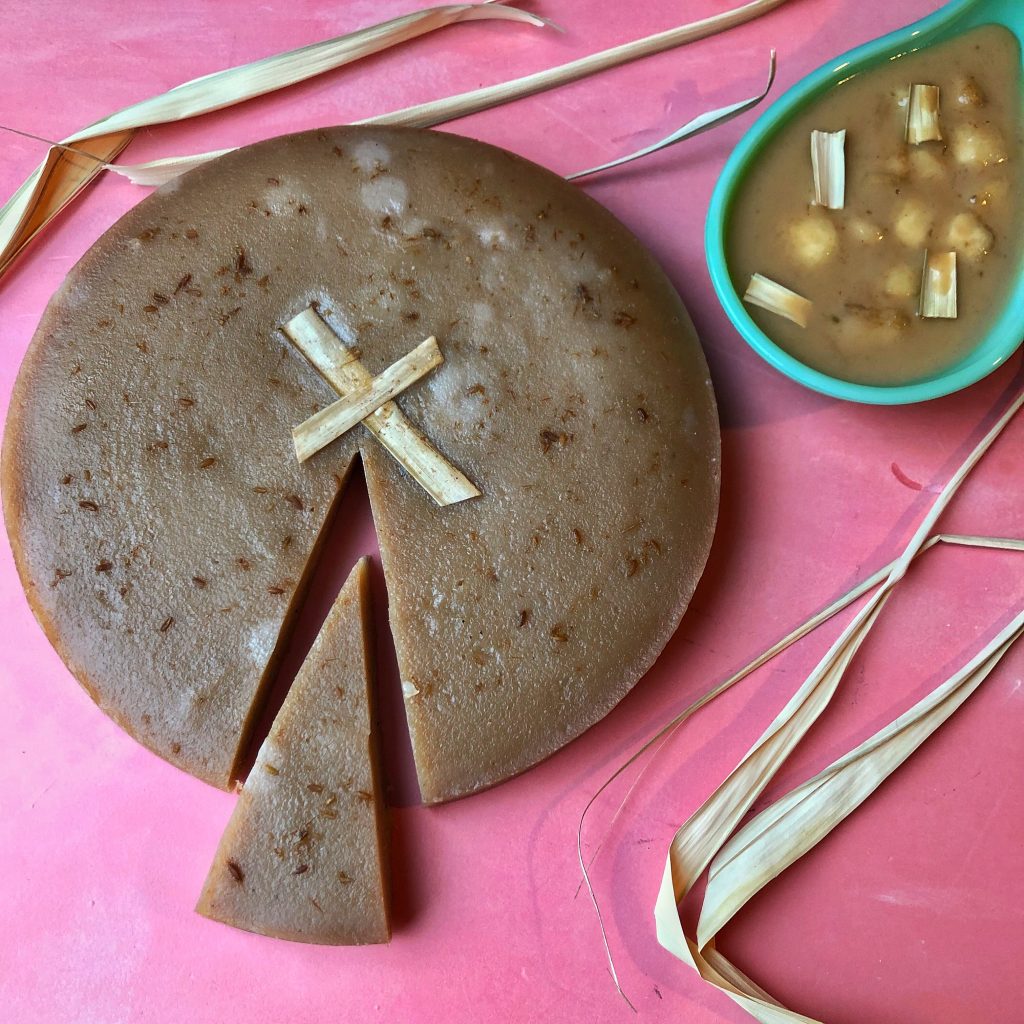 Another bread she'd make that's less common during pesaha is kinnathappam. Kinnathappam is sometimes considered to be a dessert with its firm, but bouncy texture made with coconut milk and jaggery. With any of these breads, we'd dunk it into pesaha paal (milk) to help give the bread a little more flavor and sweetness because, to be honest, I'm not sure how many people actually like pesaha appam. In instances like this, it's not so much about the deliciousness about the food as it is the tradition and community it symbolizes. To me, this dish is enjoyed because it's celebrated around those I love and that's worth making.
Do you have any holiday food traditions that require you to make and eat foods you don't always like?
KINNATHAPPAM
Rice Flour, 1
Jaggery, 1 cup
Green Cardamom, ½ tsp, ground (about 8 pods)
Cumin, ½ tsp, ground + ½ tsp lightly smashed for topping
Salt, a pinch
Coconut Milk, 2 cups
Egg, 1
Coconut Oil, for greasing
*Palm Sunday Leaves, optional
HOW TO MAKE IT
Make the batter. In a mixing bowl, combine the rice flour, jaggery, cardamom, ground cumin, and salt. Stir together and then mix in the coconut milk and egg. Mix very well until everything is combined. The batter consistency should be slightly thick, but pourable.
Steam. In a 10" round steel pan (about ½" deep) add about a ½ tbsp of coconut oil and generously grease the pan. Pour the batter into the steel pan. Sprinkle the remaining smashed cumin on top. You can also optionally place a cross in the center of the batter using palm leaves. (This is more for traditional aesthetic than it is for taste). Place the pan into a steamer and cook for 20 minutes. Serve with pesaha paal.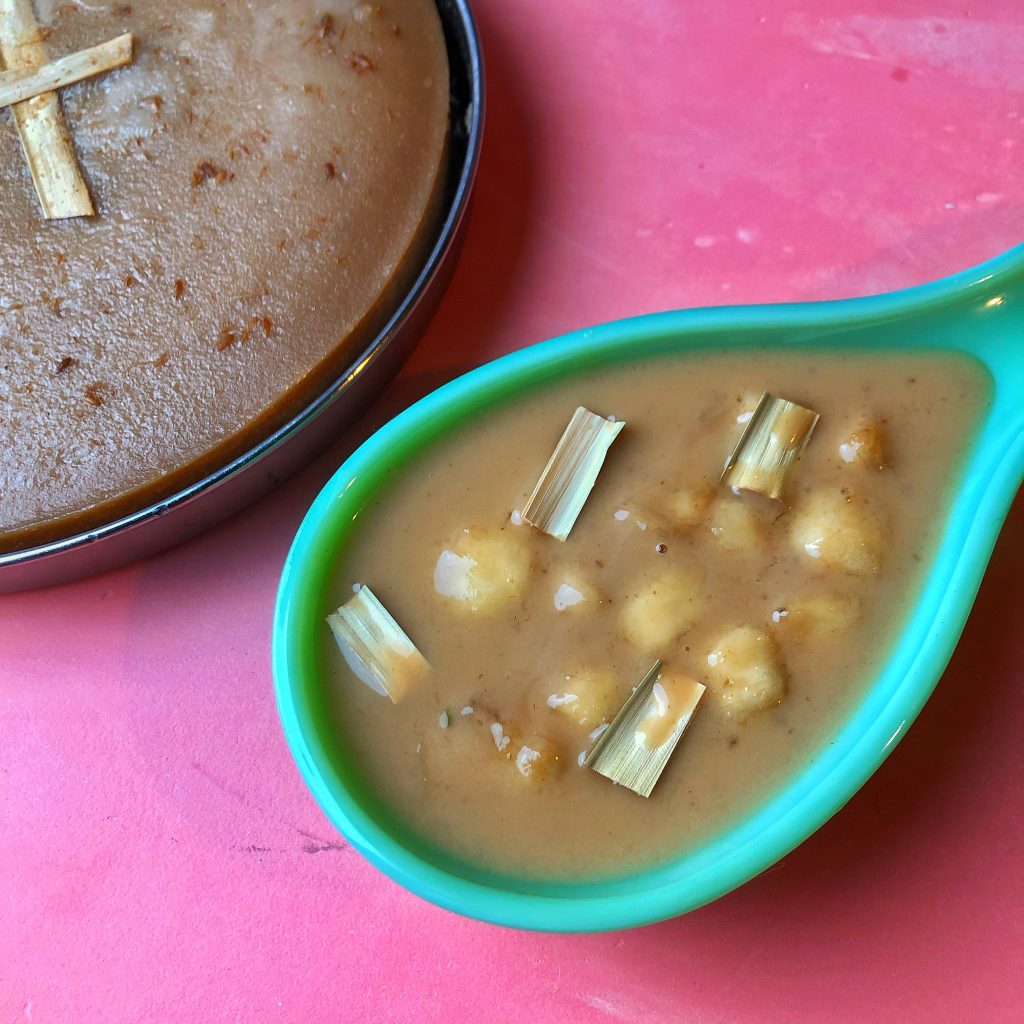 PESAHA PAAL
Coconut Milk, 2 cups
Jaggery,1 cup
Rice Flour, 1/4
Banana, 1, cut into small moon shapes
Green Cardamom, ½ tsp, ground (about 8 pods)
Cumin, ½ tsp, ground
Ginger Powder, 1 tsp
Salt, a pinch
*Palm Sunday Leaves, optional
HOW TO MAKE IT
In a sauce pan on medium high heat, add the coconut milk and jaggery. Once the jaggery has dissolved, sift or whisk in the rice flour, stirring quickly so clumps of rice flour do not form. Add in the banana pieces along with the remaining ingredients. Optionally, you can add in 1" pieces of palm leaves. This is for traditional aesthetic, not flavor. Eat with pesaha appam.