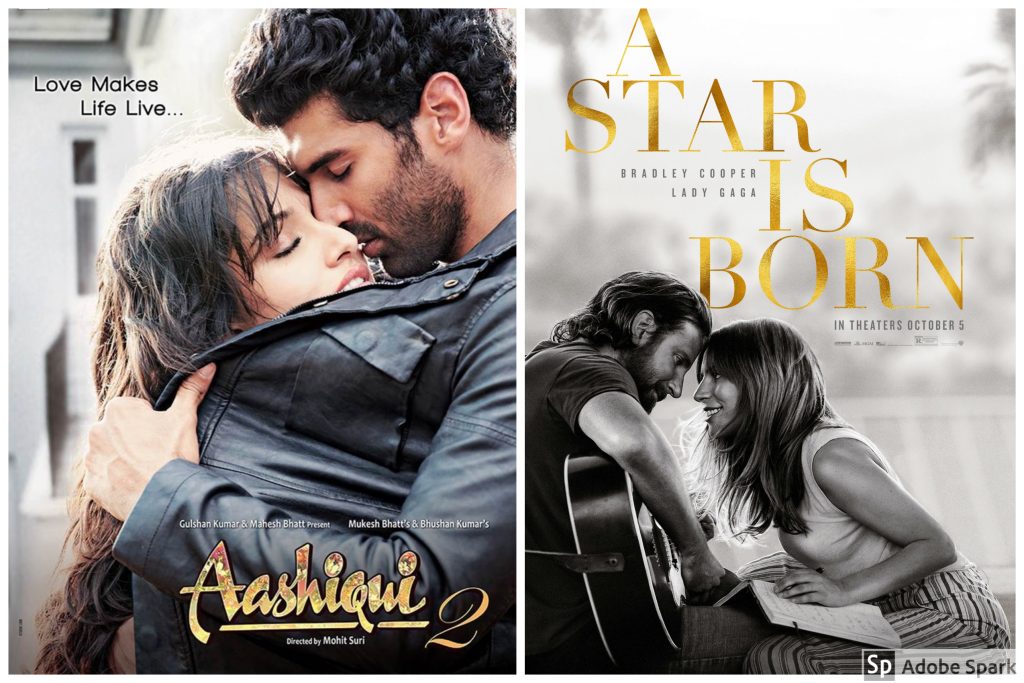 From "Chachi 420" (aka "Mrs. Doubtfire") to "Hum Tum" (aka "When Harry Met Sally"), Bollywood has proven time and again that its ability to shamelessly copy classic Hollywood films is unparalleled. But with every remake comes the question: "Who did it better?" Today, we place two remakes of the Hollywood classic "A Star Is Born" (1937) in the ring to see who remade it better: "Aashiqui 2" (2013) vs. "A Star Is Born" (2018).
Some may think the winner of this battle is obvious, given the newest iteration of "A Star is Born" was just nominated for 5 Golden Globes, including Best Motion Picture – Drama, Best Actress (Lady Gaga), Best Actor and Best Director (Bradley Cooper for both). But let's really break things down, shall we?
Important note: This piece does give away important plot points, so here is your official SPOILER ALERT.
A Brief History of "A Star is Born"
For those who have been living under a rock, "A Star Is Born" (2018) starring Bradley Cooper and Lady Gaga is the fourth iteration (to date) of the 1937 classic "A Star Is Born" starring Janet Gaynor and Fredric March. The two other were released in 1954 (starring Judy Garland and James Mason – my personal favorite) and 1976 (starring Barbara Streisand and Kris Kristofferson).
Each movie, although adjusted to the trends and dialogue that are iconic of that generation, tells essentially the same tragic boy-meets-girl story centered on fame, alcoholism, and ultimate self-destruction.
Oddly enough, the first "Aashiqui" film (known more for its songs — I'm serious go download all the songs right now) was not a remake of "A Star Is Born", but was prefaced from the get go that it would be the first installment of some sort of love-story series. "Aashiqui 2" was then modeled after "A Star Is Born."
ROUND 1: The Incomprehensible Tragic Relationship
The hallmark of A Star is Born franchise is creating a love story so tragic that that it confuses and almost frustrates the audience – why would you stay in a relationship that is so mutually destructive? The story isn't about one or the other character, it's about how the two feed off each other. This is where this year's iteration of A Star Is Born, lacked (in my opinion).
The first half was fantastic and truly captured the intimacy and first sparks of a romance. The second half, however, turns into a movie that lacks focus and is no longer about the two of them functioning as a unit. A part of me wonders if this was intentional. Maybe it is supposed to be telling our generation that she really didn't "need no man" to rise to the top. But even if that was the intention, her rushed decision to drop everything and help him, in the end, seemed wildly out of place and unnatural which is why Jackson's suicide at the end seems "unearned" and slightly "left-field".
In Aashiqui 2, Arohi's (the Lady Gaga counterpart, played by Shraddha Kapoor) fame always comes second to RJ's (Bradley Cooper's counterpart, played by Aditya Roy Kapoor) health. This is established from the very beginning. At any given point in the movie, as hard as the decision may be, she is willing to walk away from her fame to help him get better. Therefore RJ's demise at the end hurts that much more.
Bollywood: 1, Hollywood: 0
ROUND 2: The Power of Music
Story aside, it is no secret that Bollywood's strength is our music industry and the talented composers, singers, and lyricists that comprise of it. This strength, in my opinion, elevated the emotion and romance between Arohi and RJ in Aashiqui 2 to a level that A Star Is Born did not and could not do.
Aashiqui 2 opens on the rock version of "Sunn Raha Hai" ("Are You Listening") a song that at first makes you want to bob your head up and down in a rock n roll fashion. But when you really listen to it, you realize that the lyrics are truly gut wrenching. It's about not being heard but then finding the person who not only hears you but listens to you.
The first time RJ meets Arohi, she is singing an acoustic version of the song and hearing it stripped down reminds RJ what the song is really about and establishes the electrifying spark that ends up being the foundation of the film. Throughout the movie, every song transforms their relationship and builds the tension all the way to the final song that plays after RJ has made the decision that he needs to kill himself.
In its Hollywood counterpart, the songs take a bit of a back seat and as a full-on Bollywood junkie, that was just unacceptable (I'm only partly joking). Though, to be fair, the song "Shallow" is pretty wonderful.
Bollywood: 2, Hollywood: 0
ROUND 3: Characters
Where I think both films exceed in comparison to the earlier versions is how both Jackson and RJ never truly resent the girls' success. They want their girls to stay true to themselves and not fall into the dark holes that they both have fallen in already.
In a world where Lady Gaga is trying to "reverse rebrand" if you will, casting her as the lead in this film was smart (no matter how cringy I personally may have found some of her acting). Fun fact: Barbara Streisand was cast in the 1976 version to facilitate an image makeover just as I'm sure Gaga is attempting to do as she transitions out of her eccentric music phase and into a new grounded one.
The 1976 version also reflects the hustle and bustle of the women's liberation movement. Likewise, Gaga's character is reflective of some of the modern struggles women experience when it comes to fame. She struggles with appeasing to the masses, dressing differently, standing out in a disingenuous way, the perils of social media and paparazzi and all in the name of selling more hits.
Bollywood: 2.5, Hollywood: 0.5
Although, in my eyes, Bollywood won this time around, these two films will remain timeless renditions of how our generation interprets the classic "A Star Is Born" story. It makes me curious to see if Bollywood will do another rendition in 10 years, or how the inevitable next Hollywood version will fair in terms of gender dynamics.