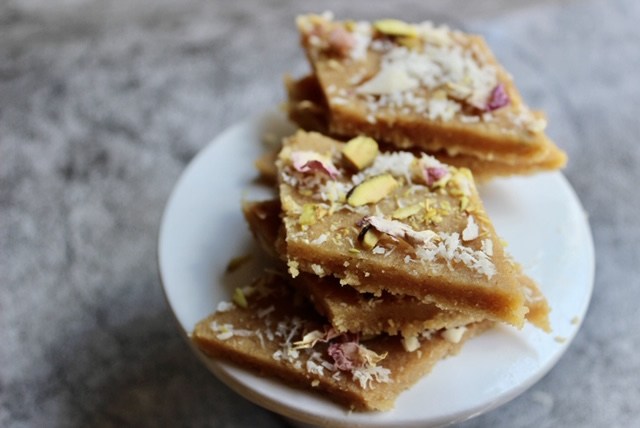 Sukhdi is a Gujarati sweet made with gor (jaggery), ghee, and flour. My mami makes the BEST sukhdi ever, she even mailed me some recently and I devoured it in two days. I could legit eat the whole thali in one sitting when it's warm, so of course, I needed to give her recipe a try. She gave me her "vadki" measurements but I made it three times to get it just right, and I hope you'll give it a try too.
View this post on Instagram

This dish reminds me of my childhood so much. When I lived in India, we went to Mahudi to visit the Mahudi Jain Temple there, and my favorite part was receiving Sukdhi as prasad. It was so fresh, warm, sweet and just sooo good. I can legit taste my childhood in these little diamond-shaped sweets. We hope you make this delicious yet simple dessert this festive season.
Ingredients:
1 cup Wheat (roti) flour
3/4 cup jaggery (gor)
1/2 cup + 3 tbsp ghee + more for greasing the plate
1 tsp slivered almonds + more for garnish (optional)
1 1/2 tsp shredded coconut + more for garnish (optional)
1 tsp shoont (ginger powder) (optional)
slivered pistachios for garnish (optional)

Directions:
Heat the ghee on medium-low heat. While the ghee is getting warm, grease you thali (plate) with ghee and set aside until ready to use.
Add flour to the ghee. Cook the flour until it starts to form bubbles and changes to a light brown color, stirring constantly. Once you see bubbles forming add almonds, coconut, and shoont (if using).
Add gor (jaggery). Mix really well and turn off the stove, the gor should melt right away.
Pour the hot Sukhdi mixture onto the greased plate. Even out the surface using a spatula or even a bowl.
Garnish with Shredded coconuts, slivered almonds, slivered pistachios. Let it cool down just a bit. While its still warm slice it into diamond shapes. (do this step while it still warm otherwise it won't slice properly).
Enjoy it warm or cooled!

Notes:
You can add khas khas as well with soonth.
Prep all your ingredients ahead of time and have them ready to go, because the cooking process is very quick.
You will know the flour is ready once you start to smell it.
I like to cut my gor into small pieces so it melts easily.
This recipe was first posted on Zheelicious and reposted here with permission.