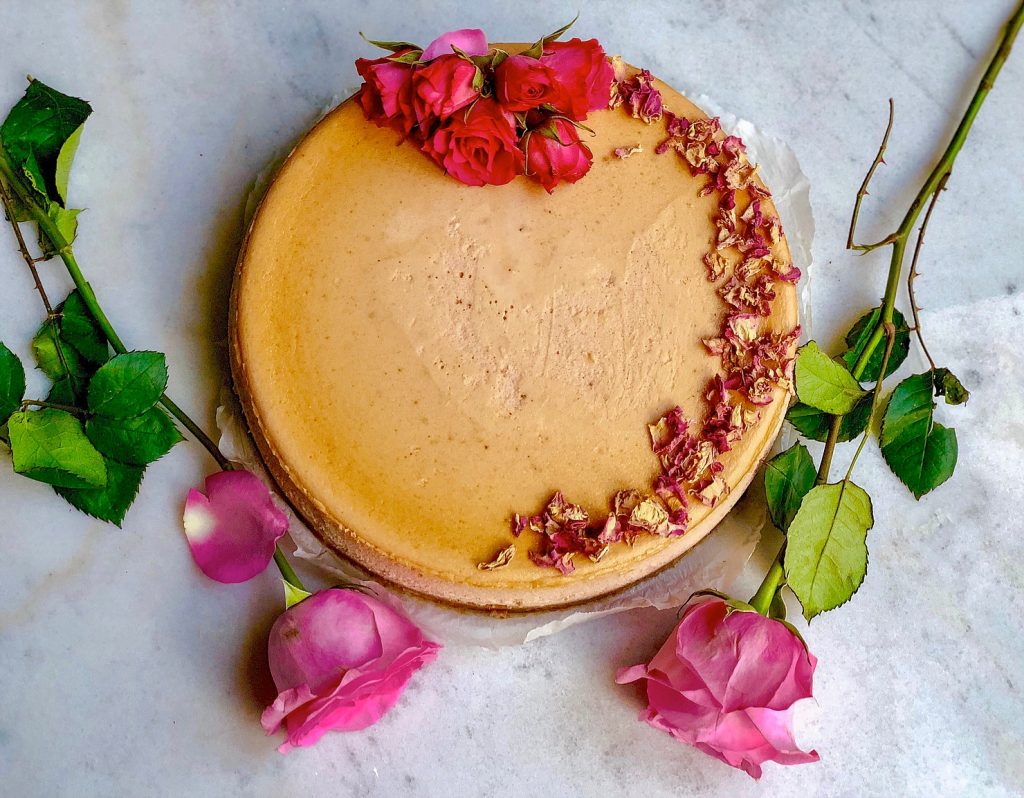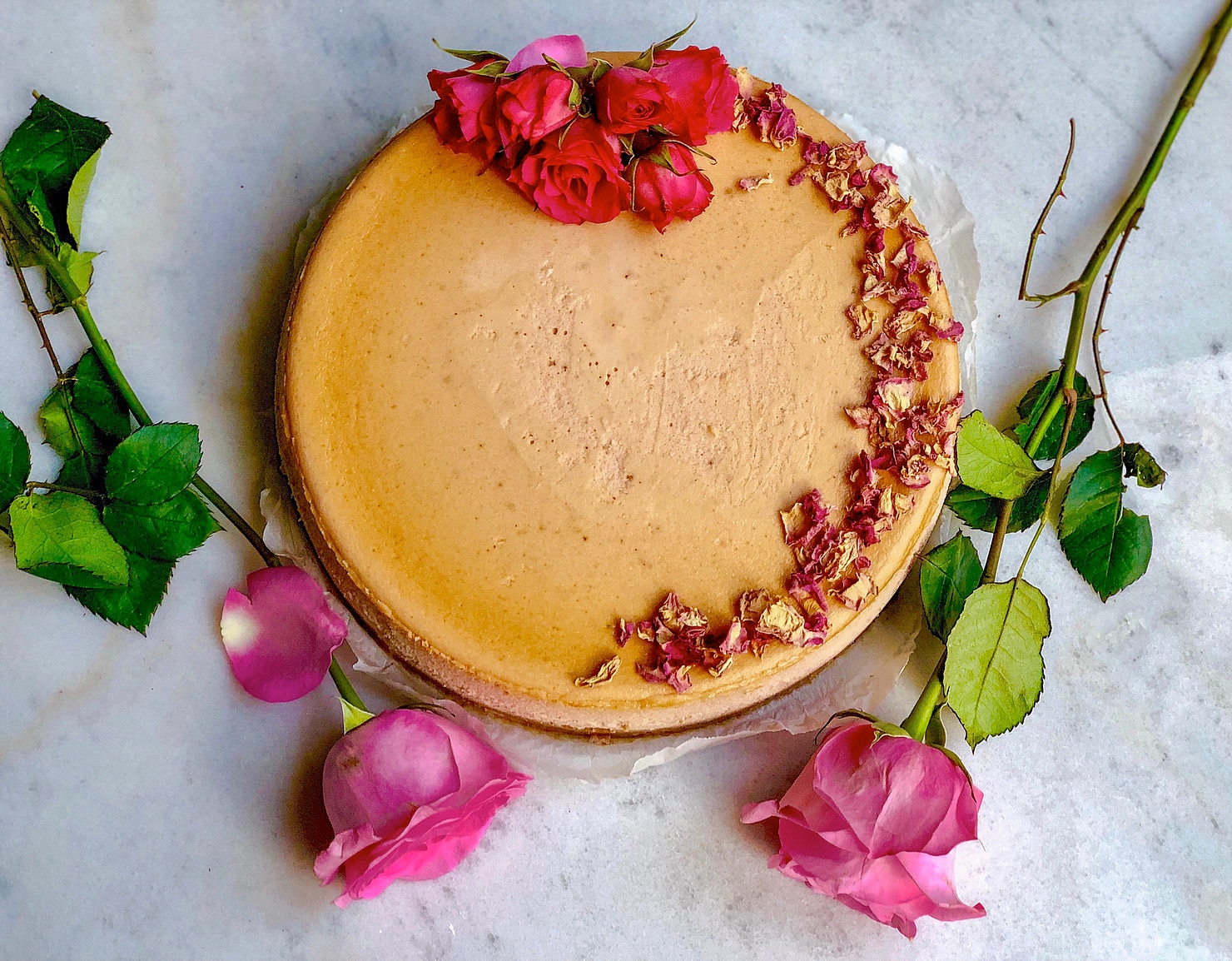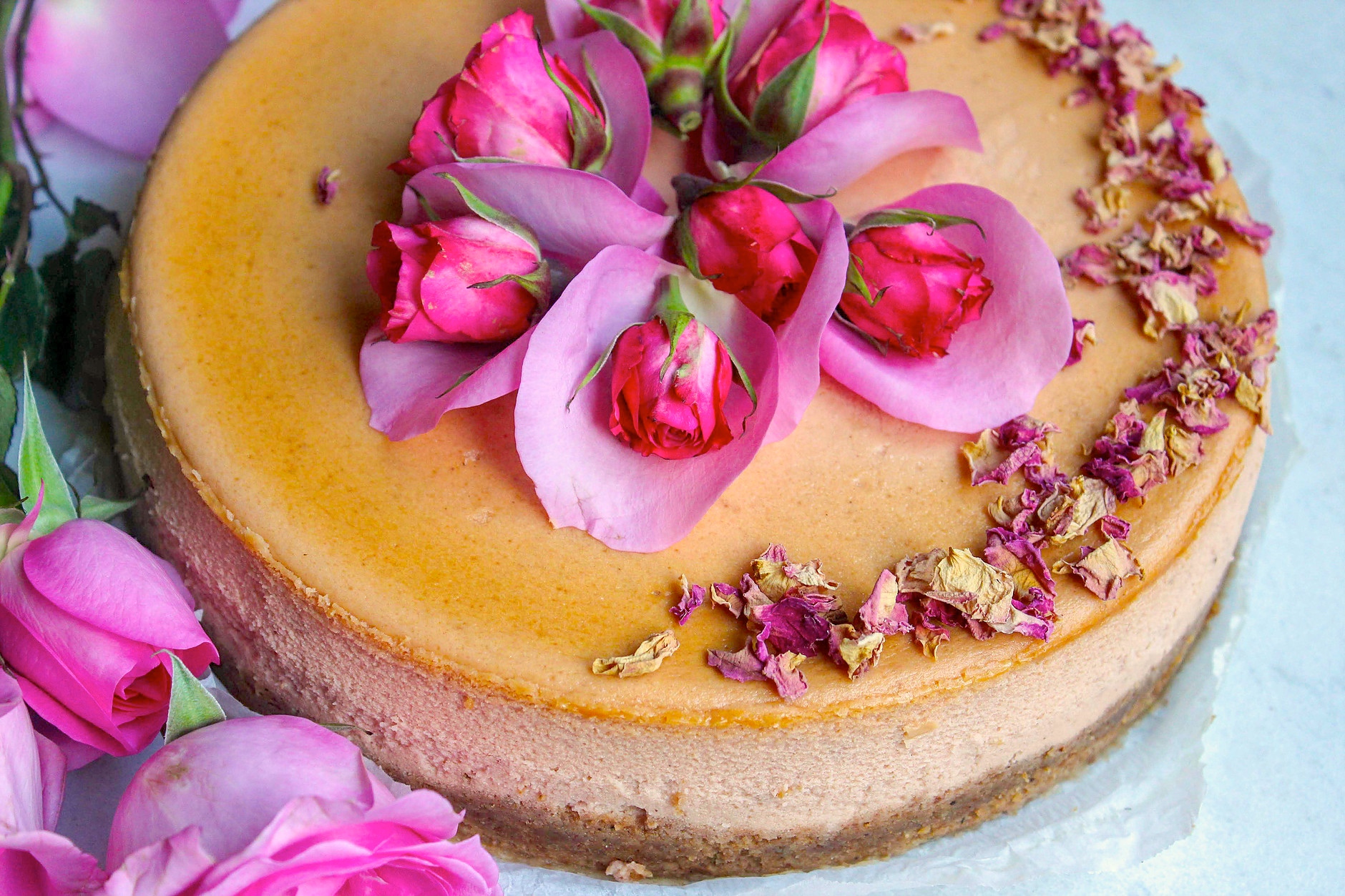 First and foremost, I want to say how excited I am to finally be posting my first dessert recipe on Brown Girl. I wanted to start off on a sweet note, so I incorporated two of my favorites together: rose Chai and cheesecake (with Parle-G crust).
When I was pregnant with my son, I kept going back to a local café for their rose Chai. I may have gone more than I should have, but in my defense, I was eating for two! When I was creating this recipe, I thought why not mix two tasty items and see what happens, and I came up with this! You will not be disappointed – this cake is AMAZING! I also recommend: Making the cake with the Parle-G crust is a great compliment to the dessert as it marries everything together very well. If Parle-G biscuits aren't your thing, then a regular graham cracker crust would taste just as good.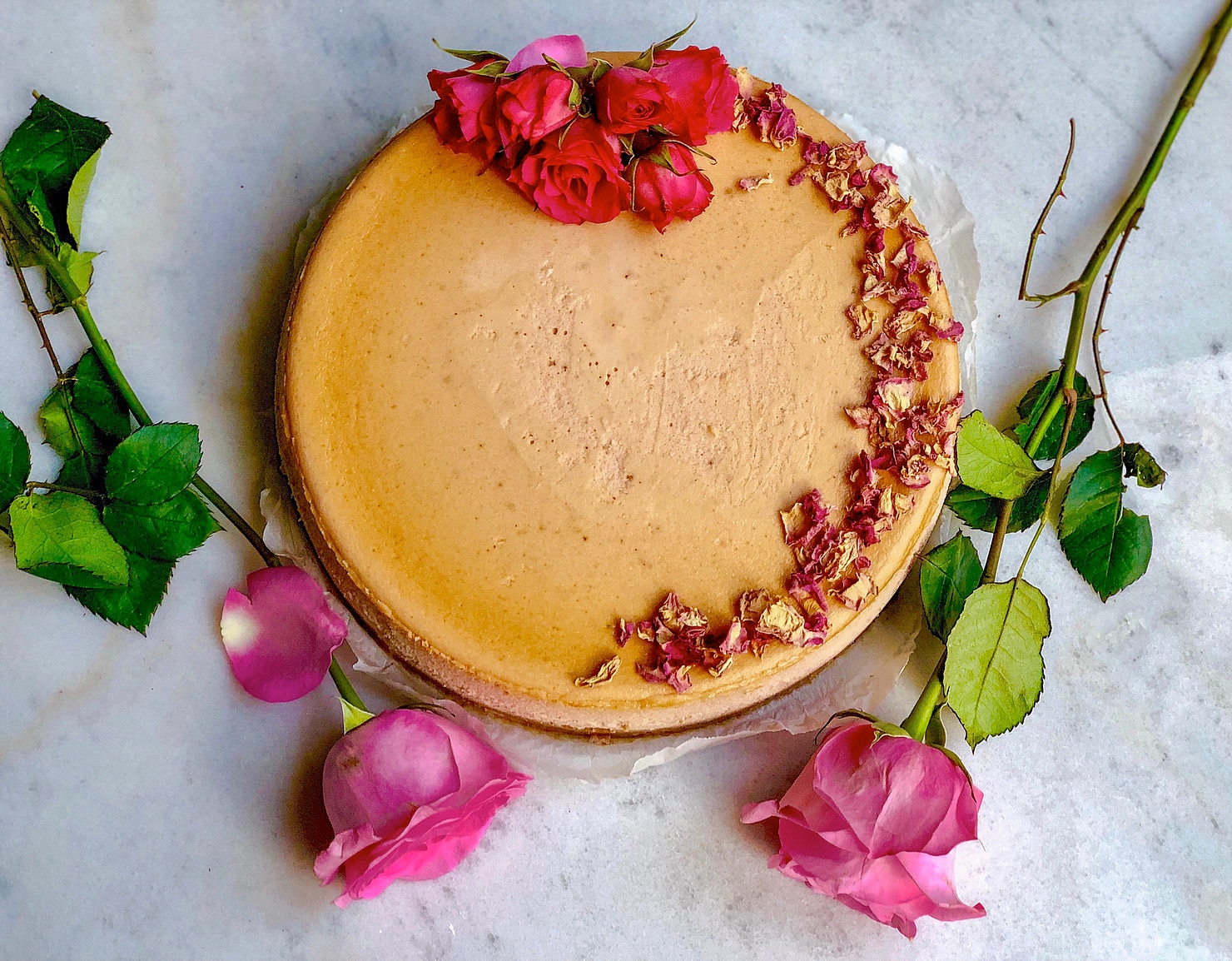 If you are entertaining guests or family members, this will be a guaranteed crowd pleaser. While this recipe may seem complex, it's actually something that is easy to follow and the results are delicious! I have taken extra care to make the recipe easy to follow. The chai masala mixture is something that can be used in your daily chai as well! If you have some extra time, I recommend making it fresh at home. I hope you guys enjoy this recipe as much as my family and I did! Don't forget to tag me when you make it and let me know how you like it! Stay happy and stay hungry!
INGREDIENTS:
Rose Chai:
½ cup water
2 tsp regular tea
1 tsp chai masala (store-bought or homemade)
2-3 tbs rose water
1 tbs rose syrup
Crust:
1 ½ cups of Parle-G biscuits crushed
1 tsp chai masala
1/3 cup unsalted butter melted
Filling:
4 cups cream cheese (room temperature)
1 ¼ cups sugar
½ cup sour cream
5 large eggs (room temperature)
1 tsp chai masala
1/4 cup rose chai
1 tbs rose water
Garnish:
Dried edible rose petals
Crushed pistachios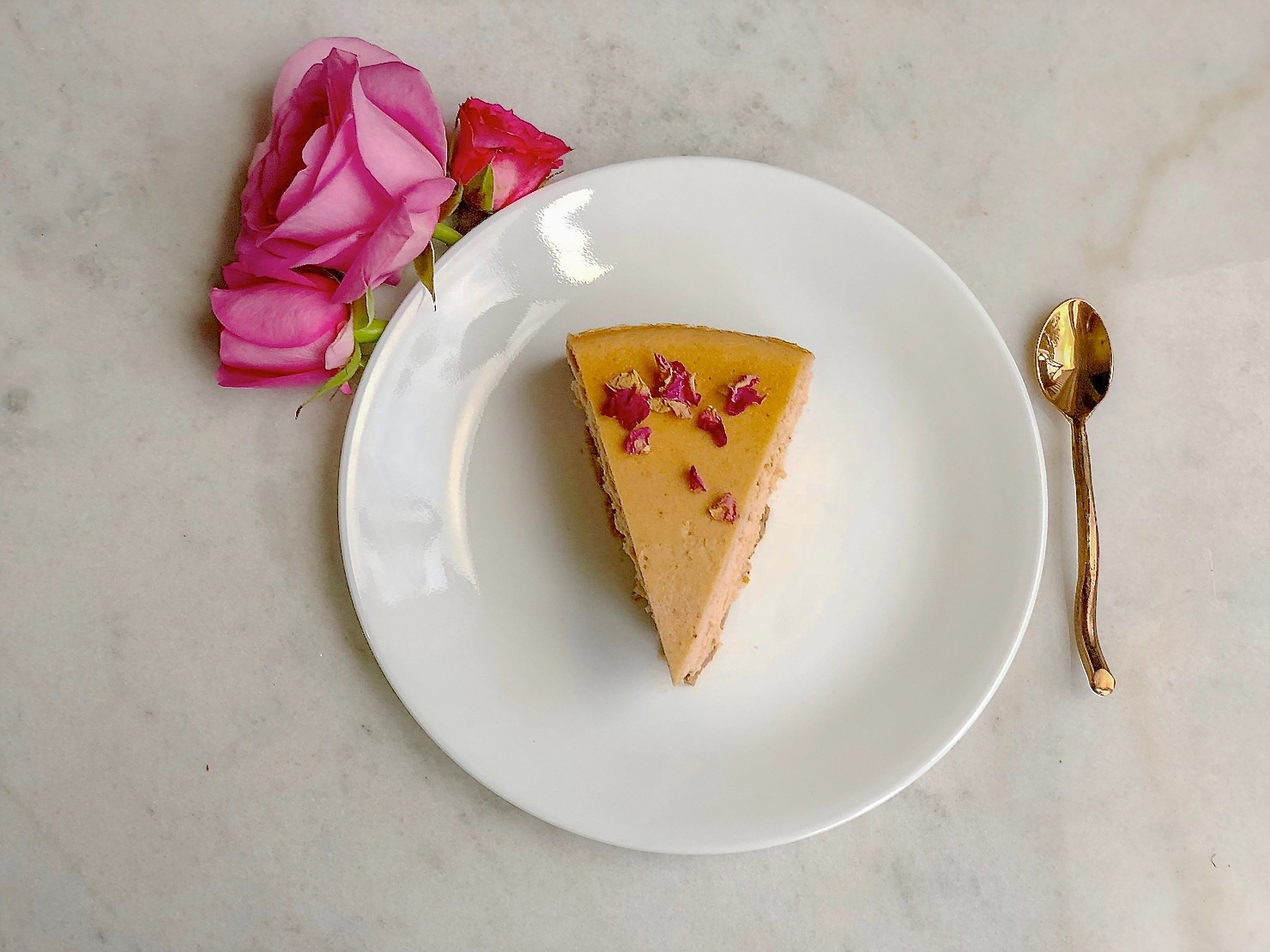 DIRECTIONS:
Rose Chai:
1. In a small pot, add ½ cup of water and let it simmer for about one minute.
2. Add tea (regular tea) and chai masala to the pot and bring it to a low boil then turn off the heat.
3. Strain the tea in a small bowl and let it cool for about 5 minutes.
4. Once the tea is cool, add the rose syrup and rose water and set the mixture aside until it's ready to use.
Cheesecake:
1. Preheat the oven 450F and place a large pan filled with ½ inch of water (about 9-10 cups) in the preheated oven.
2. Make the crust: Mix the Parle-G crumbs with the chai masala and butter, then press the crust onto the bottom of your springform pan. Line with parchment paper for easy and clean removal. Finally, freeze the crust until filling is prepared.
3. Make the filling: Mix the cream cheese, sugar, and sour cream in a bowl with an electric mixer.
4. Whisk eggs in a separate bowl. Mix the eggs, ¼ cup of the rose chai, 1 teaspoon of chai masala, and 1 tablespoon of rose water mixture to the cream cheese mixture until everything is incorporated.
5. Remove the crust from the freezer and pour in the filling.
6. Carefully place the cheesecake into the preheated water bath and bake for 12 minutes then reduce the oven to 350F.
7. Bake for about 50-60 minutes or until the top turns golden brown.
8. Let it cool for about an hour on a wire rack, and then place it in the fridge to cool down further.
NOTES:
Let cheesecake cool in the fridge overnight for the best consistency/results.

Rose water and rose syrup can easily be found at any local Indian grocery store.

Foil the outside of the springform pan to prevent the water from going into the cheesecake.