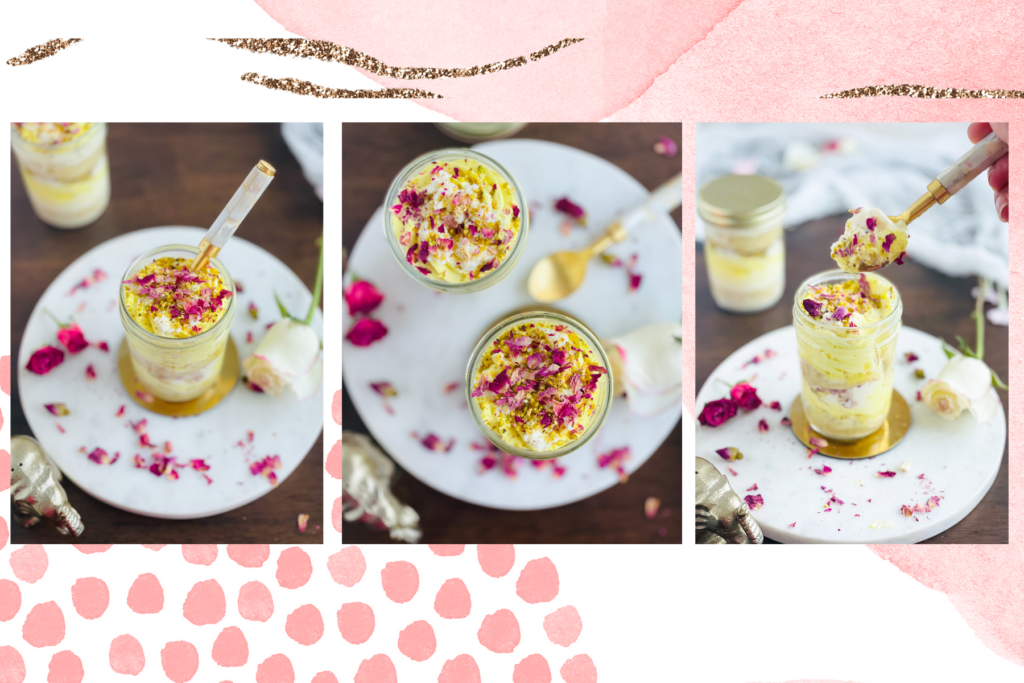 Rasmalai cake jars are the ultimate east-meets-west fusion dessert! This creamy, light, fragrant and fun dessert is great for any occasion. The recipe includes traditional spices from India, like cardamom powder, and is layered with layers of cake, whipped cream and chopped rasmalai garnished with pistachios and rose petals. This dessert is absolutely heavenly — each bite will melt in your mouth. Not to mention, you and your guests will crave a second jar, guaranteed! (If you make some, be sure to tag me on Instagram at @littlemissbaker.)
What you'll need:
For the Cake:
Dry Ingredients

1 2/3 cups (213 g) bleached all-purpose flour
1 ½ tsp baking powder
¼ tsp baking soda
1 cup granulated sugar
½ tsp salt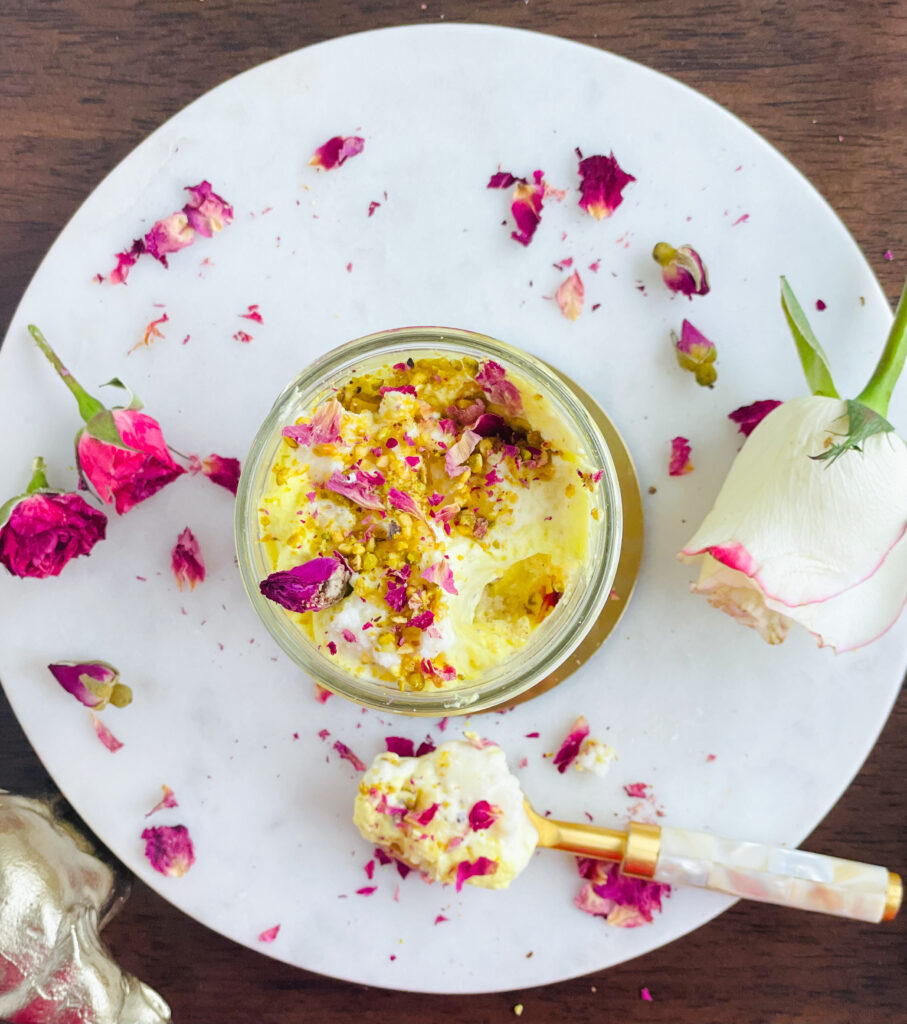 Wet Ingredients

¾ cup unsalted butter at room temperature
3 large eggs at room temperature
1 tbsp rose extract or rose water
¼ cup sour cream at room temperature
½ cup warm whole milk
1 tsp cardamom powder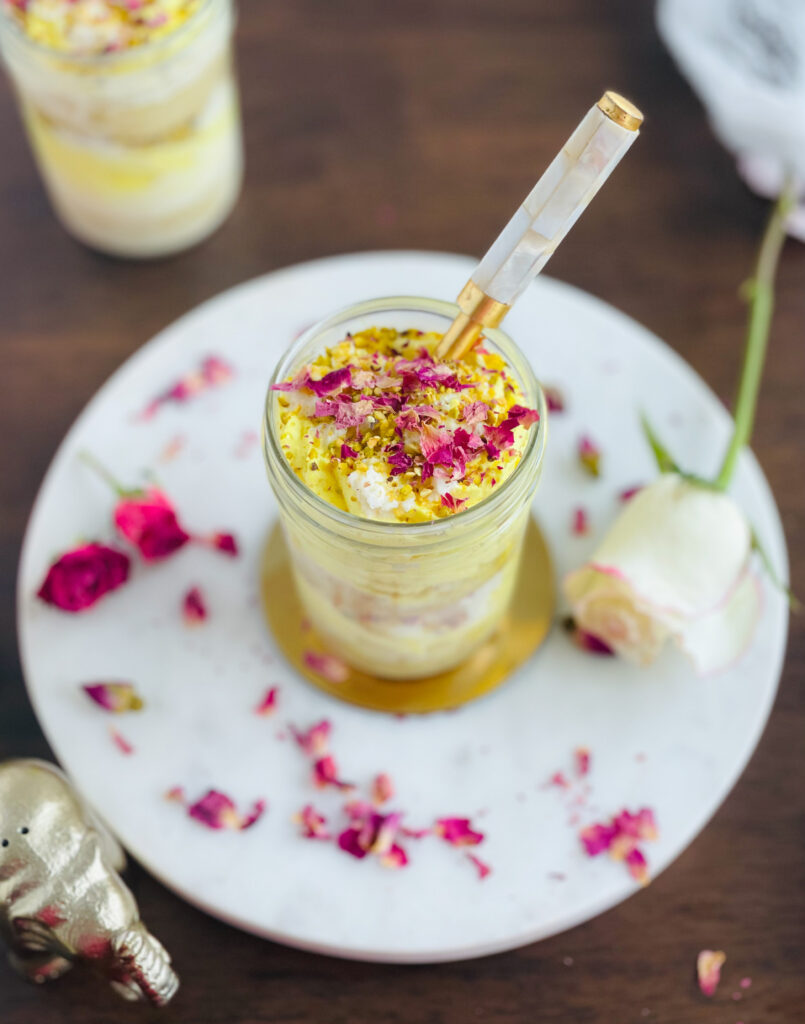 For the Frosting:
1 cup heavy whipping cream
45 grams confectioners' sugar
½ tsp cardamom powder
Rose extract

For the Decoration:
Rasmalai — 6-8 pieces
Chopped pistachios
Rose petals
Prep Time: 30 minutes
Cook Time:  45 minutes
Servings: 8-10 people
Instructions:
For the Cake:
Preheat the oven to 350 degrees Fahrenheit.
Grease a 9-inch x 13-inch cake pan.
In a large bowl, sift and mix all the dry ingredients together.
In another bowl, whisk all the wet ingredients together.
Pour the dry ingredients over the wet ingredients and mix well. Do not overmix.
Transfer the batter into the cake pan.
Bake for 17-18 minutes.
Remove the cake from the oven and let it cool. Once cooled, take a round cutter (depending on the size of the jar) and cut the cake layer into rounds. Set it aside.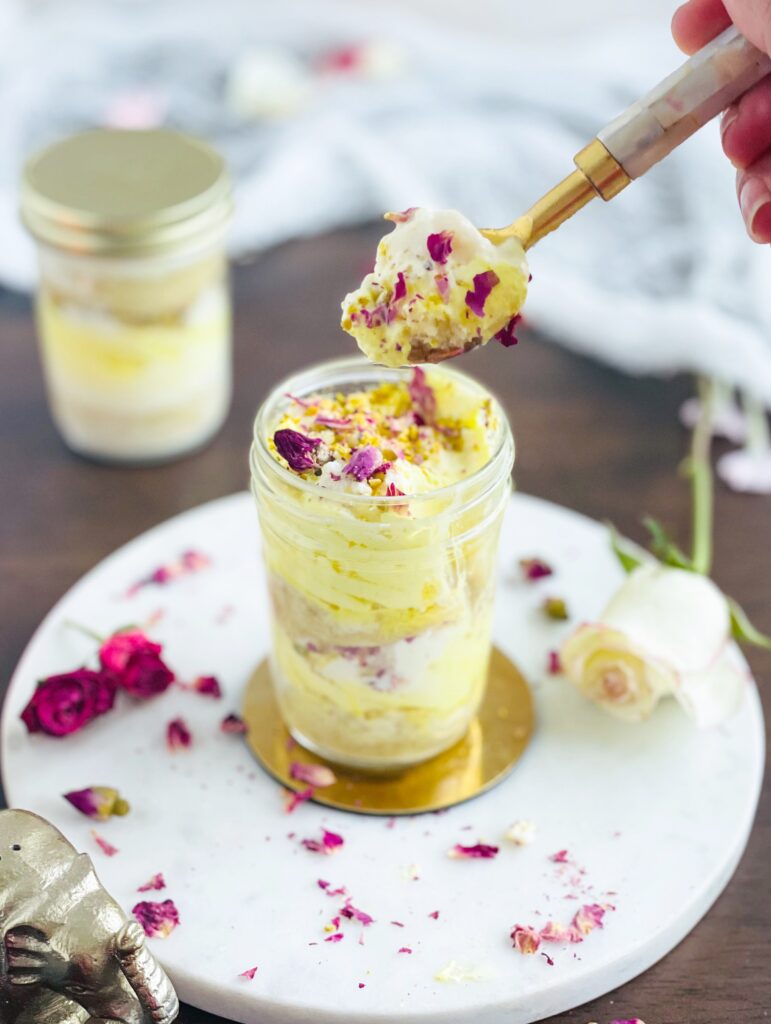 For the Frosting:
In the steel bowl of your stand mixer, add all the ingredients for the frosting. You can add any food coloring of your choice.
Beat the mixture until it forms stiff peaks. Do not overbeat.
Set aside.
Assembly:
Get your serving jars. Pictured here are 8 oz. glass jars.
Begin with adding one cake round to the jar. Add some thickened milk from the rasmalai on the cake. Add a swirl of the frosting. Next, add chopped rasmalai pieces, rose petals and chopped pistachios. Repeat these steps with more cake rounds till you get to the top of the jar.
Garnish with a full piece of rasmalai, rose petals and chopped pistachios.
Chill the jars for an hour before serving.
There you have it, rasmalai cake jars that will satisfy your sweet tooth and make your Pinterest dessert dreams come true. They're truly the perfect dessert to serve at your upcoming (safe) IRL events and deserve to be shared with family and friends.