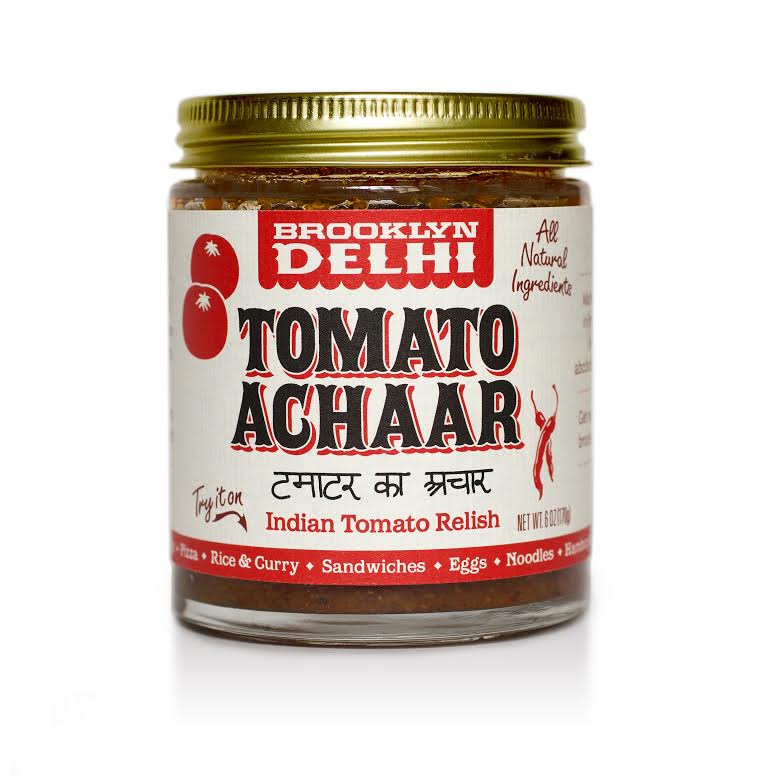 Are you an ABCD? I mean, let me rephrase myself. Are you an American Born Confused Desi? We know an ABCD who uses her desi cooking skills to live out the American Dream. Meet Chitra Agrawal, the creator of an online journal ABCD'sofCooking.com, co-founder of a condiments line for handmade achaar (aka desi pickle), called Brooklyn Delhi and founder of an artisan pop-up market, Batchery that features more than 15 innovative small batch food producers.
More so, she is co-chef for a vegetarian Indian-Chinese pop-up dinner series, called Tangra Spring. On May 22, she and co-chef Diana Kaun of Appetite for China will host another multi-course vegetarian meal made with all Spring produce from the farmer's market at Court Tree Collective in Brooklyn, NY.
After speaking to Chitra, it gave me the inspiration to sit with my mom and dig out old family recipes, ones that have been passed down by the women of my family for generations. Chitra began her journey of cooking with the desire of documenting her family's recipes.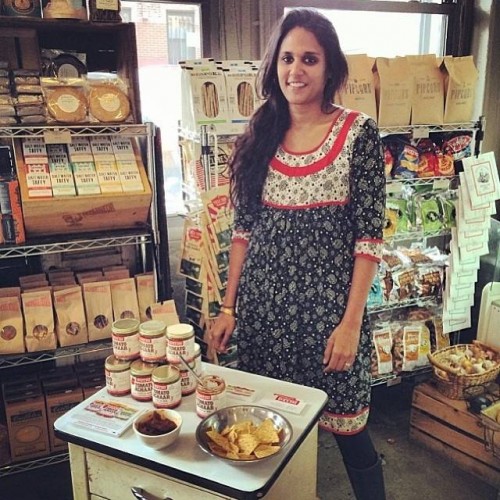 Chitra said she was always interested in writing, but graduated from business school, then later went to work for American Express. Even though she was blogging for ABCD's of Cooking during that time, she went full-time with food and cooking in 2013.
So, ABCD's of Cooking is essentially a collection of Indian, vegetarian recipes, rooted in tradition, but mixed up with influences from around the world and what's in season.
She also began teaching cooking at local Brooklyn classes and soon after, started hosting pop-up dinners along with a Chinese cookbook author Diana Kaun. Together, they create their own versions of Tangra with fresh ingredients found locally.
To bring authenticity to her meals, Chitra said when she visited India, she brought back seeds for a farmer friend to plant and then used the vegetables to use for one of her Tangra meals.
As you can imagine, on her way back home, her suitcases are full of Indian achaar in so many varieties, but after being hooked to the original stuff, she realized the Indian grocery stores here don't offer the same homemade taste, instead they are way too salty with a lot of added preservatives.
That is when Chitra and her fiance Ben Garthus launched Brooklyn Delhi – a line of handmade condiments from local farm vegetables, including tomatoes, rhubarb, garlic and American gooseberries.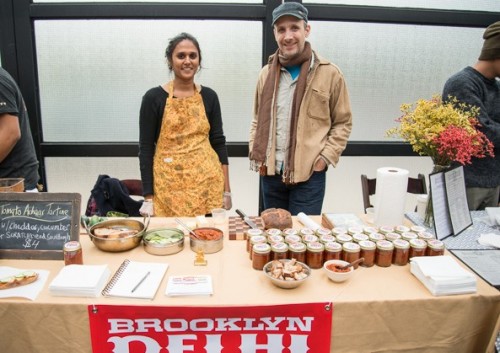 Usually achaar is really spicy and really salty, Chitra said, which means you don't eat a lot of it, but she's developed her own recipe that highlights the flavor of the vegetables and fruits and aromatic spices that are also healthy.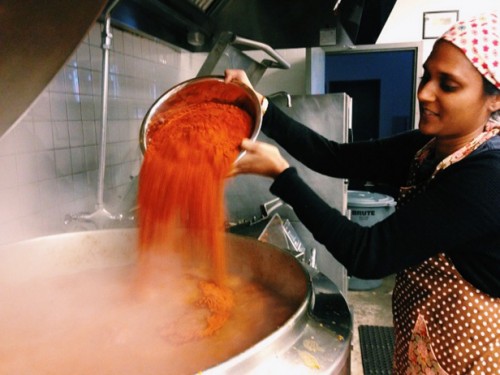 In April, our newest Brown Girl Spotlight's achaar was selected as of the "10 NYC Food Artisans" to watch by Zagat. 
Brooklyn Delhi
Then again, could the tangy, spicy Indian relish called tomato achar be the next Sriracha? Food 52's  thinks so. Cooking teacher Chitra Agrawal created Brooklyn Delhi, her excellent line of Indian condiments, after she couldn't find any on the market that matched her ideal.
Buy Chitra's homemade achaar by ordering it directly from BrooklyDelhi.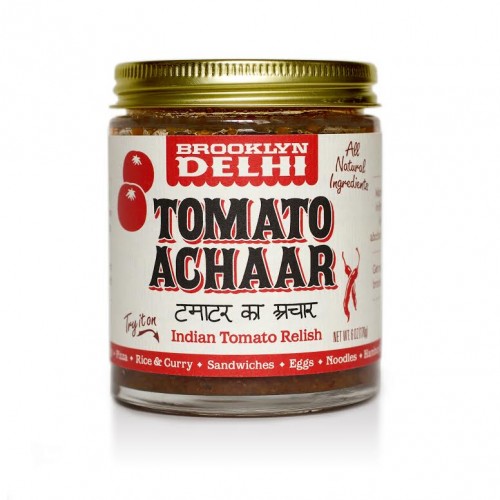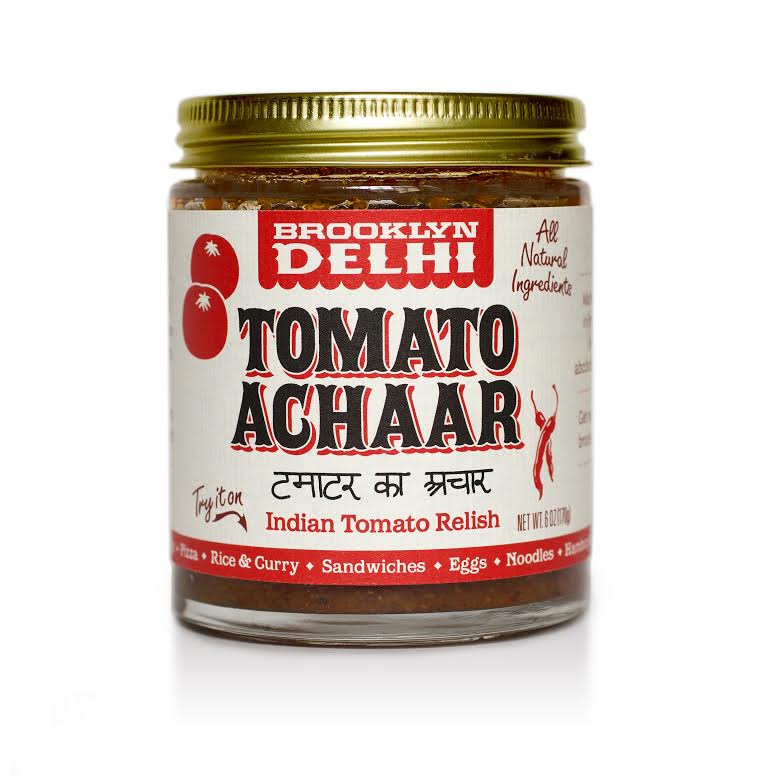 After selling out her achaars at pop-up events and cooking classes, she also makes time to teach cooking classes at the Brooklyn Brainery and Brooklyn Kitchen.
In addition to blogging, teaching and producing India's equivalent to Sriracha, she is working on her first cookbook South Indian recipes from Bangalore for Ten Speed/Random House, due out March 2016.
Chitra's favorite part of this whole cooking process is,
"Constantly learning something new, and still innovating on it. There is something that you are always discovering. It brings you closer to different family members."
Many of us growing up in South Asian households experience a divide between ourselves and our parents, but Chitra said through cooking, she was able to break down that wall a bit and become closer to her family while learning traditional recipes. 
She said she also struggled with having a mixed identity of being Indian and American because at times, she felt neither here nor there. After she became more comfortable in her own skin, she said this identity gave her a unique perspective in everything she does and in the way she cooks.
Being a Brown Girl who followed her dreams, Chitra shares advice for our readers,
 I am learning that as I am putting things out there, trying new things and new recipes, sometimes they don't work out, but you have to take chances when you are creating something new."
On a closing note, Chitra said,
Some people never realize their passion and if you do identify it, you should wholeheartedly pursue it."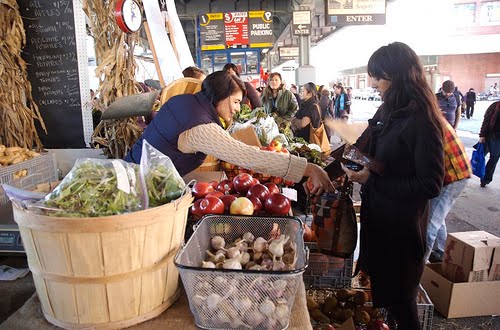 Photos provided by Chitra Agrawal.