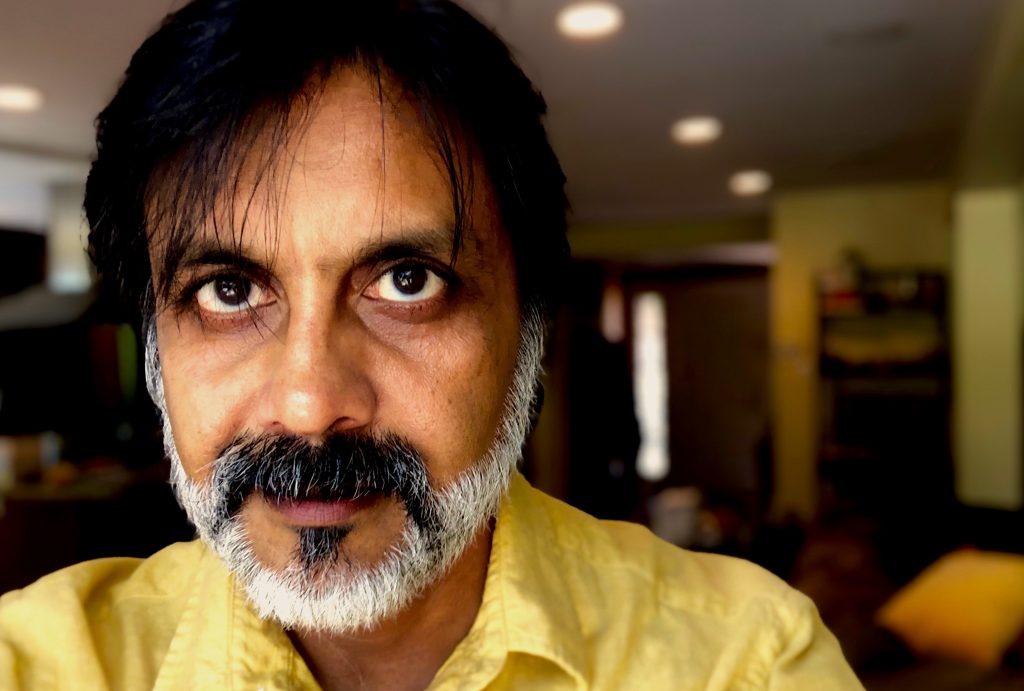 Inspired by "The Ten Commandments" over samosas and chai, Tisch alum, Anjul Nigam began his journey as an actor, producer and writer by parting the "Red Sea" in his backyard in Cheshire, Connecticut years ago. Based in Los Angeles, triple-threat Nigam has taken to projects that depict his experience as an Indian immigrant alongside the likes of Alec Baldwin, Shoba Narayan and more.
Nigam kept things candid, funny and authentic in his interview with us below.
Who is Anjul Nigam?
Anjul Nigam is an artist at heart with the mind of a businessman, the latter of which became activated when the former's voice needed a partner to help bring it out. He's also someone who finds it awkward to speak about himself in third person, so…I was born in India, raised in the American suburbs (in Connecticut), went to NYU/Tisch School of the Arts majoring in Drama. Moved out to Los Angeles after college where I've been now for 30 years. Married with two kids (both boys).
When did you realize that you wanted to act? What was your big break moment?
It all started on Easter Sunday when I was eight. My family and I had sat down in front of our black and white Sony television set in our living room in Cheshire, Connecticut. We were an immigrant family from India of traditional Hindu faith cozying up with samosas to watch a bit of family entertainment, 'The Ten Commandments.'

As I watched the classic movie, I became inspired by Charleston Heston's portrayal of Moses as he returned from the mountain where he had seen God. I remember coming home from school the next day, and from my woodsy backyard I found a stick about a yard-and-a-half in length. It was solid, dry, and smooth as I peeled off any remnants of bark. I then climbed up the front door stoop of our home. I extended my right arm out to the side holding the stick upright as I shouted, 'Four times you have seen the power of God, and still you doubt His mighty hand!' With that, in a one-two punch, my left arm followed my right out in the opposite direction. Using the stick as my 'staff,' I imagined parting the front grassy yard of our suburban New England home as if it was the 'Red Sea'… and I was Moses! That spring afternoon I had opened, or as some would say, fallen into, the Red Sea of acting.
You've worked on several primetime series such as Grey's Anatomy and True Detective, what were those experiences like?
As actors, we're sort of like nomads, traveling from one place to another. We settle into one job, be it for a week, or month or what have you, and just as we begin to feel at home, the job ends and we are asked to move on, but we have no idea where our next home will be until we land there. As such, each time I do a gig as an actor, it's about being prepared and in the moment, and always maintaining a spirit of appreciation for getting the opportunity to make a living as we do – make-believing.
In your time as an actor, has diversity and representation truly increased?
Yes. I started over 30 years ago, getting my SAG (Screen Actors Guild) card by landing a role of a terrorist in a training film for the U.S. Army called 'Hostage Crisis and Terrorist Management.' Of course, while from a diversity perspective, there's been considerable progress, there's also another element that's at play: the more work one gets, the more established one becomes, opening up opportunities for more significant roles that are a substantial part of a story.
Certified fresh on @RottenTomatoes, @AnjulNigam's family comedy @GrowingUpSmith is now available to rent or own: https://t.co/ES340Vtm2l pic.twitter.com/P2Cs1rcM5n

— Amazon Prime Video US (@PrimeVideo) May 2, 2017
What inspired you to dabble in producing and led you to working with the likes of Alec Baldwin and Cuba Gooding Jr.?
'Growing up Smith,' on which I wore three hats (producer/writer/actor), was my first producing experience and it actually came about when Gregory Scott Houghton, a writer who was just starting out, reached out to attach me to his script as an actor. Greg's original story was about an immigrant family that moves from India to Small Town, America in the year 1979. After attaching myself to play the role of the father of the family, I secured the rights to the screenplay, rewrote if from the perspective of my personal experience of being a child of an immigrant family in suburban Connecticut, and then I set out to make the movie. It only took me ten years to raise the financing before the project was greenlit.
You are the lead producer on a South Asian production alongside the likes of Shoba Narayan and Roni Akurati, what motivated you to tell a story about Indian immigrants?
They say to tell stories that you know. I grew up in suburban America in the 1970s and 80s, so when I received the original draft of 'Growing up Smith,' I was greatly motivated to tell this story which seemed to be a reflection of my own experience. It was wonderful to collaborate with so many amazingly talented South Asian artists on this movie: Poorna Jagannathan who played my wife Nalini, Shoba Narayan as my daughter Asha, Roni Akurati in the title role of my son 'Smith, and Samarat Chakrabarti as the 'Older Smith,' who reflectively tells the story.
View this post on Instagram
Congratulations on the Tribeca Film Festival nomination for your film "Crown Vic," where did the idea for this film stem from?
I was the lead producer on Cuba Gooding Jr.'s directorial debut 'Bayou Caviar' in which Cuba starred with Richard Dreyfuss. Cuba and I had known each other for about 30 years (we were unemployed actors together after meeting as guest cast members on the set of the sitcom 'Growing Pains'). While we were shooting the movie in New Orleans, I became close with Gregg Bello, one of the lead actors in the film.

He shared with me about 'Crown Vic,' which he was developing as a vehicle for Alec Baldwin, whom Gregg had known as a brother for nearly 20 years. Gregg was impressed with how I had gotten Bayou Caviar greenlit in about two months, and he asked me if I'd be interested in taking a look at writer-director Joel Souza's script for 'Crown Vic.' I read the screenplay and found the writing astounding. I quickly jumped on board, and in about two months, I was able to get the project greenlit.
What's next for you? What do you feel is next for South Asians in mainstream media?
For our next project, the 'Crown Vic' team is getting back into the saddle together with the same writer-director and producers, and a very high profile actor to star in the lead role. I believe South Asians will continue to emerge in mainstream media, and as we see more and more of us evolving as producers, directors, writers, executives, financiers, the more we are able to provide opportunities for those qualified but that may otherwise be overlooked.
Nigam's collaborative nature and extent of experience in acting and producing has resulted in the film "Crown Vic" written by Joel Souza, becoming one of Tribeca Film Festival's screenings. As a seasoned actor Nigam has worked with many notable individuals but somehow remains humble and approachable.
Above all else, Nigam's experience as an immigrant and child of immigrants has spoken to multiple narratives in his career. Nigam possesses experience in fields often lesser discussed in film such as fundraising and co-writing which go beyond the general more prevalent actor/actress conversations.
Making a film? Reach out — here! After all, the worst that could happen is learning.