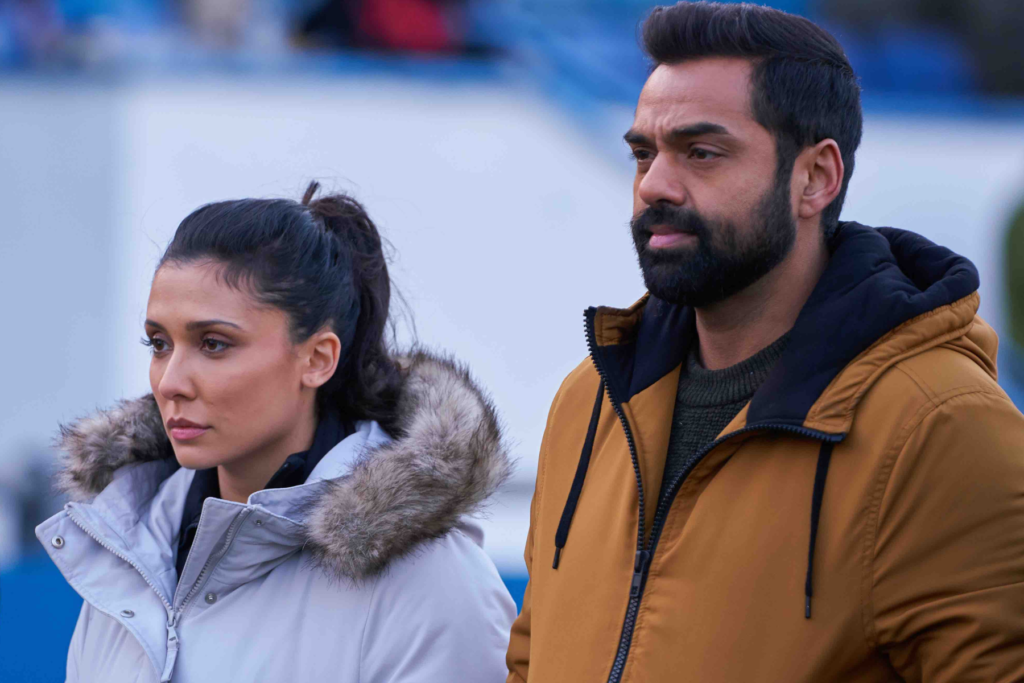 She assisted stunt directors on "Captain America 2," is an autism awareness ambassador to UNICEF and was the youngest ever contestant to be crowned Miss New Jersey USA in 2014.
Now, she has made her Bollywood debut, alongside Abhay Deol in Sagar Ballary's highly applauded "Jungle Cry"— an inspiring true story of 12 underprivileged children from the Eastern Indian state of Odisha (formerly known as Orissa), who won the Under 14's Rugby World Cup in England.
View this post on Instagram
We're talking about actress Emily Shah, daughter of Bollywood film producer Prashant Shah. With an academic background in film and media, her genuine excitement for her first Bollywood appearance is heartwarming.
"Bahut maza aaya!" (I had so much fun!) Shah exclaims when asked about assisting on movie sets of "Jersey Boys," "Monster Trucks" and "Fast & Furious 7." "Bahut seekha meinay," (I learnt so much) she further adds with a smile.
Her role as sports physiotherapist Roshni Thakkar in "Jungle Cry" is aptly named and suited. 'Roshni' means brightness and her character symbolically adds 'light' to underprivileged children's lives. Off-screen, Shah is also a humanitarian at heart and besides her UNICEF role, has also represented the United Nation for the World Polio Eradication Initiative in India. Another 'bright light' about this role is how her character wasn't part of the original story but was later written in, to counter typical gender stereotypes.
Rugby is a very male dominant sport. It's actually really testosterone driven. The reason we added Roshni's character is to add that compassion, lightheartedness and charisma that women leads bring to the table. These young boys always had to fight for what they wanted and endured incredible difficulty in life. They hadn't experienced comfort or compassion before. Roshni brings that out in them. She reminds them that they are still kids and not everything has to be a struggle. Roshni was their source of comfort – that even though they were competing for such a prestigious title, they could still enjoy the sport.
View this post on Instagram
Was it a challenge to translate onto the big screen and overcome communication barriers (Odisha is home to multiple tribal languages)?
Surprisingly, it was so natural! I spent a lot of time with them in Orissa (Odisha) before filming began. We did some improv activities with them, since this is a true story and they aren't professional actors; they are rugby players. We had to teach them how to act, and I was able to form that bond and connection with them from the get-go. Yes, there are many tribal languages originating from Orissa (Odisha) but everyone understood some level of Hindi. We were able to communicate with each other and there was not much of a language barrier.
Undoubtedly, their reactions must have been priceless at how well-received "Jungle Cry" has been and seeing themselves winning on the big screen!
They are very happy but also really taken aback! I don't think they understand the magnitude of the situation since they couldn't see it firsthand. We really wanted to fly them out to the States for the premiere, but with visas and COVID-19 backlog, it just wasn't feasible. I'm hoping that when I go back to India, I'll have them come to Kolkata so I can somehow organize a private screening for them. It'll be so cool when they really understand that people are watching them around the world on massive screens!
View this post on Instagram
Shah underwent research on the role of a rugby sports physio and came to appreciate its significance to team morale.
I actually got in touch with a sports physio, named is Purvi Desai. I was able to shadow her during a tournament in Denver, Colorado.  Through her I learned that a physiotherapist is involved almost just as much as the coach. They play a very crucial part in how the team performs – both mentally and physically. It's not just about wrapping a foot or popping a shoulder back in. It's also about giving them pep talks and confidence boosts before, during, and after the game.
How does an American-Indian actress such as yourself make that transition, from Hollywood to Bollywood, asserting themselves as a newcomer in a male-dominated industry?
I think boundaries need to be set in any industry. Actresses have to prepare themselves mentally, emotionally and physically. It's not talked about often but it's true. It can be an overwhelming experience, even isolating. However, if you are strong in what you want and what you believe in — if your principles are steadfast – then that kind of assertiveness will take you far in your career. And if your boundaries aren't being respected, then those people or that working environment really isn't worth your time.
Amen, sister! Here's to hearing more of Shah's sage advice and seeing her again on the big screen in the very near future. "Jungle Cry" was released in cinemas in May and June 2022. If you missed a chance to see it on the big screen, you can still watch it online at Lionsgate Play.