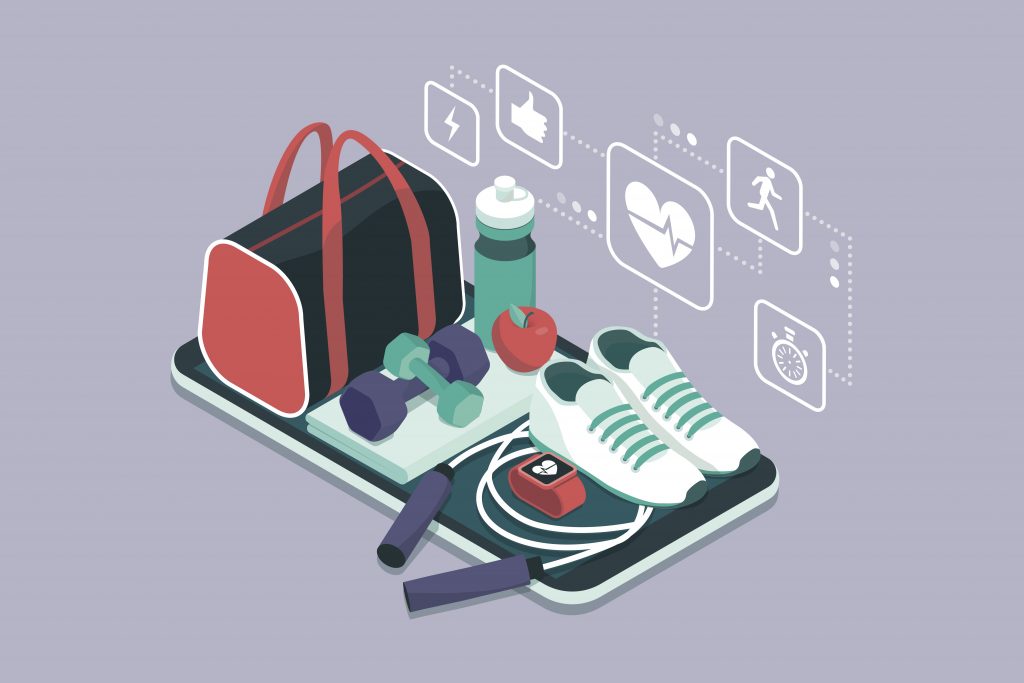 Since the global spread of COVID-19, many things have changed in our world in a short amount of time. Many industries have been forced to grapple with state-mandated closures, uncertainty about the future and have had to quickly adapt and creatively address customer needs and fears. In the fitness industry, many facilities have had to close and many instructors and trainers are out of a job. Taking their services onto social media platforms has been the only means by which instructors and trainers can stay connected to their students and remain financially viable in a declining economy. Teaching and learning virtually had been uncomfortable if not a foreign concept to many people, but since COVID-19, many have gotten comfortable with this style of learning and teaching and have now embraced it. 
If you have been hesitating to try online fitness training due to fear of trying something new, feeling that you simply aren't tech-savvy enough, or perhaps you don't think it can have the same impact on your health and fitness as an in-person class would, there are some serious advantages of training online that may make you reconsider. 
1) Your mind is just as important as your body.
The pandemic has further heightened many people's struggle with anxiety, depression and uncertainty about the future. Though these can be very normal responses to stressful situations, it's hard to know what to do to keep motivation elevated or even existent! Having to manage not only yours but also the emotions and reactions of loved ones, without as many outlets for self-care is no easy task. With tension building up in our bodies and stress in our minds, it's necessary to move your body to dissipate these feelings and tensions (Shivakumar, 2013).
2) Isolation is, well, isolating… Fitness can help you stay connected.
Working out is also a smart way to stay connected to other people; studies show that working out in a group setting is therapeutic to many and supportive in times of stress (ScienceDaily, 2017).  This sense of being part of a group can be easily delivered online with video technology – your instructor can still offer suggestions on technique and form and provide you with inspiration to move! Here are some positive responses from students to their online instructors and trainers:
"Thank you for keeping us uplifted and fit during this time." – Grace

"So happy I was finally able to join your class! It's such a fun and happy thing to be doing in this weird time." – Annie

"Thank you for continuing to give us an outlet through dance, and for giving us a little consistency in all of our uprooted weekly routines." – Lisa
3) Keeping up your fitness routine (or starting one!) can help you feel 'normal.'
We're no strangers to how lockdown has been a stressor to everyone. With children out of school, people out of work or working from home, trips being canceled and many social activities and functions screeching to a halt, there has been little to look forward to and that makes us feel normal and balanced both physically and emotionally. For those of us who are used to a healthy lifestyle that includes fitness, working out online allows us to keep doing what we enjoy and rely upon despite changes around us. When times are uncertain, it is a comfort to have an activity that provides consistency and leisure that many can look forward to.
Although there have been changes to our physical environment, the way we think about health and safety and our mental peace, going online for fitness classes has been a good way we can stay connected to each other and also keep our bodies healthy. As we all try and get back to normal work and life it is nice to know that we still have options for keeping our bodies healthy. 
Richa's classes on Zoom are at the following times every week:
Monday, 6:30 to 7:15 p.m. PST
Friday, 3:00 to 3:50 p.m., PST
Saturday, 10:00 to 10:45 a.m., PST
Sources
Anderson, E., & Shivakumar G. (2013). Effects of Exercises and Physical Activity on Anxiety.
Front Psychiatry, 4: 27. doi: 10.3389/fpsyt.2013.00027
Group exercise improves quality of life, reduces stress far more than individual work outs. (2017, October 30).
Retrieved from http://www.sciencedaily.com/releases/2017/10/171030092917.htm
---
The opinions expressed by the writer of this piece, and those providing comments thereon (collectively, the "Writers"), are theirs alone and do not necessarily reflect the opinions of Brown Girl Magazine, Inc., or any of its employees, directors, officers, affiliates, or assigns (collectively, "BGM"). BGM is not responsible for the accuracy of any of the information supplied by the Writers. It is not the intention of Brown Girl Magazine to malign any religion, ethnic group, club, organization, company, or individual. If you have a complaint about this content, please email us at Staff@0mq.349.myftpupload.com. This post is subject to our Terms of Use and Privacy Policy. If you'd like to submit a guest post, please follow the guidelines we've set forth here.