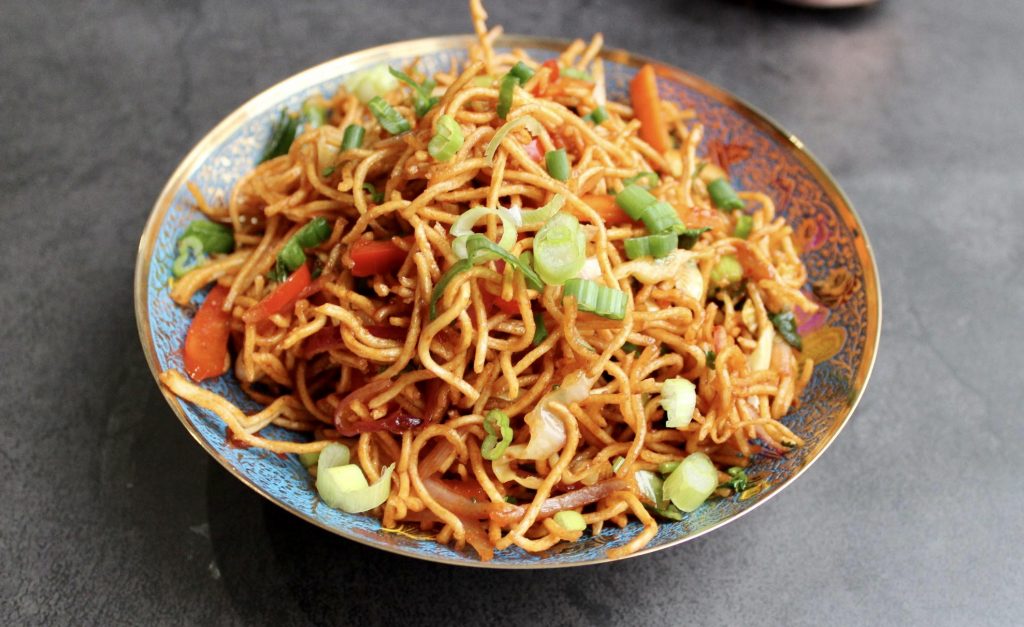 Let's talk about Chinese bhel, it's so quick and easy and guaranteed a crowd-pleaser. I make this for family gatherings and everyone loves it. It's crunchy, tangy, and spicy. I mean, what's not to love. I also love this recipe for spring, it's fresh and so colorful.
To make my noodles, I used Ching's Secret noodles, chili sauce, and soy sauce. I make my own Schezwan sauce, but if you don't have time, you can definitely use Ching's Secret Schezwan sauce as well. Homemade Schezwan sauce is really versatile and can be used in other dishes like my Schezwan vegetable Frankie, Manchurian Frankie, Schezwan garlic noodles. 
INGREDIENTS
1 pack noodles, fried

1 onion, sliced

1 red pepper, sliced

½ cup cabbage sliced

1 carrot, cut in match stick

4-5 green onions, chopped lengthwise + more for garnish

1 tsp sesame oil (you can use any oil if you don't have sesame) 

2 tbsp Schezwan sauce

1 tbsp sriracha 

1 tsp soy sauce 

2 tbsp Maggi sweet & spicy sauce or ketchup 

1 tbsp chili sauce 

1 tsp honey

1 clove garlic, shredded

1-inch ginger, shredded 

Salt to taste 

DIRECTIONS
To fry the noodles: boil the noodles according to package directions, in a baking sheet spread the noodles. In a frying pan, shallow fry the noodles until crispy. Set aside. 

In a bowl, mix together Schezwan sauce, sriracha, soy sauce, Maggi sauce, chili sauce, honey, garlic, and ginger. Set aside until ready to use. 

In a wok, heat sesame oil and once the oil is steaming, add all the veggies and cook until they are fragrant for about two minutes. You want the veggies to be crunchy so don't overcook them. 

Add the sauce and mix well. Turn off the stove, add the fried noodles and toss. 

Garnish with more green onions, and serve hot. 
I love how this recipe calls for so many crunchy fresh vegetables. What are some ways you add color to your meals?