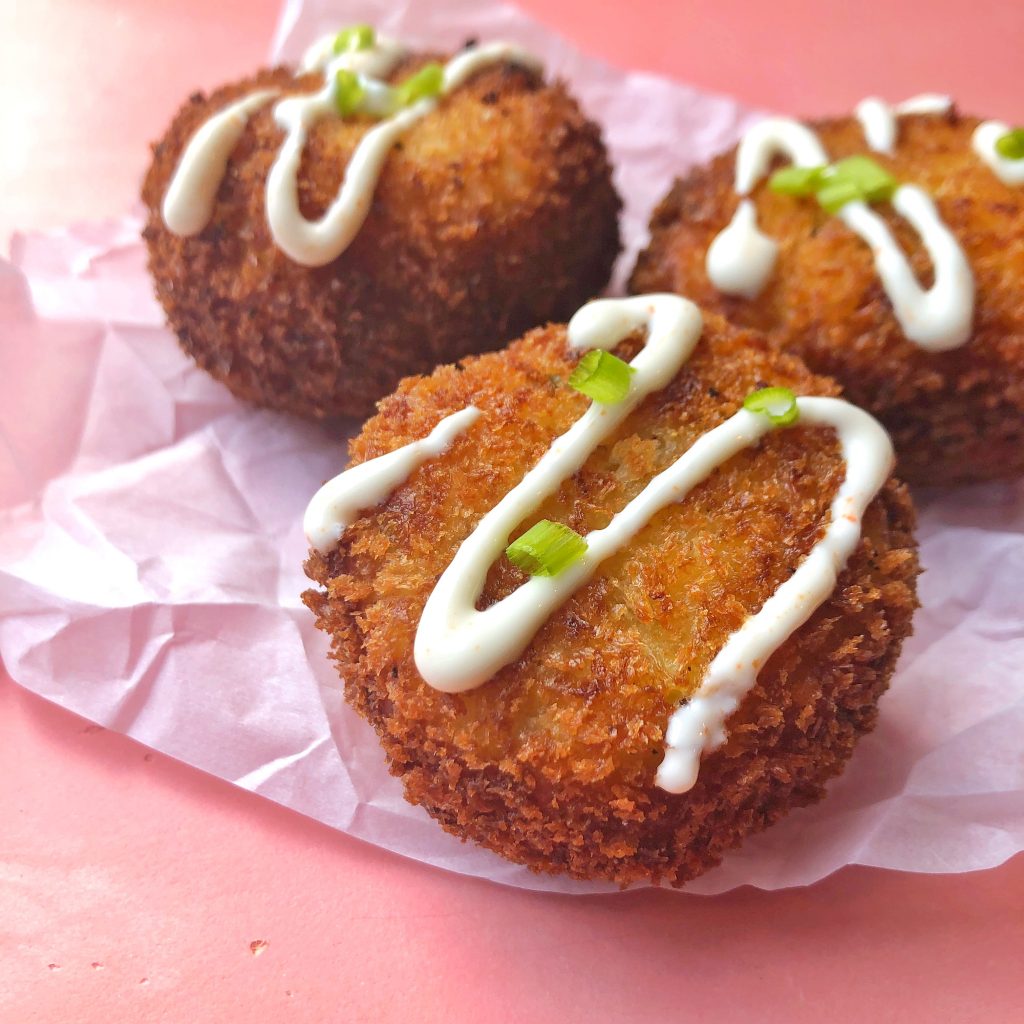 Add some Southern comfort to your weekend menu with these loaded mashed potato balls with chili honey sour cream! This recipe could be enjoyed as a regular bowl of mashed potatoes (minus the egg and AP flour), but where's the fun in that?
I decided to go gourmet and bite-size and whipped up these Loaded Mashed Potato Balls with Chili Honey Sour Cream. The process might look overwhelming at first, but I hope you give it a shot. If you follow me on Instagram, you know I'm a believer in the process of cooking and pouring love into each dish. That sometimes comes in the form of a quick, minimal ingredient dish or it sometimes requires a few more steps and time. Either way, getting lost in the process can be magical.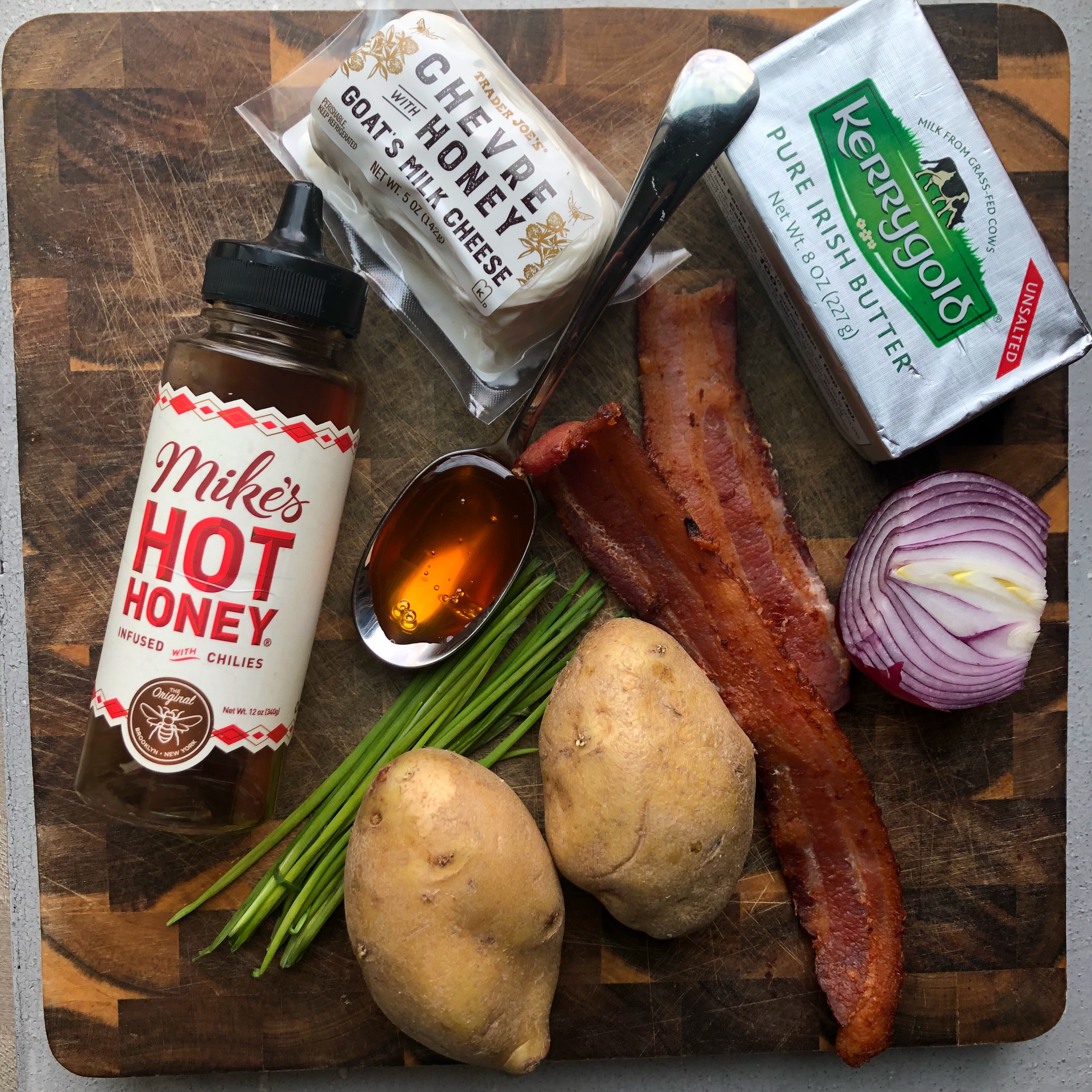 But, of course, if you're not feeling magical about being in the kitchen for about an hour, I get it. Make this a group effort! Invite your friends over and let everyone have a part in what's going to be a scrumptious, potato-filled experience. Enjoy!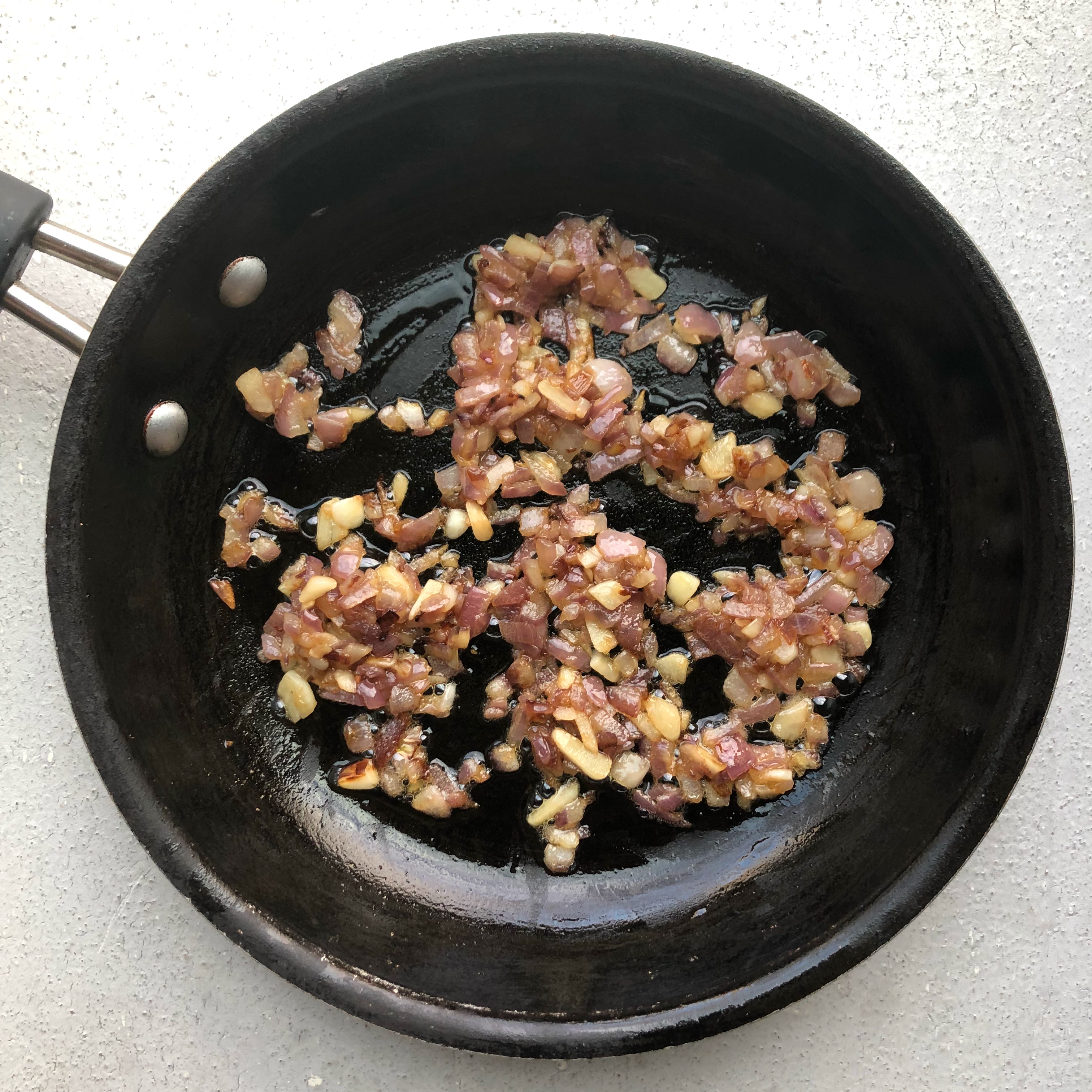 INGREDIENTS
Olive Oil,

2 tbsp

Shallots,

2, minced

Garlic Cloves,

4, minced

Golden Potatoes,

5, boiled, peeled

Bacon,

thick-cut, 2 slices, cooked and finely chopped

Goat Cheese (Chevre),

1/2 cup

Unsalted Butter or Ghee,

2 tbsp, melted

Chives,

1/4 cup, diced

Black Pepper,

ground, 1/2 tsp

Salt,

2 tsp

Cumin,

ground, 1/4 tsp

Egg,

1, beaten

AP Flour,

1/4 cup

Vegetable oil for frying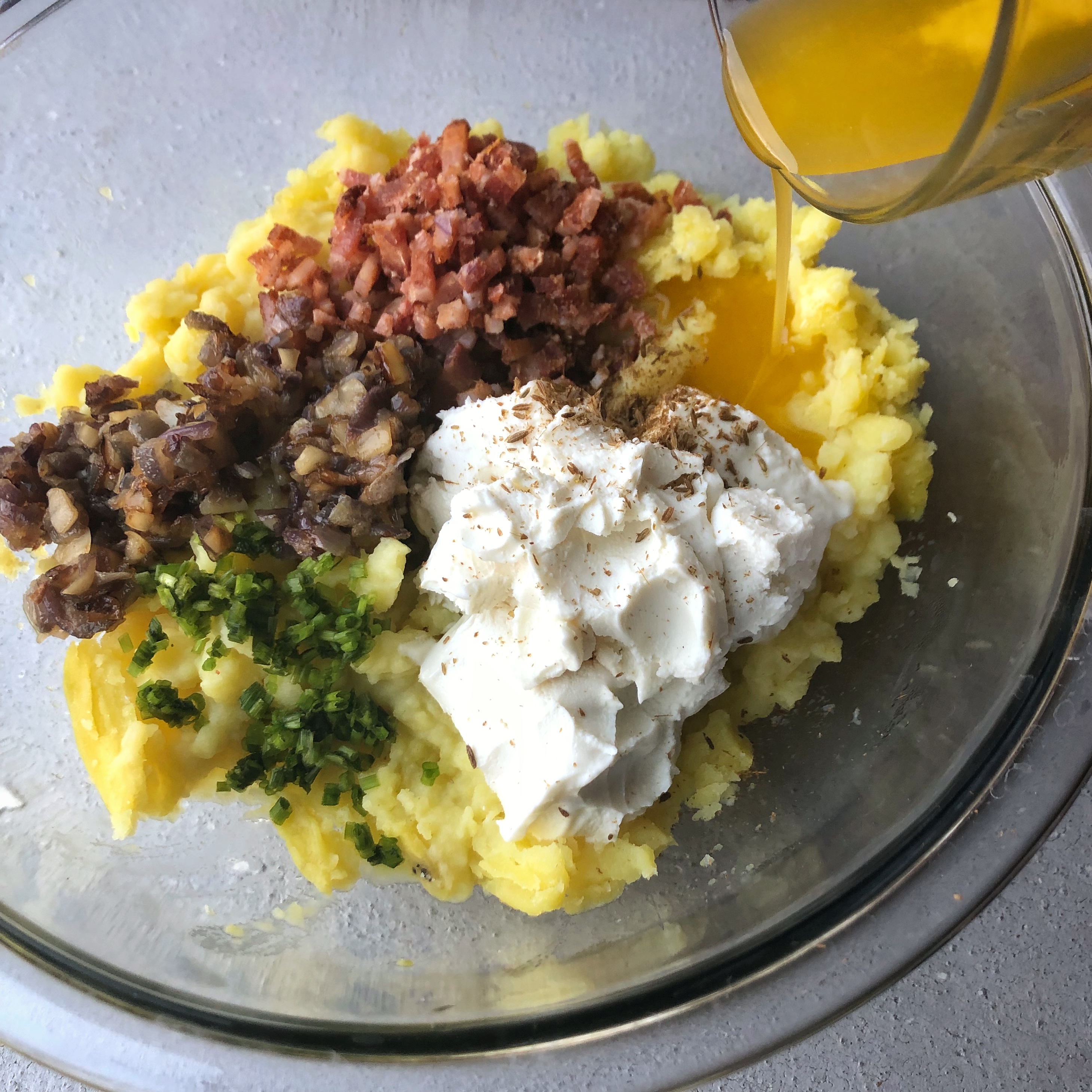 Breading
Panko or Bread Crumbs,

1 cup

Black Pepper,

ground, 1/2 tsp

Salt,

2 tsp
Chili Honey Sour Cream
Sour Cream,

1/2 cup

Mike's Hot Honey,

1 tbsp

Sriracha,

1 tbsp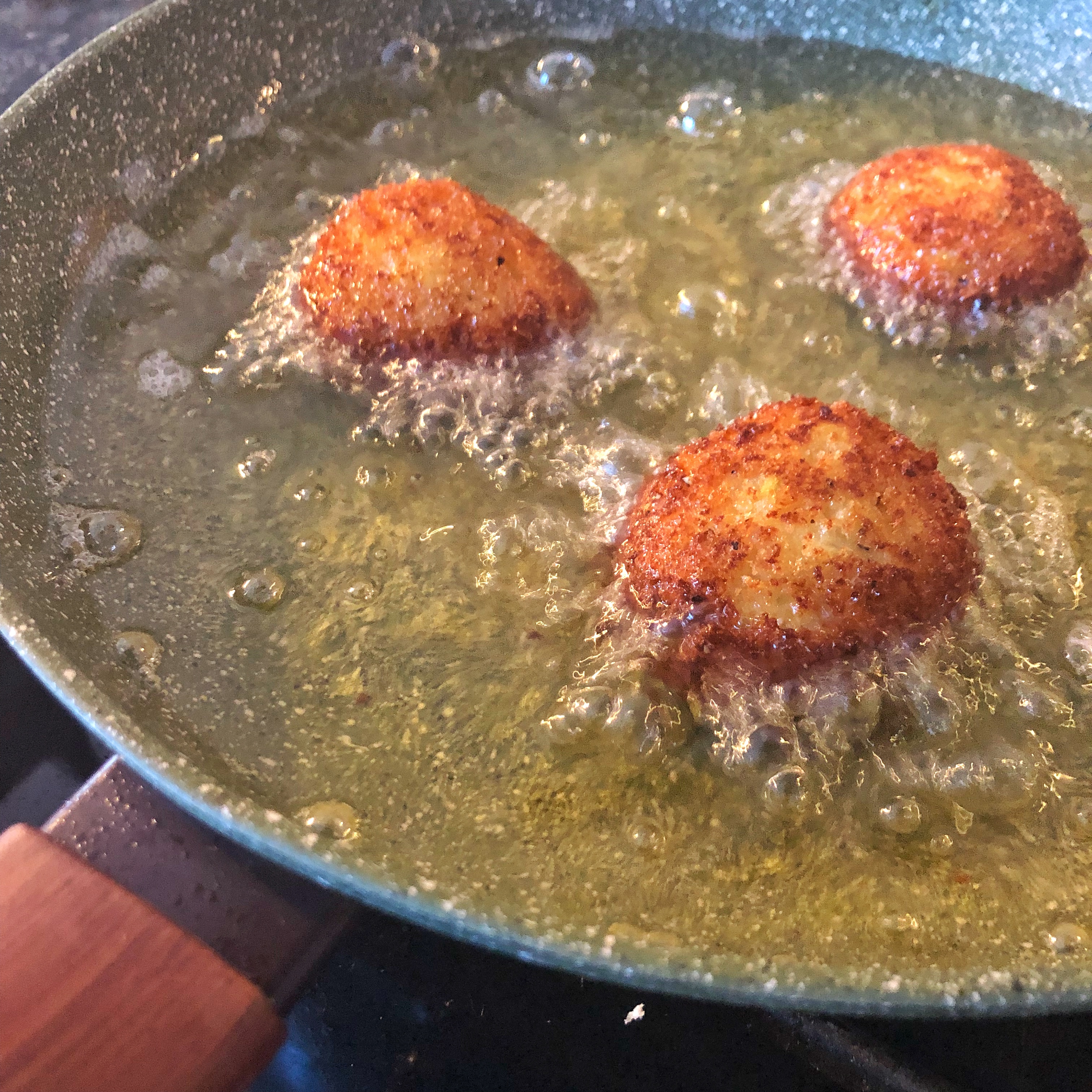 HOW TO MAKE IT
Saute. In a small frying pan on medium-high heat, add the olive oil. Once the oil is hot, add in the shallots and garlic. Fry until soft and lightly golden. Set aside.   
Mash and Mix. In a large mixing bowl, add in the golden potatoes along with the sautéed shallots and garlic, bacon, goat cheese, unsalted butter, chives, black pepper, salt, cumin, egg, and AP flour. Lightly mash the potatoes leaving it slightly chunky (do not overdo it and make it creamy or it will taste more like risotto balls). Refrigerate for at least 30 minutes. Chilling the mix makes it easier to form the ball shape.
Roll and Coat. In a shallow plate or bowl, mix together the breading ingredients. Now, using an ice cream scoop with scraper/wiper, scoop up the mashed potato mixture into your hand and form into a round ball. Roll the ball into the breading mix and then place on a plate or baking sheet.  
Fry. In a frying pan on medium-high heat, add enough vegetable oil so that it's 1-2" deep. Once the oil is hot, use your hands or tongs to gently place the balls into the oil. Once the edges turn a light golden brown, turn the balls over to cook the other side. Use a slotted spoon to transfer from the pan to a plate lined with paper towels.
Drizzle. In a small bowl, mix together the chili honey sour cream ingredients. Spoon this mixture into a squeeze bottle with a pointed tip. Assemble the mashed potato balls on your serving plate. Drizzle a light amount of the cream over the balls in a zigzag shape. Garnish with a few diced chives. Done!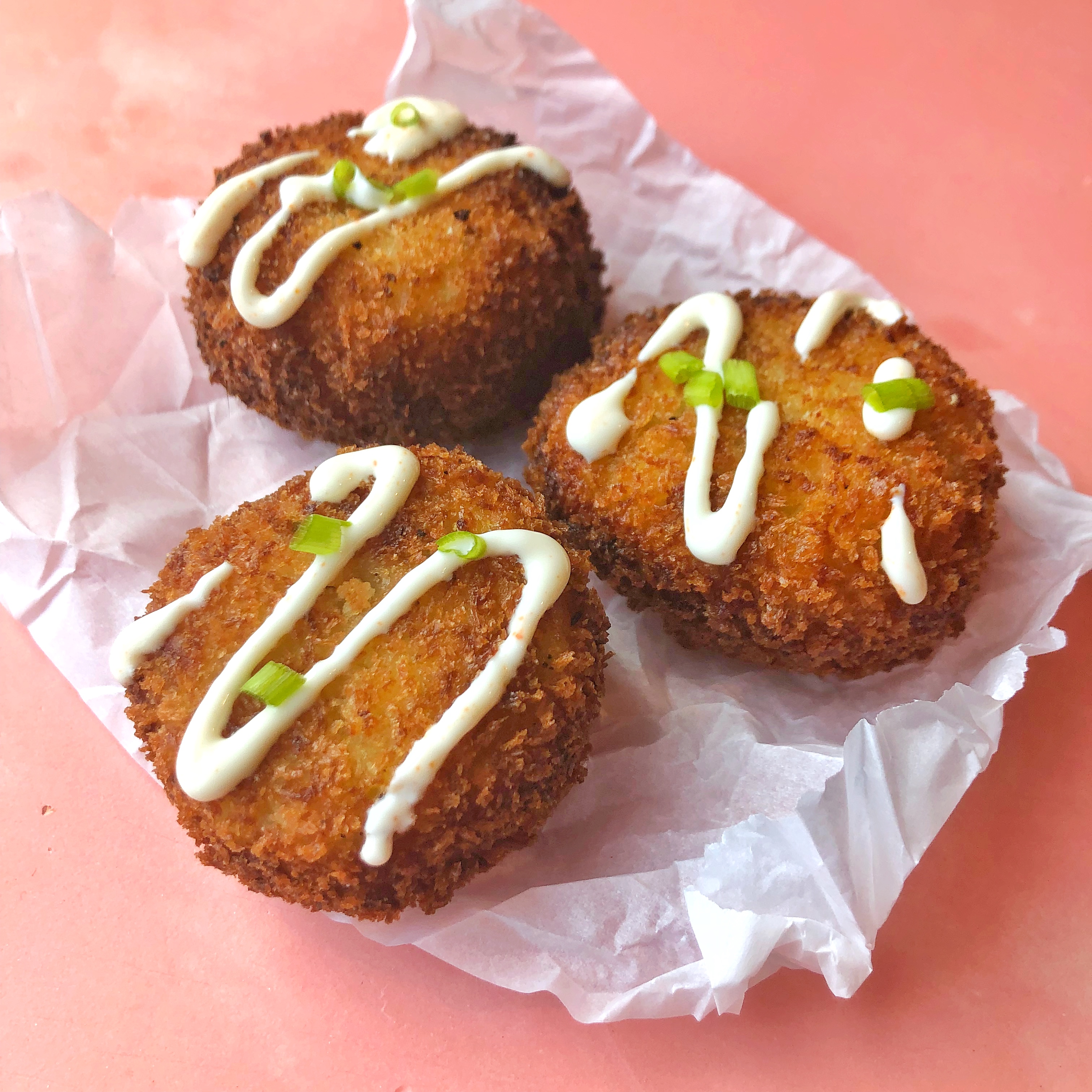 Notes:
You can use any type of potato. I prefer golden yellow potatoes because they are lightly sweet.
You can use red onions instead of shallots.
Any cheese can be subbed in. For this batch, I used a honey goat cheese.
For frying oil, you can also fry in canola or peanut oil.

I know the question of baking these will come up. You could bake these at 400 degrees for about 12-15 minutes, but keep in mind the texture will be slightly different and the coating will not darken as much as with frying.