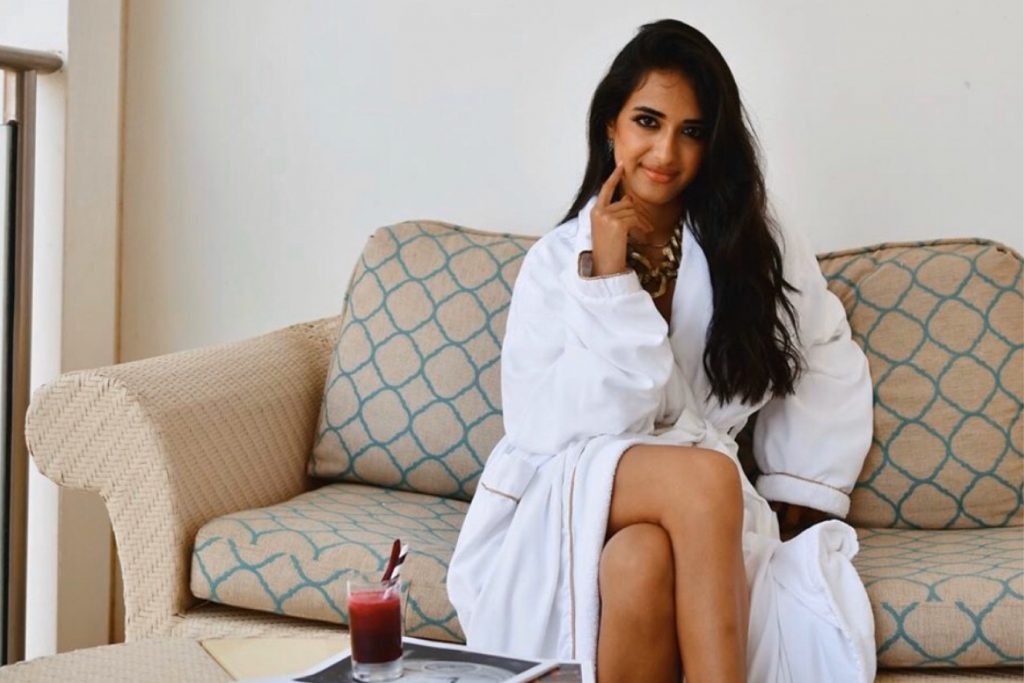 This post was originally posted on seeratsaini.com and has been republished with permission. 
I know I can't be the only one who misses feeling cute — even if I'm just chilling alone in my SF studio (lol what are humans). My need to feel cute, however, is not outweighed by my need to be comfortable. Monday through Friday I'm working my corporate job in leggings/PJs and a work blouse… a corporate mullet if you will. But on weekends, I've been trying to find a balance between cute and comfortable that doesn't leave me feeling like a blob. Here are my four favorite types of go-to, affordable loungewear pieces for a beautiful Saturday or Sunday morning!
View this post on Instagram
I know we all have a couple of these hanging in our closet. Whether it's a "slip dress style" dress or an actual slip meant to be worn under another outfit, they're incredibly comfortable and versatile. I love how silky and clingy they are and it's really easy to just throw one on post-shower, light a candle and feel transformed. Neutral tones are my favorite, and I especially love how nothing is constricting my waist from living its best life. The dress pictured above is an actual slip that goes with a dress, by Laundry, that my mom wore in the '90s! You can purchase yours on Amazon for less than $25!
View this post on Instagram
If you haven't invested in a silky robe, you're missing out! I initially bought one just to comfortably film tutorials in but ended up enjoying the "VS model backstage" vibe that a silk robe exudes. Now it's my go-to loungewear option whenever I want to wear something comfy yet sexy. It also makes me feel like I'm in a soap opera and I'm more than ok with that. The best part of wearing a silk robe is that you're basically avoiding getting dressed but still looking put together. This one here is actually from Amazon and is under $15! And check out my tousled hair tutorial while you're at it!
View this post on Instagram
This piece was never my go-to loungewear before the stay-at-home order. I meant for such an oversized white shirt to be a play on proportions where I could wear corset tops on top or even pair with shorts/boots for a Hailey Bieber vibe. It totally still serves that purpose, but chilling in it makes me feel like a cast member of "Gossip Girl"… or like I'm in that one Jessica Simpson music video (you know which one I'm talking about). I pair it with tall fuzzy socks and it becomes an incredibly comfortable outfit and a Sunday morning staple. You can now pick it up at Zara for just $10! Can I say affordable loungewear FTW?!
View this post on Instagram
I have tons of random lace pieces in my closet that may seem a bit dated and I honestly haven't worn them in so long. To be honest, I feel like they were more popular in 2016-ish. But it's really easy to create a vogue-worthy moment with pieces that haven't seen the light of day in forever, just by mish-mashing them together.
In this particular outfit, the top is from 2016 and the pants are from…wait for it…2014. The pants were actually in the sale bin at Urban Outfitters and the brand name is written so strangely that I can't make out what it's trying to say. The one bralette I've linked above is from Zara, in the perfect color, for under $10! Or simply look through your closet with fresh eyes and try out some oldies. Or simply seek out some new lace staple pieces to make the most of the ones your already own!
I hope I've helped inspire you to look and feel your best, even for just a couple hours, while we stick around inside and continue to practice social distancing! Remember you're a Goddess and deserve nothing less — yes, that means chic affordable loungewear!