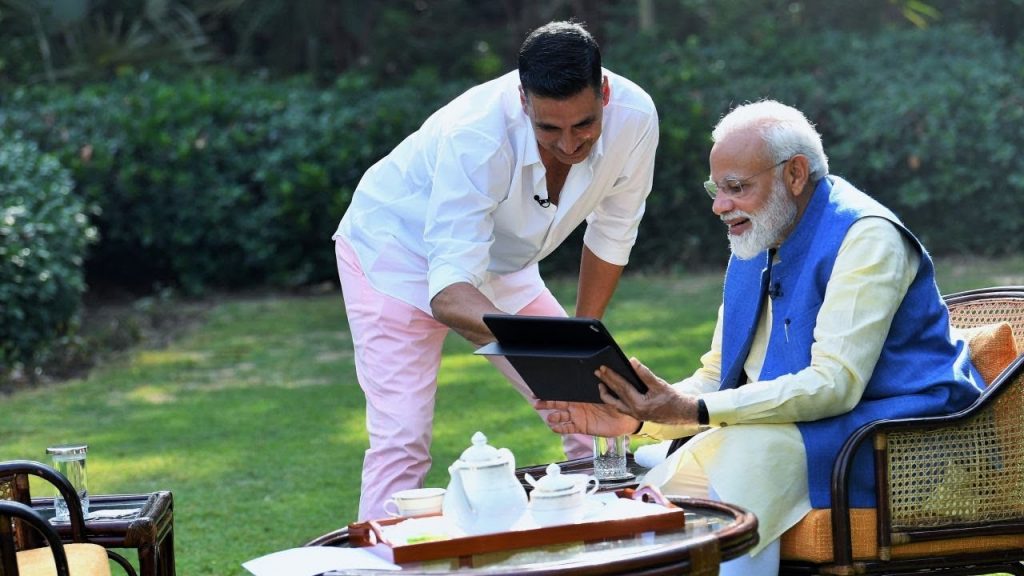 Oh nah, Akshay Kumar, nah!
Kumar has been one of my faves from the beginning of time. I've loved him since before he became a big deal, and then became a die-hard fan after he pelvic-thrusted his way into all of our hearts.
But what is this nonsense interview with the current Indian Prime Minister, Narendra Modi? Kumar is fronting like this is a "COMPLETELY NON-POLITICAL" move (the capitalization is all his, btw). Excuse me sir, but how is a "candid" 69-minute interview with the incumbent prime minister, during an election year no less, non-political?
Mind you, the questions Kumar asked were utterly ridiculous. Who cares how the man eats his mangoes?! (I'm side-eyeing the heck out of you right now, Akshay!)
What does matter is that the interview, or sorry, "informal chat," falls right before the remaining four phases of the Lok Sabha (House of the People) elections? There are a total of seven phases and members of the Lok Sabha are elected by the people. India, where some 900 million people are eligible to vote in one of the seven phases, uses the "first-to-the-post" electoral system, whereby the voters indicate the candidate of their choice on their ballot and the one who receives most of the votes wins. Basically, the winner takes all!
https://www.instagram.com/p/BwmiC_ZHyF8/?utm_source=ig_embed
By sitting down with Modi during this heavily politicized time, giving him a platform to showcase the more behind-the-scenes version of himself, is an astutely political move. Kumar is one of the biggest and the most successful Bollywood stars—Modi's political strategy here is solid AF!
Also, the Election Commission had banned the screening of a Modi biopic (starring staunch Modi supporter Vivek Oberoi) earlier this month, which was set to release prior to the first phase of the elections. The Election Commission held that "such creative content are kind of surrogate publicity… it is contended that these have the propensity and potentiality to affect the level playing field, which is not in consonance of Model Code of Conduct."
If the biopic, which would have shown us more about the man behind the title, was deemed "surrogate publicity," isn't that exactly the intent of this "informal chat?" An informal chat that would be shown across all media platforms, traditional and digital, and reach beyond that of a biopic? This random interview with a Bollywood big-wig isn't looking so random, now is it?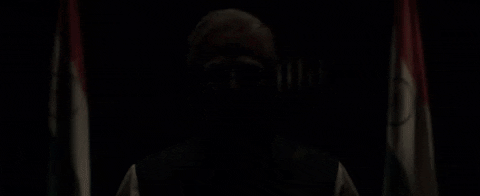 It is a boss move by Modi. And whether he admits it or not, Kumar is complicit.
Kumar's lovefest with Modi isn't unique to him alone; many of the Bollywood elite have cozied up to the Prime Minister. Earlier this year he invited rising young Bollywood stars — Varun Dhawan, Ranveer Singh, Alia Bhatt, Vicky Kaushal — and one of the biggest Bollywood power players, Karan Johar, for a "nation-building" summit. The event was apparently organized by Johar, but you'd better believe that the benefit of posing it up with the who's who of young and influential Bollywood, via selfies and groupies, and sharing said photos across all their social media handles to all of their young and eligible voter fans, was not lost on Modi.
Bollywood elites love to espouse their progressive values, but as I've said before, many of them lack both the self-awareness and understanding of brand authenticity to know that their support for a right-wing nationalist party is the antithesis of that.
https://www.instagram.com/p/BsdHcoqlkUN/?utm_source=ig_embed
The more I think about it, the more I see just how fitting this move is for Kumar though. We shouldn't be surprised that. Kumar has successfully navigated his professional brand to expand beyond his action hero label with socially conscious movies like "Padman" and "Toilet: Ek Prem Katha." In fact, "Toilet: Ek Prem Katha" was on par with Modi's Swachh Bharat Abihyan mission of building more toilets in India, so there is that alignment.
Kumar's penchant for doing films packed with patriotic zeal has only grown stronger over the years (see: "Airlift" or this year's "Kesari" for the most recent examples). And it isn't like Kumar hasn't been vocal of his support for Modi, he has trumpeted his support in interviews and on social media since the beginning of Modi's tenure, and before. It's a win for him too.
What gets me though, is the blatant dishonesty about it all!
Guys, we see you. We see what you're doing here. And by we, I don't just mean the diaspora. I also mean the urban, educated Indians of the upper-middle class and the elite. However, it isn't just these people that Modi and Kumar were trying to reach. No, I believe that, like the biopic, this interview was an attempt at reaching the average Indian living in rural or poor urban areas where literacy levels are low. It was meant to reach the Kumar fans who aren't as savvy to the political maneuvers being made. Reaching these folks prior to the last four phases of the election cycle, which would see northern regions of the country coming through to vote, is strategic. Regions that include Rajasthan, Haryana, Uttar Pradesh, and Punjab(!). Regions, it should be noted, where Kumar's popularity is through the roof.
The timing, the coordination, and the promotion of this interview are impressive. The strategy is impressive, but if I can see right through this tactic sitting here in Brampton, Canada, the implementation of the strategy isn't.
Kumar and Modi's "completely non-political" interview is dishonest, plain and simple. And I know, I know, politics and the acting world aren't the traditional flag-bearers of honesty, but this still sucks.
---
The opinions expressed by the writer/blogger of this piece and those providing comments are theirs alone and do not necessarily reflect the opinions of Brown Girl Magazine, Inc., or any employee thereof. Brown Girl Magazine is not responsible for the accuracy of any of the information supplied by the guest writer/bloggers. It is not the intention of Brown Girl Magazine to malign any religion, ethnic group, club, organization, company, or individual. If you'd like to submit a guest post, please follow the guidelines we've set forth here.