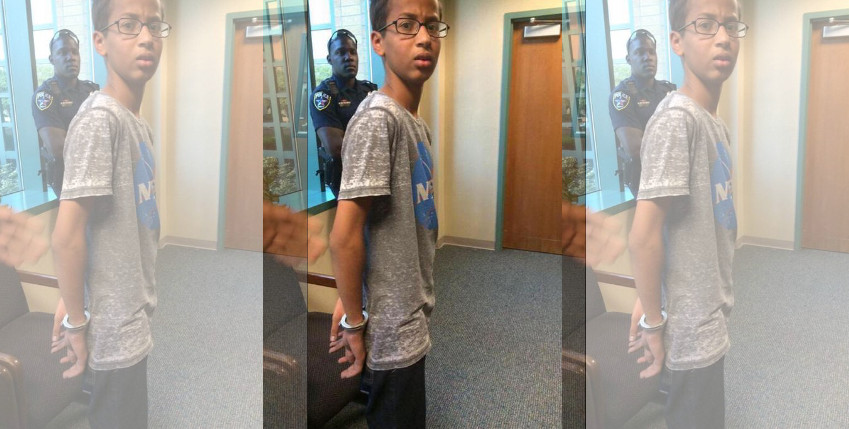 by Wajahat Ali
Update as of October 20, 2015: Just a little over one month after 14-year old Ahmed Mohamed was arrested for bringing a homemade clock to school that was mistaken for a bomb, he was enjoying the company of President Barack Obama in the White House. Ahmed posted a photo of President Obama embracing him with the caption: "SO HAPPY, I CANT BELIEVE THAT I MET THE #president of THE #UNITEDSTATES!!!" We are so happy to see the radical difference #IStandWithAhmed hashtag has made in raising awareness on Islamaphobia and STEM education.
The  post below is a response to Ahmed Mohamed's recent arrest that took place at his school in Dallas, Texas. The 14-year-old Sudanese-American boy brought a homemade clock to school to impress his teachers with but it was mistaken for a bomb. We urge you all to contact Jose Parra, the school's superintendent in Ahmed's district, to ask him what he's going to do to to make this right. Parra's phone number is (972)-600-5001 and his email address is jparra@irvingisd.net.
"He's vowed never to take an invention to school again." Way to inspire, support and nurture our students & future leaders. #IStandWithAhmed — Wajahat Ali (@WajahatAli) September 16, 2015
I'm 34 years old and I can barely tie my shoe laces. If I created my own radio, repaired my own go-cart and made a homemade clock in 20 minutes, my wife would give me a hall pass for two weeks, my parents would feel fulfilled they finally raised a brown son who could actually create something "useful," and my South Asian friends would sell all their clocks on E-Bay and cajole me into making them free ones for the rest of my life. Well, that's what 14-year-old Ahmed Mohamed of Dallas did for a school project and what was his reward? In a sane world, he would be heralded as the Texan Jimmy Neutron, The Sudanese Tony Stark, The Next Edison or Muslim Tesla. Instead, he was arrested on suspicion of making a hoax bomb and suspended. Teenager brings in homemade clock = bright future in robotics. Muslim kid does the same = he has created Ultron. The casualties of fear, ignorance and bigotry are always common sense and decency. This would make a perfect Monty Python or Daily Show sketch, but the tragedy is all too real, sad and infuriating. #IStandWithAhmed because when my 1-year-old Muslim American boy grows up and builds a badass clock, I want him celebrated, not scapegoated.I wish I knew Ahmed. I'd give him a hug, a fist bump and say keep on dreaming and keep on building. Then I'd offer to buy his homemade clock. In fact, they should replace the clock in the principal's office with the one he made—perfect karma and a great reminder that haters always end up in the dustbins of history.
And here's what President Barack Obama had to say on the matter: 
Cool clock, Ahmed. Want to bring it to the White House? We should inspire more kids like you to like science. It's what makes America great. — President Obama (@POTUS) September 16, 2015