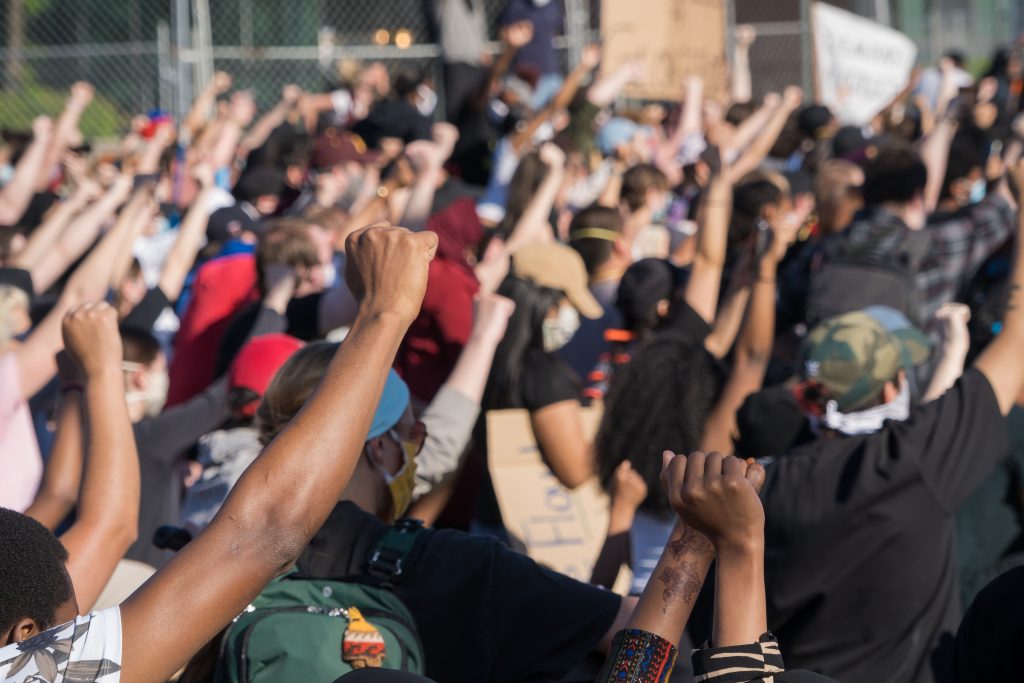 This post was originally posted on Shakti Collaborative and republished here with permission. 
By Riya Dange
As the flurry of black squares has been swept off your Instagram feed and the furor of Internet activism has died down to a simmer, you may be asking yourself: "What now?" You may have read hundreds of articles, listened to countless diatribes, engaged in numerous conversations, and reposted more than your fair share of resources on social media. Still, the centuries-old racial injustices persist. This is, after all, a marathon – not a sprint. The Civil Rights Movement of the mid-1900s spanned two decades. The Anti-Apartheid Movement in South Africa lasted over 30 years. And the Indian Independence Movement, lest we forget, took 90 years to achieve its goal.
All this to say: there is a great deal of work ahead. Although Black Lives Matter advocates and allies have succeeded in pushing through a number of groundbreaking reforms, new symptoms of systemic racism come to light every day. Our allyship should not begin and end with a few weeks' worth of social media trends. If we want to help push for effective, lasting change, each of us needs to critically evaluate the long-term role we are best suited to play in this social justice movement. In doing so, we need to consider our skills, interests, and the environments in which we can thrive and make the greatest contributions.
In 2019, Deepa Iyer, a South Asian American author, professor, and leading racial justice activist, created a framework for allyship and advocacy on social justice issues. Iyer's schema partitions people into ten roles based on their skills and interests: weavers, experimenters, frontline responders, visionaries, builders, caregivers, disruptors, healers, storytellers, and guides.
[btx_image image_id="76441″ link="/" position="center" size="full" on_click="none"][/btx_image]
"Not all of us, "can (or should) play each of these roles." We may be naturally drawn to some roles over others, just as we are in our day-to-day social lives. However, the role we play at any given moment may also change depending on the circumstances. This shifting dynamic, Iyer argues, is requisite to "[a]n effective, healthy, and sustainable social change ecosystem." —Iyer
So, as we begin asking ourselves how we fit into this movement through a long-term lens, we need to understand and explore all the different roles we could potentially play. Moreover, we should look to social justice leaders who are already carrying out those roles so we can learn from their experiences and build on their efforts with our own. On June 2nd, Shakti Collaborative co-hosted a South Asians for Black Lives Town Hall along with thirteen other South Asian-led organizations. The event was coordinated by Bhavani Rao, the co-founder of South Asians in Entertainment and founder of South Asian Women in Entertainment, and Archana Jain, the Executive Director of Product of Culture, a cultural empowerment platform for South Asian creatives. During the Town Hall, fourteen diverse speakers discussed their roles in this social change ecosystem and how the 320 attendees could work towards finding their own.
Before we embark on a tour of social change roles, interwoven with insights from the Town Hall speakers, we need to recognize a few key pointers about allyship with the Black Lives Matter movement:
Your role as an ally entails elevating Black voices, not speaking in place of Black people.

Because the issues addressed by BLM affect the Black community directly, you need to actively seek out Black voices before making statements or taking action on such issues. Ensure that they are at the center of your advocacy efforts. For instance, consider sharing your platform with Black friends or organizations by participating in a social media takeover.

Being an ally requires lifelong growth and learning.

This can be frustrating and even acutely uncomfortable at times. (I learned this the hard way.) However, if you want to be an effective agent of social change, you must remain open-minded and resilient. In the same vein, jumping to criticize a fellow ally because their priorities or methods do not align exactly with yours only slows us all down in achieving our collective goals. Extend others the benefit of the doubt, and engage in respectful, clarifying conversation instead of knee-jerk criticism. Working to become a better person and ally is a lifelong process for all of us.

Racism is not a one-lane problem.

It permeates every institution in our society, from our healthcare system to our education system, legal system, criminal justice system, political system, and economic system. For instance, the American prison system holds

more Black individuals

than those of any other race, while the American medical system is plagued by

implicit racial biases

and

treatment disparities

that result in

lower life expectancies

for Black Americans across the board. Even if you choose to focus on one particular system or issue, be aware that there are many others in which you may inadvertently be complicit. Stay alert, and never forget the magnitude of the problem.
In theory, the following ten roles can be applied to any social justice movement. Now, however, it has become especially urgent to exercise our allyship skills and efforts in support of the Black Lives Matter movement. We in the South Asian community owe a great deal to the Civil Rights Movement led by the Black community. Still, we are – sometimes unknowingly – complicit in perpetuating the systems and prejudices that hold them back. Many of these ultimately harm us as well because our ability to succeed and live well in America is intertwined with that of our Black counterparts. Only by working through our own biases and advocating alongside our fellow citizens can we create effective, beneficial change. To quote the renowned Murri activist Lilla Watson: "If you have come here to help me, you are wasting your time. But if you have come because your liberation is bound up with mine, then let us work together."
Allyship and Advocacy Roles in a Social Change Ecosystem:
The following role definitions have been adapted from the June 2020 Mapping Ecosystem Guide by Building Movement, an organization that creates and disseminates resources for emerging nonprofits.
Weavers
Impassioned connectors who strive to unite people, places, organizations, ideas, and movements
You may be a weaver if you…
Are skilled at creating and maintaining relationships

Enjoy helping other people achieve their goals

Prioritize intersectionality and big-picture thinking
Weavers from the Town Hall include Kausar Mohammed, the co-founder of Shift, a consulting group focused on promoting racial and gender equity. Kausar and her colleagues work to connect people to opportunities by helping them overcome institutional biases. They provide workshops, professional consultations, and sexual harassment prevention courses to promote diversity and inclusivity in the workplace. Recently, the team has been creating frameworks on how to have conversations about anti-blackness within the South Asian community using "compassionate accountability." On June 12th, they hosted a webinar on effective allyship.
Experimenters
Fearless innovators, pioneers, and inventors who embrace the risks of new ventures and learn by experience
You may be an experimenter if you…
Are skilled at formulating and testing new ideas

Enjoy problem-solving and trial-and-error

Prioritize persistence and solution-oriented creativity
Examples of Experimenters include Patrisse Cullors, who founded the Black Lives Matter movement and pioneered the original viral hashtag. Patrisse is a New York Times bestselling author and accomplished public speaker who has experimented with a variety of means to spread her message and grow the BLM movement. For instance, she created and launched an online Master of Fine Arts program designed to encourage activism through art.
Frontline Responders
Relentless on-site activists who address community crises by marshaling and organizing resources, networks, and messages
You may be a Frontline Responder if you…
Are skilled at articulating the goals of your movement

Thrive in high-pressure situations involving many people

Prioritize immediate, communal action
Frontline Responders from the Town Hall include Marco Glorious Khare, a half-Black, half-Indian television actor and producer. Marco has been on the front lines of protests in New York – and had, in fact, returned from one such protest just before speaking at the Town Hall. Having grown up at the intersection of the Black and South Asian communities, Marco levies his experiences to call his peers from both communities to action in the spirit of the Black Lives Matter movement.
Visionaries
Bold creators who use their imagination and ingenuity to fuel new possibilities and remind the movement of its direction
You may be a visionary if you… 
Are skilled at creating and promoting unifying messages and goals

Enjoy exploring new, untapped directions to further the goals of your movement

Prioritize expansion, creation, and exploration
Visionaries from the Town Hall include Suju Vijayan, a film director, political activist, and elected delegate to the California State Assembly for District 46. Suju channels her many talents into marshaling large-scale advocacy for civic engagement and policy changes. She has been actively organizing protests, registering voters, and meeting with legislators to push for reductions in police funding and brutality.
Builders
Grounded architects who develop, organize, and implement ideas, practices, people, and resources to achieve a collective vision
You may be a builder if you… 
Are skilled at methodical idea development and execution

Enjoy creating something tangible and long-lasting to serve your movement

Prioritize hard work, grit, and high-level action
Builders from the Town Hall include Haleema Bharoocha, an advocacy manager at the Alliance for Girls who is also involved in Malikah, a women's empowerment organization. Recently, Haleema and her team helped launch South Asians for Black Lives, a set of educational resources to help South Asians become better allies and advocates for the Black Lives Matter movement. At the Town Hall, Haleema shared four steps to becoming a more effective ally: acknowledgement of racism within oneself and one's community, self-education about allyship and solidarity, self-interrogation by applying one's newfound knowledge to oneself, and community action by forming relationships to effect large-scale change.
Caregivers
Nurturing spirits who serve the people around them by creating and sustaining communities based on care, joy, and connection
You may be a caregiver if you… 
Have a high emotional intelligence and are skilled at creating positive social environments

Enjoy community-building and deep interpersonal relationships

Prioritize support, compassion, and conversation
Examples of Caregivers include Ianne Fields Stewart, the founder and co-facilitator of The Okra Project, an organization dedicated to promoting mental health and wellness for Black transgender individuals. Ianne and her team reach out to homeless members of their community by providing them with healthy, home-cooked meals. They have also founded several initiatives to help address food disparities facing Black transgender people worldwide. 
Disruptors
Intrepid risk-takers who focus on using action to challenge the status quo, raise awareness, and marshal power for the movement
You may be a disruptor if you… 
Are skilled at identifying injustice and mistreatment and have the courage to vocalize those concerns publicly

Enjoy head-on confrontation of injustice and speaking truth to power

Prioritize whistleblowing and swift action
Disruptors from the Town Hall include Behzad Dabu, a founding member of the Chicago Inclusion Project, an organization of performing artists that seeks to level the playing field for minorities. Behzad is involved with the Black Lives Matter movement, organizing and actively participating in protests. He and his colleagues were responsible for a two-year activism campaign that successfully eliminated plans to build a $3.5 billion jail in Los Angeles County. At the Town Hall, Behzad addressed the allegations of violence against BLM protestors, insisting that the looters and the protestors were two distinct groups, and provided safety tips for audience members planning to attend protests. For instance: write important phone numbers on your arm, including someone you can call for bail if necessary; designate meeting spots before going to the protest; and cover your body completely.
Healers
Compassionate individuals who work to treat, cure, and empower those who have been traumatized by oppressive systems, institutions, policies, and practices
You may be a healer if you… 
Are skilled at identifying sources of trauma and helping others work through difficulties

Enjoy compassionate interpersonal interactions and lengthy problem-solving

Prioritize empowerment, compassion, and emotional resilience
Examples of Healers include Dr. Nadine Burke Harris, a pediatrician who has made groundbreaking strides in reforming healthcare for at-risk children. She studied how childhood trauma affected her patients' health across their lifetime, and she incorporated her findings into her medical practice. In her TED Talk, she lays out the ways that healthcare providers and policymakers can address intergenerational and institutional trauma to better care for America's most vulnerable children. She is currently translating her methods into policy as California's first-ever Surgeon General.
Storytellers
Artistic creators who use their talents to share community stories, cultures, experiences, histories, and possibilities through art, music, media, movement, etc.
You may be a storyteller if you… 
Are skilled at articulating or artistically portraying the goals of your movement

Enjoy creative expression and engaging others in conversation

Prioritize sharing human experiences and weaving multiple experiences into a unifying message
Storytellers from the Town Hall include Kumari Suraj, Sundeep Morrison, Nehal Tenany, and Annika Sharma. Kumari is a half-Black, half-South Asian dancer and activist who harnesses her personal experiences to advocate against racial discrimination. At the Town Hall, she spoke about the pain she felt when her cultural ties to her Black heritage were minimized by people who "could not see [her] Blackness on [her] face." She encouraged attendees to reach out to their Black friends in the spirit of a "mental health checkup. Ask them how are you, how can I comfort you, how can I help you and hold your hand?" 
Meanwhile, Sundeep is a writer and LGBTQ activist who sparks social justice dialogue through theatrical performances, radio shows, and literature. She presented at the Town Hall on behalf of QORE, an organization devoted to promoting LGBTQ rights. Among other initiatives, QORE holds weekly Zoom meetings for activists in the LGBTQ community. Sundeep's current allyship efforts are focused on mobilizing and creating art to elevate issues facing the Black community.
Last but not least, Nehal and Annika are the co-founders and co-hosts of The Woke Desi, a podcast focused on intersectional social justice issues. They released a podcast episode on anti-blackness in the South Asian community and how it has been perpetuated by pop culture staples such as Bend It Like Beckham. Nehal also opened up about her experiences learning about the historical trauma behind the N-word and altering her views on its appropriation by non-Black rap music fans.
Guides
Wise leaders who teach, counsel, and advise others based on their learnings, experiences, and developed instinct for discernment
You may be a guide if you… 
Are skilled at breaking complex concepts into digestible pieces

Enjoy giving and receiving information and facilitating educational conversations

Prioritize widespread education, interpersonal exchange, and mentorship
Guides from the Town Hall include Dr. Sumun Pendakur and Rishi Madnani. Sumun serves as the Chief Learning Officer at the Race and Equity Center of the University of Southern California. Her day-to-day work centers around building community strength and the university's institutional capacity for racial and social justice. She has also published multiple scholarly papers on Critical Race Theory, agents of change, and institutional transformation in favor of inclusivity. Her dissertation on transformative agents at elite universities earned her USC's Dissertation of the Year Award. At the Town Hall, she emphasized the importance of taking regular, daily action to work towards a more just society. "This is a marathon, not a sprint," she said. "You have to conserve energy to keep doing this over your lifespan."
Rishi, meanwhile, is a student and actor at Bates College who recorded a viral TikTok on how the model minority myth fuels anti-Blackness in the South Asian community. In both his TikTok and his Town Hall presentation, Rishi spoke about the history of immigration and civil rights in the United States, emphasizing the historical and global alignment of the South Asian and Black communities.
* * *
Each of the categories mentioned above features multifaceted leaders who are capable of playing a variety of roles. However, we wanted to highlight the specific roles they chose to focus on in the Black Lives Movement, hoping that their example can help illuminate your way forward. The road ahead of us may be long, but it will be a great deal more pleasant if we direct our efforts into work that energizes us and fulfills the needs of our social change ecosystem. Keep speaking out and taking action, and never let up.