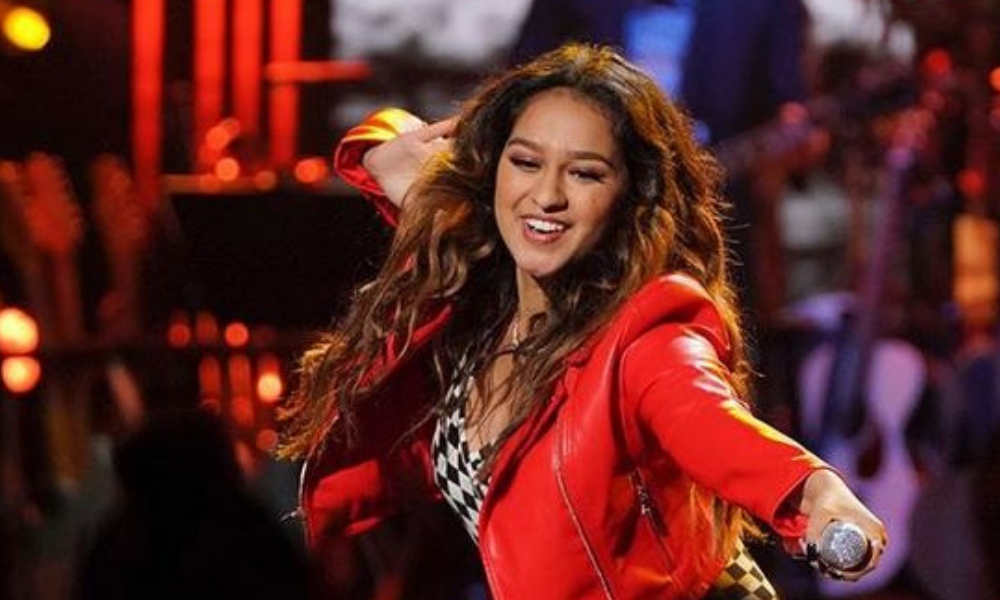 It's Sunday night and my family is gathered around the television in the living room to watch "American Idol." I can't say this is my dad's usual preference, but even he's invested, joining in on my mom's enthusiasm to see one performer in particular – Indo-Caribbean sweetheart, Alyssa Raghunandan.
During her first audition, she proudly dubbed herself "Raghu like the sauce," turning the phrase "I've got the sauce" into a popular tagline after her first stint on the show in 2018.
https://www.youtube.com/watch?v=AEOiOOW1evE
As Raghu garnered attention she publicly embraced her half-Guyanese identity and performed at charity shows within the Indo-Caribbean community, most notably performing at Chutney Glow — an annual fundraiser hosted by the Save Abee Foundation for Children. She also performed at Amazura Concert Hall in New York for a Mother's Day show, where she belted out a beautiful song in those octaves we have grown to love.
She even sat down with Pix11's Jennifer Bisram to speak about her dream of being a singer and her feelings about being a literal voice for Indo-Caribbeans. She humbly expressed that her run on "American Idol" "really helped this entire community just glow."
https://www.instagram.com/p/Bggb6uGhiY2/?utm_source=ig_web_copy_link
So, when Raghu returned to ABC's "American Idol" this year we rejoiced and cheered as she flew through each round, making it into the Top 8 this time. It was clear that she took the judges' commentary from the last season to heart and took the time to perfect her stage presence. Raghu's performance for Queen night showed just how much she's grown, not just as a singer but a woman dedicated to bringing her personality to the stage. However, to remain competitive it was also important that Raghu find something unique to latch onto.
Fans started noticing a shift in the way she identified herself both on social media and the show. First, she explicitly expressed her Guyanese background but later began to emphasize her Indian heritage and Mexican roots. It can be speculated here that a wavering choice of identity leaves people confused as to whether or not they can relate to her, and having that emotional connection to a competitor can go a long way in the voting process.
For context, the term Indo-Caribbean refers to people of South Asian ancestry who later settled in the Caribbean or the Guyanas, which are considered part of the Caribbean because of their similar cultural practices and traditions. This migration occurred due to the British's use of South Asians as indentured laborers in the region beginning in the 1800s. Now a permanent part of the Caribbean community, Indo-Caribbeans have established a new identity, with our language, traditions and foods taking on a different form than that of our original motherland. It is an identity that is multifaceted and can be confusing to those both in and out of the South Asian diaspora.
So what happens when a person encounters the mainstream American audience and is tasked with explaining the Indo-Caribbean identity to them?
Some may choose to abandon the heavy term altogether and opt for labeling themselves as Indian due to the history of Indo-Caribbeans, in an attempt to avoid confusion — which also brings forth an argument about race versus nationality. Yes, Indo-Caribbeans are racially categorized as Asian, but the purpose of race is to give perspective on the social and historical context of a person's identity. When Indo-Caribbeans are ushered into broader racial categories it does a disservice to the complex strings that tie us to both of our homelands.
For Raghu, a second-generation American, her name is a reflection of her diverse identity.
In a comment to Brown Girl Magazine, the singer said,
Alyssa is my 'American Name,' Maria is my 'Mexican name' my grandmother's name on my mother's side, and Raghunandan is my 'Indian Name' from my father's side.
She added that the reason there is a misunderstanding of her Indian identity is that people confuse race and nationality.
When a person asks me what race I am, I can't describe myself as Guyanese," she said. "Guyanese is not a race…my race is Indian.
Race refers to the six common categories that all of us are forced to choose between government forms or standardized tests. They are American Indian/Alaskan Native, Asian, Black or African American, Hispanic or Latino, Native Hawaiian/Pacific Islander, and White. Given this categorization, the accurate selection for Raghu is technically Latina and Asian by race.
Choosing, however, to lean only on the Asian part of her Indo-Caribbean identity due to our ancestry negates the uprooting of our people from the motherland and their relocation to the Caribbean.
It's just hard to explain that in interviews with limited time or social media profiles with limited character space requirements," Raghu said.
https://www.instagram.com/p/BvIawAPgC21/?utm_source=ig_web_copy_link
In trying to represent the communities to which she belongs—American, Guyanese, Indian and Mexican—she also faced rejection from both the Guyanese and Indian diaspora.
After my appearance last year on American Idol, I received many hurtful messages from people saying 'How are you Guyanese? You were not born there and neither was your father. You don't know our struggle or our culture. You don't represent us, etc.,'" she revealed. "I also received messages saying 'How are you Indian? You never lived in India. You never even visited India. You don't represent us.'
Yet, despite the pushback, Raghu remained undeterred and continued to embrace and celebrate all parts of her cultural identity.
I'm of half Indian heritage…I am Guyanese, as well as a proud American. I am also Mexican and Latina. I am all these things and not ashamed to say it," she said. "But it seems no matter what I say, some group of people is upset about it.
Raghu is a young woman living her dream. She has broken barriers that have opened the world to Indo-Caribbean, Latinx, and biracial kids alike. She stands as an example that they too can follow their wildest passions and be greeted with open arms.
Many Indo-Caribbeans find joy watching someone from our community in the mainstream limelight. Raghu awakened the possibility in our hearts that we too could pursue whatever the American dream means for us. Perhaps why we take her choice in identity personally is because so rarely do we get the change to witness a young woman of her age and background make such strides without having to take on stereotypical roles or take part in cliché concepts to rise to fame.
Due to the complexity of culture, there can also be tension between children and parents when in pursuit of unconventional careers. In an interview with Lakshmee Singh, host of "Let's Talk with Lakshmee," Raghu thanked her father for not letting her dream die:
Some kids want to go out of their comfort zone. Some parents will smash that so you have a guaranteed future of being successful, but this risk, and what my dad has let me do, I'm forever grateful for it because I'm living my dream.
Remaining true to our history is not an easy task but one that benefits us all as we move forward in building understanding around who we are as Indo-Caribbeans. It also gives us the opportunity to celebrate the strides we have made despite the odds.
Raghu said she hopes to continue to participate in "charitable performances here in America which directly benefit the children of Guyana."
She also expressed her desire to explore more of her own cultural identity and share it with the world:
"I hope to visit India one day to discover the beginnings of our story. Guyana is an important part of my heritage and that story. As I continue to grow as an artist, I will continue to spread the word about Guyana and its role in my heritage."
I hope that both the Indian and Guyanese communities can join together in the understanding that she is being tasked with representing two large bodies of people as she also attempts to sculpt her own personal identity.
Coming from a mixed-race background between my mother and father's side, I'm doing my best to try and make everyone happy," Raghu concluded. "I'm representing all of us. I am exactly what God intended me to be. Human.