by Subrina Singh – Follow @Subrinalalala
Barbie has been a fashion icon since 1959 when she made her debut at the New York Toy Fair. The woman behind the doll, Ruth Handler,  wanted to provide her daughter with an older doll than was available at the time that she could one day imagine herself as.
Decades later, Mattel has sculpted Barbie into a female icon that is a role model for girls around the world. With over 180 careers, Barbie represents everything a young girl can grow up to be. She portrays feminism in a time when women did not even realize the meaning of female empowerment.
Since inception, one of the main goals of Barbie has been representation. It has been important not only for girls to feel represented within careers but for them to feel represented in how they look as well. For this reason, Barbie's "friends" have been shown with different hair colors and ethnicities. Some of the most iconic dolls were Christie in 1968 as Barbie's first African-American friend, Teresa in 1988 as Barbie's first Spanish friend and Becky in 1997, Barbie's friend who used a wheelchair.
One of the most iconic decisions in Barbie's history, however, has been the change of Barbie's body dimensions. For 55 years Barbie's unrealistic dimensions have been criticized. In 2016, Mattel released a line of new dolls of a variety of body types. This was a momentous decision for Barbie, once again a love for Barbie sparked among young girls, especially those needing representation after suffering from body image issues.
In light of years of inclusion of all types from the infamous doll brand, they took another step forward featuring the first ever Barbie with hijab, otherwise known as, Ibtihaj Muhammad, the Olympic fencer. She was the first member of any U.S. Olympic team to compete wearing a hijab in 2016. Barbie Collector has portrayed dolls from around the globe and even in that collection, no doll has ever worn a headscarf. This doll not only represents Muslim girls around the world but it represents a world of inclusiveness, which is something we need now more than ever.
We are so excited to honor @IbtihajMuhammad with a one-of-a-kind #Barbie doll! Ibtihaj continues to inspire women and girls everywhere to break boundaries. #Shero #YouCanBeAnything #GlamourWOTY pic.twitter.com/oV0e6ClgL6

— Barbie (@Barbie) November 13, 2017
The Shereo collection was created to inspire girls and represent women who have broken boundaries; this doll not only inspires young athletes but also sends a message that race and religion are boundaries that should cease to exist in any field.
As a Barbie collector of over 20 years myself, I am so happy to finally see this day. One of the many things I fell in love with about Barbie was that she was able to do anything. She was depicted as a doctor, teacher, vet, and singer just to name a few – all while remaining a fashion icon. It's pleasing to see that with time, Mattel has also transformed the doll to fit the needs of young girls today. Young girls need role models; they need to feel represented in a way that they could relate to their SHERO.
The greatest aspect of this Barbie is the conversation it sparks. Not only will Muslim girls feel represented seeing a Barbie wearing a hijab on the shelf in the toy store, but also the conversation of inclusivity and acceptance for other cultures, races and religions can begin at a younger age through toys.
---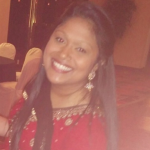 Subrina Singh is a passionate young writer. After completing her degree in all things Indian at Stony Brook University, she is now pursuing her Master's Degree at Columbia University. More recently, she has become committed to using her experience with mental illness to help better the mental-health awareness within the South Asian community. Subrina enjoys writing, reading and drinking Starbuck's Passion Tea Lemonade while singing Bollywood hits of the Golden Era. Follow Subrina on Twitter for her reactions to Pretty Little Liars every Tuesday night!