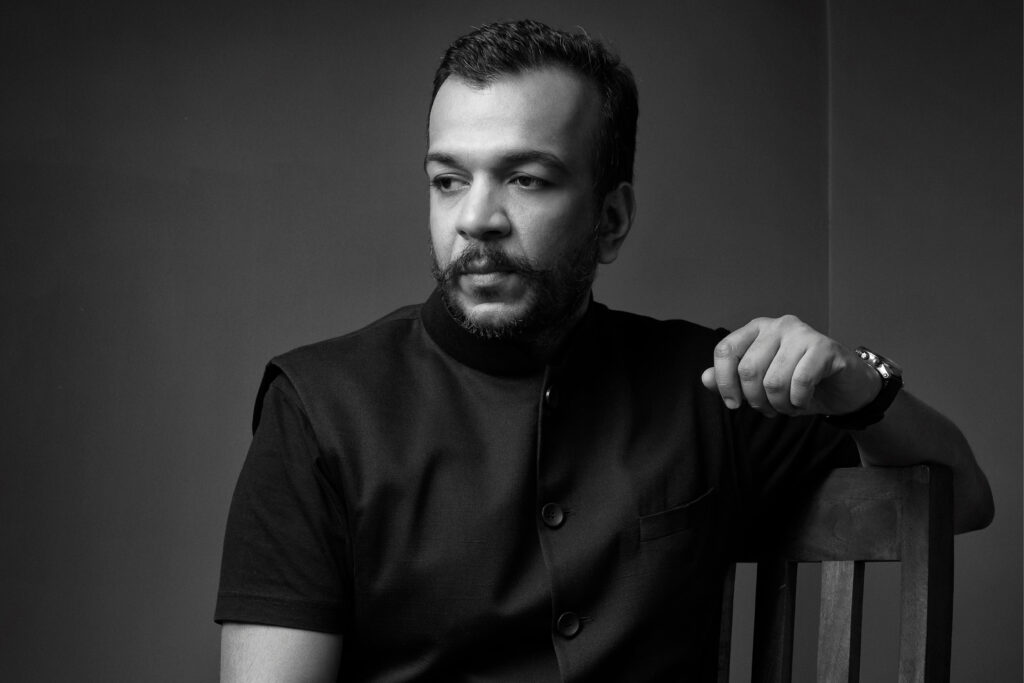 Amit Aggarwal and his bedazzling world of couture lehengas lures a clientele that is "spread all over the globe," and rightfully so, as his brand is grounded in "intricate craftsmanship." As of last month, Aggarwal's international patrons can make purchases through their newly-launched digital store. I had the privilege of being able to interview Aggarwal and in this interview, I was given a glimpse of his creatively nuanced eye and what that means against the backdrop of today's unnatural reality.
Out of the infinite possibilities, what particular design from nature has inspired your artistry in the time of quarantine? 
This collection depicts the weightlessness of the ocean, the caress of the wind, and the cradle of earth as they nurture you in their promise. We've been strongly inspired by the beauty of nature: sea foam, deep forest green and sky blue are the main collection colours. We have used intricate, handwoven, traditional embroideries inspired by organic forms in nature along with modern industrial byproducts being used for our signature textiles.
With your brand being based in India, I'm curious about what places outside of India inspire your creative designs and how.
Architecture is the foundation for our designs and I specifically keep a lookout for it during my travels. And traveling is inherently a very big part of my life. I tend to notice corners that most [people] overlook and I get inspired by the things that I see. For example, there have been collections in the past where I have been very inspired by Turkish architecture. A lot of architecture by Zaha Hadid that I have personally visited has also subconsciously made its way into our designs through various elements of the collection. And Italy has always served as an inspiration because of its picturesque beauty. Architecture is mainly what I always tend to come back to when in need of inspiration.
Do you have any specific memories of those places? Which (imagined or real) places has your mind been wandering to during quarantine?
So many special memories at all of the destinations! I always tend to come back to Turkey when I get nostalgic of my travels. It's one of my recent visits and whether it's the structures and nature that I saw in Cappadocia or the beautiful Islamic architecture in Istanbul, all of it leaves you so amazed. Other than that, I visited Bali recently too. Thailand is a place that I also consider as home. But I think this is how it's been for everyone during the pandemic. We're all just trying to look for an escape.
How has the process of developing a collection for a digital audience been different? What do you see as the future of couture runway? Do you have plans to debut any Amit Aggarwal COVID-19 masks?
Putting together a couture show is creating a celebration for all five senses for the audience to take in. Hopefully, through this film, we will be able to achieve it presenting through new modes of virtual content even if it is consumed on screens. It is also about the sense of celebrating oneself more than ever before. We've tried to bring this feeling while trying to capture intricate details, structure and form of the outfits. We are making matching masks for our customers with the outfits, however they are not to be retailed separately.
What has been the process behind your Digital Store Launch? What should current and potential clients look forward to?
Technology has been about liberation and we have to evolve and adapt. While the charm and experience of a traditional runway show is undeniable, the ability to weave a narrative and the brand vision digitally is also very exciting. It's a challenge for us to weave the brand story of intricate craftsmanship and hand embroidery and put together an immersive experience for the viewers. The digital store features our classics along with some exclusive products which will only be available on our website, along with digital bridal appointments with the designer. Change is the only constant and adapting to it is the only key. Embracing social media and e-commerce is the way forward. As such, our e-commerce store is to facilitate the patrons to shop from the comfort of their homes. Our clientele is spread all over the world, we hope the website will facilitate and ease our patrons irrespective of the geographical barriers.
You mention "loyal customers" in your ET article and you're also talking about your patrons here. Which customer experiences mean the most to you?
All customer experiences mean a lot to us. We try to give that attention to detail to each of our customers — whether it's the bride or her family and friends. We certainly do have some fond memories with so many of our brides who come to us with a lot of clear, distinct ideas. We have always envisioned our muse to be a kind of woman who is bold and independent, one who has a clear vision for her big day and instantly thought of our brand.
You've done an IG Live with Tan France recently that was really fun. Some people say that the future is queer. If this is true, what would you say about your brand in regards to gender non-conforming, non-binary fashion, and androgyny?
I think the future is not queer or non-confirming or non-binary or androgynous or straight or anything. I just think that the future belongs to all of us. The future belongs to you and everyone. And all of us should be paying attention to focusing their individual futures on who they want to be. I don't think any of us should be defined by societal norms.

With regard to the brand, I think we would say that we've primarily been a womenswear brand for the larger part of our existence, but we have gotten into menswear over the last two years and it has done really well for us. But if you look at our menswear collections, they tend to be very androgynous. I think that that's something as a brand we resonate with, the kind of gender fluidity.

For us, it's really about the form of the body. Anything that fits beautifully or looks beautiful on someone's body and their body form. I think a piece is on the right person if it looks beautiful on them. So in that sense, we are very androgynous in our thinking and our approach towards fashion. 
During these times, it feels like the world is ending. If this is indeed the apocalypse, then what do you see as the legacy of your brand? How does that differ from your personal legacy as an individual?
Growing up, I had a bit of a love-hate relationship with my name. My parents named me Amit, which means eternal. In my childhood years, I would always wonder how life would be if I was named something entirely different. Of course, as I grew older, I came to be more attached to my name. More than just my personal identity, my name has also been so important to my identity as a designer. I've come to really appreciate the meaning of my name and I think my parents did a very beautiful thing by deeming me eternal.

As a brand, the brand has always paved the way for a very unique perspective on design. I have personally worked with very modern, industrial materials, trying to experiment with textiles. The very base of what this brand is built on is experimentation and doing something which was very different than what I saw happening around me. So, I think a very big part of the legacy that we can leave behind would be to create a space for those who dare to be different and for those with modern, futuristic ideas.
From something as age-old as nature itself to crafting futuristically, this ace designer's brand magically mixes the historic with the modern in radically experimental ways. As Aggarwal says, "It's something that we definitely see ourselves doing a lot more of, working with Indian textiles, exploring them, kind of elevating them to see how they can work with the brand aesthetic."
In addition to aesthetics, the designer also talks about having social impact through facilitating "financial empowerment of semi-skilled craftsmen" by empowering them through "skill development and training." Hopefully, this forward-thinking aesthetic, along with its impact, should guide us towards a brighter future that allows for more experimentation and ideation.