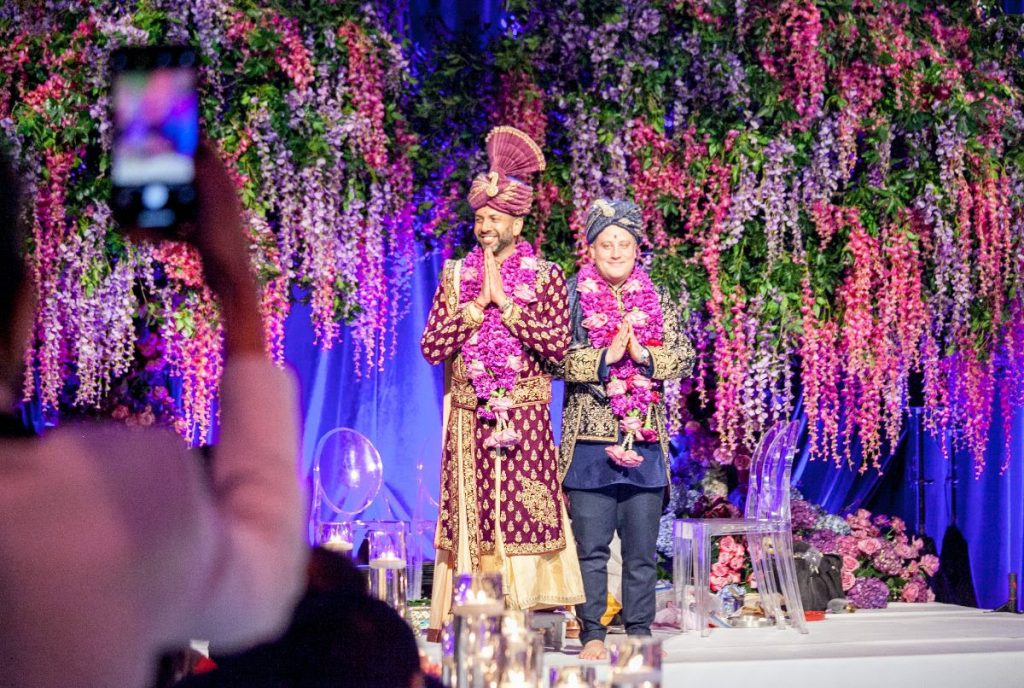 Growing up, Amit and Martin never imagined having a wedding of their own. Fast-forward to last fall, October 2018, when their interracial, interreligious wedding filled the streets of New York City.
View this post on Instagram
The two grooms made headlines (cue this piece in the NYTimes) and even trended on social media as hundreds of their close friends and family members showed up to celebrate their love. They even closed down six blocks of Wall Street for the baraat or grooms' procession.  
"We knew going in that visibility was super important because when I was growing up and when he was growing up there wasn't anybody else to look to," said Martin Fulton about their decision making throughout the wedding planning process.

"I particularly had not in the South Asian community seen such integration that was so seamless between different cultures, between different religions," echoed Amit Patel.
View this post on Instagram
Their special day was eight years in the making, and I sat down to talk with the two of them about how they got there.
It wasn't always easy – Amit remembers dodging wedding proposals and putting off the difficult conversation of coming out to his parents for years. Now, he hopes to send a message to the South Asian community, that log kya kahenge or "what will people say" shouldn't stand in the way of being true to one's self. By sharing their story, Amit and Martin hope to show that it's possible to have a positive, celebrated display of love, even in communities where talking about sexuality, or coming out as LGBTQ, is still stigmatized.
"I looked out and I saw everyone that mattered to us, and everyone was just so happy," said Fulton as he reminisced about their big day. "That's when it hit me that this is bigger than us."
Amit Patel, 40, is an attending physician at Hudson Hematology-Oncology in Jersey City, NJ. Martin Fulton, 32, is a Brand and Client Development Manager at Barneys New York. You can follow the couple on Instagram @thefashionablecouple and see their wedding trailer here: 
Amit & Martin from Ujval Dalal on Vimeo.
Photos by: Clane Gessel Photography
Sound from video by: Urmil Dalal of Urmil Dalal Studios
DJ: DJ Sharad of DJUSA/44 Management 
Wedding Planner: Sonal Shah, Sonal J. Shah Event Consultants