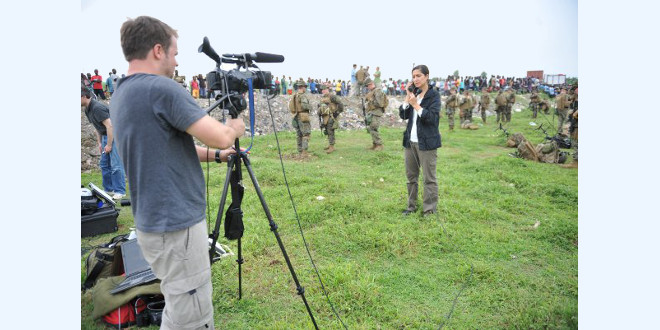 This post is part of a series of profiles for the South Asian Journalists Association (SAJA), a non-profit journalism organization celebrating its 20th anniversary with a national convention on October 11th, 2014. For more details, please click here.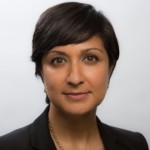 Emmy Award-winning investigative journalist, Amna Nawaz, has an envy-inducing career.
Nawaz has reported from all over the world for NBC News, including Syria, Turkey, Colombia, South Africa, Haiti, to name a few. She was NBC's Islamabad Bureau chief and correspondent for several years, reporting from the Pakistan and Afghanistan region. Recently, she took on the role of editor for NBCNews.com's new Asian America vertical.
Thirteen years ago, Nawaz started her career as a Nightline Fellow at ABC News. Since the Sept. 11 attacks happened three weeks into her new job, Nawaz said she was given the opportunity to work on one of the most important news events in recent times, which set the precedent for the rest of her career.
"From day one in this industry, I was immersed in a system that held itself to the highest standards, with the chance to learn from some of the most talented, kindest, most dedicated people in the business," Nawaz said.
Growing up as a first-generation South Asian-American, Nawaz said her greatest influence were her parents, who led by example and gave her their full support.
"They stood up for people who needed help and spoke out when they thought something was wrong," Nawaz said.
Nawaz also looked to brilliant female journalists, such as Andrea Mitchell, Christiane Amanpour and Martha Raddatz for inspiration.
"I'm incredibly lucky to have had strong, successful examples of women who were already doing the kind of international reporting I wanted to do," Nawaz said.
Nawaz said she has faced many challenges as a female reporter. She's found herself in uncomfortable male-dominated, conservative environments and been harassed in all-male crowds. But through it all, Nawaz said she has earned special privileges as a female journalist.
"I've been granted access because of my gender: Visits inside homes where women stay hidden, interviews with voices who only feel comfortable with other women," Nawaz explained.
Last year, Nawaz was the first foreign journalist allowed inside North Waziristan bordering Pakistan and Afghanistan. She entered the global hub of Al Qaeda and Taliban activity with the added challenge of being pregnant with her daughter.
"Never have all the many and wonderful tracks of my life come into such absolute alignment as they did then," Nawaz said. "We were working around the clock, hopping on and off helicopters, and hiking under heavy military guard across several-thousand-feet-high army outposts in the Hindu Kush. I was privately being terribly sick, trying to monitor the baby's wellbeing, and getting invaluable insight into the balancing act to come."
Nawaz and her team's series of exclusive reports were successfully unveiled on NBC's Today Show, The Nightly News, NBCNews.com and MSNBC, under the #InsidePakistan brand. The reports include the first original video of drone strike aftermath in Miranshah; the first U.S. interview with Osama bin Laden's brother-in-law, and the first and only interviews given by Pakistan Army commanders on the frontlines of the War on Terror in the tribal region.
After working as a broadcast journalist for various media platforms, she leads the editorial department at NBCNews.com's Asian America vertical. Launched earlier this year, it features domestic and foreign stories on current events and culture that matter to Asian Americans.
With a goal to make the Asian America vertical into a robust destination, featuring stories, unique videos, breaking news, original photography and personal essays, Nawaz describes it as "the first effort of its kind at the network level."
"There are stories and voices and faces that don't always make their way onto all the platforms, but that still matter to millions of Americans," Nawaz added.
As editor, Nawaz said she finds that Asian American audiences have an avid interest in a broad range of stories.
"Some days, audiences really seem to go for entertainment stories. I never knew K-Pop had such a U.S. fan base before I took this job," Nawaz said. "Other days, stories about civil rights or identity and culture take the lead."
Nawaz said stories about the Asian American adoptee experience really seemed to resonate. So has an occasional series, called "Off Color," which Nawaz said looks at the intersection of race and comedy.
According to Nawaz, Asian Americans are a hard group to categorize.
"When you try to group together dozens of ethnicities, languages and geographic groups into a single identity, you run the risk of over-simplifying and generalizing," Nawaz said.
Nawaz's career trajectory demonstrates that taking on challenges is an important part of becoming a multi-media journalist.
"Whether it means jumping into a role you never expected you'd take, or accepting an assignment that scares the pants off you but will challenge you – say yes," Nawaz said.
Nawaz will share her experiences and insight as a panelist for the South Asian Journalists Association's 20th anniversary convention on Oct. 11th in New York City.
According to Nawaz, SAJA has been a vital resource for her career, creating connections that have made a profound impact on her life.
"Journalism is so much more of a community than a profession, and SAJA is a part of maintaining that," she said.
When it comes to finding your niche in the field of your choice, Nawaz advises: "Find the person who's doing the thing you want to do, or who can help you learn about the thing you're reporting on, or who's been to the place you're going—and say hello."
Feature Image: Amna Nawaz covered the aftermath of the 2010 Haiti earthquake for NBC News.
[divider]
Jennifer Chowdhury is a Bangladeshi-American freelance journalist and fashion copywriter based in New York City. Follow her blog for everything-Jennifer!