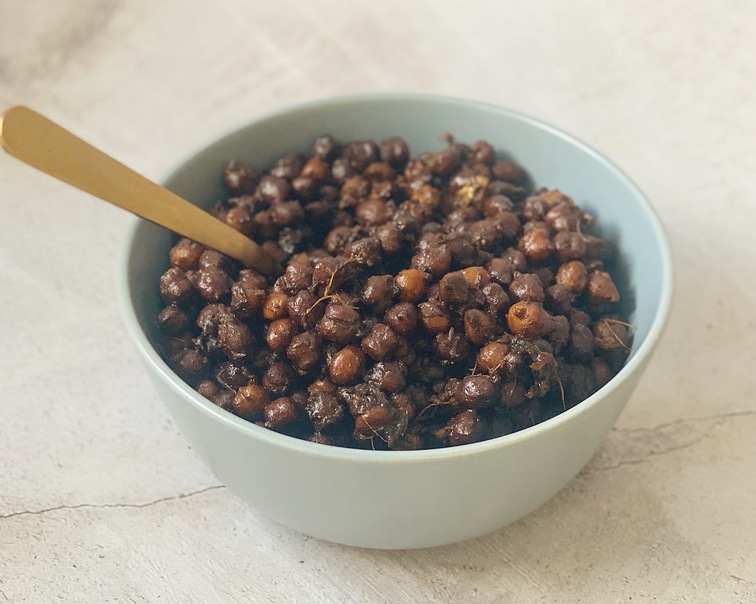 Sukhe kale chana, halwa and poori, without these three things, the festive season in our house is incomplete. The first time I made kala chana was my first Navratri as a newly wedded wife. I was fasting and wanted to prepare a perfect Navratri thali just like my mom did while we were growing up. I asked her for the recipe over the phone and set forth making the dishes one by one. As I started to make the dish I followed the recipe step by step, checking every ingredient off the list.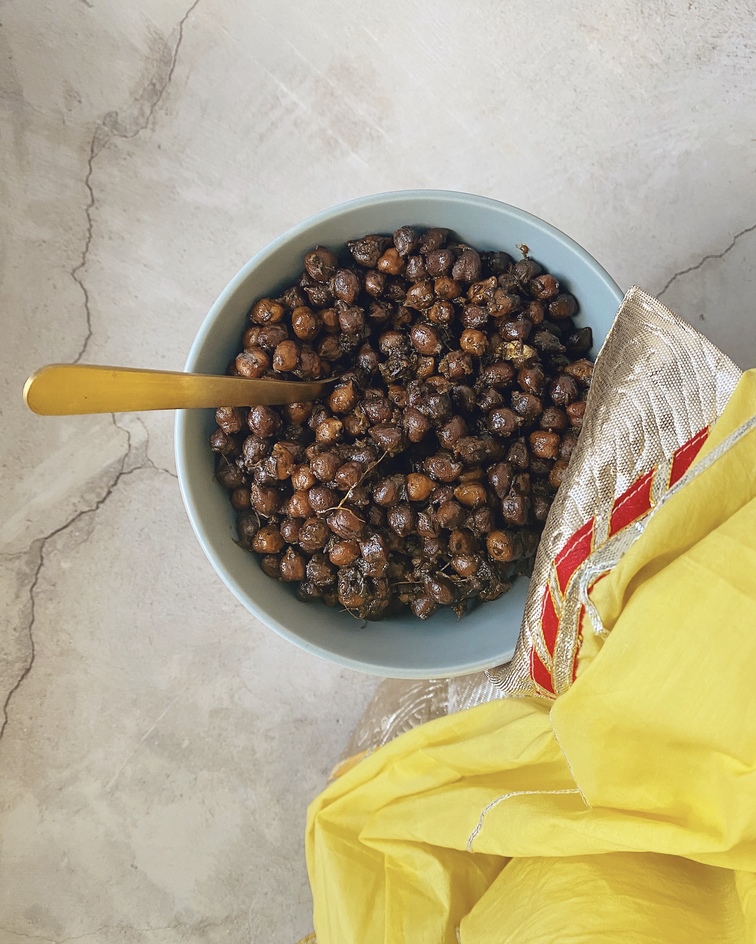 After puja (prayer) my husband and I sat down to eat. I was so excited for him to try the kala chana (it's one of his favorites). He gave it a taste and did all he could not to spit it out. In all the jumble of cooking so many dishes, I had notated the recipe wrong and double the salt! They tasted terrible to put it gently, but we had a good laugh at my fumble. You can bet the next time I made this dish was on a non-fasting day, so I could taste as cooked.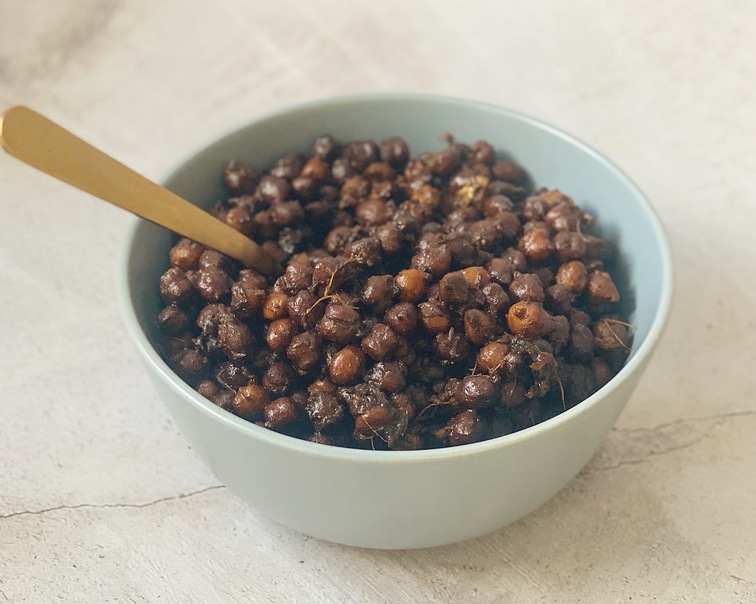 This recipe is a fasting version (meaning onions, garlic are omitted) but it's full of flavor and tastes great any time of year. Black chickpeas are high in protein and fiber and are considered a 'super food.' Growing up, if we made a fuss about eating then my dad would reply "it's horse's food, it will make you strong!" After getting married I remember my husband mentioning how it was horse's food, all I could do was smirk at the coincidence. Black chickpeas are very dense so soaking them overnight is not only suggested it's almost necessary to ensure quicker cooking time.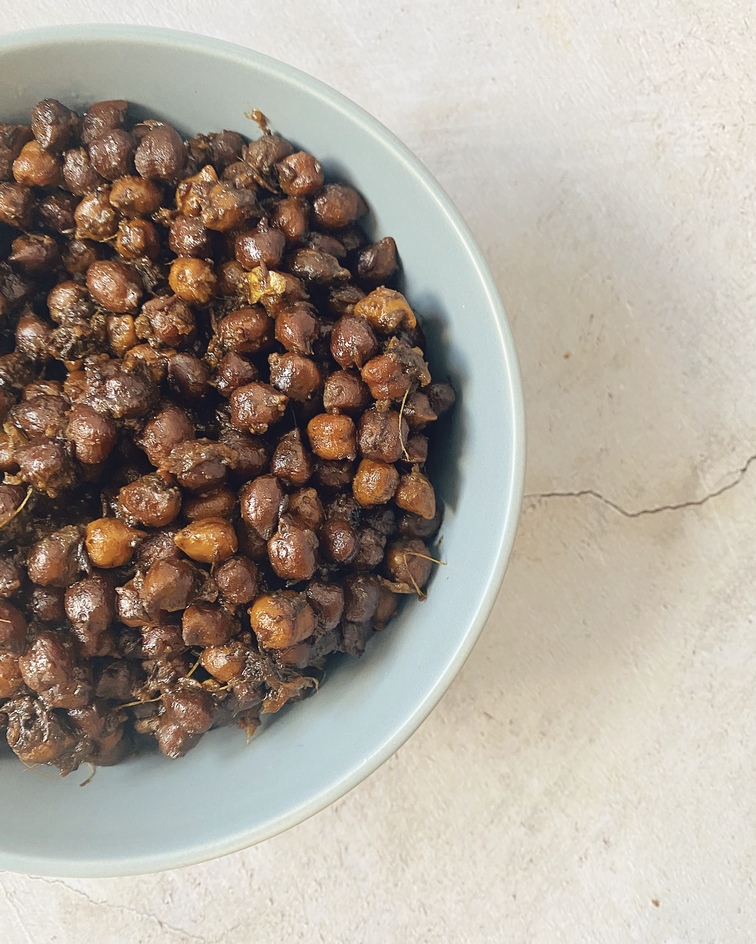 Kala chana are a great finger food for kids if they are at the chewing stage. You can add them in chaat, salads; have them with roti or just on their own. My favorite thing to do is roll them in a hot poori with some halwa…a sweet and spicy poori roll — yum!
Ingredients:
1 cup Kala chana (Black Chick Peas)- soaked overnight
2 teaspoon finely crushed ginger
1 1/2 teaspoon jeera (cumin)
1/2  teaspoon red chili powder
1 teaspoon coriander powder
1 teaspoon roasted jeera powder
1 1/2 teaspoon salt
1/8 teaspoon hing
2 cups water
fresh cilantro for garnish
Method:
Wash the soaked chickpeas and pressure cook them for 3-4 whistles (or until soft). In a heavy bottom pan heat oil and add hing and cumin seeds to it. Once the seeds start spluttering add the drained chickpeas with two cups of water. Add the salt, ginger, red chili powder, jeera powder and mix thoroughly. Keep it on simmer for 10-15 minutes. Turn off heat, add lemon juice and chopped cilantro.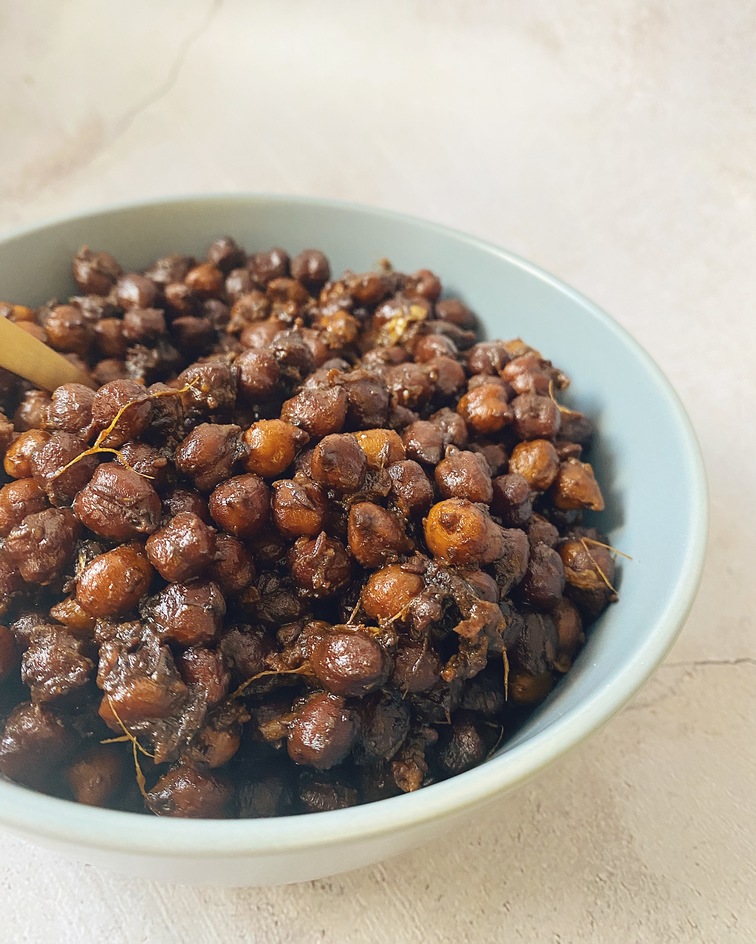 We'll be enjoying these with hot puris and sweet halwa tonight. I hope you try this recipe and if you do don't forget to tag me @lovelaughmirch!