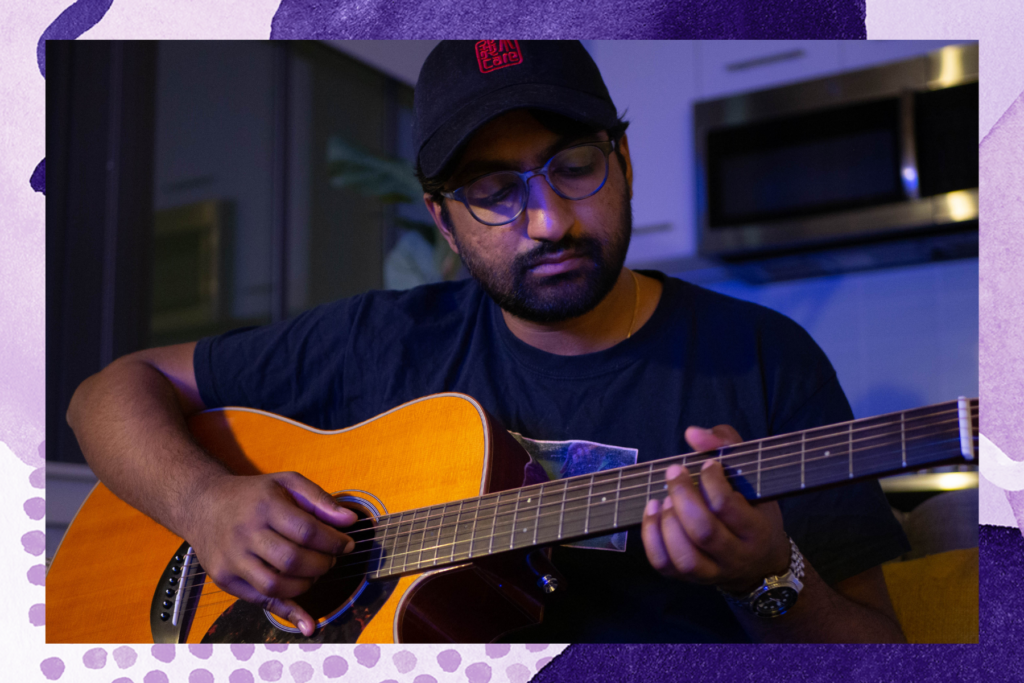 From psychedelic guitar riffs, groovy bass lines, and layered synthesizers, Carrom Board is a musical project all its own. The solo project of Prashant Ramesh, Carrom Board sparks influences from artists like Tame Impala and Steve Lacy to create everlasting soundscapes. In a constantly changing world, Carrom Board is genreless and there is no telling what they will do next. I got the chance to interview Prashant and ask him questions about how he found his sound, the meaning behind his music, how the music industry has changed, and ultimately what he sees for the future of Carrom Board.
View this post on Instagram
Whenever I meet a new artist I like to revisit their past and see who their biggest musical influences are. This helps me look at their musical journey holistically and dive deeper into who they are as a person from their influences around them as well as their online influences. Prashant elaborated on his varied musical tastes.
"Growing up, I was mostly exposed to South Asian Music, mainly consisting of Tamil and Hindi music as well as some Carnatic music, which is Indian classical music from South India. My parents introduced me to a lot of classic rock from bands like The Beatles, The Rolling Stones, Pink Floyd, The Police, and other classic rock bands which permeated India while they were growing up."
Nowadays Prashant listens to all kinds of music from hip hop and classic rock to Hindi, but most importantly alternative/indie music.
In terms of instrumentation, Prashant likes to keep everything in-house and record all of his own sounds from bass, piano, guitar, synthesizers, and vocals. His guitar is his instrument of choice as his father also plays guitar and he has influenced Prashant's music tastes from an early age.
View this post on Instagram
Prashant credits finding his sound to being exposed to different kinds of music at an early age and being a part of different musical groups. He started rapping in high school by being inspired by Drake and Kanye West and experimented with the fusion scene in college by joining a South Asian music group, Penn Masala. Prashant didn't know what type of music he wanted to create solo so he kept digging around and experimenting until he found the alternative indie scene. Prashant describes how he felt when he found the scene.
"This sounded a lot like the music I grew up listening to from classic rock and 80's and 90's music. This style of music had people drawing references from those inspirational time periods of vintage music and then modernizing it. This is the type of music I'd want to create."
We continued our conversation by diving into a song called "Stargazing" which is a collaboration with Prashant's good friend Dilip. Prashant and Dilip have been close friends and musical collaborators since college. They love riffing ideas off of each other and taking turns being the lead producer on projects. Usually, one will sit in front of the computer and put the track together while the other picks up instruments and tests out ideas. In terms of the actual song "Stargazing," Prashant chose to focus on the rhythm of the bass and drums in this song to achieve a lighter and bouncier feel instead of heavier guitar chords.
Prashant dropped the "Window Fog EP" at the end of 2020. A song in particular on this EP called "Time Flies" is very special to Prashant as he has written it from his father's perspective. The music video shows Prashant dressed in modern times and cuts to scenes that are staged to look like the 1980s. Prashant describes the meaning is behind this song.
"Even though so much has changed from the time that my dad was my age in the 1980s, the struggles that we're going through are actually quite similar. The same questions are being asked like Who am I? What do I want to do with my life? Even though I see my dad as super put together, disciplined, and very organized, he was actually very similar to me when he was in his 20's."
My conversation with Prashant led to the topic of what it is like being an indie (independent) South Asian musician. In terms of being an independent musician, Prashant does not have the connections or someone to look to for guidance to navigate the music industry. He is constantly testing different marketing techniques to see what will work best for him to capture a larger audience and expose more individuals to his music. In terms of being South Asian Prashant's worry is, "being cast as a monolith." Oftentimes South Asian artists are asked if they do fusion music, Bollywood music, as well as other South Asian forms of music. There are many different Desi creators who fall under different expertise.
We transitioned into talking about how the music industry has changed so much from downloading music to streaming. Streaming has allowed for easier music discovery through algorithms recommending music to the listener which is very spot on. Prashant reflects back to the past on how he used to discover and collect music.
"I do think there's a magic with collecting both live music and recorded music. There's just something special about owning it. The resurgence of collecting vinyl has brought back the immersive experience of showing someone what type of music you like and the engaging conversations you have from it."
We agreed that the music industry has changed quite a bit and marketing is more important than ever. How can an artist grab someone's attention, have them discover their music, like their music, and continue to engage with it? The answer seems to be embracing the newest technologies and experimenting until something works.
It was a pleasure speaking with Prashant and learning about his musical journey. I enjoyed learning the process of how he found his sound, the meanings behind his music, how the music industry has changed, and much more. Prashant has a vault full of unreleased songs which he plans to release in the near future. He hopes that by sharing his story he adds to the ongoing conversation of what it's like being an independent musician of South Asian descent and hopes that people who are reading this will find his nuanced experiences relatable.