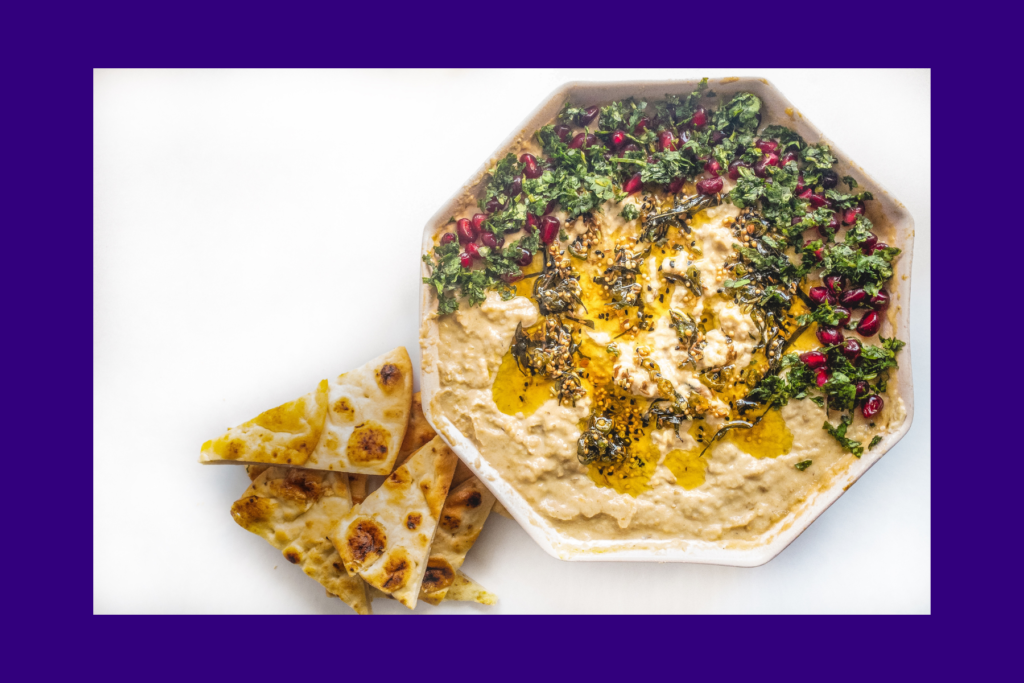 The following post was originally published to thetashmashup.com and republished here with permission.
This decadent, luscious, creamy dip might just be my favorite recipe that I've made. Why? Because it is an ode to my mama's famous Odia Dahi Baigan dish that many have tried to replicate, but few have succeeded. I'd like to think I have, but I'll let you be the judge. 
Whenever my mum visits me in Washington D.C. and proceeds to cook up a storm with everything I have in my kitchen (yes, this includes making gobi parathas with a wine bottle since I do not yet own a rolling pin) – she argues that I need to stock my kitchen with one spice blend before her flight lands: panch phoron! What is it? Panch Phoron is essentially made up of 5 spices: cumin seeds, fenugreek seeds, nigella seeds, brown mustard seeds, and fennel seeds. It's the one spice blend she swears by and now I refuse to call it anything but Indian everything-but-the-bagel seasoning! Since she knows best and I am never one to say no to more spice, I've since found SO many fun ways to use this spice blend—from lamb ragus, on top of crispy smashed red potatoes, and in my favorite dal recipe. This dip, however, takes the cake. It's earthy, creamy, nutty, packed with goodness, and ready for a good time. 
Food carries significance for me, far beyond sustenance. It's the way I connect with my heritage and the way in which I share who I am with those around me. It is incredibly fitting that this recipe inspired by my mum is one that I get to share with all of you today here on Brown Girl Magazine! 
I'm so excited to hear what you and your guests think! If you make it and share it on social, please be sure to tag me @thetashmashup! 
View this post on Instagram
Ingredients:
For the eggplant: 
1 large Italian eggplant

2-3 large garlic cloves, cut into thin slices

1 tablespoon of freshly squeezed lemon juice, plus extra for serving if desired 

3 tablespoons of tahini

2 tablespoons of Greek whole milk plain yogurt 

½ teaspoon of sea salt to taste or more (I like to use an extra pinch of Maldon's flaky sea salt before serving)

1 tablespoon of cilantro, finely minced for garnish 

1 tablespoon of pomegranate seeds, optional for garnish 

Grilled garlic naan/pita bread, optional for serving 

Vegetables such as carrot sticks, cucumbers, cherry tomatoes, optional for serving 
For the tadka:
2 tablespoons of extra virgin olive oil (I used Pineapple Collaborative) 

1 1/2 teaspoons of Panch phoron spice blend or equal parts cumin seeds, fenugreek seeds, and fennel seeds

1/2 teaspoon of asafoetida (hing) 

1-2 green chilis, finely chopped

6-7 curry leaves, julienned
Directions:

First, here's a trick that will make all the difference when roasting or grilling eggplant. Score your eggplant with 3 deep slits on a single side, about ½ inch apart from one another. Stuff the garlic clove slices into the slits—it is okay if the garlic isn't fully covered, but try to ensure that it's nestled in nicely. 
Grilling Instructions: If using a grill, heat your outdoor or indoor grill to medium-high heat at 375-400 degrees. Then, place the eggplant onto your oiled grill with the slit side up. Usually, my grill takes about 30 minutes to grill the eggplant. Depending on the size of your eggplant, this could take anywhere from 25-45 minutes. Flip the eggplant at the halfway mark, anywhere after 15-20 minutes. 

Oven-baking instructions: Preheat your oven to 400 degrees. Cut your eggplant in half and on a baking sheet lined with parchment paper, place your eggplant slit side up and roast for 45-60 minutes. 
While your eggplant is on the grill or in the oven, let's prep the rest of the dip! In a medium serving bowl, whisk together your freshly squeezed lemon juice, tahini, and Greek yogurt, and salt. Set aside until ready to serve. 

It's now tadka time! In a small saucepan, on medium-high heat, heat your extra virgin olive oil. Once hot, add in your Panch phoron spices, chopped green chili, asafoetida, and julienned curry leaves. Once the tadka begins sizzling (this usually takes about 1-2 minutes), immediately remove the saucepan from the heat and let it cool to room temperature.

If grilling, you will know that your eggplant is done because the skin will be charred and the eggplant should feel tender at the touch. If oven-roasted, at this point, your eggplant should be soft when pierced with a fork. Once the eggplant is done roasting, set it aside for 10-15 minutes, or until slightly cool. 

Once your eggplant is cool to touch, scoop out the insides of your eggplant with the natural juices, being sure to remove any big clumps of seeds but keeping the remnant roasting liquid. Scrape it really well, being sure to remove as much eggplant from the skin. Once you discard the eggplant skin, mash the eggplant and roasting liquid (this gives you your smokiness) in a small bowl with a fork. 

Now, it's time to put it all together and assemble your dip! Add your mashed eggplant back into your serving bowl that has the lemon juice-tahini-yogurt-salt mixture in it. Give it a stir to make sure it's combined. Then, top the bowl with the tadka mixture we just made of (EVOO, green chili, asafoetida, and curry leaves).

For a final touch, add finely minced cilantro, pomegranate seeds, and a final squeeze of lemon juice and/or an extra pinch of salt for the perfect garnish! Now, all that is left to do is to dip away! 
Notes: 
Panch phoron spice blend can be found at your local Indian grocery or online via Amazon. Panch phoron essentially means '5 spices' and is a popular blend used for tempering in eastern India. The 5 spices included in the blend are cumin seeds, fenugreek seeds, nigella seeds, brown mustard seeds, and fennel seeds. If you are unable to find it, simply omit it or use equal parts of as many of the 5 spices to make up 1 ½ teaspoon of spice for your blend. I've made this with just cumin seeds, fenugreek seeds, and fennel seeds and it was equally as delicious! 

At step 5, you can combine your eggplant in a food processor for a creamier spread. I will add that my vote goes for the fork! I am here for a chunky dip. 

I recommend serving this dip with grilled naan or pita slices! It is also delicious with raw veggies such as carrots, celery, cherry tomatoes, or cucumbers. Pair it with lamb chops, put it on top of grilled chicken, or make a delicious Kathi roll or gyro with it. It's your party—dip as you please! 
---
The opinions expressed by the writer of this piece, and those providing comments thereon (collectively, the "Writers"), are theirs alone and do not necessarily reflect the opinions of Brown Girl Magazine, Inc., or any of its employees, directors, officers, affiliates, or assigns (collectively, "BGM"). BGM is not responsible for the accuracy of any of the information supplied by the Writers. It is not the intention of Brown Girl Magazine to malign any religion, ethnic group, club, organization, company, or individual. If you have a complaint about this content, please email us at Staff@browngirlmagazine.com. This post is subject to our Terms of Use and Privacy Policy. If you'd like to submit a guest post, please follow the guidelines we've set forth here.