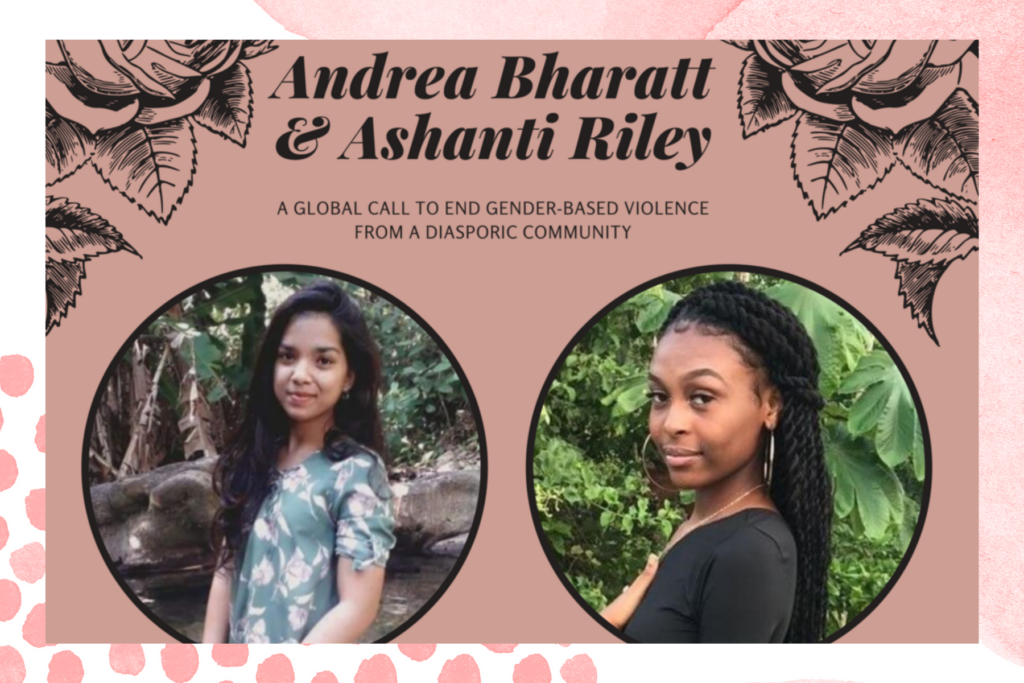 On Jan. 29, 23-year-old Andrea Bharatt got into a taxi and never made it home.
The death of Bharatt is just one of many crimes women face in the Caribbean. Kidnapping, rape, and murder are not uncommon. Similarly, 18-year-old Ashanti Riley was found deceased after getting into a taxi and vanishing.
Protests outpoured in Trinidad mourning the lives of these women while demanding justice. The lives of Caribbean women fail to be protected by criminal justice systems that reinforce misogyny and uphold patriarchal ideologies. 
These dangerous ideologies are often perpetuated in the homes of Indo-Caribbean families. The four walls of our homes are cemented with patriarchy and decorated with microaggressions. From daughters designated to household chores to sons often seen as messianic children constantly doted over; this upbringing places women as second-class citizens. Daughters are restricted to a curfew and particular dress codes for safety. Yet, sons can embrace nightlife. Indo-Caribbean girls are taught to fear the outside world while Indo-Caribbean boys are rarely taught to see women as equals. And how do Indo-Caribbean women feel about this?
View this post on Instagram
1. We Are Tired 
We live in a society that places women in kitchens rather than abusive men in prisons. In a study done by Caribbean Women Count, 44 percent of women in Trinidad and Tobago, 55 percent in Guyana and 48 percent in Suriname experience gender-based violence. What will it take? How many lives will be taken before our community wakes up? Trinidad's judicial system allows bails for certain accounts of rape and violence. This reinforces the idea that rape is a low-ranking crime. No consequence can make up for the trauma inflicted upon victims of abuse. The catcalling, locker room talk and sexist jokes perpetuate the very violence that women fear. It is our right to live in a world where gender is not a cause for harm. 
2. Our Intersectionality as Indo-Caribbean Women Intensifies Discrimination
Indo-Caribbean women face intersectionality of race, culture, gender, economic status, sexuality, etc.
What does this mean? The multiple identities of women subject them to greater accounts of violence as opposed to men or white women. Hailing from the Indian Diaspora, Indo-Caribbean women carry a long history of patriarchy and caste systems. The migration of Indian women to the Caribbean included the fusion of cultures and traditions.
According to Professor Patricia Mohammed of the University of the West Indies, "As soon as communities and institutions such as marriage and religion were re-organized, some of the attitudes and practices towards women were quickly reintroduced by the pundits and panchayats (the latter a council of five men) so that freedoms won were again lost, although not entirely."
Indo-Caribbean women face intersectionality from South Asian and Caribbean cultures that reproduce oppressive stigmas descended from both cultures.
3. We Need to End Victim-Blaming 
Bharatt and Riley did everything women are told. Bharatt went home with a friend and Riley was traveling to her grandma's home. Being a "good girl" is irrelevant when women are targeted as victims. We often hear:
"If you dress like that, what do you expect?"

"Maybe you shouldn't have gone out at night."

"You should have known better." 
Nobody expects to be abused or violated. Our dress code is not the crime; it's the lack of educating boys and men and leaving women to fend for themselves that is problematic.
In 2017, after the murder of Jamilia DeRevauex by her husband, Prime Minister of Trinidad Keith Rowley stated, "You called on the Prime Minister to do something about crime. I am not in your bedroom; I am not in your choice of men."
Rowley engaged in a form of victim-blaming in which domestic violence is a private matter and the blame falls upon a woman's choice in men. Instead of addressing the heinous act committed, Rowley chose to show his 'boys will be boys,' mindset. 
4. It Takes a Village; Here's How You Can Help
As a society, the responsibility falls upon us to undo the cultural ideologies that harm women. This begins by calling out our friends and family that participate in such behavior. The next time our auntie measures the length of a young girl's dress or an uncle sexualizes a young girl, we cannot turn a blind eye.
Organizations such as Feminitt Caribbean, based in Trinidad, and South Queens Women's March, based in New York, aim to empower women and promote gender equality.
"South Queens Women's March was heartbroken to learn of the loss of Andrea and Ashanti, knowing that violence against Black and Brown women and girls continues to run rampant across the globe, even in the 21st century. We were founded to address the prevalence of gender-based violence hyper-locally in our South Queens community, which includes a large Indo-Caribbean diaspora, including many who call Trinidad home," – Aminta-Kilwan Narine, South Queens Women's March
View this post on Instagram
Feminitt Caribbean and South Queens Women's March have advocated for gender equity by bringing these issues to light. In Jan. 2021, SQWM chalked up the streets of Lefferts Boulevard and Liberty avenue, the intersection of "Little Guyana." This intersection has become a site for street harassment and catcalling in the Indo-Caribbean community. 
While the global community is outraged by yet another death and the mistreatment of women in Caribbean communities, we must hold individuals and public officials accountable. We must denounce misogynistic ideologies against women. Schools must implement policies that focus on healthy relationships and gender rights. We must believe survivors and begin unpacking the cultural stigmas that endanger us. Bharatt and Riley's lives were cut short at the hands of gender-based violence. We must create a safer future for girls and women everywhere.
To learn how you can help women like Andrea Bharatt and Ashanti Riley in Trinidad, visit Feminitt Caribbean.