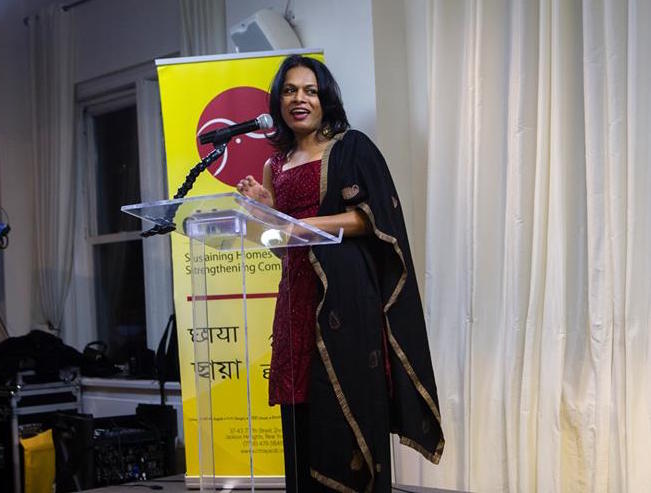 When you think of the words community, power, and action, think Annetta Seecharran. She is the executive director of Chhaya, a community development corporation in Queens, New York working to build the power, housing stability, and economic well-being of South Asian and Indo-Caribbean Americans. 
Annetta brought a successful 25-year track record working for change locally and globally.  She previously served as the Director for Policy and Advocacy at United Neighborhood Houses and the Executive Director of South Asian Youth Action (SAYA!). Not only did Annetta positively impact low-income individuals and South Asian youth and families locally, but she also ran a best-practices network of youth development organizations in over 30 countries through her work at the International Youth Foundation. Annetta also worked on gender issues at the United Nations Development Programme.
A respected leader in the immigrant rights movement, Annetta is a long-time board member of the New York Immigration Coalition and previously served on the National Coalition for Asian Pacific American Community Development. In 2018, Annetta was appointed by Mayor Bill de Blasio to serve on the Charter Revision Commission where she fought for three important ballot measures that have led to significant reforms including campaign finance, civic engagement, and community boards. Recently, Annetta was appointed as a Commissioner in New York City's Civic Engagement Commission. 
As supporters of female leaders empowering communities, we sat down one-on-one with Annetta to learn more.
View this post on Instagram
Given your history with SAYA! and the impact you had building the organization, what are you really proud of?
I joined SAYA! in its very early stages, and spent 8 years laying the foundation and building the key infrastructure that led to the organization becoming the leading South Asian community-based agency. At every turn we were breaking new paths and breaking down walls within the diaspora, bringing together the collective power of a Pan-South Asian community that included Indo-Caribbeans. It wasn't easy being a Guyanese woman running one of the most prominent South Asian organizations in the country — people didn't know how to place me and at the time, the Indo-Caribbean identity was neither seen nor valued by folks from within the South Asian community.

I feel proud that I established the foundation for one of the most established South Asian organizations in the country that's now sustainable, strong, and continues to grow. There were only a handful of South Asian/Indo-Caribbean women in my generation who chose to throw ourselves entirely into building "firsts," and through this effort, built entire movements. This groundbreaking work included establishing philanthropic pathways within the community, as well as elevating critical issues to a policy level.
What inspired you to take on the executive director role at Chhaya CDC, and how has the organization expanded on its original goals?
Although I've worked on youth issues for a significant part of my career, as I've grown so has my appreciation for where the root causes and solutions for change lie. Chhaya's mission is aligned with what I believe is most needed in the community today.

What I'm most excited about since joining Chhaya is the opportunity to expand our programs beyond housing to include economic empowerment and grow our policy advocacy and organizing. While I believe Chhaya's services are focused on meeting the more immediate needs of South Asian and Indo-Caribbean communities, we need to push towards more systemic change. This is now the long-term approach for our staff — our direct services are in the service of broader systemic change.
New York City recently launched its pilot program to legalize basement apartments and Chhaya CDC played a major role in getting this landmark legislation passed. What kind of impact does this type of affordable housing have on Chhaya's clients?
Chhaya has spent 10 years advocating for the legalization of basement apartments, and amidst a citywide affordable housing crisis, this is a big win, especially for low-income Indo-Caribbeans and South Asians. 

We recently established a second office in Richmond Hill, one of the most underserved Indo-Caribbean communities in the city, and the birthplace of our 'Basement Apartments Safe for Everyone' (BASE) campaign. This area has the highest rate of 311 calls related to basement violations, and we intend to launch the next phase of our campaign here.
Congratulations on being selected for Mayor Bill de Blasio's New York City Civic 8-member Engagement Commission! What are your hopes and goals for this new role?
I am thrilled about this appointment, which is especially meaningful because I served on the Charter Revision Commission that resulted in civic engagement commission as one of the three ballot proposals in 2018. The focus of this newly formed commission is to increase participatory budgeting, expand language access to polling sites, and support community boards.

I am passionate about putting power into the hands of everyday, hard-working people, and feel that policy work is what leads to long-term success. We need to demystify the various policies impacting our communities and empower individuals to have a say in policies that influence their daily decisions.
In addition to lifting the voices of immigrants, you have also advocated for women through your work with the United Nations Development Fund for Women and the Gender and Development Program. What was one of your biggest takeaways?
That experience was foundational for me. After interning I was hired to work on the Fourth World Conference on Women held in Beijing, China. As a girl from a village in Guyana, I had to learn to be really brave, and push through the power and privilege that surrounded me.
What do you have to say to aspiring public servants who are looking to make a difference to strengthen their democracy?
My only piece of advice is that you have to work really hard because there is no quick and easy path. I've only ever worked on what I'm most passionate about which has led me to where I am today.
View this post on Instagram
Annetta's professional journey demonstrates that no matter your background, individuals can come together to leverage critical resources and build collective economic, social, and political power. 
Chhaya CDC has helped thousands of New Yorkers of South Asian and Indo-Caribbean origin by advocating for and building economically stable, sustainable, and thriving communities. If you want to see Chhaya in action, then make your way to Jackson Heights, Queens on July 13th for their annual Chatpati Mela here. To find out how you can get involved, check out chhayacdc.org and follow Chhaya on Instagram.