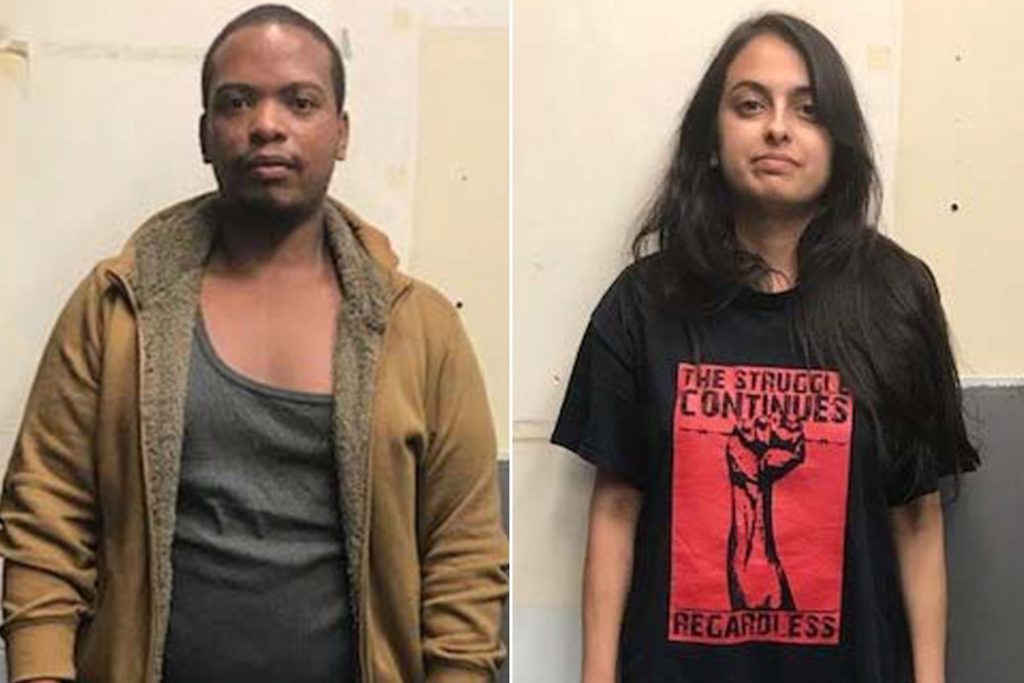 Urooj Rahman and Colinford Mattis, two young lawyers, were arrested after allegedly throwing a Molotov cocktail through the broken window of an empty police car during a protest in Brooklyn, NY on May 30. A camera outside the 88th Precinct supposedly caught the entire incident on tape. The incident did not cause any injuries. Rahman and Mattis were initially granted bail on June 1, but they were later locked up after lawyers for the government appealed, arguing that the two were a threat to the public and would not be able to abstain from further criminal conduct despite their lack of prior criminal activity. They spent 25 days in jail until they were once again released on bail on June 30 to home confinement with consent to be electronically monitored as the government lost its appeal.
Federal prosecutors have not accused Rahman or Mattis of harming or intending to harm anyone. Despite this, the charges leveled against them by the U.S. Attorney for the Eastern District of New York appear to be harsher than those in comparable cases. Most protesters accused of throwing Molotov cocktails are charged with malicious damage or destruction by fire or explosive and tend to be prosecuted at a local level. Rahman and Mattis have been charged federally with arson, conspiracy, use of destructive device, civil disorder, making or possessing a destructive device, and the use of explosives during a crime of violence. If they are convicted, the maximum penalty is life imprisonment and the mandatory minimum sentence is 45 years in prison.
NPR conducted a review of 47 recent federal cases filed against other protesters who perpetrated similar crimes, and found that this case was the only instance in which the last charge, "use of explosives during a crime of violence," appeared. The cases are being prosecuted federally rather than locally on the basis of a legal argument by the Trump administration that the New York Police Department (NYPD) imports its cruisers from outside of New York, thus engaging in interstate commerce. 
Neither Rahman nor Mattis had any prior criminal record and both of them, by all accounts, have been positive contributors to the community. Rahman immigrated to the U.S. from Pakistan at a young age with her parents and grew up in Bay Ridge, NY. She attended Fordham University for her undergraduate education and later earned her J.D. there. She was working as a tenants' attorney in Bronx Housing Court prior to her arrest. Mattis, the son of Jamaican immigrants, attended Princeton University as an undergraduate and went on to earn his J.D. at NYU School of Law. Prior to his arrest, he was furloughed from his position as a corporate lawyer at Pryor Cashman. Friends and colleagues of the pair did not comment on the charges when interviewed by Gothamist, but reiterated their belief that the two were deeply connected to their families and communities and committed to justice.
The harsh charges are salient in light of the broader legal, and likely political, strategy being pursued by the Trump administration. U.S. Attorney General Bill Barr stated in a June 4 press release that the FBI is attempting to build a case against extremist groups who he says hijacked the protests "to pursue their own separate and violent agenda." He insinuated in an interview with NPR on June 25 that protesters being charged may be linked to Antifa, a loosely affiliated group of far-left anti-fascism activists that President Trump recently said the U.S. would designate as a terrorist organization. While membership of Antifa is not a chargeable offense, Barr implied that his office would charge alleged members for other crimes in an attempt to target the group.
White House press secretary Kayleigh McEnany said on June 29 that the Department of Justice "has arrested over 100 anarchists on charges of rioting and destruction of federal property," and that the FBI has more than 200 ongoing investigations into what she called "domestic terrorism." 
The Trump administration seems intent on linking the cases of protesters across the country through a common thread of terrorist activity, despite the scant evidence for any such connections existing or for Rahman's and Mattis's involvement in extremist causes. The fact that Rahman is a Muslim Pakistani-American and that Mattis is Black makes them easy targets for these unsubstantiated claims rooted in bias. Trump, Donald Trump Jr., and Marco Rubio have all tweeted about the case, perhaps in an attempt to draw attention to the identities of the accused. 
— Donald Trump Jr. (@DonaldJTrumpJr) June 3, 2020
There is no publicly known link between Rahman and Mattis's case and Antifa, despite Attorney General Barr's statement. His encouragement of this idea without any evidence to back it up is not only irresponsible but also threatening to activists. The way Rahman's and Mattis's case has been handled is being met with objections by the legal community. More than 850 people currently or formerly affiliated with NYU School of Law have signed a petition describing the charges as politically motivated.
U.S. prosecutors are supposed to operate without bias. However, our legal system's grey areas provide room for unfairness and disproportionate treatment, which the Trump administration seems eager to exploit for its own political messaging. Predominantly white-armed protesters staging "anti-lockdown" protests against the government's coronavirus-related safety restrictions were not met with nearly the same harshness as the protests against George Floyd's killing were. The officers who fatally shot Breonna Taylor have still not been charged. But the administration appears eager to make an example of these two lawyers with good standing in their community for political purposes, giving the U.S. little ground to stand on in tirades against Russia, China, and other countries for taking political prisoners. 
Rahman and Mattis await their next court appearance mid-July and have pleaded not guilty. In the meantime, open letters, petitions to drop the charges, and fundraisers to help Rahman pay legal fees have been circulated online.