by Dhara Singh – Follow @BrownGirlMag
When the recent "cyclone blizzard" hit the east coast two weeks ago, I was casually exploring the cities of Austin and San Antonio in Texas with my friend. Neither one of us had planned our Texas trip with the intention to escape the cyclone. We just wanted a short, fun trip away from New Jersey.
Call it luck, but while others were braving the cold back home, my friend and I enjoyed one of the most memorable trips so far in our 20's.
From exploring diverse art scenes and piano bars to even a cat cafe, our combined trip to Austin and San Antonio inspired me to compile a bucket list of items for future visitors to consider!
Austin Day 1
The smart thing to do was to secure an Airbnb close to the downtown Austin area. Within walking distance, we were close to a plethora of cute brunch places and coffee shops.
On day 1, we specifically chose to tackle the Texas State Capitol, Blanton Museum of Art, and the Museum of Weird (my favorite).
The Texas State Capitol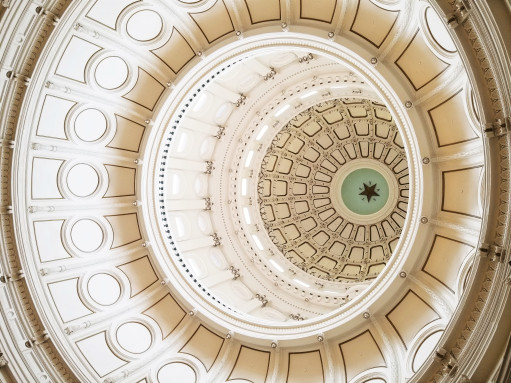 It covers a total of 51.4 acres and is a breathtaking National Historic Landmark. I didn't expect to enjoy the aesthetics of the capitol as much as I did on our free tour. For those who yawn on historical tours and simply aren't history-buffs, I would still recommend a visit here!
The Blanton Museum of Art
The museum is a part of the University of Texas and displays a myriad of different art pieces.
Missão/Missões [Mission/Missions] (How to Build Cathedrals)

, 

1987 

These were one of my favorites, by Cildo Meireles's. This piece pictured critiques Jesuit missions to convert the indigenous Tupi-Guaraní people into Catholics (utexas.edu). The critique is depicted by the stark contrast from the tragedy (bones) and the pennies (material power). 
The Museum of Weird
Now, this was a gallery of oddities and eccentric collections that peaked my interest. From shrunken heads and a well-preserved ice man to voodoo news clippings, this place has it all. I recommend getting the $12 tour, since during the end of it a certain "wizard" may give you a mind-reading surprise.
Day 2: San Antonio, Texas
Since we were spending a majority of our trip in Austin, Texas, we thought we should allocate one day for San Antonio to see the Alamo, The River Walk, The Natural Caverns, Tower of Americas, and much more! It's also recommended that if you rent a car to explore the listed sights, you visit Buc-ee's a convenience store you can only find in certain states including Texas!
The River Walk
If you come to San Antonio for a day and don't visit the river walk, you are seriously missing out. Besides the cute neighboring restaurants and gondola rides, the river walk pathway serves as a beautiful photo shoot spot.
The Natural Caverns
The Natural Caverns are the largest active caverns in Texas. An interesting fact is that these caverns were discovered by students in the late 1960's and are now one of the most well-known tourist sites in San Antonio.
The Alamo
The Alamo is famous for the 1836 battle in which a group of Texas soldiers defended the fort against the Mexican army for a total of 13 days. Although we did not tour the Alamo, the historical signs were enough for a self-guided tour.
The Tower of Americas
The Tower of Americas is about a 700 feet noteworthy landmark with an observation deck and revolving eatery.  Besides the stellar views of San Antonio, you can also buy tickets for a 4D movie theater!
Day 3: Austin, Texas (Exploring the Hope Art Gallery and The Blue Cat Cafe)
The Hope Art Gallery 
This is an outdoor modern art space with endless graffiti art. Whether you are with the family, friends, or even by yourself check this place out. There is no shortage of Instagram-worthy spots here.
The Blue Cat Cafe
Even if you are a dog lover, you should try to go to the Blue Cat Cafe. It's a vegan cafe with probably the best tasting chai latte I have ever had. Think of it as a contemporary space that you can visit to get work done, hang out with friends, or even spend time with a significant other. The best part is you can play with the cats while you are there!
Day 4: Austin, Texas (Cute Brunch at Cenote, Umlauf Sculpture Garden, Lady Bird Lake, Texas BBQ, and Esther Follies!)
Cenote, Austin's Neighborhood Patio Cafe 
It's an all-day cafe that serves the tastiest breakfast tacos along with a wide selection of different beverages. 
Umlauf Sculpture Garden
The Umlauf Sculpture Garden is the perfect place to get away from the hustle and bustle of downtown Austin. It is a quiet and serene sculpture park with works by Charles Umlauf, an accomplished artist who gained international attention for his creations.
Lady Bird Lake
They say every meal in Austin is double the serving of what you would get on the east coast. Therefore while enjoying all that Tex-Mex, the BBQ, and breakfast Tacos, it might be helpful to take a nature hike and burn some calories. After the sculpture garden visit, my friend and I walked near Lady Bird Lake. We were also able to take advantage of the path and view the Austin skyline as well.
Texas BBQ
I rarely eat BBQ. Not because I don't like it, it's just that I try to be health-conscious when it comes to meat. However, since I took a trip to Texas, I wasn't going to let the opportunity of trying some authentic Texas BBQ go. My friend and I headed over to Lamberts in downtown Austin. There we had fantastic mac and cheese to complement our BBQ dishes. I chose their BBQ chicken, and it was delicious.
Esther's Follies
The best way to wrap up this trip was to attend Esther's Follies comedy/magic/satire show. It was unlike any other event I've been to—the actors were able to keep me intrigued for the full duration of the show. They do an amazing job depicting political figures and events in a satirical light, while also adding a musical touch and a magic show in the twist. I usually analyze magic tricks when I see them, but this time I was honestly baffled. It is worth every penny!
Overall my first trip to Texas was incredible. It is inevitable to think that the most note-worthy destinations are abroad in Europe or Asia. However, sometimes the most gratifying trips are domestic. I couldn't have thought of a better 4-day trip to spend my travel points on.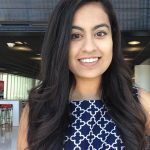 Dhara Singh is currently a private banking analyst at J.P. Morgan. While graduating in May 2016 with a Finance/Supply Chain degree Dhara also finished a minor in African, Middle-Eastern, South Asian Languages and Literatures. When she isn't spending time in the crazy world of business reporting and metrics, Dhara loves to write about everything from the most taboo topics in conservative societies to modern day issues about women empowerment. Ever since she was 7, Dhara has been keeping a journal of all her writing. Her other hobbies include re-reading/watching the Harry Potter movies, exploring the window shops of Brooklyn, and watching shows like Brown Nation, in which currently her favorite character is Balan.