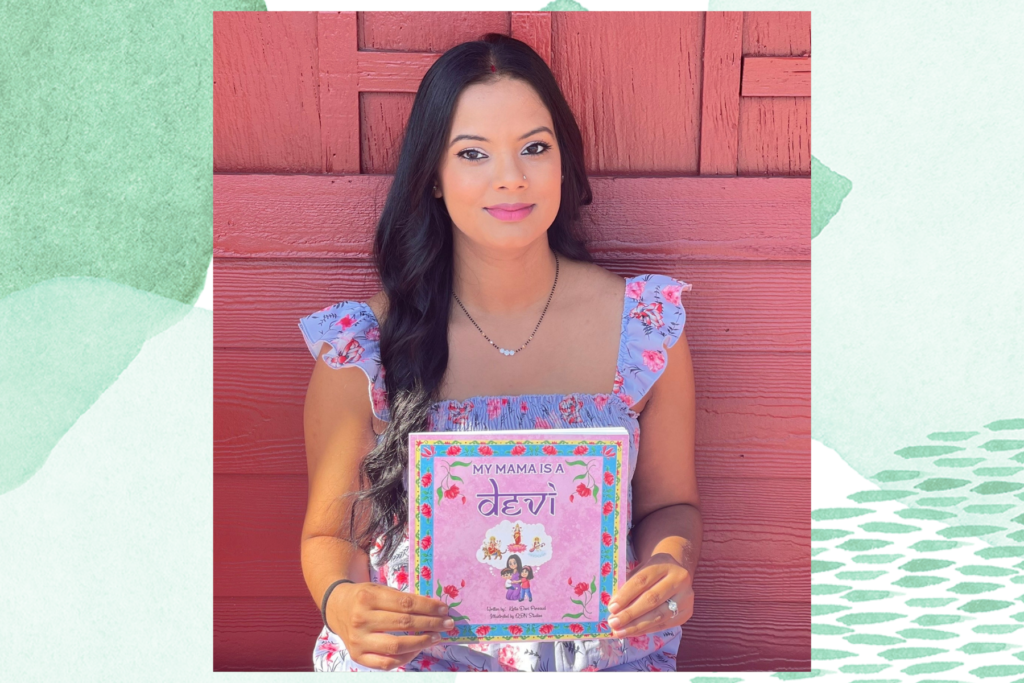 There is a fine line for immigrant families attempting to pass on cultural traditions while assimilating their children into greater society. Across immigrant households, many children struggle to connect to family roots while assimilating to the lifestyle of Western culture. Mother-of-two, Kirtie Persaud, understands this dynamic process. Fresh off the success of her debut children's book, Persaud expands upon exposing her children to media representations of their heritage, the need for diverse literature and the balance of parenthood.
Growing up in a Hindu Guyanese household, Persaud represents first-generation Americans who often retain values and beliefs associated with their familial culture.
Tell us about your upbringing and its influence on your work.
"My parents were both teachers and always encouraged us to make education a priority. I followed in their footsteps and pursued a career in teaching, obtaining my master's degree in Curriculum and Instruction and my bachelor's degree in Elementary Education. As I was completing my undergraduate degree, I fell in love with children's literature and made it my goal to one day publish my own children's book."
As an elementary educator, Persaud understands the importance of exposing children to media showcasing different cultures. Children of diverse backgrounds at times lack representation or relatable figures within the mainstream community, which can influence their self-esteem and feelings of acceptance.
Persaud recognized the confusion and frustration first-generation children may go through, particularly if they are from a non-Western culture but live in a Westernized country.
She and her husband were adamant that providing their children, "a strong connection and understanding of both their Indo Caribbean and American culture will not only help them have a deep appreciation of where they come from but also contribute to them developing a mindset which promotes their growth, independence, bravery and education."
When she became a parent, Persaud yearned to create a book that reflected South Asian voices her daughters could identify with and embrace. Simultaneously, she aspired to use writing as a therapeutic outlet for her own journey of healing.
It was decided that she would, "write a book about the love and admiration a child has for their Mama," after her 18-month-old daughter comforted her during a moment of self-doubt and sadness.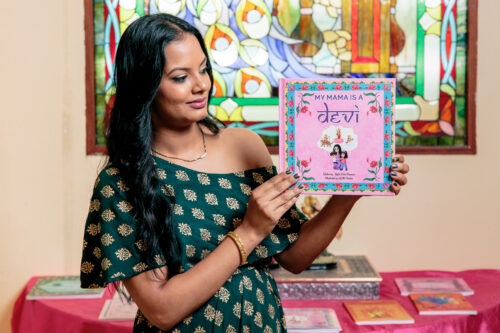 What made you write your children's book, and how did you decide to use its title?
"The concept came to me as I was going through postpartum depression and struggling to find ways to love and accept my new image. I realized I needed to view myself the way my child sees me… Pretty. Strong. Nurturing Caring.

During that time, I was also grieving the loss of my grandmother. It was from her that I came up with the concept of making this cultural book and comparing Mamas to Devis, or Hindu goddesses. Through writing the book, and finding the right words for each Devi, I thought also about my own Mama a lot. She was the inspiration behind the words and title of the book.

I chose, 'My Mama is a Devi' for the title because I felt that it was a bold and beautiful statement that sends a very impactful message. I wanted to choose a thought-provoking title that would draw in readers and give them something to think about."
Persaud's struggles with postpartum depression and grief, alongside the sacrifices and influences from female figures in her life, are deeply emotional topics that resonate with audiences irrespective of their history.
While writing a book that illustrated and connected her daughters to their Hindu culture was paramount, she ultimately hopes, 'the Mamas and children reading this book appreciate the unique connection and love they share with each other, no matter what their cultural background is.' The message of this book relates to Mamas and children everywhere, regardless of their ethnicity."
The coronavirus pandemic heightened Persaud's worries as bottlenecks slammed supply chains and labor costs skyrocketed. Nonetheless, she was determined to create a piece that would allow her daughters to, "be proud of their culture and embrace every aspect of it without feeling like they don't fit in."
Did you have any fears about writing your children's book, and how did you overcome them?
"'My Mama is a Devi' is very personal to me. I put my entire heart into writing and creating this book. I was terrified of it being rejected and criticized. My husband gently reminded me that anything anyone does will get both positive and negative criticism. But the amount of positivity will always overcome any amount of negativity. With his advice and support, as well as keeping my daughters in mind, I decided to step outside my comfort zone and go for it in the hopes that my daughters too will always let go of their fears and pursue whatever it is they desire to do."
Are you self-published or did you go through a publishing company? Explain the process and any lessons you learned?
"I self-published 'My Mama is a Devi.' Originally I had hoped to go through a publisher, but because of COVID, most publishing companies were not accepting new manuscripts due to the cost of materials going up. My husband encouraged me to self-publish instead of waiting. I had to seek out my own illustrator. I knew I couldn't just pick an illustrator because whomever I chose would have to recreate eight Hindu Devis. After weeks of searching, I came across QBN Studios. When I saw the first sketch of Durga Devi, I was so emotional with how well she was recreated. Both Quynh and Chris of QBN Studios were kind, very thorough and easy to work with. 'My Mama is a Devi' wouldn't have been what it is without their talent."
Faith, perseverance and identity are central to Persaud's writing journey. These principles were ingrained in her since childhood, and she credits her success to the foundation her parents laid for her growing up.
How did your parents balance raising their kids with their heritage while having them live the American experience? What have you learned?
"My parents raised us to be proud of our culture and heritage. We attended Mandir regularly on Sundays and observed Hindu holidays and celebrations. However, we also enjoyed celebrating American holidays too. They wanted us to have a good balance between knowing who we are, while enjoying the society we grew up in. 

Personally, I loved the way I grew up. My parents were always loving and extremely encouraging with anything my siblings and I wanted to do. Based on my upbringing, I would continue to do what my parents did with my siblings and I. My daughters will be raised with the mindset that they can pursue anything they want to, without worrying about the Indian community's opinion. I want them to follow their dreams without hesitation, believe that they can accomplish anything their heart desires, and know that they will always have their parents rooting for them as their biggest cheerleaders."
It is imperative for Persaud that more Indo Caribbeans enter the literary world. She believes it is critical that future generations grow up as individuals who "recognize the aspects of cultures that make them special and unique."
What advice do you have for other aspiring Indo-Caribbean authors?
"Go for it! Whatever it is you have your heart set on, do it. I dragged my feet on this book for an entire decade over the fear of putting myself out there and being criticized. I have received an overwhelming amount of love and support since publishing 'My Mama is a Devi' and now I wish I did it sooner. Our world needs more books published by minorities. Our stories, our voices, our culture… It needs to be heard."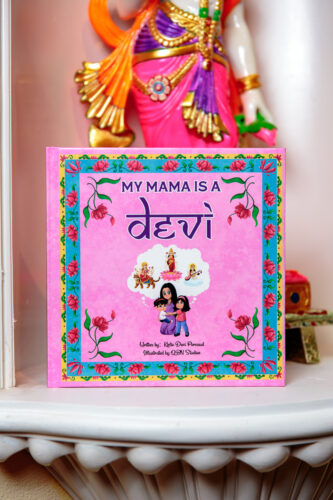 What are you working on next? What are your future goals?
"I'm working on another South Asian Children's Book called, 'I am a Devi.' This is a positive self-affirmation book for girls of all ages. My goal is to help young girls build their self-esteem, recognize their worth and potential and be so confident that they won't ever need to seek validation from anyone but themselves. My daughters Sonia and Raina are the inspiration behind my next book. I also hope to publish more South-Asian children's books in the near future."
Audiences can find understanding and appreciation of Persaud's experience from first-generation American to working mother balancing her identity, career and family. The morals exemplified in her book are a tribute to female empowerment and motherhood. Persaud wants to be part of a generation that is more inclusive of diverse storytelling and encourages others to create pieces that celebrate and bring awareness to the multicultural makeup of modern society.
"My Mama is a Devi" is available on Amazon and Barnes & Noble. 
To receive updates on her future projects, follow Persaud on Instagram.