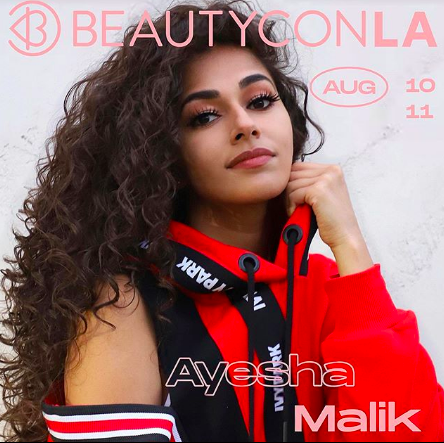 You may not have been familiar with Ayesha Malik (aka @spisha), but by now, you're surely aware of her. The 27-year-old Pakistani-American woman made headlines this week after she confronted Bollywood-turned-Hollywood actress Priyanka Chopra-Jonas over a February tweet in which the actress allegedly encouraged armed conflict between India and Pakistan.
The charged encounter took place on Saturday during the Q&A portion of Chopra's panel at the 2019 Los Angeles Beautycon — a beauty, fashion and wellness conference where celebrities, influencers, brands, and consumers share their love for all things beauty-related.
Malik, a content creator and entrepreneur from Alaska who came to LA to attend Beautycon, called out Chopra for a tweet posted on Feb. 26, reading "Jai Hind #IndianArmedForces."
Jai Hind #IndianArmedForces ?? ??

— PRIYANKA (@priyankachopra) February 26, 2019
The India-Pakistan Conflict Behind Priyanka Chopra's Tweet
The tweet happened during a period of time when renewed tensions between India and Pakistan over the disputed Kashmir region were heightened. On Feb. 26, 2019, India's government launched airstrikes in Pakistan, allegedly targeting a "militant camp" near the town of Balakot.
The incident was just 12 days after the Pulwama attack, a suicide bombing by a local Kashmiri associated with a Pakistan-based militant group called Jaish-e-Muhammad that killed 40 paramilitary officers.
The day after India's airstrike, Pakistan shot down an Indian fighter jet flying in Pakistani airspace and captured the pilot. The safe return of wing commander Abhinandan Varthaman relaxed the tensions—until Sun., Aug. 5.
The decades-long conflict over Kashmir came to a frightening head when the Indian government revoked Article 370 of the Indian Constitution on August 5, which gave special status to the two territories of Jammu and majority-Muslim Kashmir. In the days since, Kashmir has been on lockdown, with set curfews and communications cut off, leaving family members outside of the area without a line of communication to their loved ones. Additionally, there have been reports of violence against the local Kashmiri people.
The revocation of Kashmir's special status, which granted the territory autonomy among other provisions, has become a sensitive issue for Indians and Pakistanis in and outside of the region.
A Family Matter for Ayesha Malik
Malik said that while traveling to Pakistan in early March, she was excited to visit her extended family living in her parents' home country, but when she reached the Los Angeles airport on a layover, her trip took a disheartening turn. According to Malik, she was told upon arriving at the airport that Pakistan's airfields were closed, preventing air travel into and out of the country, due to the aggressive air activity between the nuclear powers.
Not knowing what was happening, Malik said she was extremely upset about her canceled travel plans and more so worried for her family back home, who was under a temporary communication blackout.
Belonging to one of the only Pakistani families in Anchorage, Alaska, Bollywood served as a connection to Malik's South Asian heritage, and Chopra was among the many actors who she admired and supported. However, coming across Chopra's possibly ill-timed tweet, which appeared to praise the Indian army during a time of renewed conflict between the two nations, deeply soured the PC fan within her.
It took me back to when I couldn't reach my family because of the blackouts and how scared/helpless I was.

She gaslit me and turned the narrative around on me being the "bad guy" — as a UN ambassador this was so irresponsible.

— Ayesha Malik (@Spishaa) August 11, 2019
Face-to-Face with Priyanka Chopra
Walking past Chopra's panel at Beautycon on Saturday and overhearing her talk about her work as a humanitarian, Malik said she felt the need to speak out.
Malik decided to take to the mic during the Q&A portion of the panel to confront Chopra — a UNICEF Goodwill Ambassador — about her contradicting behavior.
So, it was kind of hard hearing you talk about humanity because as your neighbor, a Pakistani, I know you're a bit of a hypocrite because you tweeted on February 26 'Jai Hind #IndianArmedForces.' You are UNICEF ambassador for peace and you are encouraging nuclear war against Pakistan. There's no winner in this," Malik said.

"As a Pakistani, millions of people like me have supported you in Bollywood," Malik continued as security guards grabbed the microphone from her hand, "and you want nuclear war.
"Whenever you're done venting. Got it? Done? Ok, cool," Chopra replied. "So I have many many friends from Pakistan and I am from India. And war is not something that I'm really fond of, but I am patriotic. So, I'm sorry if I hurt sentiments to people who do love me and have loved me, but I think that all of us have a sort of middle ground that we all have to walk, just like you probably have to do as well.

The way you came at me right now. Girl, don't yell. We're all here for love. Don't yell. Don't embarrass yourself.
"Whenever you're don't venting". Sorry, didn't realize that speaking on a humanitarian crisis was "venting" pic.twitter.com/OqCLgjDNa1

— Ayesha Malik (@Spishaa) August 11, 2019
Filmed by other attendees, the dispute has garnered significant social media traction and traditional media attention, sparking conversations about celebrity activism and the role of celebrities in politics. Both Malik and Chopra have received backlash for their comments.
Malik recently opened up to Brown Girl Magazine about the incident itself, the media storm that has engulfed her since, and what she would say to Chopra if she had the chance:
When you attempted to ask your question during Chopra's Beautycon panel, the mic was taken away from you before you could finish. What was the full question you wanted to ask her? 
Priyanka, will you relinquish your title as a Goodwill Ambassador of the United Nations, or will you use your online platforms to encourage peace and bridge building between the two nations?
How do you feel about the way the media has covered the encounter between you and Priyanka so far? What are they getting right, and what are they missing? 
A handful of publications called me an angry heckler. A humanitarian crisis is going on. I'm angry because a self-proclaimed humanitarian is not doing her job. And a lot of people thought I did this to be 'famous.' But I just wanted to confront her and hold her accountable for her words. That's it. I am not the voice for Kashmir or Pakistan or India, I'm just a voice. I don't claim to know everything, I'm always willing to learn and listen.
If you had the chance to respond to Chopra's comments, what would you say?
The 'I am patriotic' energy that perpetuates this terrible fervor for being Indian – or Pakistani – will always cloud our judgment, make us more susceptible to propaganda and stop us from examining larger issues in an objective way. I want her and our respective governments to understand that having our countries wiped off the map is not the way to go.
Trust in government institutions both at home and in many parts of the world has diminished significantly, but our ties with celebrities through social media has grown exponentially — so it's no wonder Malik wanted to confront Chopra in the hopes that the Goodwill Ambassador could make even the slightest difference. Celebrities play a bigger role in today's society than just providing entertainment. Their platforms give them the power to act as catalysts for change, and their words truly matter.
In the case of Malik versus Chopra, a more thoughtful and empowering encounter should have occurred. Regardless of her patriotism to India and its armed forces and her family's military background, PC held the power to promote peace and shed positive light at a time when our neighboring countries are at the brink of war and both nations refuse to mediate.
However, we must not forget the power of our own voices. The way in which people around the world have taken to social media to appeal against Chopra and her position at UNICEF should be the same way we work to take down leaders unworthy of our votes.