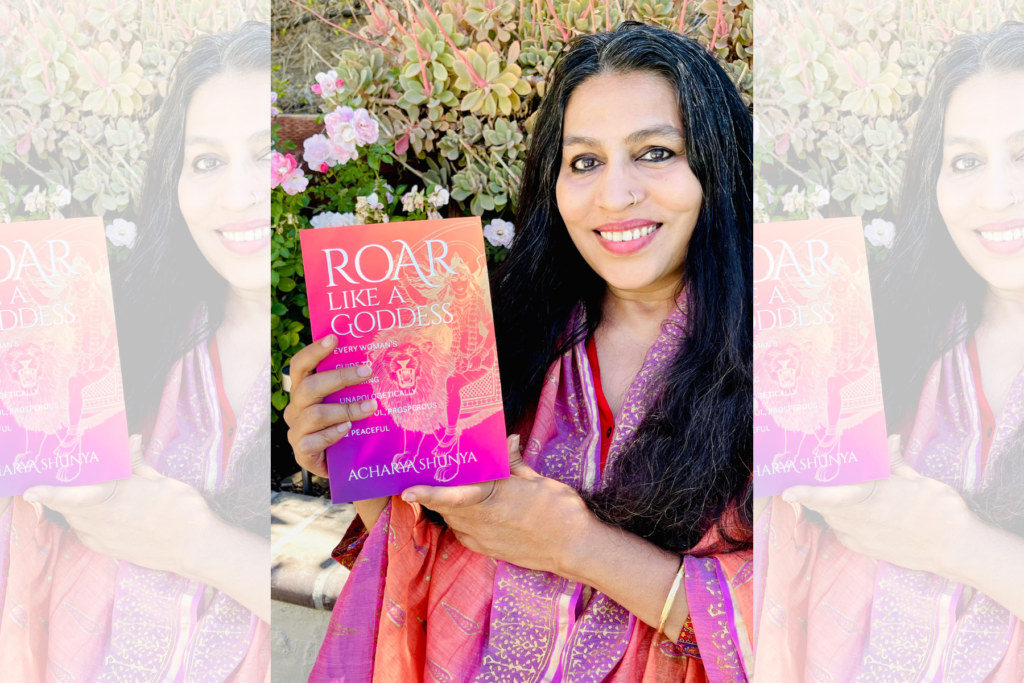 Ayurveda — the ancient art and science of health from India — may seem esoteric for modern living. Yet the reclamation of mind-body-soul well-being that Ayurveda supports is the first step toward living an empowered life. In our patriarchal world, it is particularly essential for all women and female-identifying humans to care for their bodies and well-being. I am an Ayurvedic teacher and bestselling author of Roar Like A Goddess: Every Woman's Guide to Becoming Unapologetically Powerful, Prosperous, and Peaceful — as well as Ayurveda Lifestyle Wisdom — and below, I share three traditional Ayurvedic lifestyle recommendations that can empower women's well-being.
Originating in ancient India, Ayurveda is the science of conscious living that supports a lifestyle to optimize health and well-being by addressing body, mind, self, and spirit, as a totality, in one stroke. It is rooted in the ancient Vedic culture — a spiritual way of life and tradition of conscious and progressive thinking, being and living; an inherently holistic life, in alignment with nature's laws and chronobiological rhythms. Though in practice for thousands of years, the teachings of Ayurveda flourish even today, and its influence on popular culture can be seen worldwide. 
It provides sacred tools that enhance the divine feminine and can empower women's well-being. It helps seekers get in touch with their inner divine potential through deeper understanding, mantras and spiritual practices that include meditation, yoga and devotional practices towards the sun, moon and stars (which are considered an expression of Goddess Lakshmi, no less). No wonder Ayurveda is particularly popular among women and feminine-identified beings.
Abhyanga (Ayurveda self-massage)
If you desire health, beauty, and well-being, this is the Ayurveda ritual to adopt as part of your self-care routine. Abhyanga has a myriad of transformational benefits that include, slowing down aging, overcoming fatigue, nourishing the skin, and improving complexion. It also helps to mitigate the effects of physical aches and pain. The best part? You can perform Abhyanga in 10 minutes, making it an easy addition to your daily morning routine. 
View this post on Instagram
Take one cup of warm oil (sesame is recommended in winter and coconut in summer by Charaka Samhita, a foundational text or seminal guide on Ayurveda that goes back to the second century BCE. Sesame is a warming oil by nature whereas coconut oil cools the skin all naturally, reducing stress and combating the burn and fatigue of summer heat on the body). Lavishly apply the oil of your choice to your body while sitting. Close your eyes, and be mindful of your breathing as you massage your body with gentle strokes, away from the heart. Massaging the whole body is best, but you may choose to reserve massaging your scalp and hair for days when you have more time. Oil massages for your hair will wonderfully condition your hair, nourish your hair roots, and reduce the problem of frizzy hair and split ends. Wait for as long as you can (five to 20 minutes), then wash off the oil with regular soap or preferably an herbal scrub. The benefits have to be experienced to be believed!
Botanical Baths
Have you ever experienced the relaxation and healing properties of a warm botanical-infused, spirit-uplifting bath? Here are a few Ayurveda-specific botanical baths that you can experiment with at home.
Add botanicals to the bathwater directly, or for greater medicinal benefit, boil one-part botanical (fresh or dry) in eight-parts water. Bring to a boil and then reduce heat. Simmer until you are left with only four-parts water. Add this reduced liquid (decoction), minus the cooked herbs (strain through fine cloth), to the bathwater. Bathe for a minimum of 20 to 40 minutes. You will benefit from this healing bath water only if you allow yourself time to soak in it. You may want to make some special time for this bathing ritual. Enjoy the soak!
Calming Rose bath:
Rose is a timeless symbol of beauty, love, and joy. In Ayurveda, the rose is known as shatapatri. The fragrance of fresh or dried rose petals, or oil-essence, has the ability to immediately boost your mood. A rose bath will soothe any feelings of irritability, exhaustion, and overstimulation, and counteract stress quickly. Rose refines our complexion, helps reduce redness, and leaves your entire body glowing.
Musk Rose bath:
In Ayurveda, this remarkable flower is classified as a powerful aphrodisiac. It is said that bathwater, fragrant with the petals of musk rose, naturally and pleasantly stokes sexual desire. Draw up a musk bath for yourself, and your significant other, and delight in the sexual potency of nature.
View this post on Instagram
Turmeric bath:
This ancient herbal remedy is a skin purifier that is also antibacterial, anti-fungal, and antiseptic. Turmeric is known to be anti-inflammatory and analgesic. Add turmeric powder to bathwater — or make a decoction from its fresh root (rhizome) — to heal muscle and joint pain, and skin conditions. Don't be afraid of its deep yellow color — turmeric will wash away with time and without the need for harsh chemicals. Fun fact? Finely ground mung lentils (green gram) can be used to wipe away any residue.
Detoxify Your Body
According to Ayurveda, our health is more than the mere absence of disease — it is a fruitful, flourishing state of well-being. To tap into this abundance, we need to do more than visit the doctor when sick and take prescribed medications. We start by transforming ourselves from the inside out. 
One of the simplest ways to do this is to add something detoxifying to your diet. Green lentils or mung lentils — in addition to cleaning turmeric out of the bathtub — are a classic Ayurvedic ingredient; a superfood that helps eliminate toxins, clear clogged-up arteries, improve our complexion and calm our mind! 
Below is an especially great recipe to consume during the menstrual cycle, as it aids the menstrual flow. I am sharing this delicious recipe for Green Lentil Soup from my book, Ayurveda Lifestyle Wisdom (Sounds True, 2017).
Ingredients
1 tablespoon ghee or clarified butter
2 cups whole mung beans, soaked in 4 cups water for at least 3 hours or overnight
12 cups water
½ teaspoon ground black pepper
½ teaspoon ground ginger
½ teaspoon ground cumin seed
¼ teaspoon rock salt (plus more, to taste)
1 teaspoon lime juice (optional)
2 teaspoons minced cilantro
Method
Heat a large stock pot on medium-high heat. Add ghee, and then add the pre-soaked and drained green mung lentils. Sauté until the lentils are slightly brown and mildly aromatic.

Add 12 cups water and boil until the lentils are fully cooked and individual grains of lentils begin to lose integrity. Approximately 30–40 minutes, or longer, if required. Add black pepper, ginger, cumin, and salt.

Use a ladle to mash the lentils fully to get a porridge-like consistency.

Add lime juice and garnish with cilantro.

Eat while hot.
While you enjoy this delicious recipe, you may also feel encouraged to note that the suggestions and practices you are encountering in this article have stood the test of time. That is why Ayurveda is gaining converts worldwide and can empower women's well-being. I invite you to make every day a health-protecting and health-reclaiming day, simply by the art with which it is lived.
Photo Courtesy: Acharya Shunya