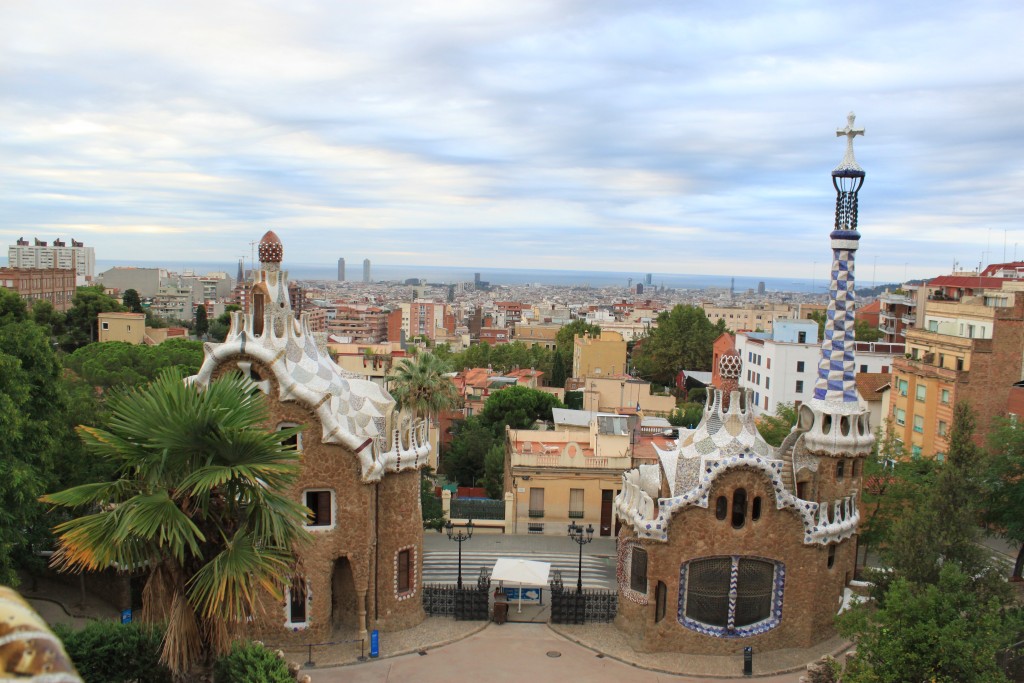 Astounding architecture, tantalizing tapas, and pristine parks are a few of many reasons millions of tourists flock to Catalán town every year. Who can blame them? Barcelona is one of Spain's most vibrant and energetic cities, a city that comes alive even during the dead of night, a city that will give you an energy boost even when you are at your most exhausted state. A year and a half ago, I was lucky enough to get a chance to immerse in the hustle and bustle of Barcelona, and it was a weekend I will remember forever.
Join me as I relive my three-day adventure in the beautiful city of Barcelona:
Day 1: Visiting "The Sacred Family" (La Sagrada Familia)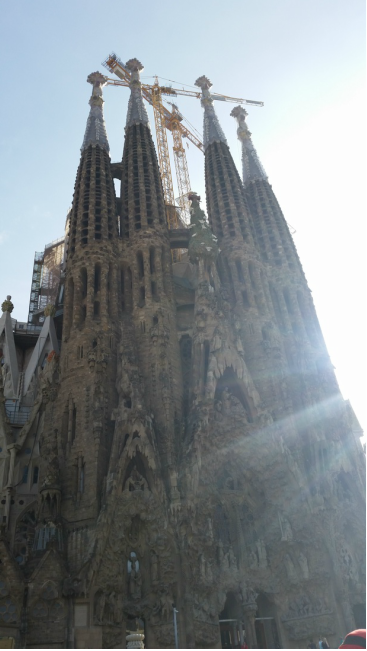 [The Sagrada Familia, Barcelona, Spain.]
For those unfamiliar with one of Spain's most famous landmarks, it is a basilica constructed by the famous architect, Antoni Gaudí, during the 19th century. To this day, the landmark remains under construction as Gaudí passed away before his beloved basilica could be completed. The exterior of the edifice is lined with intricate details depicting prominent figures in Christianity.
"The Wise Men and the Virgin Mary are a few of the figures carved into the exterior," the chirpy local tour guide explained. Gaudí's wish was to educate the Spaniards on Christian values.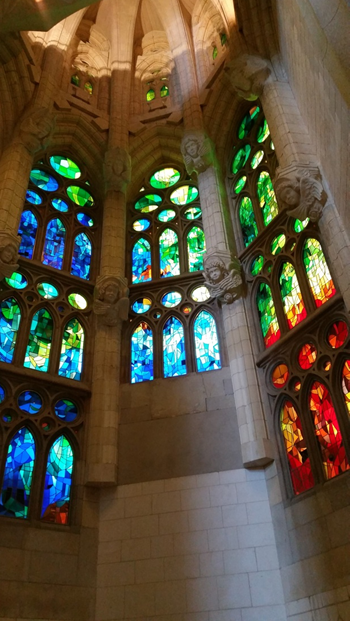 [Interior stained glass of the Sagrada Familia.]
The inside of the basilica was even more beautiful than the outside because of the colorful stained glass architecture with the names of popular Christian saints etched beneath. Gaudí perfectly fuses religion with nature to create a memoir of the world. A small museum adjacent to the architectural wonder revealed the complicated mathematical calculations and models Gaudí designed in order to help other architects construct such a complex and adventurous edifice that is revered around the world. It is definitely a landmark that the Catalonions take much pride in.
Day 2: Exploring Gaudí's creations, La Rambla, and a Magic Fountain with (almost) human qualities
Day two began with a visit to Park Güell, a "public park system composed of gardens and architectonic elements" designed by Eusebi Güell in association with Antoni Gaudí (Wikipedia). The park consists of water fountains, mosaic designs, columns and illegal vendors that attempt to sell naïve tourists cheap jewelry, living in fear that the Spanish Policía would discover them and force them to abandon shop (or blankets set on the ground with their items strategically placed on them). More of the gleaming mosaics can be observed at the entrance of the landmark, where the two Porter's Lodge Pavilions proudly stand, their roofs covered in the authentic broken tile mosaics Gaudí loved.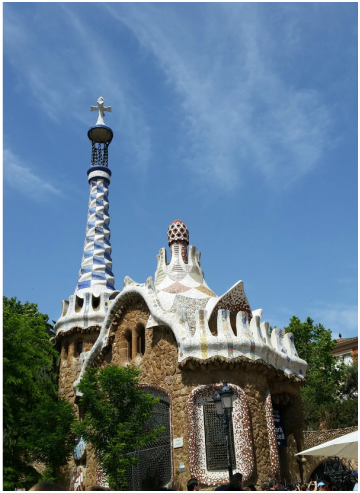 [Mosaic architecture at Park Güell.]
Park Güell offers one of the best views of Barcelona, a truly exuberant panorama of the busy city revealing a slight mistiness to the blue sky because of the industrial smoke. There are enormous ships docked in the harbor lazily moving in and out of port as needed, and numerous buildings surround the port, proving urbanization inevitable, yet in complete harmony with natural elements like the serene sky and the Catalonian trees and mountains nearby.
[View of the city from Park Güell.]
After admiring Park Güell and immediately abandoning the unattainable dream of artistic innovation, I decided to look for a talent I was good at and one that would alleviate my hunger—eating. "La Rambla," Barcelona's most famous street for endless shopping and food endeavors was the place to be. I wandered into the father of all Farmer's Markets—La Boquería, which was decorated with fresh produce, a plethora of wine and cheese, and artfully slaughtered meat. For frugal travelers like myself, La Boquería was the way to go to satisfy all my gastronomic needs without severely affecting my budget.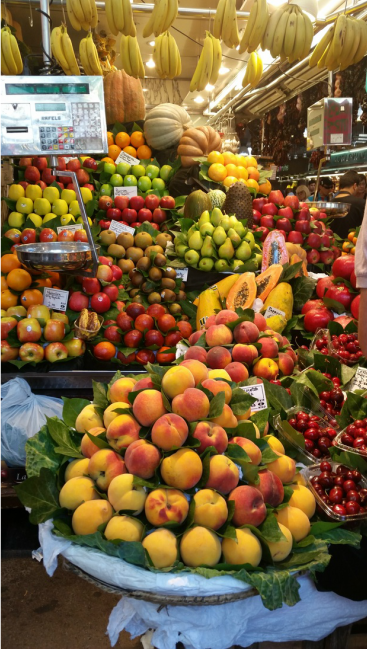 [La Boquería, Marketplace on "Las Ramblas."]
My final stop of the long day was a place the Spanish policía and other locals had recommended as I made my way to the other end of the city on the fast and efficient Metro. The "Font Montjuïc" or the Magic Fountain of Montjuïc stood right in front of the Palau Nacional de Barcelona. After a pre-show by a local hip-hop group with members from places like the U.K. and Argentina, the main attraction lit up and impressed us all with its musical finesse. The "font" had a mind of its own, (or so it seemed) as the water's intricately choreographed routine accompanied the colorful light changes and complex symphonies, almost as if you were watching human ballerinas perform. Maybe I was just exhausted and easily impressed after a long day, but did I also mention it was free?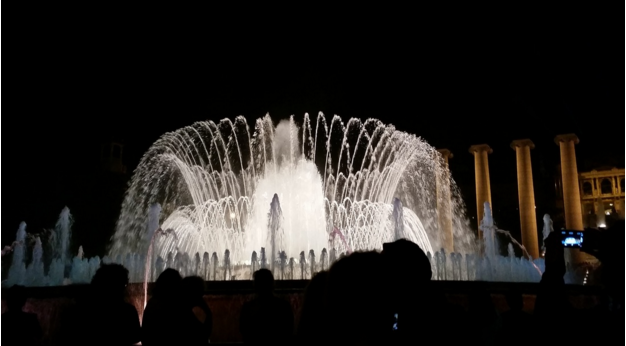 [The magic fountain of Montjuïc in front of the Palau Nacional.]
Day 3: A cathedral, an old neighborhood, and Senor Picasso
The cathedral of Barcelona makes its home to the old neighborhood, the Barrio Gótico. The cathedral and its surroundings were booming with Sunday morning crowds as people gathered to observe a Mediterranean folkloric dance performed by some energetic older people, a scene that seemed right out of My Big Fat Greek Wedding.  The cathedral's interior was just like many I found in other parts of Spain—each a similar artistic amusement with some unique differences that make them special. Various outdoor markets, including one for antiques and Spanish collectibles, with the enchanting smell of a 200-year old version of Don Quijote made me lose track of time.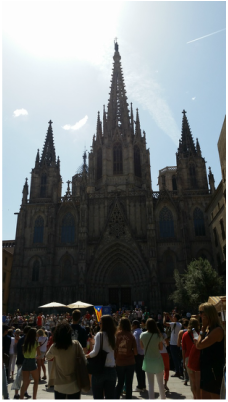 [The Cathedral of Barcelona]
The Picasso museum was well-organized and sectioned off into various phases from the artist's life. His beginning phase was marked by morbid pictures painted with acrylics and ones that focused mostly on death and sickness (unfortunately photography wasn't allowed!). One of his other phases consisted of painting pigeons that could have been drawn by a five-year old, truly depicting the child-like innocence and simplicity of art. Although I am far from accurately critiquing art, I do know that much of Picasso's art was pleasing to the naked eye and conveniently located under one roof.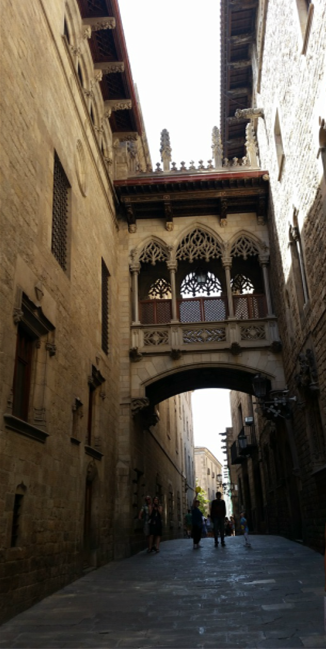 [El Carrer Bisbe in the Barrio Gótico, one of Spain's most photographed streets.]
Even though a little less than three days were simply not enough to see most of Barcelona, a weekend was definitely enough to get a taste of its charm and bask in its ebullience.
The next time you find yourself in Barcelona, make yourself home in Catalán country and you will be amazed at all the new memories will be created
[All photos are courtesy of Anuja Shashipadme.]
If you would like to share a travel story for our weekly #TravelTuesday posts, be sure to email our lifestyle editor Ashni Mehta at Ashni.Mehta@0mq.349.myftpupload.com.
---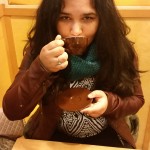 Anuja Shashipadme is a recent graduate of the University of Virginia with a double major in Cognitive Science and Spanish literature. When she's not drinking coffee, you can find her traveling to different places, writing poetry, or getting lost in a good book.