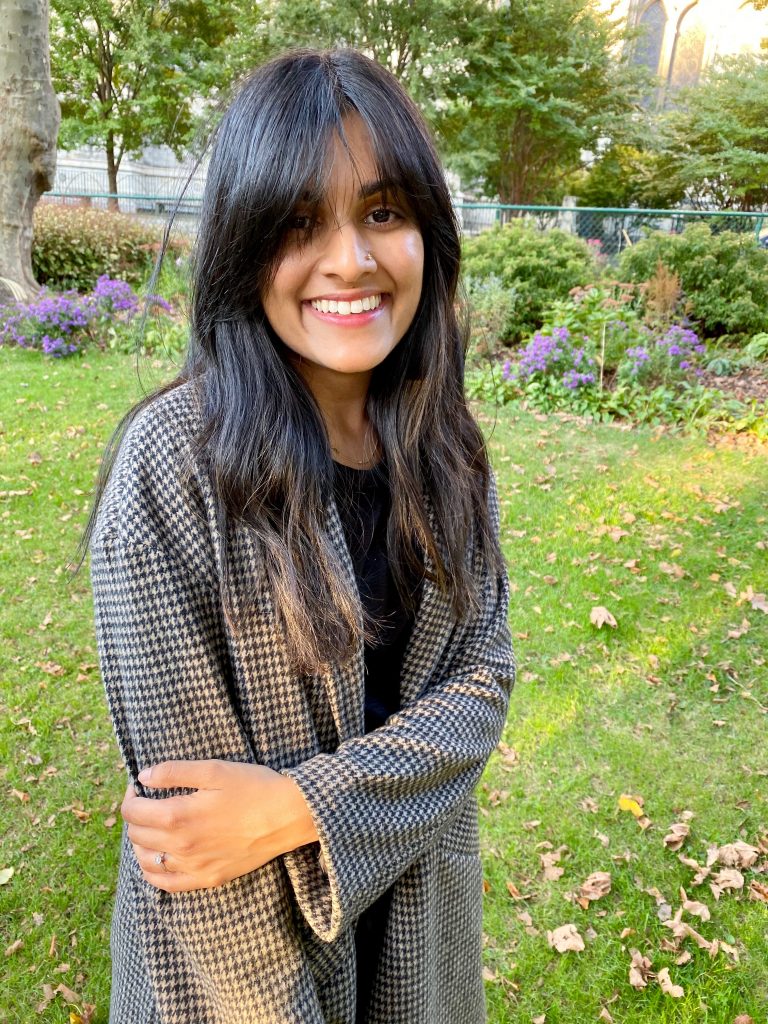 We live in a world where streaming, views and subscribers reign supreme. After countless interviews with musicians, producers and DJ's, I wanted to get to know the folks behind the scenes. Behind the success of many videos and artists lie industry executives mastering strategy, algorithms, ad-sense and so much more! As a music journalist and someone frequently BTS myself, I wanted to truly get to know the folks helping artists day in, day out. 
The only thing I spend more time on than finding new musicians is finding South Asians actively working on the music industry side of things. In the same way that upcoming artists crave representation, some do those of us yearn for behind the scenes. 
Meet the first guest in my new series, 'Behind The Music,' Sonali Mehta, who works on the artist development team at YouTube Music.
In three words, who is Sonali?
Music and chai enthusiast, also a loving dog mom. 
View this post on Instagram
Where is home?
Home is in the Bay! California! But, my mini Goldendoodle Rigby and I recently moved back to New York City, so that's home now. 
Tell us about your journey to your current position of artist development at YouTube Music.
From a young age, about seven or eight, I started singing classical Western, I had seen my older sister embracing performing arts and I wanted to as well! I was a pianist and vocalist through my formative years and ended up wanting to study music and business at Columbia. I was engrossed in the world of pop, singing my rendition of "Someone Like You" and looking for the right place to bridge my love for music and business! I spent every summer interning at different music platforms; Spotify, Sony Music, Lincoln Center and anywhere else that would take me! I ended up turning my time at YouTube Music into a job because they gave me real, meaningful work as an intern. There was an opportunity to learn and grow in a very real sense. 
As a professional in media, have you seen a change in gender and ethnic representation in the last five years?
Yes! In my personal experience, I've seen things change, albeit slower for South Asian artists than other groups but the industry is changing. There are more women, more people of color and I think it's great! 
View this post on Instagram
The South Asian diaspora music scene is growing rapidly, with new artists and concerts/events surfacing almost monthly, we're starting to share our creativity with the masses. Have you seen the shift? If yes, have you attended any events?
YouTube Music launched in India in April, so yes, we are seeing the shift! Not to mention the recent hip-hop developments in Mumbai!
It's amazing to see people that look like me or I can identify with parts of their journey pursuing artistic careers! I think a major key to being seen by those of us on the industry side, is actively seeking us out! Send the newsletter, the press release, do the research!
I also had the complete honor of attending Slashie Summit this year as a panelist and met so many incredible South Asian leaders, entrepreneurs, and creatives.
Many of us are navigating our dual identities as American South Asians or British South Asians etc. In music, this often means wondering which languages to sing in and how much of each identity you need to be. What is your advice for this community?
This is something I see all the time – artists get so much hate for ignoring their South Asian identity, with comments saying they're not proud and they get just as much hate for leaning into it, with comments that say they're appropriating. So damned if you do, damned if you don't. My advice is to be respectful but do you.
If you take inspiration from the fact that you're South Asian, or the fact that you're also American or British, or you take inspiration from both, whatever the balance is, it's okay. If the music you make, the things you wear and the language you speak reflects one culture over another, or both equally, that's your prerogative. If you're someone who identifies as two cultures, like me, it can be really confusing because you never feel good enough or whole enough in either world. You sort of exist in the blend, and your music will reflect that variety in whatever way makes sense for you. Your experience as someone with a dual identity is yours and only yours to unpack and express. 
A Day in The Life: What are the first three things you do in an average day at the YouTube Offices?
I eat, drink my chai – it's a must, I literally make it in the office every day, followed by clearing my inbox and listening to new music. 
View this post on Instagram
 What are your four favorite things about New York City?
1) I grew up in a very homogeneous neighborhood and one of the primary reasons why I always felt drawn to New York was the diversity.
2) I love how many people it brings into your life. New people, but also old. I never feel like I go that long without seeing my friends and family who don't live in NYC because they always have reasons to come here a few times a year. It's a convening spot.
3) I love the fall time here which we're experiencing now!
I do, however, experience dog-mom guilt frequently and find myself at Riverside Park with Rigby making up for lack of running free friendly square footage. 
What exactly does "artist development" entail and how can artists get on your radar?
I'll just speak from my perspective – my role is to work directly with artists and their teams to drive audience growth through channel optimization, content strategy and getting artists plugged into new features and other opportunities. What I like to see is an artist really leaning into the platform, which means uploading consistently (not just releasing a music video here and there) and using our fan engagement tools.
View this post on Instagram
What do you hope is next for South Asians in music?
I hope more and more South Asian artists get the support they need to pursue music. I don't want to pander to the stereotype that all South Asian parents want their kids to be doctors and lawyers, because that's actually NOT true. The truth is a lot of South Asian kids with other passions don't have role models, a support system or a clear path to pursue their passion. It's often something they have to do on the side or in secret and they feel alone because there is, again, not a ton of representation. So, my hope is of course not only for increased quantity in musicians and industry professionals in this space but also for more resources and community spaces for young brown kids to do what they love.
Who are your top five favorite South Asian Artists?
Raja Kumari, Raveena, Madame Gandhi, Lost Stories, I'll always love MIA. She really paved a way that not many people have had the guts to do, so respect to her.
Why are platforms like YouTube Music assets to an artist and something they should build?
We have more than two billion users coming to YouTube every month, so I think the most significant asset is the potential global audience and the size of the music catalog that lives on YouTube. 
What are you currently listening to?
Kaun Hai Tu, 

Raja Kumari & Shah Rule. 

This is, pt 1, 

Khushi &  James Blake 

Frio, 

Omar & Kenny 
You heard it! Authenticity, consistency and being yourself can take you places! With the help of Sonali in a position like artist development at YouTube Music, we can continue to get to know the people behind our resources and learn how to maximize them.