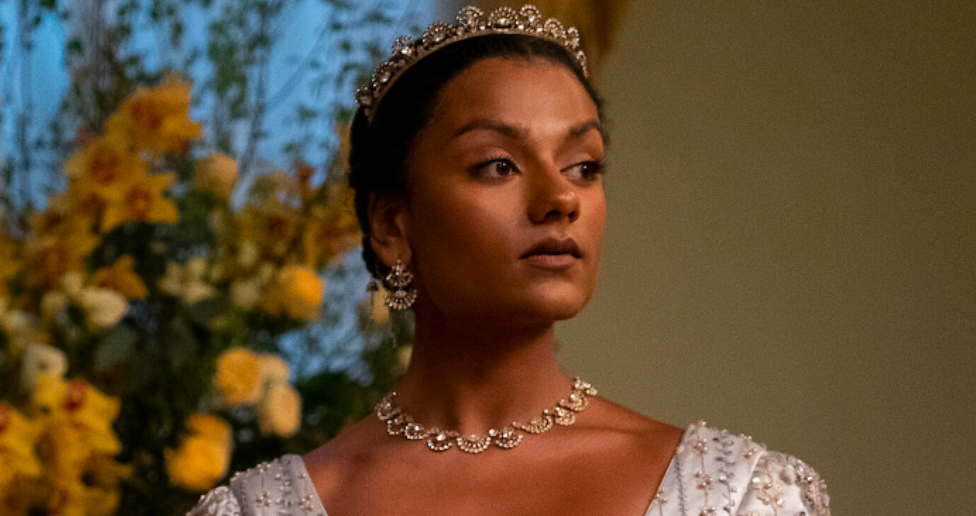 "Bridgerton" season two was the talk of the town when it launched in late March, breaking Netflix rating records for an English-language series, in its first week of viewing.
We expected nothing less than a phenomenal response from audiences worldwide to Shondaland's slow-burn romance between the 'Ton's latest member, Kate Sharma (played by Simone Ashley) and Anthony Bridgerton (Jonathan Bailey), with Ashley's portrayal of a quick-witted, sharp brown woman juggling love and duty to family and her own feelings for the Viscount especially celebrated by the South Asian community.
The 27-year-old Surrey-born actress, who grew up in a small, 'musical household,' began her career in "Wolfblood" and "Broadchurch" as well as the 2019 family adventure film "Pokémon Detective Pikachu," while her breakthrough role was as Olivia Hanan in the comedy series "Sex Education" before landing a lead part in the hit period drama.
With the multiple premiere events, the MET Gala, a recent Forbes 30 Under 30 feature in European entertainment, we recently had the opportunity to virtually connect with her to discuss the success of the show, the overwhelming support from the South Asian community and what it means to play Kate Sharma.
View this post on Instagram
How are you feeling right now after the incredible response to season two?
Oh, just deeply proud, deeply grateful. There's one thing to spend nearly the whole of last year in rehearsals, work on the series and film together with the cast. It's another thing for them to be passed over, shared with the world and receive such warm, positive feedback. It was one of the best years of my life. I had such a fun time and learned so much. It's incredible.
How do you feel about breaking that glass ceiling and being the brown representation everyone has celebrated seeing, with such an outpour of support from the community?
All positive. I've learned so much about myself, from working with Charithra (who plays younger sibling Edwina) and just more about how we can keep opening a space and opportunities for even more South Indian and South Asian artists. It was one thing for me to get the role and then do this job but now I understand the power that it has, the effect it has on what we see on screen, the industry and what it means to people. I just hope it continues this way.
We saw you celebrate 'South Asian excellence' with others from the community. How was that? Just being together and celebrating representation?
I am rarely in my life left speechless and overwhelmed. I think I am always quite good at saying something or putting feelings into words, at least most of the time but I was really overwhelmed in the best way possible. That room was just filled with such love, such pride. Everyone was just so lovely. I felt so safe. That space felt like family and we were all connected. It's all deeply rooted in that sense.

I'm so proud and happy we made that happen. I sat with Lilly Singh, who was a joy to be around. She's so lovely, smart and has such great energy. I also spoke with the cast from "Never Have I Ever" — I never thought that would ever happen. To this day, I'm left a little bit speechless in the best way possible.
View this post on Instagram
What was that expectation while auditioning for "Bridgerton" and how did you feel when you got that final call back?
I was filming two things; a movie and "Sex Education" Season Three at that time, so I was couch surfing around London because I was living in LA and it was the pandemic. I was living out a suitcase in London and really, really out of my head.

When the audition happened within a space of like, ten days, I didn't really have to overthink anything. I just went with my instincts for the character and jumped into it. I didn't look at how big the show was or what I was getting into because I was so focused on the character of Kate and her relationships with Anthony and Edwina.

I just clicked with her, loved the writing and what introducing Kate brought to the script. When I got the call, it was such a whirlwind. I didn't have a moment to process anything at all. It was very strange, in the best way possible.
How did you feel playing Kate? Would you say you're similar to her or are you like another character in the season?
Yes, I do think I'm a lot like Kate but there were also many things that I wouldn't say I empathise with personally, like how she is the older sister, while I'm the younger sibling in my family.

What I loved is she really knows herself and also has so much room to grow. We see when we first meet her that she's incredibly focused, brave and not performative. She's very much blending into the background because she's not there to find a husband. She's there to put Edwina on stage, help protect her and push her off into this marriage market.

So, we meet Kate and she's very muted, very observed. We see moments of her where she's kind of chuckling to herself or rolling her eyes because she is not willing to share with others and be a part of this community. But then she's kind of forced to and I feel like that comes from Anthony because he's such a family man. I think that had an effect on Kate, where he just didn't give up on her. He didn't push her away or walk away. Maybe it was an unconscious thing that encouraged her to surrender and let down her guard, let people in, need people, that sense of community and family, which I'm really excited to explore in Season Three.
View this post on Instagram
How was your relationship off-screen with Jonathan Bailey and your fellow Sharmas?
It was perfect casting. The cast and crew are so incredible, wonderful and generous people. It truly is an ensemble piece. Everyone carried that show. Working with Johnny; we have an incredible chemistry together and I learned so much from him. It was one of the best years ever filming with everyone; Johnny, Shelley and the whole cast and crew. I am just really grateful for that experience.
And finally, what's the one thing you would say to brown women out there wanting to get into acting?
Just do it. Why wouldn't you? It never stopped me. I never ever, ever had an inkling of doubt in my life that the colour of my skin would stop me from achieving my dreams. I don't know if that comes from a sense of naivety but from a very young age, I was always such a big dreamer. I really, really propelled myself into this with no shade of doubt.

So, in any industry, for any Indian woman, just do it. There's nothing stopping you. Saying yes is such a powerful word and really does help (bring) opportunity. It's worked for me in that sense, so I really hope I can continue that mindset throughout the rest of my career and life.
Ashley's words left me thinking there is no doubt that representation is still an ugly issue in the entertainment world. It remains a problem across all industries and cannot be solved by simply, 'believing in yourself.' After all, we don't know everyone's stories and the battles they are facing.
Yet Ashley's conviction in her dreams and not allowing the colour of her skin to get in the way of her future made me smile. I felt a strange sense of excitement and pride. I was over the moon to see her and Charithra Chandran play the leads in one of Netflix's biggest shows. I know this resonated with so many South Asians around me. It was 'one of us' on-screen and remains a huge deal to the community.
View this post on Instagram
In a world where we are seeing more brown faces on screen than ever before, I think it's commendable to see and hear a dark-skinned Tamil heritage actress so unapologetically confident in what they want and all they can achieve.
Ashley was right. Maybe not in every sense but she does share the intelligence and powerful persona we see exude from Kate's character. I can't wait to see her flourish in season three and her future endeavours.
Photo courtesy of Liam Daniel/Netflix.