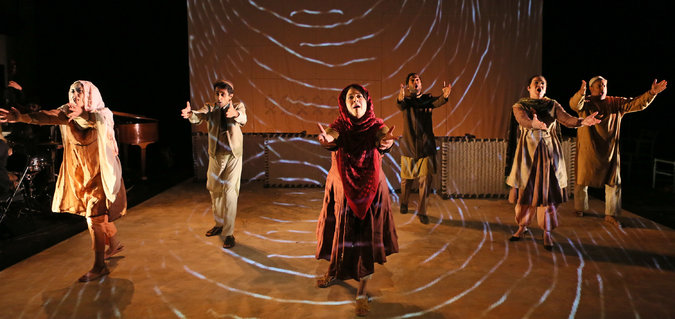 South Asian women have made their mark in many professions.  Their strong will to succeed, their desire to do more and their determination to cross any and all obstacles, make them role models for other aspiring women. Kamala Sankaram is one such woman, who stepped out of the South Asian women "norm" and embraced a life she became passionate about at a very young age.  I had the pleasure of interviewing Sankaram, a performer, composer, musician and playwright, living in New York City.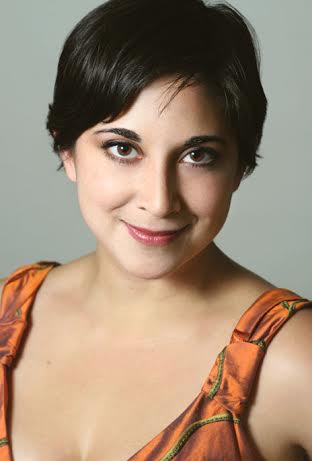 Sankaram, is half Indian (her father is from Andra Pradesh, India) and half American.  She shared her thoughts about her journey of stepping outside the typical South Asian professions to follow the path of entertainment and the arts.
When I was a kid, my mom geared me towards the arts through piano lessons.  My dad was fine with the lessons, but believed I was supposed to be a doctor.  My parents divorced when I was 7 and I lived with my mom and went towards my interest in theater.  I was in a theater show called 'Choice' in Southern California.  I would do these big dance and song numbers and that's what got me even more interested in it. I wanted to be on Broadway!

So, I moved to N.Y to go to college, but my dad wasn't completely happy about it up to the age of 20, but he still supported me. I did however, have to hear the occasional 'you know it's not too late to become a doctor.' I still have a part of the 'desi norm,' since I ended up doing my PH.D in cognitive psychology, but there were always things that pulled me towards music.  I developed my first play, 'Miranda' and after that I just couldn't imagine not doing music.
How does it feel being a South Asian female in the entertainment industry? 
Being a woman composer is an obstacle since the industry is largely dominated by men.  The recent performance of 'Thumbprint,' the Opera, was a piece written, produced and directed by two women with a perspective by women.  However, the people who came to review it were all men and we wondered if they got the point.  It's also difficult at the beginning of your career when you can't find a mentor who can guide you, since it's a male dominated field.  Finding a South Asian is even more difficult since there are no established communities of South Asian composers.  When we were casting for 'Thumbprint,' we couldn't find many South Asians who were interested, since its not typical for them to step out and do something different.
You mention "Thumbprint," a 90-minute contemporary music-theatre piece you helped direct, produce and starred in, which is about an illiterate woman from Pakistan, named Mukhtar Mai, who was gang-raped as retribution for a crime her brother allegedly committed.  For the Opera, you have taken the influence of traditional Hindustani and Western classical music to bring this real life story to the public.  Can you share more about this piece? 
In 2009, I was approached to write a piece for a concert in N.Y.  One of the producers, Beth Morrison, approached me because she knew of my interest in political subjects, and that I'm Indian.  She had just seen a play on Mukhtar, and I decided to read her biography and found it inspiring.  I used it as the first material for a song cycle, but it could only be 12 minutes long.  It seemed like such a huge story and I thought it could be something longer, like an opera, because it was about someone finding their voice, which was such a metaphorical piece for an opera.  Morrison agreed and she introduced me to Susan Yankowitz, a playwright who originally had written for Mukthar.  We got along and decided to start working on it.

I wanted to put it on stage because I think it's an important issue. I think music has a way to bring people into the emotions of a story and especially for non-South Asians who are unfamiliar with this topic.  I wanted it to be accessible to people and I think that's what music does.  I wanted people to start talking about the issue. We started working on it towards the end of 2010, at a time when there was no mention of the Delhi gang rape or any similar cases.  We wanted to erase the silence around the issue.  We wanted to bring awareness about women's education, particularly around that area in the world because there are so many women in the world that are not allowed to get educated and are illiterate.
How does your audience feel after watching "Thumbprint?"
People that have come out of the show have said that it is a very moving experience for them.  Many of them were not aware of the issue.  So, hopefully, the press that it has gotten will bring more light towards the issues.
What lesson do you expect your audience to learn from 'Thumbprint?' 
The fact that many women are not allowed to be educated in some parts of the world is the huge pivot point of the story of Muktar, who eventually opens up a school for girls to learn how to read and write.  I hope that people will understand that we have to start talking about violence against women and that's the only way we can lessen the some cases of violence against women.  If we don't talk about it, we can't solve it and move forward as a global culture.  Education is very important; if women don't know their rights, they won't know how to act on it to make sure they receive their rights.
What message would you like to leave our readers with? 
Do what makes you happy.  At the end , if you are going to be happy as a doctor, then that's one thing, but if you want to step outside the norm, then you do that.  Only you really know what you can do and handle.  Do not be afraid to leave your comfort zone.  You have to make the decision in life to what you are able to do and not do; I think most of us are capable of doing more than we believe we can.
In addition to composing, directing, producing and performing on stage, Sankaram has done voice overs for characters on the show Super Jail, which airs on the Adultswim network.  She recently recorded a pilot for an upcoming show that will air on Nickelodeon. Sankaram also sings and plays the accordion for a band called Bombay Rickey. The band covers and references Bollywood noir, spaghetti westerns, country, Yma Sumac, Esquivel, '60s surf and garage rock, Mozart, and more. Their first album will release this spring.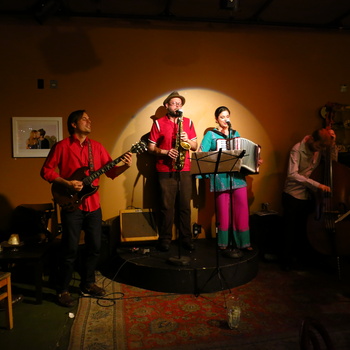 To learn more about Sankaram, visit www.kamalasankaram.com/bio or follow her on Twitter: @kamalasankaram.
Photos provided by Kamala Sankaram.