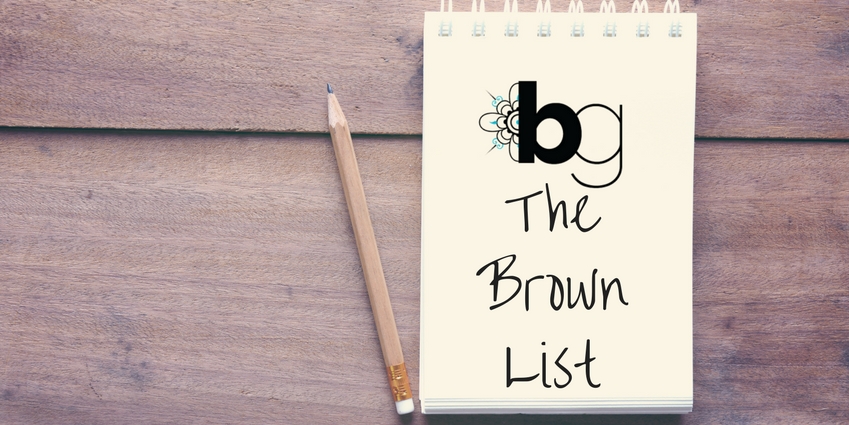 Hello, wonderful reader! We love the support you give us when you read our articles, come to our events and root for our staff writers when they're making strides in their careers. We, the staff of BGM, absolutely love the community we have fostered and the hundreds of connections we've created within the South Asian community.
So, to show our appreciation to you here's the Brown List. We might even throw in a few surprises here or there, so pay attention, get excited and ready to learn a few things, because the staff at BGM have a lot of great ideas we want to share. Without further ado, we'll begin our first Brown List since 2008!
1. Dabur Rose Water
Rose water used to be the staple beauty product of ancient Mughal queens. Since we all lay claim to our collective ancient heritage, why not unleash your inner queen with this natural toner? BG Abha swears by rose water to clear your skin and make that melanin GLOW. You can even read this listicle by Mona Latif of why you need to add rose water to your skin care routine.
Pick up a bottle for yourself a bottle here.
2. Natural DIY Hair Lightening Mask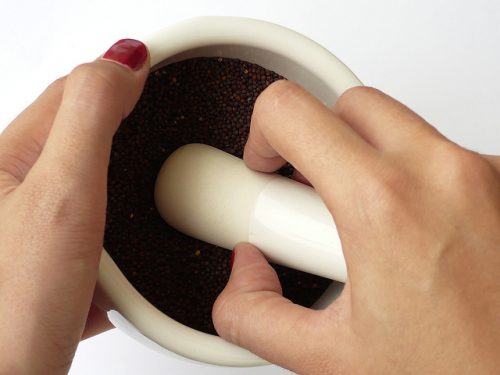 If you want to add dimension to your brown/black locks with an all-natural hair lightener, look no further than BG Antara's DIY hair mask. You'll need:
1.5 cups plain full-fat (not fat-free) yogurt
2 tablespoons of dark cocoa powder
2 tablespoons of honey
1 teaspoon of cinnamon.
Combine the ingredients and carefully put the mixture in the places you want to lighten your hair. Blow dry your hair and let it sit for 20 minutes to an hour. Finally, wash it out with warm water; this helps dissolve the honey. Use this mask at least two times a month to get the lighter hair color you want.
3. Nail Color of the Month: Tickle My France-y by OPI
Since most of us are starting school and/or work this month, we need a nail color that's just right for day and night. BG Hera suggests OPI's Tickle My France-y, because it's perfect for keeping your cuticles well-groomed and helping you look professional. At the same time, this shade is great for rocking on a night out or just chilling at brunch. Since it's a neutral tone, Tickly My France-y can go with any outfit. Even if you don't take our word for it, definitely take Hera's, because she's one of the most stylish people on staff.
If you want your nails as hot as Hera's, get yourself a bottle of Tickle My France-y,  here.
4. Movie of the Month: "Dil Chahta Hai"
As the summer dwindles down and you only have memories of all the great adventures you've had, it can be kind of hard to let all of that go to get back on track for work or school. But don't be so sad, because you can relish the last few days of summer wonderfulness with movies! "Dil Chahta Hai" is a top pick with BG Zaynah, because it has a great cast of characters and an exciting plot about the summer adventures of three friends. What's more relatable than a movie about a group of friends, who are fresh out of college, engaging in various shenanigans and dealing with all the drama that comes from being a new adult?
[youtube https://www.youtube.com/watch?v=ywsheV06ckg]Watch "Dil Chahta Hai" now on the Google Play Store or on Amazon.
5. NARS All Day Luminous Weightless Foundation
Even though a BG is blessed with beautiful melanin, it can be hard for her to find the right foundation to go with her skin tone. It just seems brown girls with darker skin tones have a harder time finding a foundation that will match our complexions. However, have no fear, BGM's in-house makeup artist, Jasmin, is here!
NARS is great for those of us who want to hide blemishes on our dark skin tones. With 20 shades that go on light and stay on your face from the time you start your morning skincare routine to the moment you wash it off at night, the NARS All Day Luminous Weightless Foundation is here for the girl with melanin! Check out the NARS website or go to a Sephora to pick out your perfect shade.
6. Commando Classic Bikini Solids
We've all felt the nuisance of dealing with heavy undershirts and see through white bras when we wear white clothes. However, one can solve this issue by wearing nude colored undergarments. Sometimes, it can be hard for someone with a darker skin tone to find a good nude bra or panty. Most brands lack the color diversity of the standard nude undergarment. Yet, BG Meghana has found Commando to always be at the top of the game when she wants bras or panties that match her skin tone.
Check out their full range of bras, underwear, and lingerie that come in a multitude of nude skin tones.
7. Mad Decent Block Party
Just because summer is almost over doesn't mean the music festivals have to be over too! If you love hip-hopM, hip hop or reggae, then the Mad Decent Block Party (MDBP) is just for you. Boasting a fantastic lineup, featuring Diplo, What So Not, Ke$ha, RL Grime, Rae Sremmurd and much more, you can expect to find someone you absolutely adore at a MDBP stop near you!
Ticket prices and age limits vary by the location, but check out the tour stops here to see if you can make it this year. Grab your boo thang, your squad and your culturally appropriated outfits, because festival time is still here!