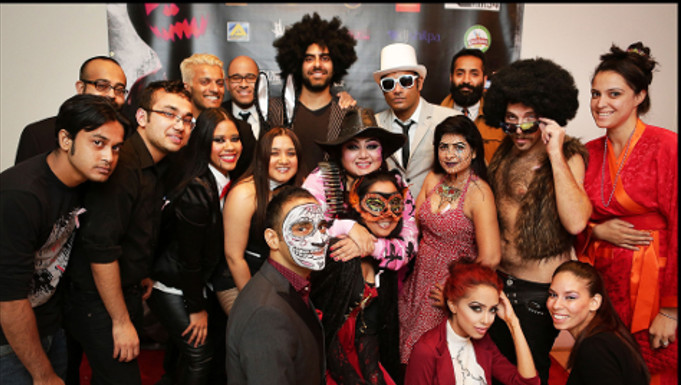 by Shima Begum
After being diagnosed with breast cancer earlier this year, Bibi Magazine's  Ayesha Hakki noticed there is a lack of support in the South Asian community surrounding this disease. While she undergoes treatment to full recovery, Hakki is out-and-about, living her life and raising awareness.
"I am realizing that there are very few (if any) support groups for South Asian people and their families dealing with cancer, and its physical, emotional and financial strains," Hakki said. "It would have been nice to have something in our community that helps you deal with it, like how to tell your family."
Editor and publisher of renowned South Asian bridal and fashion magazine, Hakki is doing what she does best: using her strong network of South Asian partners and readers to bring breast cancer to the forefront, by writing a series of stories on her website, titled "The C Diaries: My Journey through Breast Cancer."
"If I have to have this disease, I want to use my platform to talk about it." Hakki said.
She goes on to say, "The goal is for people to pay attention to reasons why we have cancer and to provide some navigation tools. I'm trying to live a more natural, less processed life."
In addition to her series, on Oct. 30, 2014 Bibi Magazine hosted 'Mischief Night,' a halloween themed fundraiser for breast cancer. Hakki was joined in her efforts other well known names in the South Asian community including Samrat Chakrabarti, Joya Dass and Mani Kamboj.
'Mischief Night' was attended by more than 100 guests, some of whom have been affected by breast cancer.
The event was sponsored by The Kati Roll Company, Devi Restaurant, The Masalawala, Chocal8Kiss, WineBar34 and Wine Chateau. 'Mischief Night' was possible due to generous donations of services by Sonia Dhaliwal of Elegant Celebrations, along with DJ Shilpa spinning the tracks. Cirque de Soliel singer Meetu Chilana, as well as celebrity musicians Samrat Chakrabarti, Ranjit Arapurakal, Shiv Puri and Konrad Payne, put on an entertaining show for the guests. Dance artist Gary Nesta Pine also performed his latest hits.
TV anchor and founder of networking initiative Lady Drinks Joya Dass introduced a series of breast cancer-themed photos, by Jasmine Gonzalez.
All proceeds after expenses will go to the Avon Breast Cancer Foundation. But the event's mission is more than just raising proceeds, Hakki said.
It will be a night where she can talk about the importance of early detection and surviving breast cancer. She said she also wants to show people, that through her example, it is possible to beat this disease.
"Early detection is key, it's the reason that I am here at the party rather than in some hospital bed." Hakki said.
Breast cancer is much easier to treat in its early stages, so early detection is key. Women over the age of 50 should get annual mammograms. A mammogram is an X-ray of the breast used to screen for breast cancer.
"Now that we have Obamacare," Hakki said, "there are no excuses, get tested!"
"One simple test a year can be the difference between life and death, especially in women who have a family history of breast cancer," she added.
According to the BBC, breast cancer rates are on the rise amongst UK-based South Asians and research shows the same in Canada. Hakki believes that the trend probably holds true for South Asian-Americans, and hopes that continue opening the dialogue within the community.
"I will be free of cancer in a few months because they caught it early. I was lucky! I want people to realize through my example that cancer is real, but it doesn't have to be a death sentence," Hakki said.
Hakki's next project is to create a PSA about early detection and healthy lifestyle choices to help educate the South Asian-American community.
Even though it's past the month for Breast Cancer awareness, we support empowered women like Hakki and all the daughters, mothers, sisters, and friends everywhere, who battle breast cancer all year round. We don't need only the month of October to showcase women who are trying to live their lives and succeeding in their health, career, family and personal growth.