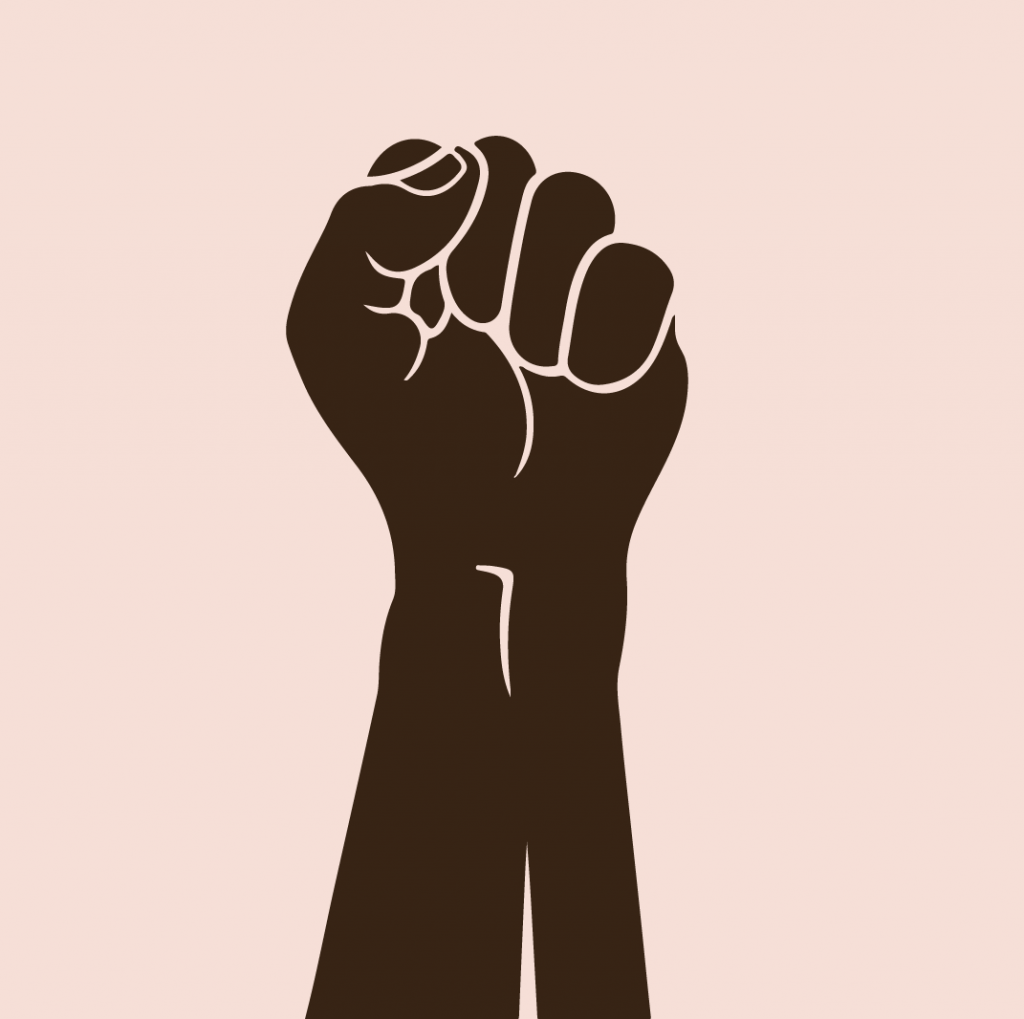 By Tina Lapsia and Erinn Bacchus
[Update: On June 3, 2020, the four officers involved in the murder of George Floyd were officially charged with crimes by the Minnesota Attorney General.]
George Floyd, Ahmaud Arbery, Breonna Taylor, and now David McAtee have all been murdered within the last three months at the hands of a current or former white police officer who has since walked free. America is angered and hurting because of these heinous acts, and rightfully so.
At Brown Girl Magazine, we do not tolerate racism, injustice and silence or complicity regarding what is happening to our fellow people of color. As we continue to share relevant #BlackLivesMatter stories and social media posts, we take full acknowledgement of our privilege as South Asians living in the Diaspora and use it to contribute to the movement for racial equality and ending police brutality. We must face hard truths about racism in our inner social circles and be vigilant in addressing change.
South Asian Privilege 
The dystopian reality in which we currently find ourselves demands we all reexamine our privilege. We profit from the model minority myth — the stereotypical perception that Asian-Americans are quiet, obedient intellectuals who achieve high levels of success and prosperity. Yet, this idea has driven a "racial wedge" between Asian-Americans and blacks. Unlike our black brothers and sisters, our actions are not disproportionately criminalized by the justice system. Today, black Americans make up 40 percent of our incarcerated population, while only representing 13 percent of U.S. citizens. 
And while South Asians are also discriminated against, we have not experienced the systemic dehumanization that blacks have endured for more than 400 years. Black Americans paved the way for us to become citizens of this country through the Civil Rights Movement. 
In the 1920s, non-white immigration to the United States was restricted and non-white were generally not allowed to become citizens. These oppressive policies were in effect well into the 1960s, when civil rights leaders and activists brought attention to the racist rules. After the Civil Rights Act was passed in 1964, there was pressure mounting to expand racial justice to other races. As a result, the Immigration and Nationality Act of 1965, also known as the Hart-Celler Act, opened up immigration from all Asian countries. 
Without the struggles endured by the black community to enjoy civil rights in this country, the hyphen many of us use to describe our identity (e.g. Guyanese-American or Indian-American) would not exist. "People of color" would not be a term we use to describe the non-white section of the American population. We South Asians must support our black counterparts in this continued fight for justice and equality by lifting up their voices, supporting black businesses, educating ourselves about this pervasive issue, and tackling anti-blackness within our own desi communities.
Framing the Conversation
Many South Asian cultures are still rife with racism and many of us have probably experienced it firsthand. Maybe it's that aunty or uncle who is always sure to mention that your cousin's black husband is "one of the good ones." Maybe it's as direct as your parents forbidding you from dating black individuals. Maybe it just comes down to the belief that fair skin is lovelier than dark skin. While these beliefs stem from deep-seeded, seemingly unintentional cultural norms, it is our responsibility to have difficult conversations and educate the older generations about the incorrectness of their anti-blackness. 
Here are a few ways to engage your loved ones on the issue of race:
Discuss values that span race and ethnicity: opportunity and equity

Discuss systemic and structural issues that prevent equal opportunity and equal justice

Talk about the causes of and differences in racial and socioeconomic disparities between South Asians and blacks

Ask the hard questions:

In what ways have I/we been conditioned to believe in the superiority of whiteness?

In what ways have I/we engaged in the stereotyping or othering of black people?

What can I/we do to change my/our mindset and educate myself about the country and community I/we live in?
In addition, Equality Labs has created letters and resources on unlearning anti-blackness that have been translated to Bengali, Hindi, Urdu, Tamil, and more languages to share with Asian families. 
Educational Resources 
In addition to addressing racism when we see it, we should also aim to strengthen our knowledge around racism, anti-blackness, and black experiences as a whole. A few ways we can do this are by reading literature and listening to podcasts on the history of racism and inequality in America. (The following resource list is in no way exhaustive and has been compiled through a variety of sources on the interwebs. Comment below with more sources for us to include.) 
Engage with following the sources below as a means to learn more: 
Books
"The Karma of Brown Folk" by Vijay Prashad

"How to be an Anti-Racist" by Ibram X. Kendi

"Between the World and Me" by Ta-Nehisi Coates

"So You Want to Talk About Race" by Ijeoma Oluo

"The African American and Latinx History of the United States" by Paul Ortiz

"Stamped From the Beginning" by Ibram X. Kendi

"White Fragility" by Robin Diangelo

"The New Jim Crow" by Michelle Alexander

"The Color of Law: A Forgotten History of How Our Government Segregated America" by Richard Rothstein
Children's Books
"Let the Children March" by Monica Clark-Robinson

"Little Leaders: Bold Women in Black History" by Vashti Harrison

"Little Legends: Exceptional Men in Black History" by Vashti Harrison

"Harlem's Little Blackbird" by Renee Watson

"We March" by Shane W. Evans

"Parker Looks Up: An Extraordinary Moment" by Jessica Curry
Movies and TV Shows
Netflix

"13th"

"When They See Us"

"Dear White People"

"See You Yesterday"

Hulu

"If Beale Street Could Talke"

"The Hate U Give"

Available to Rent

"Selma"

"I Am Not Your Negro"

"The Black Panthers: Vanguard of the Revolution"

"Just Mercy"

"Clemency"
Socially Conscious Artists
Run the Jewels

Kendrick Lamar

Angel Haze

Nipsey Hussle

Talib Kweli

Janelle Monae

Noname

FM Supreme

Riz Ahmed

Heems

Lupe Fiasco
Podcasts
How You Can Help Today
Fund racial justice causes and organizations like the ones below: 
You can also find a comprehensive list of local city and state-specific bail and mutual aid funds to donate to at the links below. 
https://www.instagram.com/p/CA3SPP_nLx4/?utm_source=ig_web_copy_link
https://www.instagram.com/p/CA9M7xnnLxg/?utm_source=ig_web_copy_link
Demand justice through oral and written advocacy. 
Justice has not been served for the perpetrators in the murders of George Floyd, Breonna Taylor, Ahmaud Arbery, and the countless other black lives that have been taken away due to police brutality. You can speak out by:
Texti

ng "JUSTICE" to 668366

Texting "FLOYD" to 55156

Getting in contact with the District Attorney and Minneapolis Mayor. Leave a message for them DEMANDING that all four officers involved in the murder of George Floyd be arrested. 
Long-Term #BlackLivesMatter Advocacy
Our work will not be done with a simple phone call or a click of a button. So long as there is violence and injustice against people of color in this country, there will be a need to amplify our voices and support racial justice initiatives and organizations. Below are steps you can take to continue your advocacy for the #BlackLivesMatter movement.
Vote.
The presidential election is not the only important election happening this November. If you want to see elected officials in office who support racial justice issues such as defunding the police, reappropriating funds to social causes, and will champion a ban on chokeholds by police officers, you must VOTE for the right people at all levels of government.
Support black-owned businesses.
Black communities not only need our support socially, but also economically. Supporting black-owned businesses will help to close the racial wealth gap, strengthen local economies, foster job creation, and celebrate black culture. There are thousands of black businesses to support, which you can find at the links below.
Support "South Asians for Black Lives."
Follow @SouthAsians4BlackLives, a platform educating South Asians on dismantling anti-blackness and exploring South Asian identity, on Instagram.
Join advocacy organizations.
Consider becoming a member of civil rights and anti-racism organizations such as the NAACP. 
Finally, listen to your black friends, peers, and colleagues. Continue to show up and have difficult conversations.
The recent heinous events have angered many of us into action. It's encouraging to see brown faces protesting alongside our black brothers and sisters. But it's equally important for us to reflect on our own privilege and take responsibility for educating ourselves and those around us. It's equally important for us to not just voice our solidarity but show it, too. That means confronting racism at home and elsewhere in our lives, supporting black businesses, creating space for black voices to be heard, and voting for candidates fighting for social and racial justice. We owe so much to the black community. It's time we break the cycle of implicit racism in our own cultures because #BlackLivesMatter. 
For a more comprehensive list of resources, please click here.