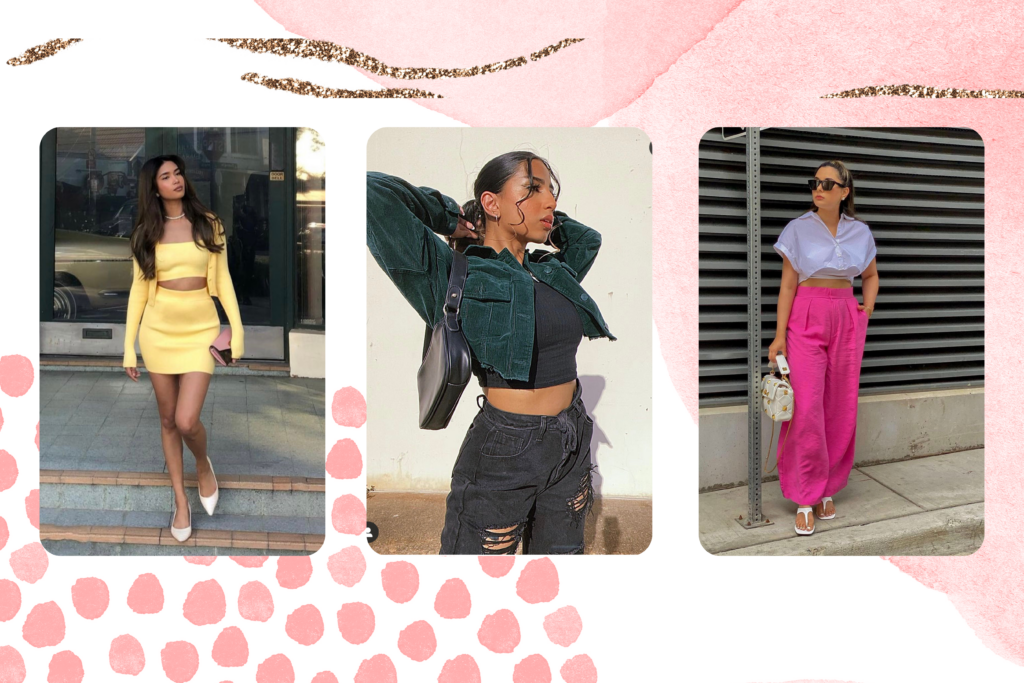 If you're anything like me, you remember Y2K as an era of promise — the promise of modern technology and boundless possibilities. But more than anything else, it was also a time that came with a splash of unique and inspired trends that would leave their mark on the pages of fashion history. And as the saying goes, history likes to repeat itself and to the glee of those who are fond of nostalgia, these trends are making a comeback. 
Some say that what makes the time right for a tech-inspired Y2K fashion comeback is the spike in our dependence on technology during these times of unprecedented change. Whereas others believe that 2020, and the challenges it brought with it, have left us craving the comfort of the early 2000s. No matter the reason, here are some of the biggest Y2K trends for you to flaunt.
Baby Tees, Crop Tops and More
View this post on Instagram
One of the cutest and most popular trends making a definite comeback are colourful t-shirts cropped above the belly button. Whether you're into quirky quotes or graphics or plain simple monotones, there is a crop top out there for you. Easily styled and flattering on all body types, these are perfect for the summer and available in almost every store! 
Matching Separates 
View this post on Instagram
Tired of picking out different parts of your outfit so that they don't clash? Matching separates are back to make your life easier and still keep you looking fresh and on-trend. There's a ton of options out there, ranging from casual loungewear to chic daywear, so you can transition through your day in style. Denim-on-denim is another popular way to add more dimension to these matching suits. 
Baguette Bags
View this post on Instagram
If you think of Carrie Bradshaw as your fashion guru, you'd agree that it is near impossible to picture her without the infamous baguette bag. Although the show aired almost 15 years ago (yes, you read that right), Carrie's wardrobe is still admired and it is no surprise that the first-ever 'it' bag is finding its way back into our 2021 collection. While a black baguette goes with almost everything, there's also a variety of colour and monogram canvas options to give your outfit an edge. 
Wide-legged/ Bootcut Pants
View this post on Instagram
Skinny jeans are so last season, to the relief of those like me who didn't see the appeal of giving up breathability in exchange for a tighter fit. And if TikTok is anything to go by, wide-leg pants are all the rage right now and also come in more fabric options than just denim. If you're a true lover of the Y2K era, you will have no trouble pairing these with a crop top, channelling a Bratz doll-inspired look. 
Tie-front Tops  
View this post on Instagram
Alongside crop tops, tie-front tops have also become an inescapable trend and a sure shot throwback to our younger days. With a fresh update, some of these even come in pastel tones and ribbed fabric. Once again, easy to style and eye-catching, this is a style that can hold its ground and isn't going anywhere soon.
Shiny Things 
View this post on Instagram
The 2000s were all about groundbreaking ideas, which meant that bling and sparkle played a big role in giving outfits that much desired futuristic edge. Be it through the fabric used in tops or layering some chunky jewellery, this trend surely makes the list of Y2K trends that made a splash again in 2021. 
Hair Accessories 
View this post on Instagram
This one is a personal childhood favourite! Butterfly clips, bandanas, oversized headbands and bucket hats are all back in the game and we are so here for it.
With Covid restrictions easing in many parts of the world, we hope that these refreshed Y2K trends help you bring your A-game to the next outing! Make sure you stay well out of the way and continue to slay.