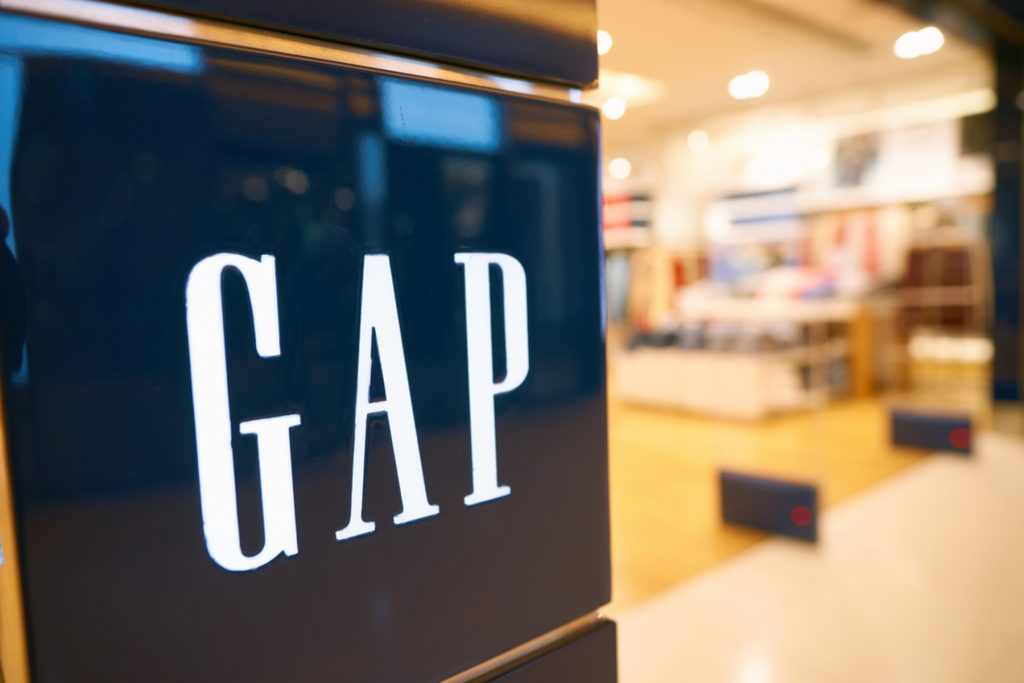 Five years ago, the first GAP clothing store opened in India. At the time of its launch, it was projected as a 10 billion rupee or $157 million business venture over five years in the Indian Market. Despite the brand's below-average sales and stock numbers in America, it has always been featured in Indian Cinema and is regarded as a high-end luxury store to the continent that is home to 1.2 billion residents.
Bollywood is an important trendsetter for western brands. Part of the brand's popularity in India is credited to famous actors such as Shah Rukh Khan who first wore GAP clothing in the popular and evergreen film "Kuch Kuch Hota Hai," creating a domino effect for wardrobe stylists on Indian film sets. It was the go-to brand for styling upper-class characters in films. We all remember Rohan Raichand aka Ladoo (SRK's younger brother) in the film "Kabhi Khushi Kabhi Gham" and his array of GAP hoodies. The genius comical irony of this spoiled rich kid's character was his repetitive line: "How tackyyy" throughout the film but had on a GAP hoodie in every single color while he said it.
Withstanding the test of time, an Indian audience is so emotionally invested in onscreen actors that products used by actors are believed to be of superior quality and always in style. Bollywood is the biggest communication platform India has, likely more than social media, which is contrasting to the West. Branding is blatant and unapologetic. Over the last few years, this branding strategy has become more seamless. As India's digital sophistication reaches mainstream levels, an increasingly savvy audience is expecting a new type of relationship from its actors, directors and producers. The audience will begin to question how directors integrate brands in the scenes down to the specific line and even the plot, making it justifiable and believable.
When I visit India today, I still see GAP replicas on the streets of Colaba and the merchant telling me "it's high-quality, ma'am." What does this mean for YZY GAP, the Bollywood film industry, and the socio-economic class system? Brand placement in India is not a new notion and has been a tactic for eastern and western brands for decades. SRK using a Nokia phone is nearly a given now or Alia Bhatt carrying a Hermes Birkin in "Student of the Year" to match the famous lyrics "I've got it all" in the opening scene of the film. Multinational brands look at Indian movies as a suitable medium for reaching out to prospective buyers as Indians have become global consumers. However, a large percentage of Indians who watch Hindi films in India can barely afford a ticket to the movie, let alone GAP products.
In the United States, GAP is seen as a beacon of hope for the middle class. It is a chance to be able to adorn affordable clothing with the stamp of approval by one of the most famous and influential artists in the world. In India, however, this translates differently. Artistry is of course celebrated but the east has been notorious to follow trends of the west. I think where the U.S. differentiates in the notion of product placement is that in India, movie-goers are not the slightest bit annoyed by product placement but are enlightened by trends of the West.
Where there is a grand opening of a big brand in India, especially one from the West, a Bollywood star is always invited to inaugurate the store, attracting a large public gathering hoping to catch a glimpse of the celebrity as well as to broaden momentum of the opening itself.
We live in a society where we reward wealth, not work. In India, this notion is increasingly prevalent. Supposing GAP is a sign of wealth, especially for the lower class in India, it is a feeling of reward and accomplishment to be able to obtain or even replicate it. The endorphins from such an accomplishment are directly correlated with escapism. India is a country that thrives on escapism—film, cheap street food, and of course the holy game of cricket.
The marginal divide between classes in India makes it extremely difficult to gain the same level of education and living environments as those in middle-upper-class society. Markets are saturated and competition levels aren't healthy. Merit-based opportunities don't always materialize by way of infamous cronyism and nepotism. Collectively, this leads to escapism which in turn relies heavily on Bollywood providing excitement, joy, the urgency of wanting and even aspiring to mimic a worshipped Bollywood actor sporting GAP clothing.
---
The opinions expressed by the writer of this piece, and those providing comments thereon (collectively, the "Writers"), are theirs alone and do not necessarily reflect the opinions of Brown Girl Magazine, Inc., or any of its employees, directors, officers, affiliates, or assigns (collectively, "BGM"). BGM is not responsible for the accuracy of any of the information supplied by the Writers. It is not the intention of Brown Girl Magazine to malign any religion, ethnic group, club, organization, company, or individual. If you have a complaint about this content, please email us at Staff@0mq.349.myftpupload.com. This post is subject to our Terms of Use and Privacy Policy. If you'd like to submit a guest post, please follow the guidelines we've set forth here.