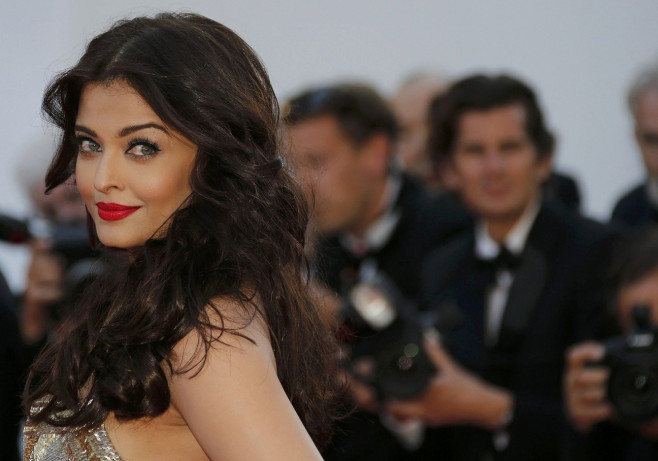 The 67th Cannes Film Festival screams high-end fashion, elegance and glam. Our favorite Bollywood/Hollywood beauties are taking over the South of France with their breathtaking beauty.
The beautiful and very out-spoken Indian actress to walk down the red carpet was Mallika Sherawat. She looked incredible in a blue lace Emilio Pucci gown that she paired with a sleek up do. Her modest and unelaborated ensemble proved to be quite a surprise as it differed immensely from her extravagant outfits from past years. Sherawat opted for a simpler style this year, considering she also worked a Dior leopard print knee-length dress. She let the print be the main focal point as she kept the look subtle with black peep toe pumps.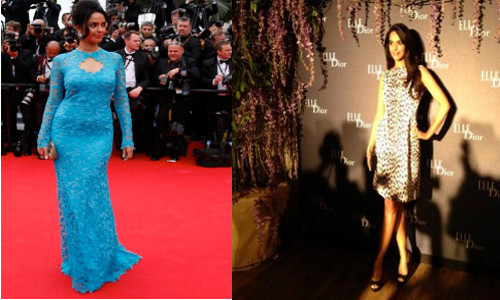 No matter how many times Aishwarya Rai Bachchan struts the red carpet, she knows how to capture everyone's attention. Walking with great elegance in a gold Roberto Cavalli gown, she managed to have every eye on her. She truly looked like a golden Goddess. As if the golden strapless gown with its amazing pattern and long train wasn't enough, Bachchan chose to compliment it with incredibly flawless skin and bright red lips. Former Miss World looked perfectly regal. Her soft waves aided in enhancing the already stunning look.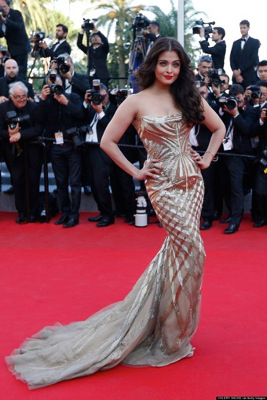 Our favorites from the evening had to include "Slumdog Millionaire's" Frieda Pinto and Bollywood's newest fashion icon Sonam Kapoor. Glamorous as always, both ladies were amongst the best dressed of the evening. Early on, Pinto was dressed in an all-over nude feather Michael Kors gown. Pinto exuded extreme elegance as she paired the stunning dress with red lips and loose finger waves.
Frieda Pinto's second dress cannot be captured by words. She gracefully posed with a coral Oscar De La Renta strapless gown. The gold detailing covered the neckline and the hem of the high-low gown. High ponytail, nude lipstick, striking eyes and gold pumps were the perfect touch to complete her look of the evening.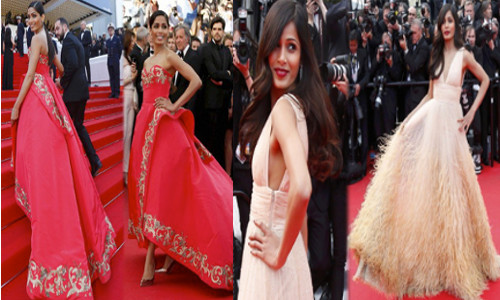 Wow, what more can we say about Sonam Kapoor? This fashionista surely can rock any outfit and she proved that on the red carpet.  Just like Rai and Pinto, one of her ensembles had a vintage elegance to it that had our jaws dropping and eyes popping.  A black Elie Saab couture gown adorned Kapoor with an extravagant waist that reminded us of a 1700s French gown. The look was very classic!  She complimented the amazing piece with jewels and red lips.  We cannot forget the show-stopper outfit, and my personal favorite.
Kapoor could not have looked more breathtaking as she posed for pictures on the red carpet in an Anamika Khanna sari.  The sari itself was sheer and gold, which she embellished with a gold and pearl statement necklace. She opted to keep her long back locks sleek and straight.  Finally, this beauty dazzled in a blue Elie Saab gown with a tight bodice and pleating at the bottom.  Her gold necklace was the perfect accessory.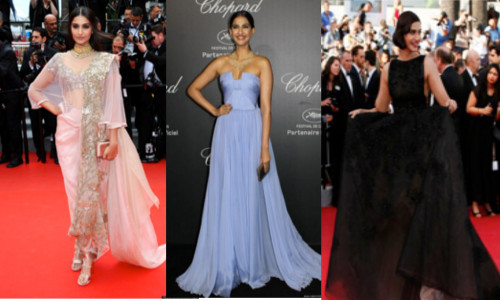 Our favorite brown-eyed beauties were stunners on that red carpet at the 67th Cannes Film Festival and we can't wait to see more of them!
Photo Source: Huffington Post & The Indian Express