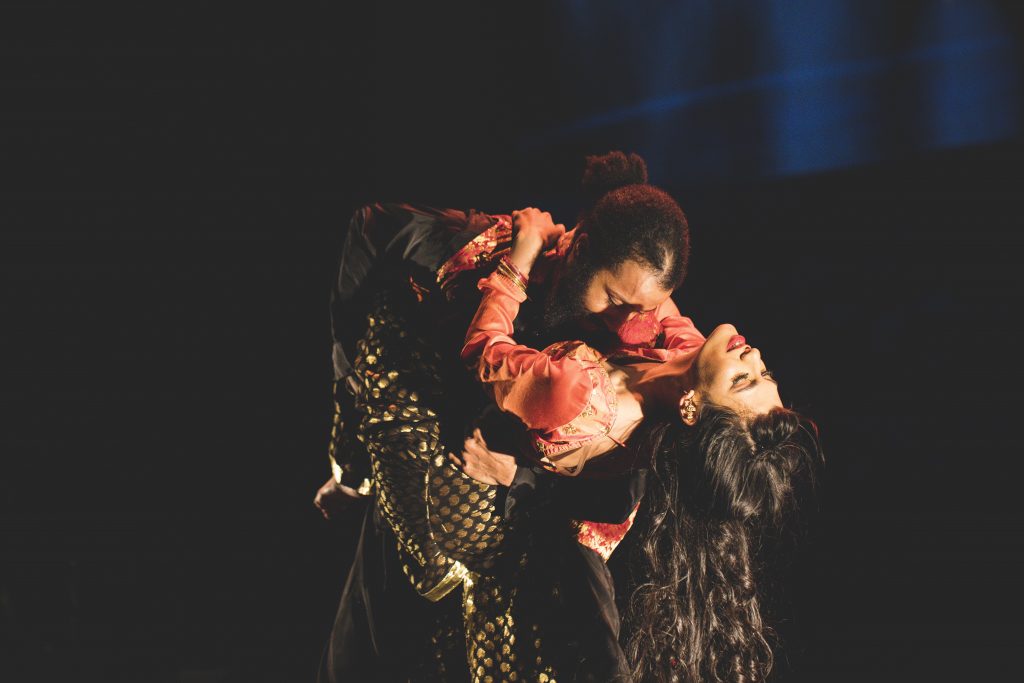 Did you grow up in a South Asian family? Do you wish that your love was like that in Bollywood? Can you imitate the signature Shah Rukh Khan arm stance? Do you know who Rahul is? Because naam toh suna ho ga? 
If you answered yes to any of the above questions, then sit tight because all your Bollywood dreams are about to come true. Ever imagined being a room where you get to experience the beauty of black and white classics from your grandparents generation? Not only that, but ever felt like your life was a movie and Bollywood was the soundtrack as you fiercely and fearlessly walked through the streets? A house seat at a Bollywood Boulevard show feels exactly like that. It transports you to the emblematic scenes from movies like Sholay, Vyjanthimala's captivating performance in Jewel Thief, Priyanka's grand entrance in Desi Girl and to many other such moments that are ingrained in our memory because we feel like we have experienced similar moments at some point in our lives.
View this post on Instagram
Bollywood Boulevard, a magnetic live-music, dance and drama production seamlessly brings together the three pillars of desi entertainment in a non-stop, interactive and immersive manner. A Bollywood buff, or not, the scintillating performance is not only reminiscent for audience members who spent countless hours with their family enjoying the vivid romance, drama and story-telling, but also an opportunity for those who have not been changed by the power of Bollywood to immerse themselves in a historically iconic, yet captivating performance.
View this post on Instagram
Created, curated and produced by Heena Patel, CEO and founder of MELA Arts Connect and Rushi Vakil, founder of Aaditaal Music Project, the chronologically designed and intentionally pieced show portrays a variety of dance and musical styles seen in Indian cinema. From the timeless classics and folk numbers to hip-hop and bhangra to newer styles featuring dancey beats, the show's choreographer, Rohit Gijare, assisted by Aaliya Islam, presents the diversity of Indian cinema through the repertoire. Audience favorites were definitely the remakes of Helen's spellbinding Piya Tu, Madhuri's Ek Do Teen, and the Raj Kapoor and Nargis monsoon romance, Pyaar Hua Ikraar Hua. The realism and off-screen experience had me waiting for a tree to pop-up in between the couple during intimate scenes.
Furthering her mission to building bridges and providing opportunities for South Asian arts and performers, Patel built a spell-binding showcase that not only also allowed for individuals in the South Asian diaspora to live out their Bollywood dreams, but made it accessible to audiences all over the country. Members of the original company, many identifying as slashies, pursued professional careers (by South Asian definitions) with creative pursuits. Bollywood Boulevard served as that platform for members to share their artistic talents with an audience and also learn how to professionalize their creative passions.
"Bollywood Boulevard gave me an opportunity to fulfil my childhood dreams of being an onstage hero and recreating iconic scenes and dialogues I grew up watching," says Bhumit Patel. 
A member of the original cast and crew, Patel credits his growth as a performer and entertainer to his time as a member of the show.
"You perform in front of thousands of people," and you have to do justice to the storylines and characters. "I remember the first time I performed a Salman Khan classic Oh Oh Jaane Jaana, there were four thousand people in the audience and they were cheering so loud I couldn't even hear the music. All I could imagine was my 8-year old self dancing to the same song in my bedroom in front of the cupboard mirror."  
View this post on Instagram
Beyond the impact on the lives of diaspora members, the production gives a one-of-a-kind insight into the world of Bollywood to American audiences. In a relatively short run-time, Bollywood Boulevard has performed in nationally and internationally renowned theaters and locations including Lincoln Center for the Performing Arts, The Wolf Trap, Longwood Gardens, McCarter Theatre and many more. The impact and audience reach are immeasurable and Bollywood Boulevard has quickly provided a gateway and bridge between two cultures. 
Bollywood Boulevard will be returning to the road in Spring 2020 (see schedule here and below) and bringing the fanfare to New Mexico, Arizona, North Carolina, Florida, California and Arkansas, with more coming. Join the cast and crew on a vibrant and educational journey through Indian cinema encompassing foot-tapping blockbuster songs, energetic choreography, storytelling and a perfectly crafted history of Indian's famous film industry that is world renown.
View this post on Instagram
Spring 2020 Tour Dates
March 27 |Albuquerque, NM | Popejoy Hall
March 28 | Chandler, AZ | Chandler Center for the Arts
March 29 | Tucson, AZ | Fox Theatre – Tucson
March 31 | High Point, NC | High Point Theatre
April 2 | Largo, FL | Tonne Playhouse
April 3 | The Villages, FL | Sharon L. Morse Performing Arts Center
April 4-5 | Boca Raton, FL | Wold Performing Arts Center
April 7 | Folsom, CA | Harris Center at Folsom Lake College
April 9 | Berkeley, CA | Cal Performances – Zellerbach Auditorium
April 11 | Rohnert Park, CA | Green Music Center
April 15 | Escondido, CA | California Center for the Arts
April 17-18 | Irvine, CA | Irvine Barclay Theatre
April 19 | Northridge, CA | Younes and Soraya Nazarian Center for the Performing Arts
April 23 | Fayetteville, AR | Walton Arts Center – Baum Walker Hall
For more information on the show, visit bollywoodblvdshow.com or follow the show at @bollywoodboulevard via Instagram.